'Innovation Sandbox' program focuses on access to justice, service and rural areas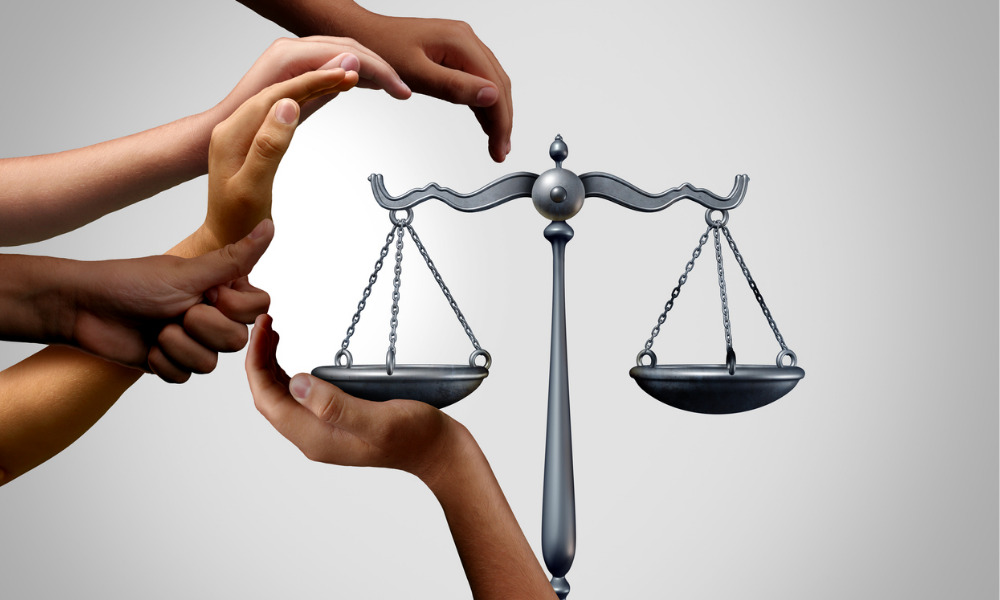 Access to justice when pursuing a civil issue as someone without a large income can be challenging or non-existent at worst. But the Everyone Legal Clinic in British Columbia is now open for providing low-cost in-person and virtual legal services across the province, with the help of supervised articling students.
The program will also provide 25 articling positions to students located in 15 BC communities – from Tofino to Cranbrook – with the support of 15 supervising lawyers, four staff and "dozens" of mentors, says Access Pro Bono executive director Jamie Maclaren. They have joined together to provide lower-cost, fixed-fee services in a wide range of areas covering everyday legal problems as the world's first virtual public interest law teaching clinic and legal practice incubator.
"I grew up in rural northern British Columbia, and family is everything to me," said articling student Lincoln Hallgren, based in Burns Lake. "My goal entering the legal field has always been to help people, especially those who may have trouble accessing or finding affordable legal services."
APB is operating the program, which opened in November, with support from several BC law firms and financial support from the Law Foundation of BC and the McLachlin Foundation. The program offers fixed fees and modular pricing that is markedly less expensive and more upfront than billing for services by the hour.
"We offer a suite of legal services, that are packaged in a way that lends itself to 'tidy' non-complex legal work," Maclaren says. "But if something does become more complex and needs further help, one of the supervising lawyers can help with that."
The Everyone Legal Clinic is "practical and aims to stimulate innovation and diversity among new legal service providers," says former Chief Justice of Canada Beverley McLachlin. "It could be replicated throughout Canada, and it has evaluation and knowledge sharing components to inform other access to justice initiatives."
In some ways, Maclaren says, the program is a "creature of its time in the sense that it probably wouldn't be happening now if we hadn't had the pandemic, at least as soon as it did." COVID-19 curtailed the provision of many services, including legal services, or at least they had to be reformulated in a more "virtual" way with communications technology.
People involved in the justice sector have not become more comfortable and familiar with virtual technology. "There is more understanding and acceptance of how people could connect over Zoom, or Teams or other video conferencing applications," Maclaren says.
APB applied to the Law Society of British Columbia's "Innovation Sandbox" program to start Everyone Legal. The Sandbox program looks at ways non-lawyer legal practitioners can provide service in the name of access to justice for those who otherwise couldn't obtain or afford it.
"The law society accepted it as something new, different, innovative, and likely to increase access to justice. We've meant to do this for a while, but the stars aligned to put it into action." While many services can be done in person, when necessary, virtual communication can often be the most satisfactory way of handling a client's case efficiently.
Maclaren adds another critical objective was to increase legal service offerings in "underserved" BC communities. Like other provinces, most lawyers practice in the larger metropolitan communities, and more rural or remote communities "can suffer for lack of legal services and access to good legal counsel."
Not only does the articling program provide direct access to these services right away, but choosing students who are more likely to stay in a rural or remote setting paves the way to even more reliable legal services.
The clinic has also committed to "fostering a more inclusive and culturally responsive justice system" by choosing articling students who come from culturally diverse backgrounds. The Everyone Legal clinic's first group of 25 comprises 75 percent BIPOC (Black, Indigenous, People of Colour) and 25 percent Indigenous articling students.
The clinic also prioritizes law school graduates with previous clinical experience serving vulnerable people and provides "a supportive and engaging educational experience for law graduates with foreign credentials."
Says Maclaren: "We want to provide an environment for lawyers to train in the law and how to deliver it in smaller communities." He adds it is "no secret that articling can be a very difficult year" for a law graduate. "And, and the working conditions aren't always great. There's a certain amount of exploitation that can occur with long hours, low pay and limited opportunities to do the kind of work that that law graduates seek to do."
One of the articling students in the program, Avneet Athwal in Prince George, points out that the clinic's "unique structure means that we get direct hands-on experience that we may not have received elsewhere. This is the perfect program for people who want to learn the skills it would take to open a solo practice one day."
As for the supervision these articling students receive, Maclaren says he thinks "the amount of attention and supervision and scrutiny of their work is in my opinion greater than in a traditional law firm articling environment." No service done by the student "goes out the door without being fully vetted and approved by a lawyer."
The intent of the service, says Maclaren, is to train generalist lawyers who can service many legal needs that most of us need but may be hard to access in a rural or remote community. Everyone Legal does not focus on criminal or courtroom work – though it does offer some services, such as helping with sentencing submissions. However, it can help with a wide range of services in family law, wills, estates and trusts, dispute resolution in civil matters, and some corporate law work.