Schulich School of Law sought to alleviate financial barriers for early-stage technology startups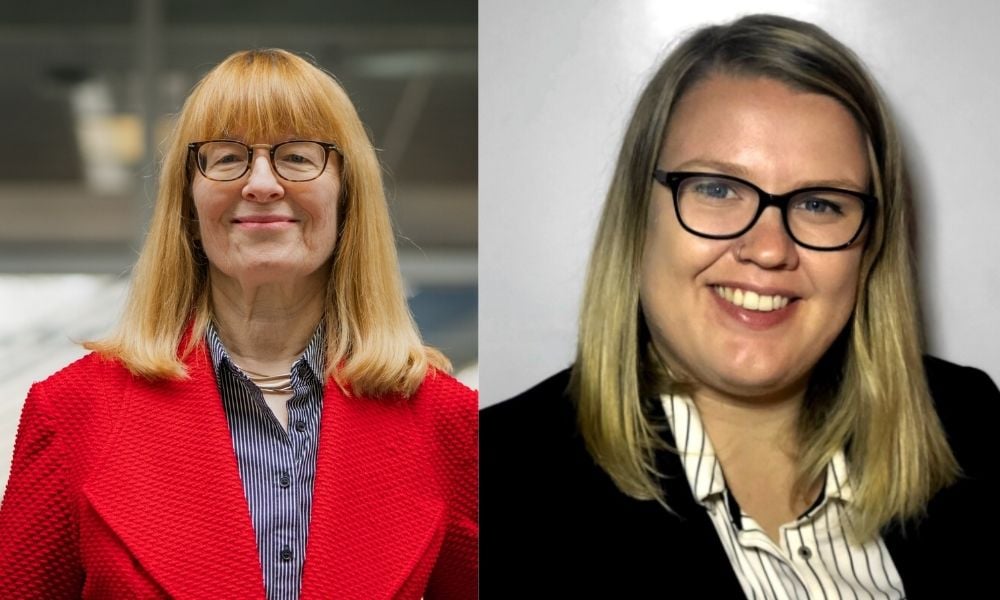 The work law students do for their clients at Dalhousie's Technology and Innovation Law Clinic is a formative educational experience for both sides, with both eventually graduating, if all goes well.
Dalhousie's Schulich School of Law launched initio, the Technology and Innovation Law Clinic, in 2019, with the help of a donation from Stewart McKelvey Lawyers. The legal clinic serves technology startups and seeks to eliminate the barriers which typically exclude entrepreneurs from the legal services market in the early stages of their business.
Haley MacLean was a student at the clinic and is now doing her articling there. She says the clinic handles a lot of federal and provincial incorporations, helping clients with shareholder agreements, founders' agreements, resolutions and by-laws. While the clinic does not litigate, it does a lot of transactional work, she says, such as contracts, independent contractor and employment agreements and specific service agreements. Having a technology focus, the clinic also handles a lot of intellectual property work as well.
The plan for initio arose as it became apparent that Canada's innovation space had a gap in early-stage legal information and advice, says Schulich's Dean of Law, Camille Cameron. She points to a 2016 special report by the Centre for International Governance Innovation called "Addressing a Gap in Canada's Global Innovation Strategy." The report said, "weak intellectual property literacy" and the "inability to access affordable and timely IP legal services" was a "fault line" in Canada's innovation capacity and contributor to Canada's "lagging performance in global innovation competitiveness." The report recommended ensuring startups had "meaningful access to affordable IP legal services at the earliest stages of the business venture."
"Clinics are a fantastic opportunity for students," says Cameron. "We started thinking about how we could contribute. There's a significant entrepreneurial and innovation community… at Dalhousie."
"We decided that we could have a role to play by providing a clinical service for those very early-stage innovators."
The clinic provides an opportunity for students to work directly with clients and solve real legal problems, she says. It is one thing to study business structures, and another to work with a client to set one up.
"It gives them a great advantage, in terms of being able to talk to potential employers about that clinical experience," says Cameron.
The clients pair perfectly with 3Ls too because the experience is new to both, says MacLean.
"A lot of the times they come to us and they're excited to start a business, or they've never even talked to a lawyer yet before. So they're really eager to learn."
The clinic's education is not only for the student paying tuition, but for the startups it serves as well, she says. The clinic's eligibility requirements dictate that clients cannot have engaged another lawyer on the legal issue and the business cannot have made $200,000 in revenue. The clinic charges $100-per-service, or $100-per-month for a year.
Once the business pulls in $200,000 in revenue, they "graduate" from the clinic and are told to go work with a law firm. "It's always really satisfying to see them leave us," says MacLean.
Dr. Daniel Rasic is president of Virtual Hallway Consults Inc., which was a client of the clinic at the beginning of 2021. The health-tech company developed a platform that allows family physicians to set up phone consults with specialists, to get fast advice on patient cases.
Virtual Hallway Consults received "comprehensive" services from the clinic, says Rasic. The company had to deal with the typical legalities necessary for technological startups, and because it deals with personal healthcare information, Rasic's company also required advice on medical legal liability.
"It was great," says Rasic. "… We'd have questions they are learning for themselves, and we'd learn along with them."
"In addition to, obviously, getting great legal advice, it allowed us, at a really critical stage of our development, to keep our costs down. And frankly, without that, it would have taken us much, much longer – and I'm not sure if we would have gotten as far along as we did, just because of the capital requirements for equivalent legal advice… I don't think we'd be successful without them."
initio's director is Dr. Jacqueline Walsh, a lawyer with a background in corporate and IP law. Along with working solo and at a law firm, Walsh has practised in-house for a number of small technology startups.
"It would have been hard to imagine a better inaugural director for the clinic than Jacqui Walsh," says Cameron. "Jacqui brings a great deal of experience to initio. She is a lawyer who has worked with small technology firms for over 20 years, has a PhD in Intellectual Property Law, and has taught entrepreneurship and strategy in a business program for the last decade."