Gillian Hadfield has no problem dealing with complexity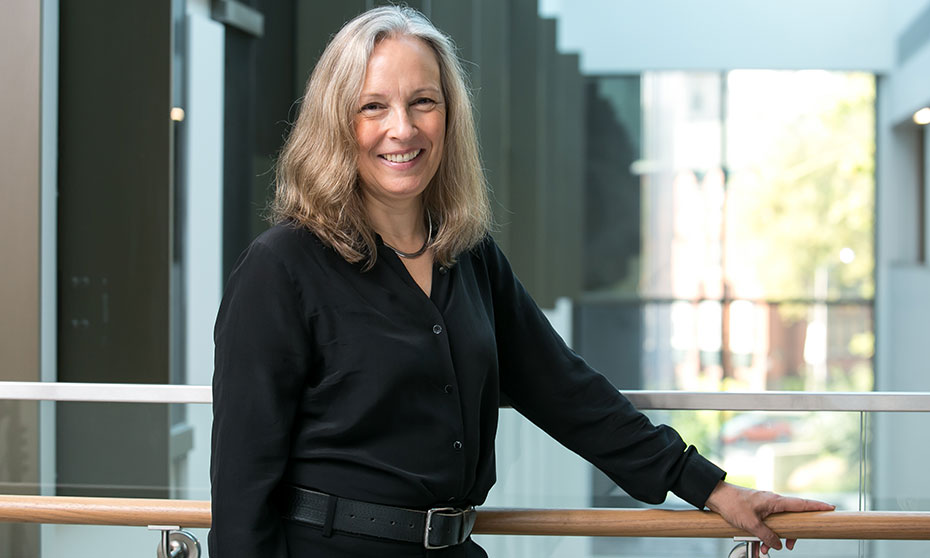 Gillian Hadfield has no problem dealing with complexity. As a law professor who recently returned to the University of Toronto's faculty of law after teaching in the United States, her research spans a huge array of topics in law and economics, from the legal system in ancient Athens up to present-day issues such as regulating artificial intelligence.
But what drives Hadfield to look critically at our legal system is very simple and personal. During her previous stint at U of T law in the late '90s and early 2000s, Hadfield published a paper entitled "The Price of Law: How the Market for Lawyers Distorts the Justice System" in the Michigan Law Review.
"What prompted that paper was the fact that I was involved in ongoing custody litigation that just would not stop," Hadfield says. Her legal battle with her former husband "was basically draining me of every bit of money I had" and eventually put her into bankruptcy. This direct experience as a victim, instead of simply a scholarly critic, of the legal system, has driven her work ever since.
Despite all her advantages and connections, including pro bono assistance from Bay Street lawyers, Hadfield ended up self-represented. "Here I am one of the most privileged people … I'm in the best position to deal with this. I have a law degree, an economics degree. I'm a member of the elite. I can contact people."
While she had lost so much through this process, she had gained an acute awareness that the legal system was more complex than it needed to be and designed in such a way that only lawyers can provide help, she says.
"So that really kind of set me off on the path that I've been on for the last 25 years."
While her experience drove her to take a critical perspective, her research remained rooted in the law and economics approach that she has had throughout her academic career. "I didn't really want to write about my personal life. I didn't want to write about family law, because I don't think that's an adequate level of scholarly distance from your subject."
Soon after publishing her seminal paper in 2000, Hadfield joined the University of Southern California's law faculty. While her move to the United States was mainly a result of the custody arrangement that emerged from her legal battle, being in California also allowed her to study how the legal system in the world's richest economy was not working at its most basic level.
The next big research project for Hadfield was examining the World Trade Center bombing case. After terrorists had set off a bomb underneath the building, the families of victims sued the owner of the World Trade Center, the Port Authority of New York and New Jersey. The bombing happened in 1993, but the case had still not gone to trial in the early 2000s.
When the Sept. 11 terrorist attacks happened, the U.S. government acted quickly to avoid a similar scenario for the families of victims in that attack. Congress passed legislation that allowed the families to avoid protracted litigation and be compensated more quickly. Hadfield's research then morphed into a comparison of how families affected by both attacks experienced the justice system.
While the World Trade Center bombing litigation did result in huge legal fees, Hadfield found that the families of the Sept. 11 terrorist attacks also lost something by avoiding an adversarial process. After speaking with many of these families, she concluded that there were three key elements the families felt they had given up: They were never given information about what went wrong, they were not given a public forum to acknowledge that there were wrongs done and they were not given the chance to participate in a process to help avoid a similar event from happening again.
"If we look at our law and economics analysis, it says the value of your lawsuit is [the] size of the cheque you could get multiplied by the probability you'll get it. And, in fact, if you talk to a lot of lawyers and judges, they will say that's what the law is about. It's about getting a certain amount of money."
Hadfield's research also examined how the legal system has failed the most sophisticated and wealthy clients. She began interviewing general counsel at some of the biggest companies — including Cisco, Apple and Google. As consumers of legal services, they had a similar feeling to the Sept. 11 families: The system didn't work. When Hadfield interviewed Kent Walker, the GC of Google, she was told that, during his career, he had only met a handful of lawyers who he would put in front of his board of directors. Jonathan Anschell, GC of CBS Television, told her that what his company needed was critical analysis and strategies for dealing with risks. "What they don't need are lawyers who limit themselves just to sounding the alarm when they sniff risk," Hadfield recounts Anschell telling her in her 2017 book Rules for a Flat World.
Hadfield's law students at U of T are now benefitting from her critical approach in the new "Legal Design Lab" course she taught this year. The lab encourages students to work in teams and develop a proposal for an app, company or service that addresses a problem in our legal system.
Hadfield's course approaches legal problems much differently than the traditional case law approach, where students read mostly appellate cases, which she says was invented in Harvard in the late 1800s. Under that method, Hadfield says, "we were not really training people to be valuable and help people solve problems. We are training them to be very smart about law. In the old world, the way elite legal education and markets worked, it was enough to say you [are training] people to be very smart. And then they went off to their law firms, and they learned, in fact, how to practise law. That worked fine [then]. It's not working fine now."
Being back in Toronto has also allowed Hadfield to make connections with researchers and organizations working on artificial intelligence, her current area of interest. Unlike traditional tort or commercial law, the regulation of AI is a "wild west" at the moment, she says, which means it may be able to avoid some of the problems of those other regimes if it is designed properly at the outset.
And while regulating AI is no doubt a complex topic that has no easy solutions, Hadfield knows one simple thing about how it should work. It should be designed to solve the problems of those it affects and not for the benefit of those who have designed the system itself.