First-year law student Paige Stewardson says UNB's laid-back environment pulled her in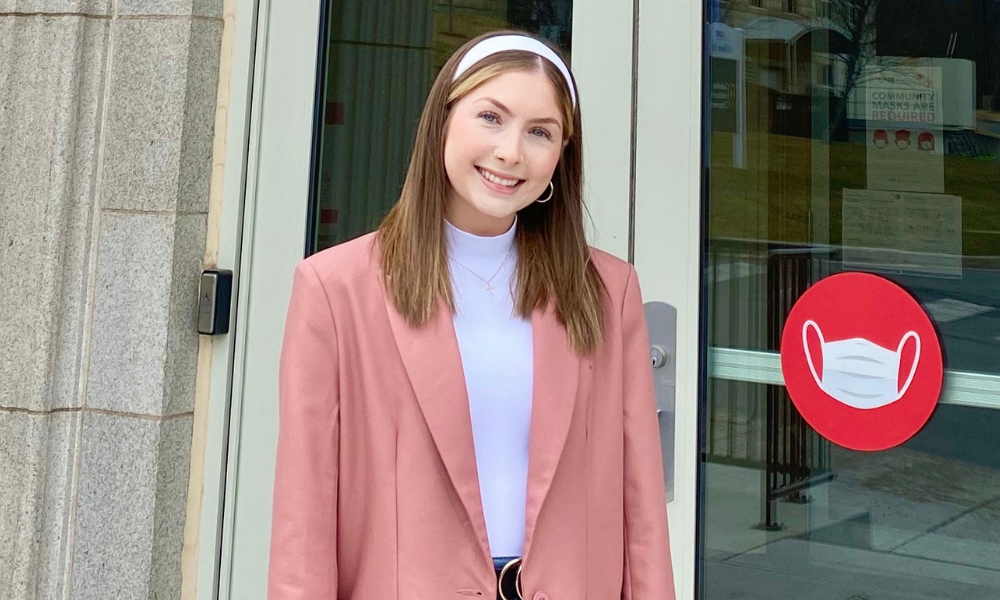 When Nova Scotia native Paige Stewardson looked at law schools, she knew she wanted one that prioritized learning over competition. She did not want to be surrounded by students overly focussed on being at the top of their class.
Stewardson accepted an offer at the University of New Brunswick (UNB) for fall 2021 and is currently finishing her first year as a law student.
Stewardson was unaware of UNB's program before she began applying to schools. Her first thought was Dalhousie University.
"Being from the East Coast, especially from Halifax, everyone talks about Dal law," says Stewardson.
Her mother suggested UNB's law school, and upon speaking to some UNB law alumni and students from other schools she was considering, she says the decision was clear.
"I realized the school fit really well with me. I'm a really laid-back and easy-going person. I felt like UNB aligned best with me and my values because it's not a school that pushes for those top grades," said Stewardson.
"I just couldn't go to law school and say it was the worst three years of my life."
Stewardson said good grades came easy during her undergraduate degree in environmental studies and politics at Acadia University, but she's never been a grades-focused person.
"I would get a good grade and be [think], 'oh, the professor just likes me.' I was never striving for an A. I was just trying to do my best work. It just happened that the work I produce got good grades."
She says she wanted a school that would push her to be a good lawyer, not just a good law student.
UNB's focus on "treating students as individuals," according to the faculty of law's web page, ultimately drew Stewardson to the school. The small class sizes and individualized focus reassured Stewardson that it was the best decision. According to its web page, the University of New Brunswick admits 92 first-year law students.
"Having two sections of around 45 people, you know everyone in your section, and you know your professors. Everyone is super nice, and it's kind of like a community," said Stewardson. "There's always a support system."
Balancing school and personal life is important to Stewardson. She plans her days down to the minute, so she has time to do the things she wants without skipping schoolwork.
"I think the idea that you have no life outside of law school is not true. I remember asking someone if I should buy a TV, if I would have time to watch TV, and she laughed at me and said 'yes, of course.'"
She says the culture of UNB helps her juggle school and free time, but that has always been a talent of hers.
"I had a friend ask me if I do all my readings, and I said yes. She was like, 'how do you have time?' I was like, girl, I plan my day to a T, so I know I have time to do what I want. A lot of people take weekends off. I took Sundays off for a while or did something on Sundays, like go shopping, to just give myself a break."
Law school is the first time Stewardson has lived alone, which she was hesitant to do. Although she enjoys the close-knit campus, she says law school has made her value her alone time. She still makes time to hang out with friends, even if it's going to the library.
She says if you treat law school like a full-time job, you'll have free time. Some students must continue working through law school, but Stewardson says the low tuition cost helps with financial barriers.
The University of New Brunswick's law school has a tuition cost of $13,522 as of the 2021/2022 academic year, one of the country's lowest rates.
The low tuition and focus on education rather than grades help improve law students' quality of life, says Stewardson.
"When I go to class, I'm happy to be there, I'm happy to study, I'm happy to learn, and everyone else is happy I'm there too. I think our law school isn't talked about as much, but there are amazing people. You realize that just because this school is small doesn't mean it's not a good school."