Recent commitments made by B.C. government and Law Foundation of British Columbia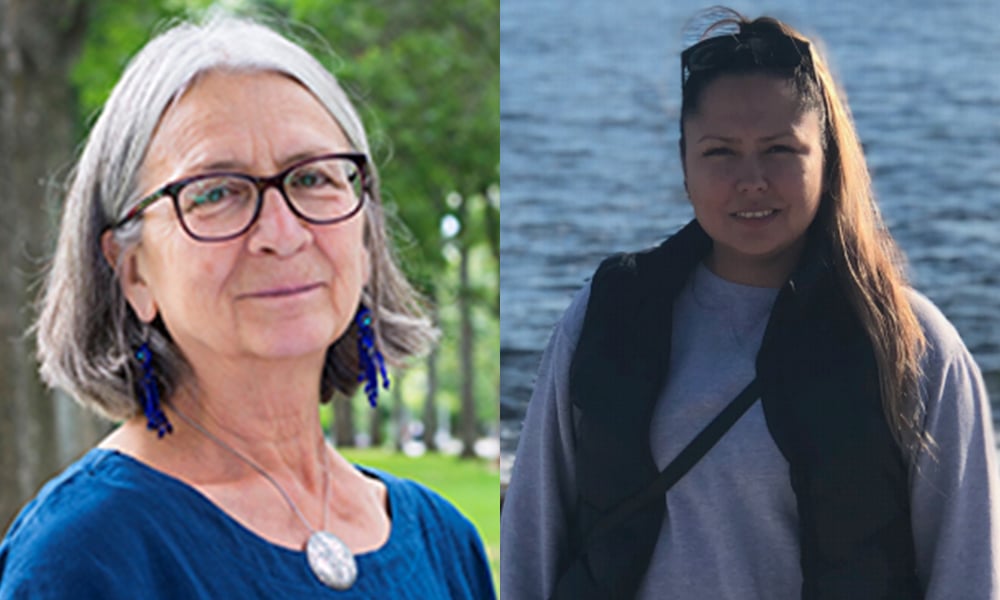 With recent commitments of money from the B.C. government and the Law Foundation of British Columbia, along with federal funding already pledged, the dream of building a National Centre for Indigenous Laws at the University of Victoria by 2023 is becoming a reality.
"It's going to be a huge addition to our law school," says Val Napoleon, director of the Indigenous Law Program at UVic, which will be housed in the new addition. She adds that by having a program that focuses on Indigenous law, alongside Canadian Common Law, it creates the possibility that reconciliation between Canadians and its Indigenous population is achievable.
"When we think about reconciliation, and what came out of the Truth and Reconciliation hearings, unless Indigenous law is articulated as law substantively, then it's not possible," Napoleon says, noting there are more than 50 Indigenous justice traditions in Canada, in addition to Canadian Common Law. "It has to be visible, it has to be available for people to learn and for people to practice. It's not just philosophy, it's not just values."
On Sept. 3, the province announced a $13 million contribution for the addition to the Anne and Murray Fraser Building on the UVic campus. On the same day, the Law Foundation announced it would be contributing $5 million, the largest donation ever received by the law school at UVic. These funds will be combined with the federal government's commitment of $9.1 million, made in 2019.
The National Centre for Indigenous Laws will be home to the first Indigenous law program in the world to combine the intensive study of both Indigenous and non-Indigenous law, with students earning both JD and JID designation. The four-year program started in 2018 and the first cohort is expected to graduate in 2022.
"When I applied to the program, I realized it was exactly what I was looking for," says Laura Hoversland, a second-year JD/JID student and a member of the Teslin Tlignit Council in Yukon. "In a weird way I felt like it was made for me because I lived in both worlds," Hoversland adds, saying her father is Norwegian and her mother is Tlingit.
Growing up, Hoversland always dreamed of becoming a lawyer — a dream fed by watching Matlock reruns as a child — but she didn't think it was achievable, "that graduating from high school was enough."
However, Hoversland says she went on a journey of self-discovery, realizing her potential as she became a legal assistant, an Aboriginal court worker and a justice analyst for an Indigenous non-profit group in Whitehorse. Still, even as she was raising her daughter, now seven, the dream of becoming a lawyer persisted, and she took her LSAT in 2017.
When she later heard of the Indigenous law program at UVic, "I realized it was an amazing opportunity, and I leaped at the chance to apply."
While her aim right now is to become a practising lawyer, given her work in the criminal justice system, Hoversland acknowledges this could change, that she could end up applying her legal knowledge from both justice systems in other ways, such as working for a government or in the community.
Napoleon says the dual-track program will be a valuable tool in those endeavours. "Our students are going to be able to work internationally, they're going to be able to work domestically, they're going to be able to work in every field that other lawyers working in, and they're going to be bringing to that field a legal education which equips them to practice in a multi-juridical manner, and to work with indigenous peoples on Indigenous issues."
At full capacity, once the addition is built, the dual-degree law program will house an additional 100 students, who join approximately 400 students in the JD and graduate programs.
The combined funding of $27.1 million will be used to create a 2,440-square-metre addition to the Fraser Building and will be designed to reflect and honour the law school's location and long-standing relationship with the Songhees, Esquimalt and WSÁNEĆ peoples, on whose territory the university resides. The project will use Coast Salish designs, signage, public art, and materials such as BC wood, cedar weaving and natural light. Construction on the building is expected to start in 2021 and be completed in 2023.
Says Napoleon: "We consulted with Indigenous communities here, as well as students, and what people told us is they wanted lots of outside light, they wanted classrooms that don't look like classrooms, they wanted parts of a building where community members would feel welcome when they come inside."
High-tech digital infrastructure will enable students to connect with their home communities and allow sharing of legal traditions. It will also enable UVic to host conferences, public workshops, research, and partnerships for faculty, students, and visitors. The new addition will include public lecture theatres, faculty and staff offices, classrooms, meeting space, an Elders' room and spaces for gatherings, ceremonies and sharing of histories and knowledge.
While the design of the building will reflect B.C. First Nations, Napoleon says it will also be designed to welcome Indigenous groups from other parts of Canada and the world. "It's important to emphasize the national nature of the centre and what we're trying to do here," she says.
Over the next four months, UVic will be launching the National Next Conversations — a national engagement initiative to raise awareness of the Indigenous Law Program and better understand other Indigenous Law initiatives taking place across the country and to solicit feedback and input to inform the new National Centre for Indigenous Laws.
Hoversland says that "sadly," she will not be able to enjoy the new addition to the Fraser building as a student, as she will graduate in 2022. "But I certainly expect to come and take a look when it is all completed."