$2,000 award for first-year law student has symbolic importance, shows legal community's commitment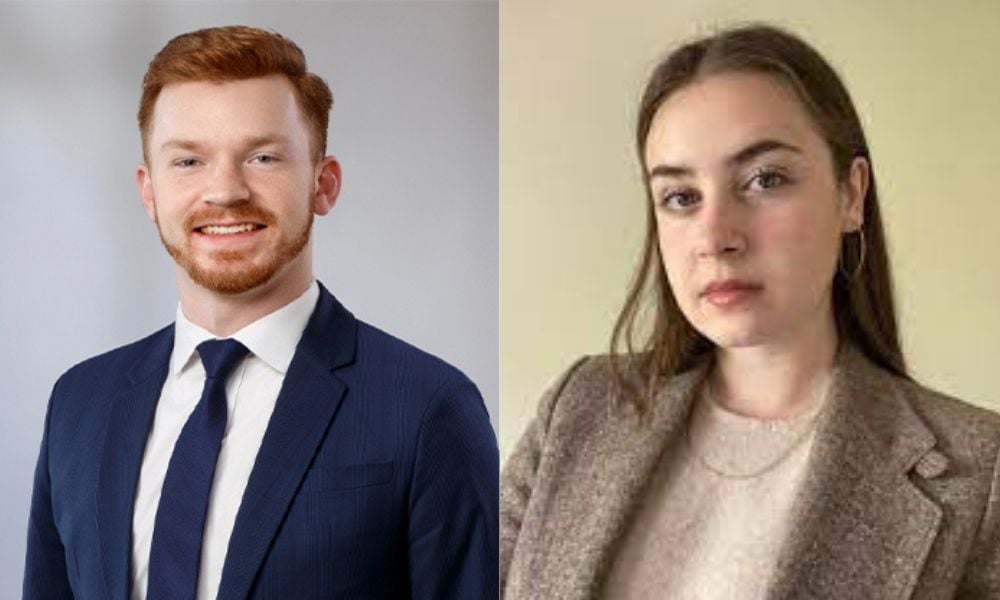 Being a member of the 2SLGBTQI+ community can often mean being part an "invisible" minority, so a new scholarship at the University of Calgary is aimed at helping those within the community, and those who support it, become an important part of the Canadian legal profession.
The Osler and OUTLaw 2SLGBTQI+ Diversity Scholarship is only the second scholarship of its kind at the University of Calgary, and a first for the law school. It will be offered annually to a first-year student with demonstrated involvement and meaningful contribution to the 2SLGBTQI+ community.
The $2,000 annual scholarship is meant to make a meaningful dent in tuition and living fees for law students, says second-year law student Emma Arnold-Fyfe, who is also president of the law school's OUTLaw chapter.
However, Arnold-Fyfe says the scholarship also has symbolic importance, letting members and supporters of the 2SLGBTQI+ community know that the university, and its law school, along with the city is a welcoming place to all people. If students don't see firms building and supporting diversity, equity and inclusion initiatives, it can be "a harsh awakening" for law students. And many in the 2SLGBTQI+ community may not even want to apply to law school for fear that they wouldn't be readily accepted or would have to hide an important part of their identity.
"I know when I came to Calgary from Vancouver, I had some worries about some of the conservative myths about the city and the province, but in fact, it has been quite the opposite," says Arnold-Fyfe. "I feel very comfortable here."
She adds that she feels the university "really walks the walk and isn't just paying lip service to issues around diversity."
While the scholarship is aimed at the 2SLGBTQI+ community, Arnold-Fyfe says the organizers worked very hard to use wording that would welcome those in the community whether they were "out" or not. As well, it is open to "allies" of the community who may not necessarily be part of it.
"It was really important that we made the scholarship available to people whether or not they were out," she says. "In no way is this scholarship intended to force people out of the closet for a cash prize. If you self-identify within the community that's fantastic, but it's not necessary. "We really just want to see is a commitment to the community and to making space and growing the 2SLGBTQI+ community here."
The fact that a prominent firm such as Osler, Hoskin & Harcourt LLP has given its support, and name, to the scholarship is also an important sign that law firms understand the need for diversity amongst their ranks. Arnold-Fyfe points out that not only is it morally and ethically important to encourage diversity of lawyers in all its forms, but law firms will also find that it is "good for business."
The practice of law should include all kinds of people, she says, noting that the legal profession has long been known for its conservatism when it comes to, for example, appearance. It's not all about "nice suits and shiny shoes."
For Jesse Baker, a lawyer with Osler, Hoskin & Harcourt LLP in Calgary, and a graduate of the 2018 class of the University of Calgary law school, creating the scholarship will provide a way for future students, and future lawyers, to see themselves represented and respected in the profession regardless of gender identity, sexual orientation, or any other quality that makes them diverse.
He points to some unique barriers and challenges faced by members of the 2SLGBTQI+ community in the legal profession. In particular, it may be possible to start a legal career without telling people about your sexuality or gender identity, hence the sometimes-used term "invisible minority." But Baker says everyone should feel comfortable in being open about who they are and not having to hide parts of their identity.
"It's different for everyone in the community, but for some members the unique challenge is deciding whether to out yourself, because they might be taken for 'straight-passing' if they don't say anything," Baker says.
"I am hoping that this scholarship will be seen as a sign that it is okay to do so," he says, though wanting to make sure everyone understands that there is no need to "come out" as part of the application process.
Brian Thiessen, the managing partner of Osler's Calgary office, noted at the time the scholarship was announced that "Osler is proud to show its support for law students and the 2SLGBTQI+ community through this new, multi-year scholarship with OUTLaw, as part of Osler's commitment to diversity and inclusion."