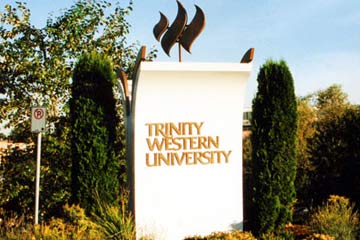 The Supreme Court of Canada will hear two appeals involving Trinity Western University's efforts to have graduates from its proposed law school accredited as lawyers.
Trinity Western University et al. v. Law Society of Upper Canada will be heard with Law Society of British Columbia v. Trinity Western University, et al.
The dispute stems from Trinity Western University's community covenant. Most controversial in the covenant is the requirement to abstain from certain actions, including anything that violates the sanctity of marriage between a man and a woman. It doesn't recognize same-sex marriage and critics say it discriminates against people in the LGBTQ community who are looking to enter the legal profession.
The university won in British Columbia, where an appeal court overturned a law society refusal to accredit its graduates, but it lost in Ontario, where the law society refused accreditation. The Nova Scotia Barristers' Society lost twice in court against Trinity Western and has said it doesn't plan to appeal.
Read more about the Trinity Western law school proposal and the debate that has taken place in the profession around the issue in the Canadian Lawyer magazine February cover story "Dividing the bar."