Pandemic has demonstrated the need and usefulness of new legal technologies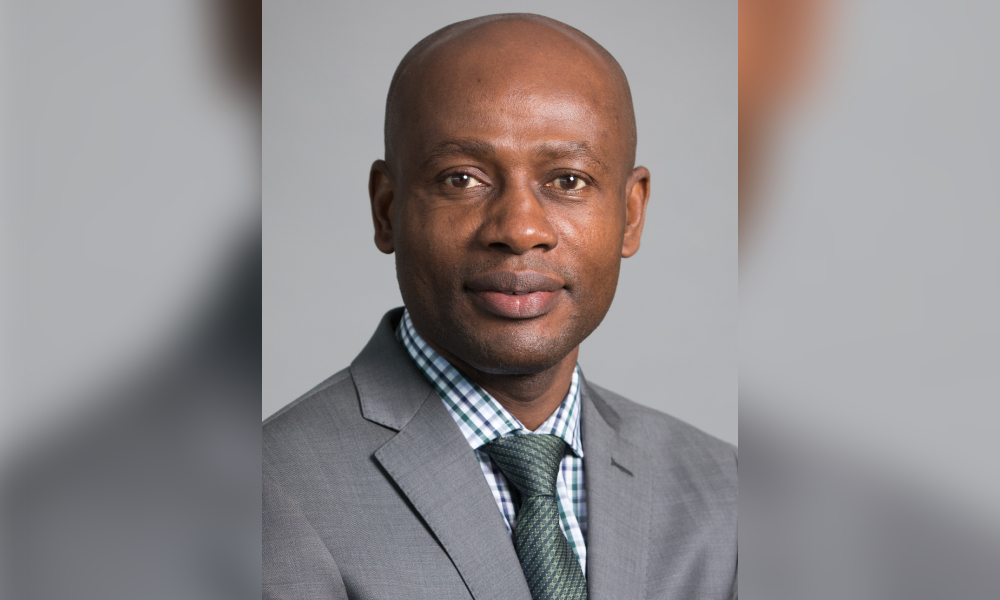 A new e-litigation course at the University of Calgary's law school is designed to deal with the realities of physical distancing and Covid-19 and prepare students for a law future that will rely more on advancing technologies, says the professor who developed the course.
"Even if things get back to so-called normal, students will need to be ready to practise litigation in a virtual, electronic world," says Gideon Christian, a civil litigation professor with a background in legal technology.
The specialized civil litigation course is meant to introduce students to the practice of litigation procedures in the era of social distancing, Christian says, with the intention of developing knowledge and practical skills that will allow them to launch and conduct civil proceedings virtually.
It will cover electronic filing and service of documents, electronic discovery and exchange of documents, pre-trial questioning of parties and witnesses using virtual technology and electronic hearing/trial.
And of course, Christian says, it will be conducted virtually, not in a classroom. Not only because most of the teaching going on at the law school these days is being done through online classes, but because the best way to teach and learn about this new electronic reality is to do it that way.
As well as dealing with substantive and procedural law, including the Alberta Rules of Court (and related jurisprudence) relevant to litigating in a digital environment, Christian says, it will also examine professional responsibility issues related to litigation in this environment.
The course will present a structured hands-on training designed to familiarize students with technologies relevant to litigating in a digital environment, including artificial intelligence technologies used in e-discovery document review.
The format will include lectures, online discussions and drafting and exchange of litigation documents electronically. The course will end with a virtual moot court conducted by student teams before a sitting judge or a trial lawyer.
"It is designed to be able to prepare students for the type of legal practice they are definitely going to face when they get out into the real world," Christian says.
Christian says that there is a "whole world of difference" between advocacy in a courtroom environment and what can be done in the confines of a virtual hearing heard through technology such as Zoom or Microsoft Teams. "You have no space to move around, use gestures, all the drama that goes into advocacy as we know it in a courtroom," he says. "You have to develop other skills to better advocate for you client when the case is being heard electronically."
There is also an ethical aspect to hearings and witness testimony in an e-litigation setting — the temptation to "coach" a client off camera. "There can be the temptation to send messages or otherwise communicate with a witness in a virtual setting," Christian says, noting that there is a recent case in Alberta in which a client was disciplined for doing exactly that.
In an in-person court hearing, such behaviour would likely be noticed by others in the courtroom, but the limited view of a computer screen provides an opportunity to try and bend or break the rules, Christian says.
While it is important for law students to prepare for e-litigation, Christian says they already have one advantage: they are generally pretty tech-savvy. And don't have the same fears as those lawyers more settled in their ways.
Christian says it's important that senior lawyers not just fob off tasks related to e-litigation to articling students and junior associates. "As a professor, I have limited ability to reach these senior lawyers, as I focus on preparing the lawyers of the future," he says, but "I would say that all lawyers should try to develop the skills need for future litigation."
He also summarizes some strategies to make e-litigation more effective this way:
DO:
be ready to adapt to and adopt new litigation technologies.
develop advocacy skills relevant to the virtual courtroom setting, which is somewhat different from advocacy skills in a physical courtroom.
be mindful of your ethical obligations. When it comes to ethics in a virtual courtroom, always conduct yourself as you would in a physical courtroom.
DON'T:
be a Luddite. Ignorance of litigation technology is no bliss.
make it a habit to outsource litigation technology tasks to articling students and junior lawyers. You will never learn.
be part of the resistance. Don't be a clog in the wheel of litigation technology. It is here to stay.
On that last point, Christian says the future of e-litigation looks bright, and even when the current pandemic is over, many, if not most of its elements are here to stay. Filing documents electronically provides huge time and cost savings, and hearing from witnesses virtually when it makes sense is another way to move the court system along more quickly.
"The question is not whether e-litigation is here to stay, but how big will it get? The answer is certainly much bigger than it is now."