The redesigned building represents Windsor Law's commitment to accessibility, wellness, and inclusiveness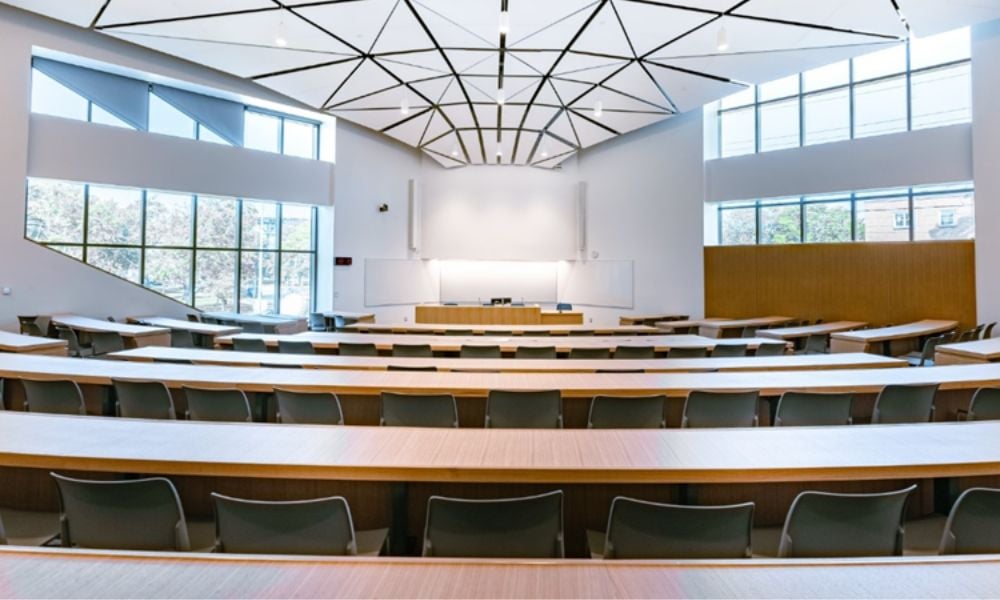 This article was provided by University of Windsor
This September, Windsor Law opened its doors to an incredible multi-million-dollar renovation within the brick shell of the Ron W. Ianni Building on the corner of Sunset and University Avenues anchoring the University of Windsor campus. This month marks the beginning of a new chapter as all three cohorts of students enter the building together, a first since 1973. Many of the spaces are unrecognizable with new, bright, and open student lounges, modern furniture, learning spaces, collaboration zones, and a state-of-the-art Don Rodzik Moot Court where students can replicate court proceedings. The entire building was retrofitted to establish an open concept design, connecting all three floors, and allowing natural light to filter in from skylights from top to bottom.
In 2019, Windsor Law set out to reimagine the Ron W. Ianni building, launching the Transforming Windsor Law project, an ongoing mission to create an innovative and accessible institution committed to revolutionizing legal education and shaping the future of legal practice.
"This newly redesigned building represents Windsor Law's commitment to creating a legal education that represents its student body. By creating a welcoming and accessible environment it will promote dynamic learning and student wellness," said Reem Bahdi, Dean of Windsor Law, University of Windsor.
The addition of expansive windows allows significant natural light in, enhancing wellness, reducing energy costs and granting views of the busiest border crossing in the world -- a reminder of Law's transnational commitments. The physical space also highlights the school's obligation to Indigenous peoples with themes woven throughout the building's architecture, including dedicated areas for smudging.
A ventilation system that formerly dominated the heart of the building has now been moved to the roof, and has been replaced with a large, usable area featuring a collaborative space and high-tech meeting rooms.
"Transforming the University of Windsor's Law Building is much more than a renovation of a 50-year-old brutalist-style building. The approach was to embrace the architectural character of the facility and its history on campus while creating an open and collaborative space that offers flexibility for diverse modes of learning, and supports the pedagogies of the 21st century," said Duncan Higgins, Principal, Diamond Schmitt Architects.
New elevators, ramps, automatic doors, tactile surfaces, accessible entrances, and universal washrooms are integral to the design and uphold the University's strategic priorities of creating a welcoming campus. Classrooms are fitted with moveable furniture for a variety of teaching and learning needs and are equipped with advanced, hyflex communications and presentation technology to reach a broader group of experts, mentors, and audiences beyond campus.
"Windsor Law has a strong commitment to the community, and the transformed building is opening new doors to connect with our indigenous, local, and legal community. It was critical for us to work closely with the architects to ensure the mission, vision, and values of the faculty were reflected in every new design feature and element of the retrofit. Accessibility, wellness, and inclusiveness are embedded in our practice, and it was important for it to be a physical part of the building," Bahdi added. "Thanks to the support of our dedicated friends and alumni, we have reinvented the Windsor Law building to reflect the needs of the next generation of diverse law students and scholars who can now teach, learn, and serve their communities in a dynamic new setting."
Several committed partners contributed to the success of this project, including award-winning Diamond Schmitt's Architect Firm, EllisDon Corporation, Fortis Construction Group, and Windsor Law's community. Together almost $6 million was raised, including a donation of $3 million from the Don Rodzik Foundation. "Today, we celebrate not just the physical renovation of our law school, but the enduring spirit of generosity and belief in the power of education and the importance of nurturing a sense of shared purpose," said University President Robert Gordon. "We are grateful for the support of the Don Rodzik Foundation for helping us create a lasting legacy through knowledge creation and by fostering an ethos of giving back and a commitment to creative positive change in the world."
To commemorate this momentous transformation, Windsor Law will hold a grand reopening celebration on October 27 and 28. To learn more about Transforming Windsor Law visit us at uwindsor.ca/law/twl.