For the fourth year in a row, Blake Cassels & Graydon LLP took the top spot in the Acritas brand index, but McCarthy Tétrault LLP leads when it comes to recognition by in-house counsel that it has embraced innovation.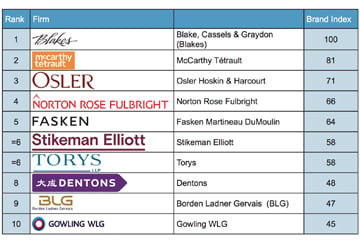 For the fourth year in a row, Blake Cassels & Graydon LLP took the top spot in the Acritas brand index, but McCarthy Tétrault LLP leads when it comes to recognition by in-house counsel that it has embraced innovation.
The Acritas' Canadian Law Firm Brand Index for 2019 was released last week and features data gathered from interviews with 259 Canadian senior in-house counsel with responsibility for buying legal services in organizations with revenues of more than $50 million. It is the eighth year for the survey. The breakout of respondents by province is as follows: 49 per cent from Ontario; 19 per cent from Alberta; 12 per cent Quebec; and 10 per cent from British Columbia. The remaining nine per cent were from other Canadian provinces.
The index also considers the views of a further 105 non-Canadian-based senior counsel who were asked which firms they used for their Canadian-based legal needs.
Blakes took the top spot with a brand index of 100, followed by McCarthy Tétrault (81), Osler Hoskin & Harcourt LLP (71), Norton Rose Fulbright (66), Fasken (64), Stikeman Elliott LLP (58), Torys LLP (58), Dentons (48), Borden Ladner Gervais LLP (47) and Gowling WLG (45).
A further five firms rank within close distance of the top 10: (listed in alphabetical order) Bennett Jones LLP, Burnet Duckworth & Palmer LLP, Davies Ward Phillips & Vineberg, Goodmans LLP and Miller Thomson LLP.
Questions used to generate the rankings include:
Top-of-mind awareness
Favourability
Consideration for top-level deals
Consideration for litigation
Usage among Canadian firms
Usage among multinational firms with interests in Canada
Firms receive points per mention in each of the categories and are assigned a total point score. The firm with the most points sets the index at 100, and all other scores are calculated out of this.
Blakes' didn't just take the top spot again, it increased its position in several areas.
"It's consistent year in, year out in terms of Blakes not just having the high-quality expertise but the range of expertise coupled with level of service and the way they manage relationships," says Elizabeth Duffy, vice president of Acritas. "It's that business understanding — they really stand out as being commercial and really understanding clients' business and not just giving that black-and-white letter of the law but being able to apply it to the context in which the business needs to not just survive but thrive."
Rob Granatstein, firm managing partner, acknowledged Blakes being named no. 1 again in the index, saying the result is a product of a concentrated effort across all areas of client work.
"This recognition is particularly meaningful because it's based on feedback from a representative cross-section of businesses with legal needs in Canada," said Granatstein in an email statement. "These results reflect the impact of our efforts across all offices, industry groups and practice areas to build robust relationships with our clients and help them succeed."
Although Blakes is holding the number one spot, the gap has widened to the second spot. Of the six measures that go into the index, Blakes has increased its ranking in awareness, favourability, deals and litigation.
"The litigation rank is really strengthening and most used overall has also been strong for them. They are strong on capturing the in-bound work," Duffy says.
Acritas has also begun to measure a firm's "lateral" brand — i.e., if lawyers move to another firm, what are they attracted to? In this area, Blakes is also considered "top of the list" in Canada.
"They actually have the employer brand that is very reflective of the client brand," says Duffy. "While that may not contribute to their brand index, it is one of those unique Blakes characteristics."
Duffy says firms are getting good at client brand now, but when Acritas started to look at employer brand for law firms, it started to see lawyers default back to traditional factors such as reputation for practice and compensation.
"When you understand what lawyers love about where they are working, for the most motivating engaged lawyers, it's about the people; the way they work and the collaboration. Laterals are going to be disappointed if why they move is based on reputation and money when actually what makes them happy is the people and the collaboration," she says.
When it comes to fees, few firms are doing well in that area, according to the survey.
"We hear about fees every single year, consistently," says Duffy. "There are some firms that seem to be doing a better job of communicating the value and having those conversations with clients. I wouldn't say there is one firm suffering from not doing well at the fee conversation; I think it remains an industry issue. Even for the same firm, you have some clients that think they are good value and some that think they are really expensive. It has to be beyond the price conversation."
The survey also asks about innovation, and it seems there are still very low scores demonstrating that firms aren't getting their innovation message across to clients in the legal market. For example, one in 10 clients say they are working with a firm that is giving them innovation.
"That's pretty low, but what we have been looking at is for the firms that are being recognized who are they and what are they doing and there are quite a few examples," Duffy says. "This is an area where McCarthy Tétrault does quite well — they were one of the strongest firms recognized for their innovation."
And it wasn't just the tools such as a document management service or a GC on call model, but it was also that the firm seems to have gone through a full change management process.
"It's when you speak to anyone at the firm and they are all on board — they all get it. That really makes a difference to clients because it's not just about 'We brought in the tech specialist.' That's where we find the big disconnect because we compare all the effort and resources firms are putting to resource innovation, future thinking and technology. I imagine it's quite disappointing for law firms that just one in 10 clients see it. The disconnect is that the firm is investing in all of these tools, but it's often left to the individual partner to get the message across to clients, but if it's not in their comfort zone to talk about it, that's usually where the breakdown happens."
There are also firms that have moved up significantly in the rankings: Fasken moved up 11 points this year especially in favourability.
"They stand out for being practical. One of their differentiators is that clients will say they are practical and pragmatic, and we know that makes a big difference to clients," says Duffy.
Osler is up nine points and, while not in the top 10, Cassels Brock & Blackwell LLP increased nine points.