Steve Gow's path into the art world is not a conventional one and neither is the new way he is providing artists to sell their work.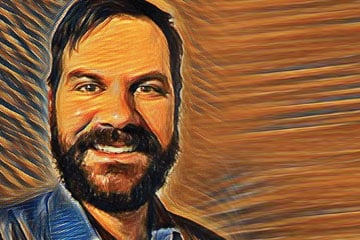 Steve Gow's path into the art world is not a conventional one and neither is the new way he is providing artists to sell their work.
A former private equity, corporate finance and securities lawyer, Gow spent three years as an associate with Bennett Jones LLP in Calgary, often working with startups, before launching into the world of blockchain. Earlier this year, he became the co-founder, vice president and chief legal officer of Adappcity Inc., a software company that specializes in developing decentralized blockchain applications with social impact.
"The intent for me was always to be a lawyer, but it shifted over time," says Gow, who is also a veteran of the Canadian Forces, having served in Afghanistan in 2007-2008 as a tank driver and armoured recovery vehicle driver.
Last year, Gow co-founded Adappcity with Brent Cheal and then in July launched UppstArt.io, an online art marketplace that uses blockchain technology to track provenance and pay resale royalties to emerging artists — something the Canadian and U.S. governments refuse to do. On UppstArt, artwork can be purchased directly from the artist and re-sold at any time for a small commission, a portion of which is given to the artist.
Gow first heard about blockchain in 2016 when he was still practising corporate law, but like most people, he didn't initially understand the technology. "I tried to read about it, but I just completely didn't understand it," he says.
But he was among the first wave of corporate lawyers in Canada to cut his teeth in the crypto-currency world — advising on initial coin offerings. He then began reading about how blockchain can disintermediate many third-party transactions.
"You can connect a buyer and seller directly by using technology and not requiring a middleman to broker that transaction," says Gow. "That's really what got my mind going around where can we remove people that are in between the buyer and the seller. There are so many examples — banks, obviously, and art is another big one — galleries and artists who want to sell their art to a collector and the gallery is in the middle trying to connect the two and charging a large commission for that service."
Gow says he has always had a passion for art. He has purchased art online and volunteers for a not-for-profit gallery in Calgary.
"I was wondering how we can use this to help emerging artists. Then we put two and two together and launched the venture," he says.
Blockchain Works was the first company he jumped into as general counsel after about four years of private practice at Bennett Jones. The two founders had a falling out and Gow decided to carry on with his co-founder and launch Adappcity. The company's goal is to identify and develop blockchain solutions based on its proprietary blockchain "UppsmArt Contracts." The "dapp" in Adappcity refers to decentralized applications.
"Basically, you have this asset — art — and the provenance information about it can be tracked on the blockchain," he says.
That is important because of the problems with fraud in the art world. UppstArt offers new levels of fraud prevention to art lovers looking to buy authentic and affordable art online.
"Blockchain is really good at, securely and publicly and unalterably, recording information. If you can record the information and sales history of art, you wouldn't have problems with fraud anymore."
Gow had been talking to artists about the resale royalty issues in Canada and how artists don't have resale rights in Canada or the United States as they do in 93 other countries in the world. "That was an ah-ha moment for us — blockchain can do that without the need for government intervention, so we can provide an option for artists to receive a royalty notwithstanding we don't have resale protection for them in Canada or the United States in legislative force."
So far, UppstArt has sold 20 pieces of art as of the end of August. The artists receive a digital certificate of authenticity that is recorded on the blockchain. "For the most part, about 50 per cent of artists are interested in the resale royalty aspect and low commission we charge. I have personal conversations with each one of them and explain how it works, but some just really want someone to market and sell their work," he says.
The other 50 per cent of artists they deal with are tech savvy and interested in the technology — they want to learn more about it and are interested in getting paid in crypto-currency. A smaller percentage of artists have done pitches to sell their art to corporate clients and they incorporate UppstArt's blockchain certified provenance and resale marketplace in their pitch — telling potential clients the art is going to be blockchain certified and registered on UppstArt.
"They see it as a very tech-forwarded value-added way of marketing and selling their art."
Gow is at a point in his career where he is combining his passion for art with an entrepreneurial spirit he got a taste for representing startups as a corporate private equity lawyer at Bennett Jones.
A graduate of the University of Calgary's Faculty of Law, prior to becoming a lawyer Gow spent 11 years in the military, both reserves and regular forces combined.
He joined the Canadian Forces reserves out of Kelowna, B.C. in 2003 as an armoured reconnaissance crew member. He then moved to Calgary and joined the King's Own Calgary Regiment and trained for several years. In 2007, he was selected to go to Afghanistan and joined the regular forces in Edmonton as part of the Lord Strathcona's Horse, which is a tank regiment, training with them for a year before being deployed to Afghanistan in 2008.
"Basically, when the tanks were blown up or shut down, we would recover them, often under fire and under battle conditions," says Gow. "I was in the armoured recovery vehicle for most of the time." Gow spent seven months there and relieved his brother who was also in the same regiment doing the same job driving the armoured recovery vehicles.
When he returned to Calgary in late 2008, he decided to go back to school to finish his political science degree and was promoted to master corporal and became squadron quarter master of the King's Own Calgary Regiment. He entered the University of Calgary Faculty of Law while still in the military. He summered and articled with Bennett Jones and eventually quit the military to focus on his legal career.
"I always planned on becoming a lawyer after spending some time in the military," he says.
At Bennett Jones, in the corporate practice, he worked on private equity mergers and acquisitions and some securities law, working for some startups, including crypto-currency and blockchain companies.
"I learned my passion for the corporate world while in law school. I took a course with a gentleman named Bryce Tingle [associate professor at University of Calgary] — he did a startup company financing law course. It was all about corporate finance and startup companies," he says.
Gow fell in love with the whole concept of startups and at Bennett Jones discovered he liked corporate law a lot more than the adversarial nature of litigation. "I found it a lot more collaborative — everyone was trying to make a deal rather than being adversarial and that's what drew me in. I wanted to be the best corporate lawyer I could have been and much of that had to do with adding value, so I had to learn the business side — how to read financial statements, how to think about the value proposition of the business and who their target customer is. I had to become a business person. That's sort of when the mind shift started for me that I started liking business more than law."