When legal departments work collaboratively with their external firms and technology partners on real-world problems, innovation can happen in interesting and cost-effective ways and it doesn't have to mean reduced fees for law firms.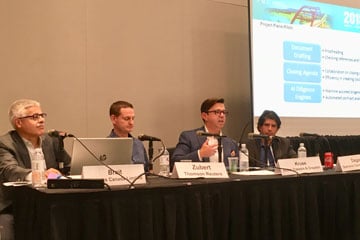 AUSTIN - When legal departments work collaboratively with their external firms and technology partners on real-world problems, innovation can happen in interesting and cost-effective ways and it doesn't have to mean reduced fees for law firms.
During a panel discussion at the ACC Annual Meeting in Austin, Texas this week, Richard Brait, general counsel of Siemens Canada, and Dan Dagan, associate general counsel of the company's commercial division, discussed various projects they have embarked on using both analysis of ineffective existing processes and implementation of new tools such as artificial intelligence.
At Siemens Canada, the legal department of about 20 lawyers measures itself in several areas, including how it is supporting key strategic initiatives, through operational dashboards — essentially how well are they doing on business process development — and thirdly through transactional dashboards — how well they are meeting the day-to-day numbers on spending, litigation outcomes and compliance statistics.
As a result of an "innovation challenge" within the company, in one particular project, the Siemens legal team wanted to re-evaluate the process when customers owed the company money. The process for collection was often time consuming and ineffective, sometimes lasting six months with no recovery. They analyzed all the steps they were going through and decided to find ways to streamline.
A flow chart with linked forms was created to aid in the new process. The result was a simple process improvement. In one example, a business unit had $1.3 million it was looking to collect on.
"Traditionally, they would collect zero of that, but within two weeks of implementing our new system of sending out letters in a timely way, we received $850,000 of the $1.3 million with very little effort," says Dagan. "People don't think of innovation as process, but it is the foundation of taking things to the next stage."
In another instance, the Siemens legal department worked with Thomson Reuters Labs in Waterloo, Ont. to create a tool to deal with claims and disputes related to large projects — a collaboration Siemens says came as a result of the company talking publicly about its desire to innovate in-house.
"Once you tell people what you're doing, you get on their radar screens," Dagan says. "We needed to find the facts to support a claim, which involved going through hundreds of pages of technical specifications looking for one factual situation. It was something that took people days to go through and they would inevitably miss it; but when we put it in a smart search engine, we found the exact fact we needed in 30 seconds. Once done, the research can jump into generating a claim letter."
In working with Siemens, Brian Zubert, director of Thomson Reuters Labs in Waterloo, said the benefit was that they were willing to work with real-world information in trying the AI tools.
"What stood out for us with Siemens was their willingness to collaborate and share data," says Zubert. "That for us was really the turning point — we want to work off of real data with real AI problems for real end users. It's always about trying to figure out that balance between experimentation and applicability."
It's something that also resonated with Blake Cassels & Graydon LLP. Earlier this year, the firm embarked on a project with Siemens on an M&A due diligence initiative, again using real data.
While some large law firms have concerns that their services — which are still most often paid by the hour — are not motivated to innovative, the concern is innovation leads to efficiency and efficiency leads to lower fees.
But David Kruse, partner at Blakes who worked with Siemens on the M&A initiative, says it is in the best interest of the profession to take the leap.
His advice to law firms is that trying pilot projects with clients as it did with Siemens is the first necessary step to move forward.
"Law firms don't have to see it as losing fees; it's actually about deepening relationships and finding new ways to be creative. Progress is happening, and people are naturally going to be looking for better ways of doing things, so better to be thinking about those solutions than not being part of them," says Kruse.
Brait says that, for in-house lawyers, working with law firms is a logical choice.
"They have a large number of sophisticated people and Blakes has a strong in-house group that deals with new technologies," he says.
"In the case of Thomson Reuters, we had a need in the claims area and knew what we wanted to do and these were the guys who know who to take the various technologies involved such as AI and an array of fairly sophisticated technology not in our wheelhouse," he says.
As a legal department, Brait says he always thought his team was "innovative" — they just were never thought of that way until the global innovation challenge came along.
"There is a real power in doing things like this and getting people excited," he says.