Investment in software allows Thompson Dorfman Sweatman staff to be productive as they work remotely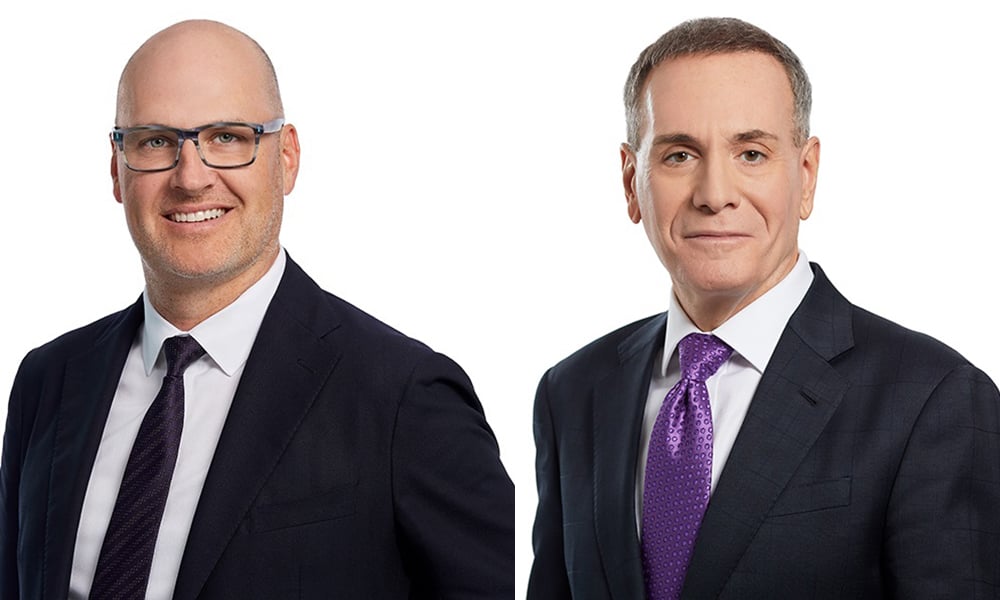 As the reality of a global pandemic sweeping the country became clear to Canadians by mid-March, it would have been easy for the lawyers and administrative staff at Thompson Dorfman Sweatman in Winnipeg to panic about the impact of Covid-19 on the firm's business. Instead, says Keith LaBossiere, TDS's CEO and managing partner, the reaction was more like "we've got this," thanks to their recent investment in current legal technology he says has more than paid off in terms of surviving — even thriving — during a pandemic.
Less than two years ago TDS Law became the first tenant to move into True North Square, a mixed-use development by James Richardson & Sons and True North Sports & Entertainment. When completed, True North will have almost 400,000 square feet in office space and 50,000 square feet of retail space, along with high-end condo residences.
At the time, says LaBossiere, the move reflected a desire to be part of a revitalized business and financial centre in Winnipeg, at the city's historic intersection of Portage and Main. But it also provided a chance to change how the firm used technology to engage with both its employees and client.
If TDS was going to be part of a transformative project for Winnipeg, LaBossiere says, "we decided we should use that opportunity to change ourselves." Little did those at the firm know that the tech-centred approach for internal collaboration would also turn out to be key in how the firm of 200-plus lawyers support staff in Manitoba and Saskatchewan would be able to keep serving clients as they made the shift to working from home.
Providing a real-time "desktop" experience from home
While lawyers at the firm have generally been able to work outside the office — with the benefit of internet, smart phones laptops and other technology — it was technology that didn't always allow employees to collaborate in real time. There was a lot of "back-and-forthing" of files, LaBossiere says. And while TDS lawyers had many of the tools to work outside the office, the administrative employees did not.
However, with the investment in technology such as cloud-based file and information sharing and the ability to be on conference calls with fellow staff or clients, LaBossiere says it provided a "desktop experience" for everyone at TDS, whether they are at home, at their cottage, or at the office when they return to the "new normal" of work as the pandemic wanes.
"It really has been a game changer for us," he says, "one that has allowed us not only to survive during the pandemic, but actually thrive."
Staff have been "extremely productive," even as they handle Covid-19 related challenges such as childcare, care of elders, or medical issues. As for clients, LaBossiere says the investment in technology has allowed staff to stay in touch, meet their needs (which have increased for many as a result of the coronavirus), and have important documents signed and filed "without missing a beat at all."
He points to products like Microsoft Teams, Office 365, Zoom and GoToMeeting as having helped with collaboration. "We've integrated those pieces of software, so that people are also able to see each other at the same we can work on documents and discuss them, making revisions as we go along," LaBossiere says. Without the investment in technology, "I don't know what we would have done."
Veteran lawyer Richard Yaffe, who worked in another Winnipeg law firm for almost 40 years before joining TDS late last year, said that as someone who has spent a good part of the last 10 years working remotely for family reasons, dealing with clients and other lawyers around Canada and the world, he definitely noticed how the TDS investment in collaborative technology made a huge difference, not just for him, but for clients.
"The technology is just as important to them," he says, especially during the pandemic, when so many had to quickly make the transition to working from home. It has allowed him, as well as his paralegal and other assistants, to work with clients' schedules and to have access to documents, IT and accounting services.
Yaffe makes the point that he is currently working from his cottage on Clearwater Bay, on Lake of the Woods in north western Ontario. He also says that while Manitoba has generally gotten off lightly when it comes to cases of Covid-19, many of his clients aren't as fortunate, as they are working from home in hotspots like Montreal.
Giving a helping hand to businesses affected by Covid-19
While the move to working remotely during COVID-19 was relatively easy for TDS — within a few days of deciding to close the office systems for working at home were all in place — LaBossiere says the firm recognizes that there are a number of Manitoba small businesses that have been significantly hurt by the pandemic. So, TDS is now inviting any Manitoba business with less than 50 employees and less than $5 million in annual sales to apply to be one of four organizations that will benefit from $10,000 worth of free legal services from the firm's lawyers.
A special effort will also be made to reach out to encourage applications from businesses that are 50 per cent or more owned by Black, Indigenous and People of Colour, as well as LGBTQ2IA+ entrepreneurs.
Yaffe says that the types of services could range from issues related directly to Covid-19 — such as insolvency issues and labour and human resource matters — the cost of even "ordinary" things such as filing corporate returns or negotiating contracts still need to be done, and that rack up legal fees. Yaffe, who specializes in securities law, also notes that some of these businesses may be trying to raise additional money by selling a stake in their business through public markets or private placement or taking on debt.
Trickling back into the office
With the pandemic in Manitoba generally under control — though LaBossierre says there still is a great need to stay vigilant and not have the number of cases jump quickly again — TDS is slowing working out a plan to have staff return to the office. The firm is looking at bringing back staff to the office at about 50 per cent normal capacity.
LaBossiere says there many different reactions among staff about returning — some, especially those who are living in smaller quarters and have children — are looking forward to going back to something that more resembles a "normal" work life. Others, either because they have extenuating circumstances (such as childcare or medical reasons) are content to continue working from home. And others are happy to work remotely but also like the idea of being able to return to the office on weekends or during off hours, when things are quieter.
However, whatever the solution, LaBossiere says, the investment in technology that helped them through the pandemic will be still be there to help steer the firm through whatever happens next.