Canadian Legal Tech Summit attendees hear of challenges, benefits of AI as 'hype' continues to grow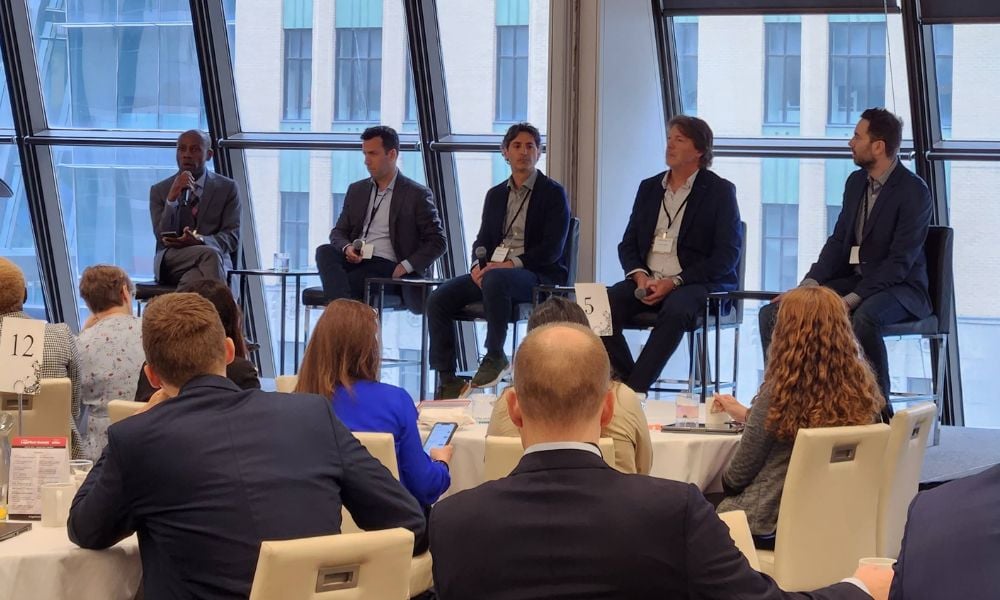 A pilot project designed to test the potential of artificial intelligence tools at McCarthy Tétrault LLP showed that certain types of applications for the legal profession seemed to work better than others, panellists told attendees to the recent Canadian Lawyer Legal Tech Summit.
"I would say that the results were mixed," David Cohen, senior director of client service delivery for the firm. During the panel, moderated by University of Calgary assistant professor Gideon Christian, Cohen spoke about a pilot of about 40 lawyers from different practices at the firm who used an AI platform with only public data.
The pluses and minuses of AI in legal work
One example of a challenge was using AI for legal research. It produced "quite a few hallucinations," which, in the context of AI, is a "confident" response that is not justified by its training data.
"The group [testing the platform] said it needs to get better before we start using this for research," he said. However, he said, when it came to tasks like generating documents, reviewing 100-page cases "and summarizing and analyzing them," the AI platforms did much better.
And those who were part of the test said they found that AI could benefit their practice if harnessed correctly, and the firm is further looking to explore the potential of AI.
"So, where we're at now is moving to a paid pilot over the next 12 months and doubling or tripling the number of users," he said. The firm will also enable the AI tool to incorporate the firm's proprietary enterprise data to "see what comes next."
Cohen added that the firm is "keeping its powder dry" on the eventual use of AI and what platform it might ultimately turn to.
"We're not putting our eggs into one basket," he said, adding that there will likely be a lot of powerful tools that come on stream soon, including potential products from information and data behemoth Thomson Reuters, based on "just knowing what time and thought it [the company] is putting into it."
Those involved in the McCarthy Tétrault pilot are also speaking to the different practice groups to look at what "pain points" exist and analyze the various tools on the market.
Cohen noted while there is a strong possibility that the use of AI in the legal profession will save on costs, it's "difficult to envision how that will work."
McCarthy Tétrault has also developed an AI task force, with a few subcommittees, focused on talent management, tools and technology and policies and governance.
The committee dealing with the latter topic recently sent out a concise policy document, Cohen said, that tells members of the firm there are specific AI systems that will be authorized to use with confidential, sensitive data and others that will now be allowed with such information.
Al Hounsell, director of strategic innovation and legal design at Norton Rose Fulbright Canada LLP, said his firm found the "same mixed bag" with using AI in the legal context.
"When I saw ChatGPT come out last year, I thought, 'Oh, my goodness, this is going to change the face of the world."
But as the firm started testing AI using public data, Hounsell said: "We sorta went through that Gartner Hype Cycle internally where you have these inflated expectations about what's actually happening with technology, and then you go through what is called the trough of disillusionment."
He added that because these systems don't have all the latest data points to work with, "a platform like ChatGPT will give you a great form of an answer, but not necessarily an accurate one."
His team also found early on that the best use of AI platforms is when you can "front load the information you want to be applied" so that it can be synthesized efficiently.
Two areas where NRF sees promise in AI is its use within what he called "contract lifecycle management tools" to help better understand contracts and compare counterparty agreements.
Another area is privacy and cybersecurity, where Hounsell said AI could look at various data storage systems to flag potential areas of risk.
The third potential for AI in the legal profession is to help give clients visibility with billing.
Said Hounsell: "So being able to use tools that can parse the language of your billing narratives, and then make predictions, this is something that I think is going to be really, really valuable to clients going forward."
Looking to the future of AI in the law profession
Charles Gluckstein, the managing partner at boutique personal injury firm Gluckstein Lawyers, said he is "no expert" on AI but is enthusiastic about technology, so he has looked at many of the available products and platforms.
"Because we do mostly litigation, I've been trying out, for the benefit of a lot of these tech companies, some of the tools they have, such as project management solutions," he said. "What I have noticed is that there are a ton of repetitive tasks in litigation that need to get done, whether it's drafting similar letters, doing research, or getting summaries of medical records. I find that AI technology could assist us with that."
However, while AI has the potential to take over repetitive tasks, summarizing documents and predicting responses, Gluckstein said its use needs to be controlled in terms of the data that is relied upon or fed into the system and ensuring that privacy is not compromised.
Mark Le Blanc of Simplex Legal LLP, lead of its new Thrive Legal advisory service, told summit attendees that he sees the world that lawyers operate in evolving into one of the human skills and technical skills, and the latter area is where AI can "play best." That's despite all the recent hype of seeing AI "dipping its toe" into human skills.
Le Blanc said that on the technical side, he sees a push for AI use to take certain time-consuming and repetitive functions of the legal world out of the hands of lawyers and legal professionals so they can focus on more human-oriented tasks.
"There's going to be a shift in how we use some legal professionals. And I think the ones who will probably be impacted most initially will be paralegals, articling students, and juniors," he said.
"We'll have to look at those roles and understand how we can utilize that talent base better than in the past."