Cassels' FourLines is working to build efficient operations as some in-person benefits return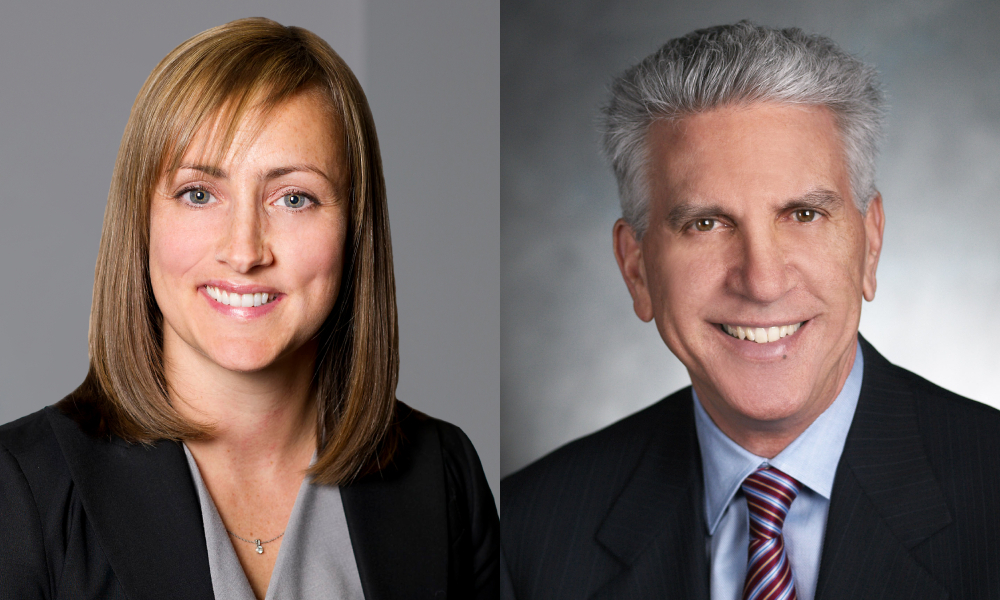 As the number of double-dosed has crept into the majority, Canadians are reacquainting themselves with crowds, public spaces and – more gradually – offices. But the pendulum will not swing all the way back from remote work to everyday office-attendance and FourLines at Cassels Brock & Blackwell LLP is working to balance operations in the middle.
FourLines co-founders Tilly Gray and Mark Young spoke with Canadian Lawyer about how they are working to make the hybrid model as efficient as possible.
The pandemic's silver lining was tech-adoption, says Gray, a partner whose nearly 20 years at the firm began in the financial services group. Among the tech-innovations they have implemented, the firm is overhauling its intranet to allow for better communication and collaboration while lawyers are working from home. Gray says this capability will be necessary whatever management's decision is on continuing remote work or returning to the office.
"We're not going to have 100 per cent of the people come back to the office 100 per cent of the time," says Young, who was managing partner of Cassels for 17 years. "I just don't see that as a likely outcome. So how do you adapt the benefits of having people in an office to the reality that not everybody will be there all the time?"
Collaboration has been a cost of working from home, he says. But now, lawyers in need of a second opinion will not always know whether the day they are in the office is the same as the colleague with whom they need to consult, he says.
"Looking forward, we have to think about how we make that as efficient as possible."
At the pandemic's outset, FourLines was in a hurry to implement technology and now they are refocusing their efforts towards creating a seamless user experience.
"Now we're kind of at this place where we really need to just examine and, sometimes, pull apart and put back together what we've put in place, so that we can get better ROI and make sure that we're doing the most efficient process and the most cost-effective means of doing whatever we're trying to address," says Gray.
"Whether it's work from home, or work from home a little bit and work at the office for a little bit, or work at the office all the time – like, who knows. That seamless user experience from wherever you may be, is something that I'm very keen on addressing right now."
Now and in the future, law firms will also reconsider how much space is necessary and lease accordingly, says Young. Firms will be looking at office-sharing or hotelling and trying to figure out how best to make that efficient.
Cassels is taking client-facing technologies and turning them inward, he says. The dividends this pays for management includes a greater ability to develop associates by digesting accounting data and examining and evaluating docketing patterns. The firm can understand who is busy, not busy, who is getting the opportunity to work on which kinds of files and who may not be.
"And that particular talent has an obvious implication, not only to just associate retention, generally, where you want to make sure people are getting good opportunities, but in particular, in connection with our [Equality Diversity and Inclusion] programs," says Young.
One longer term focus of FourLines is taking the expertise they have built in the implementation and use of tools and offering that help externally. Much legal tech innovation is difficult to "operate straight out of the box," and Young says the division is considering marketing that as a service to in-house departments.
"Because I think, hopefully, that not only leads to assisting existing clients and prospects with their technology implementations in law. But hopefully it gives us, as a firm, an entree into those clients to do other work for them."
Gray and Young founded FourLines in 2017 and launched the next year. The business division is a process-improvement incubator. Starting with a focus on the firm's transactional-based practises, FourLines expanded its mandate to all practice and industry groups, shortly thereafter, says Gray.
"We now are that hub within the firm that deals with supporting all of our practice and industry groups in having more efficient, tech-savvy, better process in place," she says. "Always with a view to better client-service delivery."
FourLines bridges the gap between technology, IT people and practitioners, says Young.
"Typically, IT groups don't know enough about what lawyers do. And lawyers typically don't know enough about what technology is out there to help them. And so that was kind of the starting point."
Cassels named FourLines after the solution to the classic lateral thinking exercise, the nine-dot problem. The challenge is to draw a line through all nine dots, which are arranged in three parallel lines of three and shaped like a square box, without lifting the pen from the paper. The solution is four straight lines which end up looking like an arrow pointed toward the top left corner. The puzzle is the origin of the expression "thinking outside the box," because the lines must extend beyond the square perimeter to connect with all the dots.