Langford describes her team's innovations to maintain agility and productivity in challenging times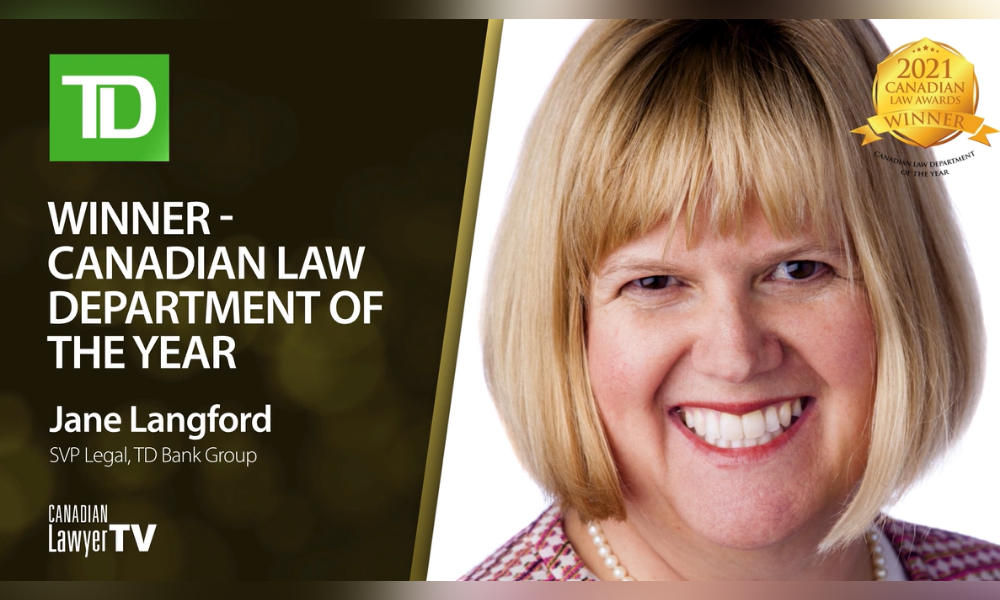 TD Bank has been providing personal, small business, and commercial banking as well as investing services for more than 150 years. Due to its professional excellence and commitment, the company's legal department is recognized as Canadian Law Department of the Year at the Canadian Law Awards 2021. Jane Langford, senior vice president, legal, tells Canadian Lawyer InHouse about her team's innovative strategy to navigate recent challenges.
Langford says that even before the COVID-19 pandemic, TD's legal team had been prepared to adapt by hiring not only lawyers with deep subject matter expertise but also those with broad expertise that is applicable to various spaces. The department focused on having "lawyers who understood the technology and the operations that the business uses, particularly those around regulatory compliance. And so, when COVID hit, we had an opportunity to see how well we were doing with that agility and that understanding of the business".
When operations shifted to virtual platforms, TD's legal team innovated as the circumstances required. For instance, they had daily stand-ups of all the lawyers who were supporting consumer-facing businesses. This approach enabled them "to share what was happening, to get some consistency on advice, to issue spot together". Through issue spotting, the team was able to efficiently and consistently redeploy resources across the business. Redeploying resources involved identifying where the risks were, thereby improving the group's agility.
In addition, SWAT teams were formed, particularly around health and safety issues involving employees and customers. The team also developed playbooks and reduced advice to simple business instructions so that the organization would have leeway for self-help. An advice tracker was created, says Langford, to come up with answers to significant questions: "Where were these issues coming up? Which businesses were struggling? … [That] meant when we had to pivot our advice when things were changing because it was a very fluid environment, we were quickly able to go back and say, who are all the businesses that we gave this advice to? So, we really [used] the workflow and knowledge management features in our management system".
As banking is an essential service during the pandemic, the team coped with an increased volume of work, and many employees put in extra hours. To reduce the likelihood of burnout, the team put in place certain measures that allowed employees to switch roles. The company also addressed the most important customer concerns and set aside non-urgent issues. Langford says she appreciates the resource teams that have performed technology rollouts to help manage the company's workload.
Considering the importance of support between team members, Langford says the company's approach "came down to a recognition that this health crisis is very individual and it would impact people differently and … our leaders needed to lead with flexibility and compassion". That's why the organization allowed alternative work arrangements for team members who were caring for children or seniors, those who were worried about their families in other parts of the world, and those with medical conditions and greater vulnerability to COVID-19. Aside from letting people work at night or transfer to a different jurisdiction, the team strengthened their social connections through virtual meetings that emphasized the fun side of their home lives.
At present, TD Bank's legal department is conducting dialogues about socially relevant subjects such as diversity and inclusion, taking into account the country's indigenous history and the need for racial equity as highlighted by the pandemic.