Like many companies in Quebec these days, the Metro Supply Chain Group is growing rapidly as demand for its fundamental logistics services rises to meet the global movement of goods internationally.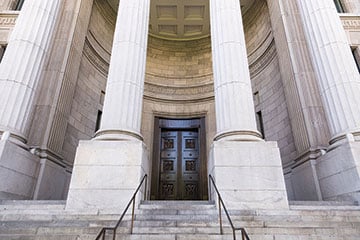 Like many companies in Quebec these days, the Metro Supply Chain Group is growing rapidly as demand for its fundamental logistics services rises to meet the global movement of goods internationally.
Joyce Carestia joined Metro Supply Chain, a logistics services provider, in 2012. She had been in private practice at a boutique firm for 10 years and was doing mostly M&A and real estate work. "When I joined there was no legal department here," says Carestia, who is vice president legal services at Metro Supply Chain Group in Montreal.
"Our company operates mainly outside of Quebec and I tend to do mostly common law work. Our business has operations in the U.S., U.K. and Canada. We have had some international acquisitions," she says.
The company had been around for 35 years and the warehousing/logistics business was evolving, and the company's chief financial officer saw the need to document the bigger relationships they were having with large retailers and bigger companies. Things were getting much more sophisticated and arrangements were becoming more advanced.
"We are an asset-light organization —we don't own any real estate or bricks and mortar or any fleets. Our entrepreneur owner is always looking for the next deal and keeps us on our toes, that is what I love most about my practice," she says.
"I could be drafting a Letter of Intent, but from a legal perspective, you know there is a lot more that comes with an LOI, so it's very exciting," she says. "2018 was a particularly challenging year as I needed to bring myself up to speed very quickly on an entirely new industry — the storage and transport of cannabis. At that point, they were already storing and delivering tobacco for a large brand name but the Cannabis Act legislation hadn't contemplated the middlemen (warehouse companies) handling packaged cannabis."
Carestia is a one-person legal department supporting all of the business units such as HR, IT, sales and corporate, so when they have these types of acquisitions it makes her practice somewhat challenging in that there is the day-to-day stuff that needs to be taken care of as well.
"I always felt I was interested in the business side of things — in a firm you don't have that opportunity as much. Here, I put on my hard hat and fluorescent vest and walk into a warehouse to see what's really happening. You get to be in on the nitty gritty of the business, which definitely helps me in my drafting of commercial arrangements and providing legal advice to the group," she says.
She's now been with Metro Supply seven years. Her work ranges from conducting due diligence for potential acquisitions, to drafting complex e-fulfillment logistics services agreements, to reviewing iCloud service agreements, to dealing with labour and employment matters etc. "I'm really hands on — I tend to reach out to external counsel only when it's an exceptional matter. I also have subject matter experts that I know in the transport domain. I know my limits — I am an M&A lawyer, therefore I know I am not an expert in Alberta severance obligations or what the same would be in the U.K. for that matter," she says. "As in-house counsel, it is key to know when to seek the expertise of a subject matter expert so as to best serve the company."
"In 2019, my goal is to consolidate our commercial agreements of all the businesses we have acquired," she says.
What keeps her up at night is wondering if "everything is up to par" with the company's level of risk. "I know the Metro standard and some of these smaller companies we have acquired don't have the level of detail and protections which Metro is used to. I need to get to synthesizing all of that this year."
At Bombardier Inc., Nicholas Cerminaro, director of legal services, has been focused on the company's turnaround plan, started in 2015 and slated to finish in 2020.
"We have passed the mid-point mark of that — the entire company is focused on making sure that gets delivered for all the shareholders, the employers and clients and customers. A lot of what we have done is in support of that from the Boeing litigation case we had in the U.S. to the representations we had for the failed Siemens AG and Alstom SA mega merger in early February," says Cerminaro.
Generally, legal's work in this area falls under the category of special projects and legal has been at the forefront of delivering on the turnaround plan for the company. "I basically expect the next year to be exactly the same. We're in the middle of financing — there are all sorts of initiatives to make sure we're at the forefront of delivering on our objectives. If you speak to anyone, we're laser focused on delivering on that," he says.
Right now, Bombardier legal is focusing on execution and supporting the business.
"I spend most of my time focused on the China trade war with the U.S. and looking at Brexit. The reality is the legal landscape in Quebec is quite stable. One thing we're watching is securities regulatory focus on non-gap measures."