Kenney says in tweet that he will not engage 'in lobbying Alberta government or its agencies'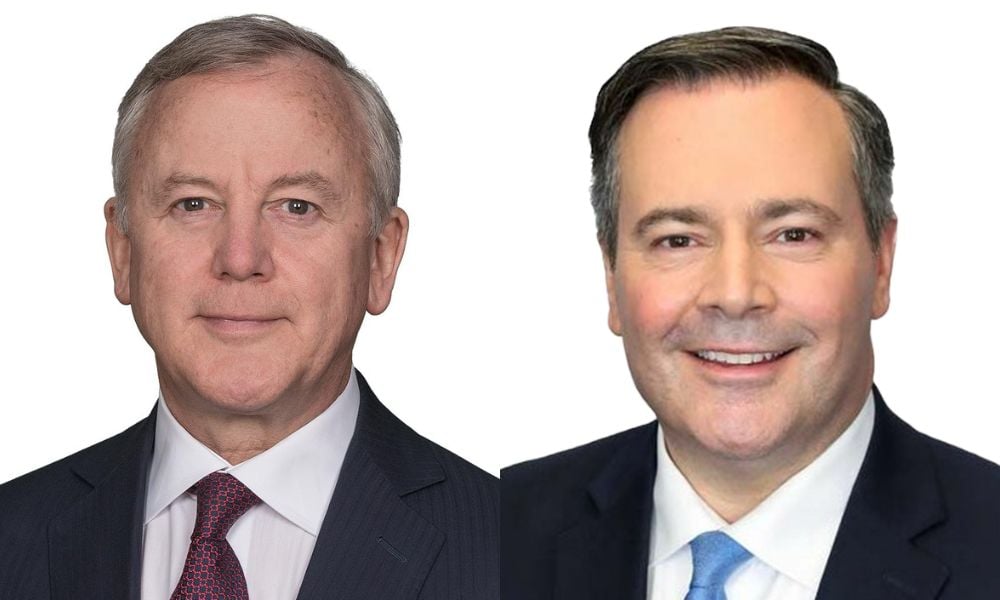 Bennett Jones LLP has added yet another prominent former politician to its roster of senior policy advisers – this time Jason Kenney, who was Alberta premier from 2019 to 2022.
The former premier, who also sat as a federal Member of Parliament for 19 years, "brings an extraordinary combination of leadership and public policy experience to the firm and our clients," says Hugh MacKinnon, chairman and chief executive officer of Bennett Jones.
Kenney is also mindful of how working for a law firm might be viewed in terms of lobbying. In a Twitter post he said that joining the law firm was reviewed by the ethics commissioner and found to be in line with the Conflicts of Interest Act. He added he will only accept positions that fit relevant statutes and guidelines. For example, he said, "I will not be engaged in lobbying the Alberta Government or its agencies."
MacKinnon says nevertheless, Kenney "brings a large network of contacts both in Canada and abroad – that's a superb resource for our clients."
Kenney will be based in Bennett Jones' Calgary office, and will be joining a group of policy advisers that includes:
Former BC Premier Christy Clark, who retired from political life in 2017 as the longest serving female premier in Canadian history, having served six years.
John Baird, former federal Minister of Foreign Affairs in the Conservative government of Stephen Harper, who also served in the transport and environment portfolios and was president of the Treasury Board
John Manley, who served as a Liberal Deputy Prime Minister of Canada, Minister of Foreign Affairs, Finance Minister and Industry Minister
Anne McLellan, who sat in numerous portfolios in the Liberal governments of Paul Martin and Jean Chretien, including Deputy Prime Minister, Minister of Public Safety and Emergency Preparedness, Minister of Health, Minister of Justice and Attorney General of Canada, and Minister of Natural Resources
The public policy group at Bennett Jones also has many former public servants, including former Bank of Canada governor David Dodge and former Deputy Clerk of the Privy Council and Deputy Minister of Intergovernmental Affairs Serge Dupont.
The policy advisers help translate "what public policy means for business, what goals governments are trying to pursue, and how that will impact them," MacKinnon says. "It's critical that clients like ours understand the big picture, and how the different layers of government work," he adds. "The advisers can also help us thread the needle in being the most efficient we can in pursuing our clients' interests."
For example, MacKinnon says that having a former Bank of Canada governor like David Dodge produce an economic report twice a year, along with budget analysis, provides both those at Bennett Jones and their clients with "big picture" dissection of the economy and public policy. "That sort of analysis is also important in Bennett Jones clients getting the best advice on specific projects or interests that our clients have."
Kenney was first elected to Canada's House of Commons in 1997 as the member for Calgary Southeast and was re-elected six times. Between 2007-15, he served as Canada's Minister for Citizenship, Immigration and Multiculturalism, Minister of Employment and Social Development, Minister of National Defence, and Chair of the Cabinet Operations Committee.
He then became Alberta's 18th Premier from 2019 to 2022 as leader of the United Conservative Party. Bennett Jones said in its announcement of Kenney joining the firm that he "brings tremendous leadership and vision to Bennett Jones on how to seize new opportunities in Canada's energy sector, build partnerships with Indigenous communities and attract investment."
MacKinnon also points out that Kenney, as premier, led the creation of Alberta's Recovery Plan, Natural Gas Vision and Strategy, Hydrogen Roadmap and the Alberta Indigenous Opportunities Corporation.
"I'm thrilled to be joining this iconic firm," Kenney said in a news release, noting that Bennett Jones has "both deep Alberta roots and a major national presence." He added the firm has "the greatest policy depth of any Canadian law firm, and I look forward to working with several former colleagues from both senior elected and public service roles."
It's a time-honoured tradition for former politicians to land at Canadian law firms.
In 2016, Stephen Harper, having lost an election to Justin Trudeau, took a job with Dentons, working out of its Calgary office. Chrétien, who served as prime minister from 1993 to 2003, also works at Dentons. Former Alberta premier Dave Hancock, the province's shortest serving premier, also worked for a time with Dentons, though he's now a judge. James Moore, who served as industry minister under Harper, is also a business adviser with Dentons.
Former Prime Minister Brian Mulroney is a senior partner at Norton Rose Fulbright.