Use of act to deal with anti-mandate protests doesn't meet burden of protecting Charter rights: CCLA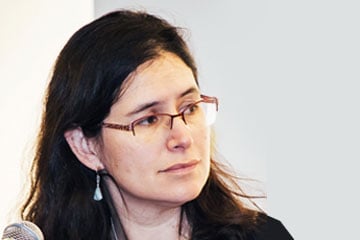 The Canadian Civil Liberties Association is going to court for a judicial review of the Liberal minority government's decision to invoke the Emergencies Act to deal with blockades and protests by those opposed to vaccine mandates, a piece of legislation that has not been used since is drafted and passed in the 1980s.
In making the announcement Thursday, the CCLA's executive director Noa Mendelsohn Aviv said the government has "brought an extreme measure" that should be reserved for national emergencies, "a legal standard that has not been met."
The CCLA has retained Ewa Krajewska of Henein Hutchison LLP to take the federal government to court in the Federal Court of Canada. "We have said all along that the federal government did not meet the high burden necessary to invoke the Emergencies Act," noted Aviv.
Krajewska said, "it is important from a rule of law perspective for the courts to scrutinize these actions and ensure that they are consistent with the purpose of the legislation and that the government does not overreach or infringe on the Charter rights of Canadians."
Aviv added: "For all the peaceful and disruptive protests in Canada's history, some involving unlawful acts and protective standoffs with police, never before has the government declared a national emergency under the Emergencies Act, and with that, given itself the enormous powers to bypass the normal democratic process."
Aviv said that protest is "how people in a democracy express and share their political messages of all kinds, whether they be environmental activists, students taking to the streets, indigenous lad defenders, workers on strike, people who know that Black lives matter, and other who oppose government measures of all kinds."
While it is possible for a gathering to be both "disruptive ad peaceful and non-violent," Aviv said peaceful assembly is a "critical democratic tool." Not every person may agree with the content or objective of a movement or disruptive protests like shutting down pipelines or camping out in a public space. Still, it is often the most effective way of raising awareness.
Earlier this week, the federal government published the emergency measures invoked under the Emergencies Act to respond to border blockades and protests, especially in the nation's capital Ottawa, that have disrupted trade and people's lives over the last several weeks.
The measures are broad in scope and reach into matters of provincial jurisdiction. They include:
general prohibitions on participating in or travelling to assemblies likely to lead to a breach of the peace
not participating in a public assembly that may reasonably be expected to lead to a breach of the peace by moving persons or goods, or interfering with trade; interfering with critical infrastructure, and supporting the threat or use of acts of serious violence against persons or property
not allowing a person under the age of 18 to participate in an unlawful assembly
not directly or indirectly using, collecting, providing, or inviting a person to provide property to facilitate or participate in an unlawful assembly.
The emergency measures target "designated persons," defined as any individual or entity engaged, directly or indirectly, in any activity prohibited by the regulations. That last measure broadly covers everything from sending money to support those participating in an unlawful assembly to someone selling goods to someone for use during an unlawful assembly. That could be anyone from the direct participant or donor to a cashier that rang up a sale.
All Canadian financial institutions — whether federally or provincially regulated — are also obliged under the measures involved to freeze accounts of those participating or helping unlawful protestors. These institutions must cease
dealing in any property, wherever situated, that is owned, held or controlled, directly or indirectly, by a "designated person" or by a "person acting on behalf of or at the direction of that designated person
making available any property, including funds or virtual currency, to or for the benefit of a designated person or to a person acting on behalf of or at the direction of a designated person; or
providing any financial or related services to or for the benefit of any designated person or acquiring any such services from or for the benefit of any such person or entity.
There also is a provision in the measure that allows authorities to compel private persons, such as two truck operators, to provide services.
Abby Deshman, Director of Criminal Justice for the CCLA, told a news conference that the CCLA does "not want to minimize the impacts of the protests that are occurring across the country."
However, while some of the blockades have been "immensely disruptive," Deshman said it is unclear that the protests "endanger the lives, health or safety of Canadians" so as to rise to the "threshold of a national emergency under the law."
She added the emergency orders tabled by the government are not targeted. "They are not limited to specific protests, or specific geographic locations. They are expansive emergency orders that have already come into effect and apply equally across the entire country. And they place unprecedented restrictions on every single Canadian's constitutional rights."
She said the emergency orders place significant limits on peaceful assembly across the entire country. "They require financial institutions to turn over personal financial information to CSIS and the RCMP, and to freeze the bank accounts and cut off financial services provided to anyone who has attended, or who has provided assistance to those participating in, a prohibited assembly – all without judicial oversight."
Lyle Skinner, a lawyer specializing in parliamentary and emergency management law, says that one aspect of the Emergencies Act falls under federal Parliament's "peace, order and good government" powers. The measures invoked to deal with the protesters also steps into areas of provincial jurisdiction, he notes
Skinner says that, for example, there is a "deficiency" in Ontario's emergency measures law where they can authorize private persons to provide support services, such as tow trucks, but they can't compel them. So, the federal act now gives Ottawa the ability to compel these individuals to provide support when requested and provides the power of federal criminal law.
As for the discussion over what threshold would justify the use of the act, Skinner says the protests are a "public order" issue rather than a "public welfare" emergency such as, for example, a pandemic like COVID-19. Therefore, the question of the lawfulness of the emergency measures imposed centres on whether invoking the Emergencies Act is a justifiable "last resort." This is based on provisions in the Canadian Security Intelligence
Service Act Act. They include potential threats to national security such as:
espionage or sabotage that is against Canada or is detrimental to the interests of Canada or activities directed toward or in support of such espionage or sabotage
foreign-influenced activities within or relating to Canada that are detrimental to the interests of Canada and are clandestine or deceptive or involve a threat to any person
activities within or relating to Canada directed toward or in support of the threat or use of acts of serious violence against persons or property for the purpose of achieving a political, religious or ideological objective within Canada or a foreign state, and
activities directed toward undermining by covert unlawful acts, or directed toward or intended ultimately to lead to the destruction or overthrow by violence of the constitutionally established system of government in Canada.
However, it does not include lawful advocacy, protest, or dissent, unless carried on in conjunction with any of the activities referred to above.
So, any judicial review of the invocation of the Emergencies Act in the case of the anti-mandate protests would be based around the interpretation of those provisions, Skinner says.