First Black head of the OBA Charlene Theodore a featured speaker at Feb. 18 Women in Law conference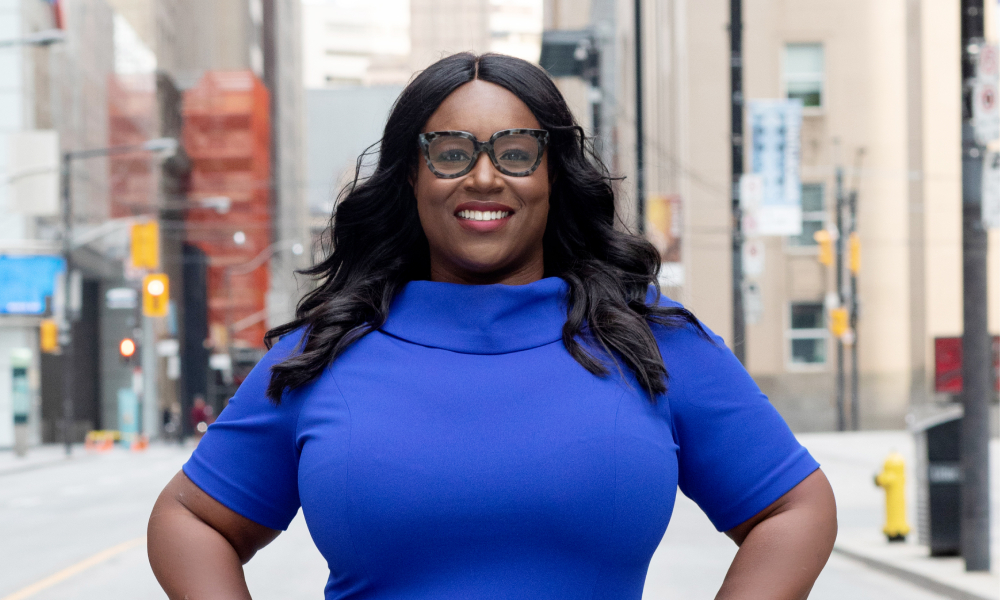 The death of George Floyd while in police custody in Minneapolis last year has had an enormous impact on the discussion of inclusion and diversity in the workplace — whether based on gender, race, sexual orientation, says Ontario Bar Association president Charlene Theodore. And this, in turn, has implications that will reverberate strongly in the Canadian legal community.
The death of Floyd, a Black man detained by police for passing a counterfeit bill, on May 25, 2020, "sparked a global reckoning of inequality and anti-Black racism, and how pervasive this exists within society," Theodore says.
"So, in the context of the bar in Ontario, and indeed across Canada, there's now an unprecedented focus on how, in spite of some gains, systemic racism has traditionally excluded Black lawyers from our profession," adds Theodore. "And within that, of course with the intersectionality of gender, it has had a disproportionate impact on Black women lawyers."
The first Black lawyer to head the OBA, and only the 10th female president in its history, Theodore will be a featured speaker at Canadian Lawyer's Women in Law conference on Feb 18. With a background in labour and employment law, Theodore is in-house counsel for the Ontario English Catholic Teachers' Association.
Theodore says that when she spoke at the Women in Law Conference last year, she talked about "imposter syndrome" and the importance of women lawyers "really seeing themselves in positions of leadership, which at its core is about reclaiming power, the power to chart the path in your career."
But since Floyd's death and the Black Lives Matter movement's protests, Theodore says she has seen a noticeable change in the power dynamics. It has become a "time for real reflection on who has been excluded from leadership in our profession, whether you're talking about the practice of law, whether you are talking about the bench."
There is real potential for change, Theodore says. "It's not as if stakeholders are just talking the talk." There are many law firms and other stakeholders who have been trying to make changes — "they have been doing diversity training, they have been providing outreach to law schools." However, the question is whether enough resources are being devoted to those activities and if they have the impact they are supposed to have.
As part of the OBA's "Not Another Decade" initiative, Theodore says the goal is to go beyond good intentions and motivation into providing real markers on equality, inclusion and diversity in the workplace and the justice system in general.
Under the plan, Theodore says the OBA will work with the legal sector to meet a new target or critical performance indicator every year for the next decade to move the dial on equality. The plan will involve assessing diversity and inclusion plans and providing tools to improve the likelihood that these plans will make a difference.
For a larger firm, this might mean hiring a third-party consultant to work with leadership to improve and implement these plans. For smaller firms, it might mean partnering with the OBA on diversity training and other advice.
As part of this audit of diversity plans, Theodore says there should be a look at not only the racialized aspects of diversity and inclusion but a more in-depth probe into the intersection of race and other factors. "How do these plans affect all women at work? How do they affect Black women? Other women of colour? Indigenous women? Those who are part of the LGBTQ community? Those with visible and invisible disabilities?"
Any diversity plan should also address the needs of those racialized or other diverse groups who have already been recruited into a firm to ensure their career goals are on the right track, Theodore says.
The question of retention of already recruited employees is essential, she says. "Do your Black associate lawyers feel like they have a home in the workplace? Are they welcome there?" she says. "If people are leaving, it becomes a matter of looking at what is missing from the plan, and whether all is being done to help these associates thrive, do their best work and become future leaders at your firm.
"For example, if your diversity goal is to promote black women in the work allocation system dictates that they are not getting the bigger files, or they do not have their unique experience recognized, then there is a problem in setting them up to be these future leaders."