Authenticity and mixing professional expertise with one's unique personal flavour and non-law interests is the recipe for virality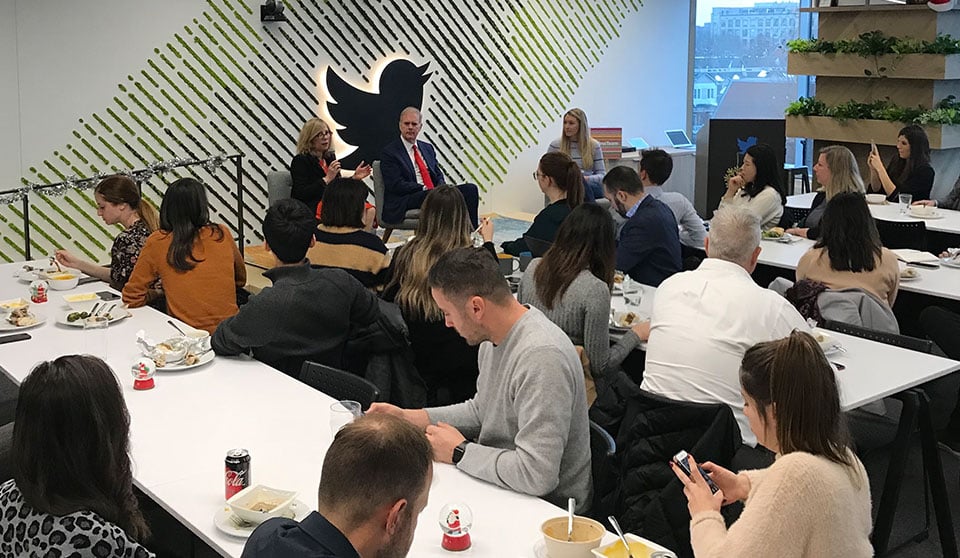 Social media is more than a useful networking tool for lawyers — it's fast becoming a job requirement. During a panel at Twitter's offices in Toronto, two prominent lawyers with exceptional followings gave a how-to on social-media use in the legal profession.
On Wednesday, Dec. 4, lawyers Lynne Golding and Craig Thorburn cautioned that despite a notoriously negative and combative atmosphere, for lawyers, Twitter is best handled with neutrality and positivity. Authenticity and mixing professional expertise with one's unique personal flavour and non-law interests is the recipe for virality.
Golding, who leads Fasken Martineau DuMoulin LLP's health group and Thorburn, a partner at Blake Cassels & Graydon LLP said that, as senior lawyers, they're "rare birds" in their social-media savvy. But as the younger cohort matures, the legal profession will see a "major shift toward social media."
"As the old guys and gals go off into the sunset, you'll just see an increase. I think it's an accelerating and increasing trend," said Thorburn, an M&A lawyer based in Toronto.
At Fasken, lawyers are encouraged to up their engagement on social media, said Golding. Once a year, fore something of a social-media workshop, she assembles the health group together and tasks her team with posting on multiple platforms. Thorburn said Blakes recently delivered new social-media-use guidelines, the message of which was: "you should be an active person in social media because we rely upon our name being known and our brand being out there."
Being out there must be balanced with client interests and Golding said she is cautious.
"I have 3000 followers, I'm never going to have 50,000 because I really don't want to take on too much risk in what I post," she said.
Less risk averse, Thorburn has built a career on "pushing the envelope" but sticks to delivering his perspective on industry developments, advising on implications for businesses and what to expect in the future.
"I don't engage in criticism. I engage positive stories, and I tweet legal developments that are, in themselves neutral," he said.
Avoiding controversy is difficult in health law, an inherently political environment and Golding said she avoids retweeting or liking content coming from politicians, government agencies or their critics – but consumes those posts for her own information.
Now in his 35th year, Thorburn began at Blakes when the firm had 73 lawyers – it's grown to nearly 700 – and now networking on Bay Street requires help, he said. For those getting started, Thorburn recommends identifying one's core community, producing content that will build your reputation among that group before your reputation allows wider expansion.
"The other thing that I would really recommend is finding somebody just to follow for a while and see what they do," Golding said.
Golding and Thorburn boosted social media's ability to bring in and better serve clients. To educate himself on his client's businesses, Thorburn used to pay around $25 thousand per year for a Bloomberg terminal. He's replaced that service with Twitter and said it's just as effective.
Both agreed they cannot precisely quantify the value produced from time spent on social media but added that reputation building is hard to measure.
"I cannot think of a client that said, I'm hiring you because of what I saw you posted online. But I do a lot of public speaking as well. I speak in a lot of conferences, and I can't think of too many times that I've gotten the client directly out of that," said Golding. "But what I think it does – the public speaking, the writing of bulletins, the posting online – it helps build your credentials overall, as being someone who's very knowledgeable about the industry and sector and the issues that are relevant to them."
Thorburn had an anecdote showing windfalls could come unexpectedly. He "liked" a Tweet from a New York lawyer he had worked on a file with a decade earlier. The next week, the lawyer called him with a "major referral."
"That's what we do. We put our names out there. We build general brands and reputations, and Twitter is a key component for that," he said.
Merging the personal and professional is vital for influence and reach online, Golding and Thorburn agreed.
A historical fiction writer in her spare time, Golding has published two books — and on Twitter, she presents herself as a lawyer-by-day, novelist-by-night.
"Some of my most popular tweets are ones that kind of combine all that together and I think probably because you can see the passion in it," said Golding.
Adding a personal touch to social media use was the driving force behind Thorburn's most viral Tweet to date. Sitting in his 30th-floor, Toronto office, he saw a Peregrine Falcon circling near his window. He marvelled at the scene, awed by the fastest creature on earth, which was once near extinction. He quickly found a CBC article about the bird and tweeted his gratitude at everyone who helped bring them back from the brink.
"It was amazing how quickly it went viral. I've learned over the couple years that I've been tweeting that the real thing that connect people directly – the anonymous story is fine." he said. "If there's some personal component, or some other link between me as a storyteller and the story that people like, that's when people engage."
Related stories