Two partners discussed the firm's business, hiring trends, COVID, economic outlook, and the future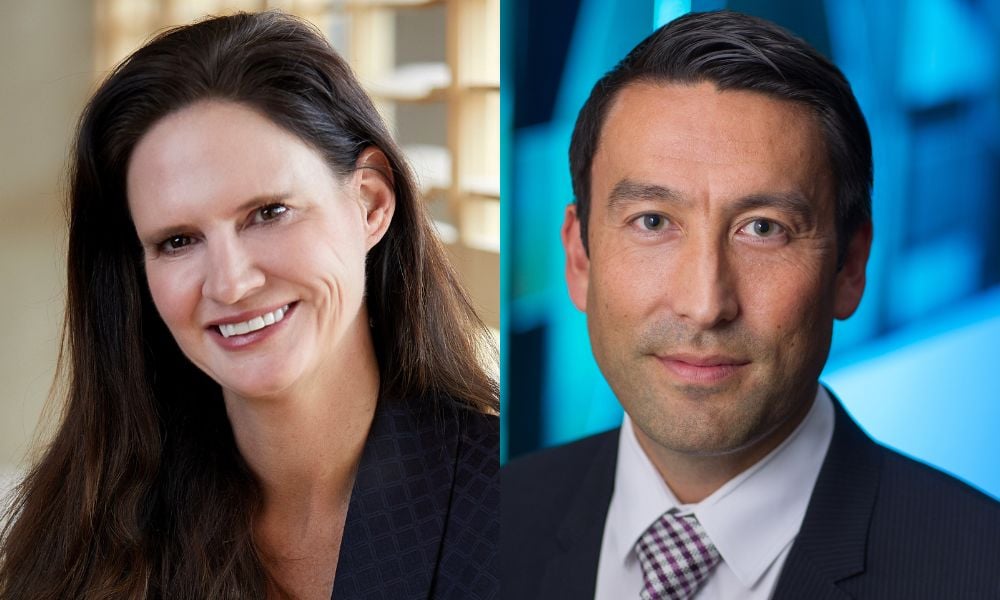 As the firm navigates its emergence out of the pandemic, Lawson Lundell LLP is focussed on wellness, diversity, and ensuring that its remote-work/flexibility balance allows younger associates the mentoring and collaborative learning they need, say partners Shannon Wray and Kinji Bourchier.
Wray, a commercial litigator in Calgary, and Bourchier, a commercial and business litigator in Vancouver, recently spoke with Canadian Lawyer about the firm's business, hiring trends, COVID, tech adoption, and what the future has in store for various practice areas.
Both Wray and Bourchier were working group managers during the pandemic. Before COVID hit, wellness was not a primary focus for the firm's management, says Wray.
"Now we're incorporating that into our everyday lives," she says, "management, in particular, being more aware and having more resources. We saw a lot of people struggle, and it highlighted the need to have a wellness committee and to make sure that people are getting the attention that they need."
"It's the attention," adds Bourchier. "They need the resources to reach out if they're not feeling great – which is to be understood. It's been unprecedented, the pandemic. Also, I think, on a very human level, it's okay to put your hand up and say, 'I'm not doing great.'"
The emphasis on wellness, as well as on diversity and inclusion, comes from a generational perspective which increasingly looks at one's career holistically, says Bourchier.
"For the younger generations, it's more important," he says. "And I think it's a very positive thing that the workplace be inclusive for all, a safe place for everybody, a place where, if you're not feeling great, you can put your hand up, and you can talk through it and have a constructive dialogue."
Wellness plays an important role in a law firm's business also because associate retention has been a challenge throughout the legal profession and has been magnified by COVID, says Bourchier.
At this stage in the pandemic, firms are still navigating a return to full-time, in-office work. While lawyers are interested in flexibility, they also want the opportunity to learn from their colleagues, say Wray and Bourchier.
"We learned through the pandemic that our collaborative learning is very important," says Wray. "It is very important to be able to walk down to your partner's office and have a chat about a file. Nothing has replaced that. It's not the same when you're on video."
"Being able to be flexible and back to work is something that our associates are looking for, in particular," she says. "But it's just a balance of how we can move forward in this next era of having some remote working but being as efficient and effective as we can."
COVID forced remote-working on the legal industry, and for some of the older partners at the firm, the pandemic was "baptism by fire" for tech adoption, says Bourchier. This "leap forward" for the firm included going paperless and the added efficiency of Zoom and Teams, which has been adopted across the board, and, for the most part, is here to stay, he says.
"And then, hand in hand with that came more of a focus for our firm on the security around data," says Wray. "I think that just comes with remote working. We've been very much focused on that this year." This includes new program implementation, more people working in the IT group, and training, she says.
A collaborative mentoring experience is essential for the development of young lawyers, says Bourchier. "That's something which, sadly, during the pandemic, was lost to some extent." So, it is also important to tailor the transition and return to work to ensure that the younger lawyers are getting the mentoring and collaborative learning they need, he says.
Lawson Lundell is a full-service business law firm in Western and Northern Canada, with offices in Vancouver, Calgary, Yellowknife, and Kelowna. It has been in operation for 135 years.
The firm is currently seeing an increase in litigation and regulatory work, says Wray, whose practice includes regulatory and administrative law matters for clients in electricity and the oil and gas sector. Much of this activity is driven by high oil prices.
"We see the companies starting to spend more money again, and we're seeing files come in," she says. "When times are lean, they would keep those files and do most of it themselves. When times are busy, they get rid of very file they can, and their internal counsel are just focusing on the business."
"So, in litigation and regulatory, we're seeing an increase. What's slowing down a bit is the insolvency and bankruptcy work that had peaked during the pandemic."
Many experts are predicting an economic slowdown is in the cards for 2023. Bourchier adds that an advantage to litigation is its consistency and ability to weather tough economic times. "In fact, in certain instances, when the economy slows, certain areas in litigation – like bankruptcy, insolvency, restructuring – they actually pick up."