The legal consultant explains how most firms are still not up to the task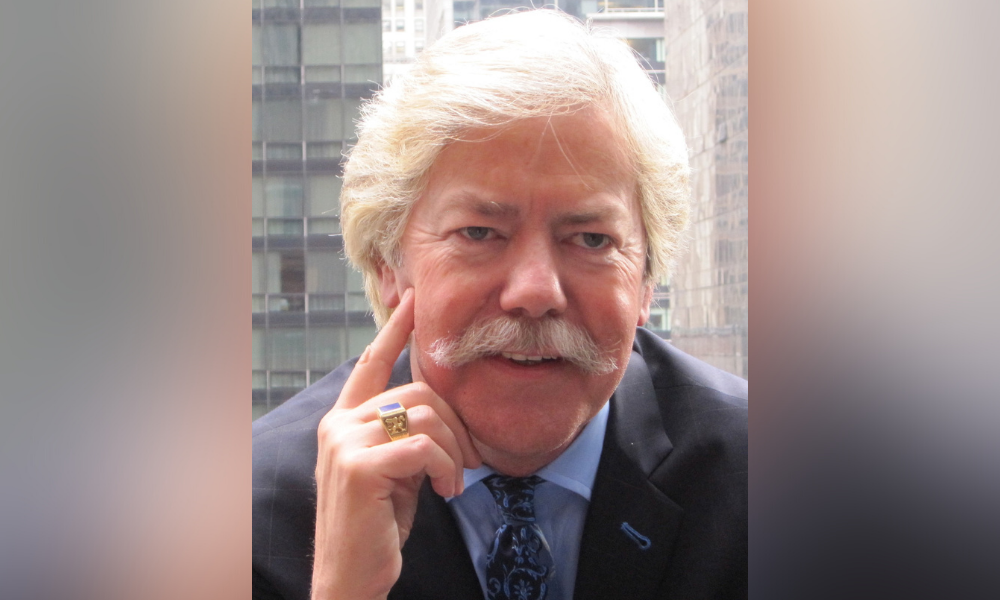 Canadian Lawyer spoke with Patrick McKenna, an Edmonton-based law firm management consultant who has worked with law firm leaders in over a dozen countries. He recently released a new e-book entitled Industry Specialization: Making Competitors Irrelevant.
Where are most of the law firms that you work with located?
I joke with friends that for the last 20 years, I don't work in Canada, although I live here. Approximately 80 percent of my work is in the US, but it's global. I've worked in and travelled to 47 different countries.
Do you work exclusively for law firms?
Around 95 percent of my work is for law firms. And while I don't market myself to the in-house legal community, I've worked with firms as big as Intel, and spent a couple of years as a special advisor to John Hancock Financial. I've also worked with management consulting firms in different areas, including a couple of accounting firms. I came out of a corporate background, having been a vice president with one of the pioneering cable television companies.
Your book focuses on how law firms should be more industry-focused. What is your most important advice to law firm leaders about doing that?
It starts with understanding the benefits of the firm relative to how you serve clients. Numerous studies show that the number one reason clients pick a firm is their demonstrated understanding of their industry. They will often say it in words like, "I want somebody who knows my business." What they're saying is, "Do you understand our lingo? Can you speak our language? Do you understand how I make a buck?"
The second thing to remember is that being industry-focused helps you differentiate yourself. One of the questions I ask readers to ask in the book is, "why should I choose your firm?" You pose that to a group of lawyers, and you can just watch them stunned. And they'll say, "We're the oldest firm," or "We're full service." But the single biggest differentiator among law firms is experience in your client's industry.
Can you give me some examples of that approach?
For example, let's say you're doing intellectual property or patent work. In the US, last year, almost 1.6 million patents were granted. These are almost all in a few broad industry groups. In other words, rather than looking at it from a legal lens, look at it from an industry lens. And you find out that biopharma, software, computer hardware, medical devices, and mechanical equipment are the top industries working on securing patents. So, I would focus my patent work on work in specific industries.
I was appointed to a group last year called Alterity ADR. It is a law firm group that does nothing but alternative dispute resolution. And I'm sitting on their advisory board. I told them there are over 9,500 alternative dispute resolution cases a year, but six industries account for the largest ADR matters. None of them knew that. And so, as a result, they have planned a meeting of their advisory board, where they're talking seriously about refocussing on what they are doing in alternative dispute resolution on a few key niches or industries.
A Thomson Reuters survey recently said law firm leaders cited cross-selling as their top method to improve their firm's performance. How does that work when firms are industry-focused?
It makes cross-selling irrelevant. A general counsel recently said, "my lawyer comes in, and he wants to immediately introduce me to some other partner and tell me about the new service offerings." In other words, it's all about sales, sell, sell, sell. It's not about service. When working from an industry perspective, the industry team has different legal disciplines, and you're looking at the client's issues from a total business solution perspective.
What's the biggest impediment to becoming industry-focused?
Law firms do not understand the industry at a micro level. They don't know how to go granular. For example, I got appointed to an advisory board in Western Canada with a medical group of private clinics in the anti-aging regenerative medicine field. I'm sitting in one of my first meetings with the CEO, who is concerned about litigation risk assessment, and his regular outside law firm isn't going to cut it, so he is looking for expertise in health care. So, he arranges a meeting with three firms. He asked them, "what do you know about BHRT?" They were squirming a little bit, and one of the more senior lawyers said, "Help us with that acronym. What does that stand for?" The CEO says it is bioidentical hormone replacement therapy. And the response from the law firm after about 30 seconds was, "Please understand, we have the largest health care group in the country." The CEO's response? "Thanks for coming in."
The CEO was saying that there's no such thing as the healthcare industry. As with most mature industries, that industry has fractured into numerous sub-industries and micro-segments.
Another example would be construction, which has four different sub-industries divided into 51 different segments. Go to any of the websites of any Canadian firm that claims to have construction industry expertise, and they may say, "we do work in the construction industry." And then, when you look at it, they'll list all of the legal things that they do for the industry, but they don't go deeper in terms of sub-segments of the construction industry.
If a law firm leader wants to be more industry-focused, what are the first steps they should take?
The first step starts with looking at your client base and industries where you already have a depth of expertise. I see many firms with maybe 100-120 lawyers listing over 15 industries. Are you kidding me? Do you really think that the clients are that naive? Pick two or three.
You look at the bios of some of these lawyers, and they've been allowed to list half a dozen different industries, often industries that have nothing in common with each other. Do you think that the clients are that stupid?
What about firms in smaller regions? Isn't it more difficult for them to specialize?
You can still find a niche. I talked to a friend who works in one of these smaller firms outside a major urban centre. And I said, tell me, what kind of activity is going on in your area around vertical farming because he was in a largely rural area. If you had two or three clients in a particular province, you could be one of the vertical farming specialists across the country.
What about women-owned businesses? You could have a law firm anywhere in Canada that has a practice focusing on women-owned businesses. If you do the research and look into women-owned companies, there are sub-segments like the Femtech area.
I often hear from lawyers, "we're a full-service law firm." And I tell them, please go Google full-service law firm, you get 3.2 million results. Go Google leading full-service law. Now you're probably down to about 800,000. Your competitor is not the firm down the street. It is Google.
If you offer something of high value to clients, they're prepared to pay for it.
Once a firm has identified its niche, what should it be doing?
Monitor and look outside your firm at the industry trends. Law firm leaders will often say partners are not willing to change. They don't like to change. But that is because you don't expose them to what is going on. One of the essential elements of industry groups is that people in the group spend some time monitoring what's going on in the industry. That gives them an external perspective and allows them to be proactive rather than reactive.
What other trends do you identify in your book?
Much of the legal community is oblivious to is the degree to which we are going back to multidisciplinary practice. I profile Manatt Phelps & Phillips, which has spent more than 10 years building their Manatt Health multidisciplinary practice, in my book. They work with the c-suite and boardrooms to provide business advisory, financial, information technology, data analytics and clinical support.
The Manatt team has about 70 consultants and 90 lawyers. They treat all the professionals identically. There's none of this "non-lawyer" terminology. Everybody's equal, including their compensation. Their attitude is, "Manatt Health is not here to solve legal issues. We're here to provide a total business solution."
*Answers have been edited for length and clarity.