McKersie says his firm hired its first head of wellness and is doubling down on flexibility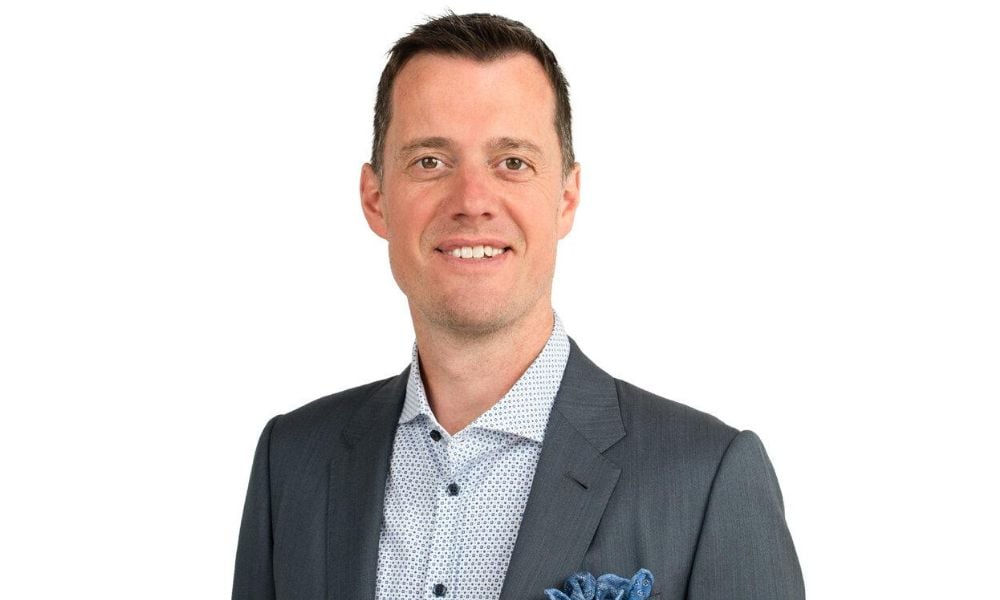 Canadian Lawyer recently spoke with Steve McKersie, the chief executive officer of Gowling WLG (Canada) LLP, about his role at the firm, recruitment and retention and tips for young lawyers*.
McKersie is a judge at this year's Lexpert Rising Stars Awards, honouring leading lawyers under 40 from law firms, in-house departments, and other practices. Nominations are open until July 7, and winners will be announced on November 23.
Tell me about your practice
I've been with the firm my entire career. I started as an articling student in our Ottawa office in 1998 when technology was booming, focusing on M&A securities and corporate finance. I moved to our Toronto office after the tech bubble burst in 2001 and shifted into financial services, insurance, payments, and life sciences.
Tell me about how you ended up taking on a leadership role at the firm
I went directly from practice into senior management when I became CEO. About seven years ago, I headed up our United States initiative, which is a business development sales initiative.
We do not have an office in the United States, but we have valuable law firm and client relationships there. There are partners in our UK, Dubai, and Paris offices and across Canada who are part of the US initiative. So, I had leadership experience even though I didn't have direct management experience when I became CEO.
When the firm elected me as CEO, they wanted someone with a business development and external focus.
What are your most noteworthy internal initiatives at Gowling WLG (Canada)?
When I assumed the role of CEO, one of the first things I started to work on was a new strategic plan. We've come out of the pandemic, and in the post-pandemic world, there was just so much change. Our firm felt like it needed to take a new direction that was partly shifting leadership and partly a new strategic plan.
It's been referred to internally as a bold and ambitious plan – it's a plan that embraces the accelerated pace of change that has become our new reality and is focused very heavily on our people, our most important asset. Our new plan has been developed and refined through broad engagement with the firm's partners and has taken on input from our people at all levels throughout the firm – our business services teams, associates, clerks, and students.
By prioritizing our people – and I mean genuinely prioritizing them – we will successfully retain and attract exceptional talent who, in turn, have the skills, knowledge and motivation to deliver a high-quality and distinctive experience to our phenomenal clients.
What major macroeconomic trends are you seeing in your client work?
The advancement of technology and generative AI is a big focus for business, but economic uncertainty, globalization and climate change are always in the background.
There is so much uncertainty about where the economy is going, including sustained inflation, high interest rates, and decreasing business and consumer confidence despite persistent low unemployment. It's impossible to predict whether we're heading into a recession.
We have seen a significant decline in demand for M&A, capital markets, lending, and real estate. That is mainly because of interest rates. But then the benefit of being a large diversified national firm is that another set of our practices is growing, including litigation, employment, restructuring, insolvency, and regulatory.
In terms of industries, the technology sector has been hit the hardest, and there has been an uptick in healthcare, pharma and the public sector.
The pandemic, supply chain disruptions, and war in Ukraine have pressured and threatened globalization. However, the level of international trade is higher now than pre-pandemic.
Finally, climate change is having a significant impact on our clients. Governments worldwide are passing regulations to mitigate climate change and penalize businesses that contribute to greenhouse gas emissions.
What are areas of challenge?
Many of our people suffered from all the changes during the pandemic as we returned to regular life. When I talk about suffering, I mean mental health and burnout. We are trying to address this problem by making a meaningful investment in the well-being of our people.
That is why we took an extraordinary step forward in investing in the establishment of a head of wellness at the firm. Leigh-Ann Ing joined us as our head of wellness in April. She came to us from OMERS with a strong background in leading large-scale wellness and benefits programs.
What is Gowling WLG (Canada) doing in recruiting and attracting the best legal talent?
The battle for people we experienced as we came out of the pandemic has indeed declined, and our attrition levels have dropped. But the war for high-quality talent is still raging on.
We are investing in three main areas. We are focused on a formal work allocation structure to level the playing field and provide our junior talent equitable access to quality work. Second, we're focusing very heavily on learning and development programs. That includes mentorship and well-being. Finally, we've comprehensively reviewed our partnership admission process to ensure greater transparency, objectivity, and fairness.
What is your advice to young lawyers on succeeding in a competitive legal landscape?
I was asked to speak to our incoming class of summer students recently. I encouraged them always to be their unique, authentic selves. I also encouraged them to immerse themselves in the experience they're embarking on. Focus on learning and developing solid skills, get exposure to a wide range of legal challenges and build relationships inside and outside the firm.
Remain curious, and then have fun. The practice of law is demanding, challenging, competitive, and time-consuming. It can be repetitive sometimes, but there are many opportunities to seek out fun and enjoyment.
What has stood out to you before when judging the Lexpert Rising Stars?
It was an absolute honour to help identify our bright young stars. I was always amazed when I saw the extraordinary talent, skill sets and professional experience of our young people, particularly their commitment to their communities.
It was a reminder that recognizing the diverse backgrounds, experiences, and achievements of the next generation of lawyers is essential. As we work to ensure that our profession reflects the diversity of our communities, taking the time to celebrate the unique experiences and successes of our young lawyers will help inspire greater representation and inclusion across our industry in the years to come.
What changes to anticipate in the profession in the next 12 months?
Firms will solidify their approach and policies to in-office work. Some firms will lean towards more traditional in-office work policies, returning to how we were. Gowling WLG will embrace agile working and the flexibility that it provides to most of our firm members. We are committed, and this ties into the people-first approach.
Our current policy encourages people to be in at least 50 percent of the time. And across our seven offices in Canada, we're generally hitting that number in a typical day. Learning, training, mentorship, business development, providing and receiving feedback, building relationships, socializing, and having fun are better done when you're in the office together. And that is critical to our workplace culture.
But allowing people the choice of where they work best is a people-first and people-focused approach. Providing them with that flexibility to decide is very important to us.
*Answers have been edited for length and clarity.