Stikeman Elliott LLP has named a new chairman of the firm and three new managing partners in Toronto, Montréal and Calgary.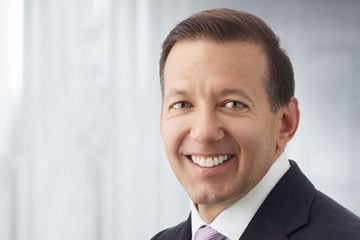 Stikeman Elliott LLP has named a new chairman of the firm and three new managing partners in Toronto, Montréal and Calgary.
Marc Barbeau will be chairman of the firm succeeding William Braithwaite. Barbeau is an adjunct professor at McGill University's Faculty of Law. He will continue his practice and role as partner in the firm's corporate department, while Warren Katz, former head of the corporate group in Montréal, will now assume the role of managing partner in that office.
Curtis Cusinato is now joining Anne Ristic as co-managing partner in the Toronto office, while Chrysten Perry will be the new managing partner in Calgary while maintaining her practice as a partner and co-head of the national energy group at the firm.
Cusinato plans to continue to practise full time in the corporate and securities group. He says some of the biggest challenges the firm faces right now is the ever-changing legal profession and the war for talent.
"We're in a rapidly changing environment with our clients and, frankly, for us as well in the legal industry. If you look at the environment in which we're operating, there are tremendous demands on talent and recruiting now," he says.
Recent government initiatives both federally and provincially have also created "a very uncertain political and regulatory environment."
"Our biggest challenge is to get out ahead of the changing market needs of our client and every client is different," he says. "Everyone has different priorities and objectives, so suffice it to say our ability to do this depends on our people. It starts with recruitment and continues into training and retention and maintaining our culture, which is a priority," says Cusinato.
Like many other law firms, he says, Stikeman Elliott is investing in new technologies to better support its lawyers. The firm has undertaken a number of pilot projects across all practice groups. For example, it is now working with a proprietary document automation product with one of its financial institution clients that in essence automates the production of documents and improves their internal process.
"We also have another product we've been successful with in our regulatory group and it's a proprietary data analytics program that automates and creates a mapping tool for geographic analysis of clients' businesses and the markets in which they operate," he says. "We're also currently working on an internal pilot for automating analysis of some internal conflict of interest scenarios."
The firm is also using artificial intelligence-based technology for assisted due diligence in the M&A practice.
"Some of this technology is second generation — we have been using technology-assisted document review in our litigation group for a long time," he says.
Ristic says the war for talent is in top swing right now and people want to know they are going to work in an environment where the latest tools are available to get the job done.
"One of the things we think is a real opportunity for us is that as we are able to automate and use technology for more routine tasks it frees people up to do the more high-value work they enjoy doing," she says. "At the end of the day, while you have lots of bells and whistles around, what you do for your people, what attracts and keeps people is to do that great work they find challenging and interesting. We have to keep moving the dial in our ability to do that."
Cusinato says the mobility of lawyers has never been greater with what he calls "an insatiable demand" for top talent from law firms being lured over by clients in financial institutions, multinational companies, private equity groups and leading private and public companies.
"The opportunities for some of our associates and young partners has never been greater. We've used this as an opportunity to get closer with our clients and try and service their needs as well. I think it's a development most firms in Canada are having to deal with," he says.
While very active in M&A capital markets and restructuring, the firm has also seen greater emphasis on new emerging industries such as Bitcoin, blockchain and in AI and technology and cannabis, where Cusinato predicts there will further consolidation.
"I think it will be difficult for some of the emerging players in that industry to continue to attract financing. As a result, if they aren't able to execute on their strategic plans and have the capital markets support for those strategic plans then absolutely M&A is quickly a topic that is entertained by the boards of those issuers," he says.
Ristic says the firm's main growth is in its core practice areas, but there is also considerable demand from clients for assistance with risk management.
"We're seeing lots of attention and demand for services in what we call risk advisory services — not necessarily crisis management but issues and incident management such as cybersecurity or MeToo where clients need advice and guidance — we're getting lots of demand in those areas," she says.
"We used to think of risk management in terms of people sitting around in boardrooms making risk maps and having prevention strategies and insurance, and that's still there, but the volume of calls about incidents is growing, which suggests to me that risk management is not a theoretical exercise; it's a practical kind of response."