Effendi is among the speakers for Canadian Lawyer's 2022 Women in Law Leadership Breakfast, Sept. 13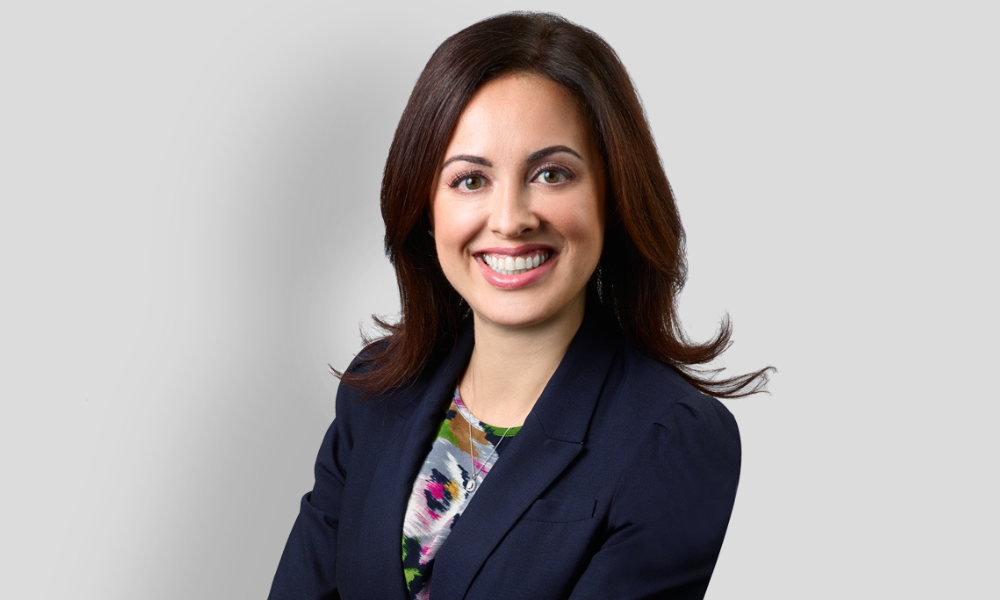 For Nadia Effendi, two recent events emphasize the importance of having women in leadership positions.
The pandemic demonstrated that different people react differently to change, depending on their profession, their family, or social situation. To survive COVID, women had to balance their professional responsibilities while juggling childcare or attending to aging parents. For many, the pandemic triggered a career change.
"That showcases, in my mind, why it's more important than ever to have women in various positions of leadership across society, but also across different areas of law," she says.
Women should have access to leaders who understand their unique challenges, so when women question their path they have the support and the role models they need.
The other event is the #MeToo movement. Effendi was lead counsel to former Supreme Court of Canada Justice Louise Arbour in the independent external review into the Canadian Armed Forces and defence department's response to sexual misconduct in the military. She will also support Thomas Cromwell, also a former judge on the Supreme Court, while he leads the independent review into Hockey Canada. It recently emerged that hockey's national governing body has paid $8.9 million to settle 21 sexual abuse allegations since 1989.
Arbour noted in her report that the #MeToo movement has unleased a wave of sexual misconduct denunciation and revelation and produced widespread public recognition of the existence and severity of the problem, says Effendi.
"The damage that's been caused by these practices, obviously has had an immeasurable impact – not just on women who were subject to the behaviour – but on the institutions in which it occurred."
"So, having women in positions of leadership obviously is an important response to that important movement, in my view."
Effendi will be a speaker at Canadian Lawyer's 2022 Women in Law Leadership Breakfast, on Sept. 13, from 8 am to 10am EST, at Vantage Venues Toronto. Joining Effendi will be Bindu Cudjoe, chief legal officer and corporate secretary for Laurentian Bank of Canada; Linda Fuerst, senior partner at Norton Rose Fulbright Canada; Raman Grewal, Stikeman Elliott partner; Jacqueline Horvat, treasurer of the Law Society of Ontario; and Diana Iannetta, vice president, co-global lead legal disputes and investigations, global knowledge management and strategic enablement, TD Bank.
During her work with Arbour, it occurred to Effendi that she had worked with only a few female senior lawyers early in her career.
"I'm grateful for the wonderful mentorship and support I've received from all the men in my career. But there is something to be said about the special mentoring relationship that I experienced from women mentors, and there are just some things you simply don't have to explain, that is understood by women."
While gender balance in senior legal roles has improved, the improvement is not yet commensurate with the number of women who recently have been graduating law school and entering the profession. This indicates there is still a disproportionately small number of them elevating up the ranks, says Effendi. That is why data collection is important in identifying gaps and issues that leaders must address in the workplace, and allowing organizations to measure themselves, their progress, and the success of their initiatives, she says.
"Yes, it's better. There's probably a lot more woman mentors out there for the younger generation, but we can definitely do better. There's no doubt about it."
Effendi adds that progress for women is not a concern only for women. The barriers that exist are everyone's responsibility, and everyone should participate in their leveling. At BLG, lawyers are required to complete a form where they explain what they have done to contribute to equity and diversity at the firm, and what they plant to do for next year.
"It may seem like a very small thing, but I think that linking EDI to progress, maybe even to your compensation, is one key way that law firms can underscore the importance of it, and make those issues something that everyone is responsible for, not just women."