The bâtonnier of the Barreau du Québec made a public plea this morning for a massive increase in spending for the justice system in the next provincial budget.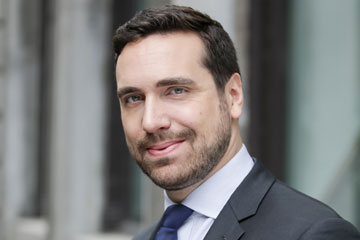 The bâtonnier of the Barreau du Québec made a public plea this morning for a massive increase in spending for the justice system in the next provincial budget.
"This is a cry from the heart," Paul-Matthieu Grondin said at a press conference this morning at the Barreau's offices in downtown Montreal.
"The justice system has been ignored for too long. It's time to turn things around. People are losing confidence in the system."
Grondin referred to a new report from a committee he struck after being elected bâtonnier last spring to look at the issue of public financing in the justice system over the past 15 years.
The 37-page report paints an unflattering portrait.
The Quebec government's budget for justice, for example, has remained at 1.3 per cent of total government spending for the past the decade.
That represents $941 million in the current fiscal year.
Grondin used a pie chart to illustrate how justice is the poor cousin healthcare, which accounts for roughly 40 per cent of provincial spending, and education at around 28 per cent.
He said the lack of spending has resulted in paper-based and physically outdated and even decrepit courthouses "that operate in the stone age" and a justice system in all fields — from civil and criminal to family law — that users describe as "archaic," "outdated" and "slow."
"Someone from the 1980s would feel completely at home in our courthouses," added Grondin.
He said the years of underfinancing by the province has led to what he calls a "three-speed system of justice" in Quebec — those who can afford legal representation, those who rely on legal aid, and the "80 per cent of the population in the middle for whom the system is still inaccessible."
Grondin then presented a wish list totalling more than $1 billion that he said is urgently needed to rectify the situation over the next five years.
One is a computerization of the justice system along the lines of what Ontario has done.
"We're very jealous (and) we think we need to do it here," said Grondin.
The Barreau committee estimated the cost of a computerized system at between $400 million and $600 million.
The Barreau is also asking for $212 million in new funding to renovate and modernize Quebec's 43 courthouses.
Grondin said only 70 per cent of those buildings are considered to be in good or very good physical condition.
Other requests in a 12-page document entitled "For a healthy system of justice" include $23 million more in legal aid funding, $5.1 million to hire eight new provincial court judges to help avoid what Grondin called "a Jordan effect" in civil cases and $20 million more in financing for the province's indemnity scheme for victims of criminal acts.
It also includes $15 million for more translations of judgments rendered by the three highest courts in Quebec, $500,000 to hire legalists who can write and revise the English versions of legislation (the current quality of which the Barreau committee said "leaves much to be desired") and $52 million in tax credits or deductions for legal fees in family law cases and cases involving hidden defects.
At the press conference, the Barreau also unveiled a new ad that it will put on social media. The ad features a dozen lawyers who say "archaic," "outdated" and the other words used to describe the current justice system in Quebec and ends with a call for increased government funding.
Isabelle Marier St-Onge, a spokesperson for Quebec Justice Minister Stéphanie Vallée, defends the government's actions and investments and says the government is already working to deal with every issue the Barreau raises.
"Our justice system needs a transformation. It must be modernized to 21st Century standards and we have an important project going in that sense."
She is referring to the computerized strategy that the ministry of justice announced in Dec. for some judicial services. She adds that "several" similar projects have been undertaken over the past three years and others "are imminent."
"Since 2014, important sums of money have been invested in the justice system. In December 2016, $175.2 million was injected to add 573 human resource people and courtrooms to help improve delays in penal and criminal justice."
She also lauds the impacts of the new Code of Civil Procedure and other new laws for reducing wait times and improving access through mediation and other means.
She also says the government has been "working constantly" to improve infrastructure through a 10-year plan that began in 2017 calls for more than $400 million in maintenance and renovations for several courthouses, notably in Montreal.
"The improvement of our judicial system is at the very heart of our preoccupations. The goal is to do more, but especially to do better," she says.
Grondin said that the timing of the Barreau's announcement is meant to coincide with both the budget, the date of which has not yet been announced, and the general provincial election slated for the fall.