The Law Society of British Columbia has disbarred four lawyers in 2018 with the majority dealing with misappropriation of funds.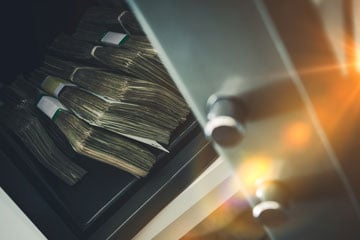 The Law Society of British Columbia has disbarred four lawyers in 2018 with the majority dealing with misappropriation of funds.
Disbarment figures supplied by the LSBC going back to 2009 show B.C. has actually had few disbarments — in the nine previous years a total of 12 lawyers were disbarred. In previous years the highest was three lawyers in each of 2014 and 2015. The figures do not include lawyers who have resigned rather than face disciplinary action.
Misappropriated funds are monies not handled according to LSBC rules. LSBC's David Jordan says lawyers must take a legal training course before practising which familiarizes practitioners with rules regarding handling and accounting for client funds.
"A very big part of that is accounting — they simply can't say my math is no good," says Jordan.
In October, the LSBC discipline committee disbarred family law lawyer Stephen Neil Mansfield on Oct. 5 citing professional misconduct.
"He intentionally misappropriated over $400,000 from his clients, including withdrawing retainer funds when he was not authorized to do so and prior to delivering a bill to his client, contrary to the Law Society Rules," the hearing panel decision said.
In the Mansfield case, the hearing panel reiterated the case of Law Society of BC v. Lebedovich 2018 LSBC that "misappropriation of a client's funds...is the most serious misconduct a lawyer can commit."
It also cited Law Society of B.C v. Tak 2014 LSBC 57 where a hearing panel determined that public confidence in the profession and its ability to self-regulate would be undermined "if anything short of disbarment is ordered for misappropriation of client funds."
Two further B.C. estate lawyers (from 2018) plus a resigned lawyer (from 2017) all faced disciplinary action over misusing the funds of a deceased's estate.
In January 2013, the LSBC passed rules that restricted lawyers receiving benefits or gifts from wills however infractions still occur.
In late June, the LSBC announced it had disbarred Vancouver Island estate lawyer Patricia Evelyn Lebedovich, who served as co-executor with the daughter of a deceased. Lebedovich admitted that she had intentionally misappropriated from trust funds $50,516.80 received from the estate, issued 27 false bills for the estate to conceal the $50,516.80 shortfall, and misappropriated $4,312.91 and improperly withdrawn $13,567.50 from trust funds in another estate.
Lebedovich stated that she was in financial distress because of on-going litigation with her husband and $60,000 in unpaid back taxes.
A month earlier, the LSBC disbarred Angiola-Patrizia Paola de Stefanis, who admitted that while she was serving as executrix for a deceased whose relatives were living in Italy, she misappropriated $50,000 from the estate of a deceased, misled the granddaughter of the deceased as the amount of funds she would receive, and delivered false accounting of the estate administration. Her fees came to $110,000 which was 12 per cent of the estate and in excess of the five per cent set out in the Trustee Act. She also made false representation to the LSBC that she had been gifted $100,000 — rather than $50,000 from the estate. De Stefanis wound up her practice in 2017 but the LSBC maintained disbarment was need.
Christopher Roy Penty also agreed to not practice law for seven years after a LSBC investigation found he had committed professional misconduct. Penty had been called to a hospice to prepare a will for a dying man who wanted his estate left to charity. The client and Penty agreed that a quarter of the estate would be left to the hospital's hospice foundation, of which Penty was president and a director. The rest of the estate was to go to Penty to assign to charity organizations or individuals. A cheque for $51,799.98 went to the hospice foundation, while the remainder of $155,399 went to Penty, who deposited a cheque for $153,931.35 into a chequing account in his name. He made some donations but then transferred $95,000 into his own securities account. He also withdrew $16,198 for his own personal use from the chequing account. (During the LSBC investigation, Penty did return funds).
The LSBC found Penty had improperly prepared the will, failed to give relatives a copy, misled the court in relation to probate, and failed to carry out the client's wishes.
Misappropriation of client funds is a Canada-wise concern as CBC's investigative team in February 2017 found more than 200 Canadian lawyers had been disciplined between 2010 and 2015 for misappropriating $160 million from clients. Only 19 faced criminal charges.
Jordan said the LSBC's mandate was to regulate lawyers and it "may or may not" provide information to the police regarding misappropriated funds. In 2017, the Lawyers Insurance Fund paid out approximately $45,000 on theft or misappropriated funds claims by lawyers. In the past 14 years, the fund has paid out theft claims totalling $1.15 million related to 80 claims involving 25 different lawyers.