General counsel Trish Callon discusses new initiatives to support business and clients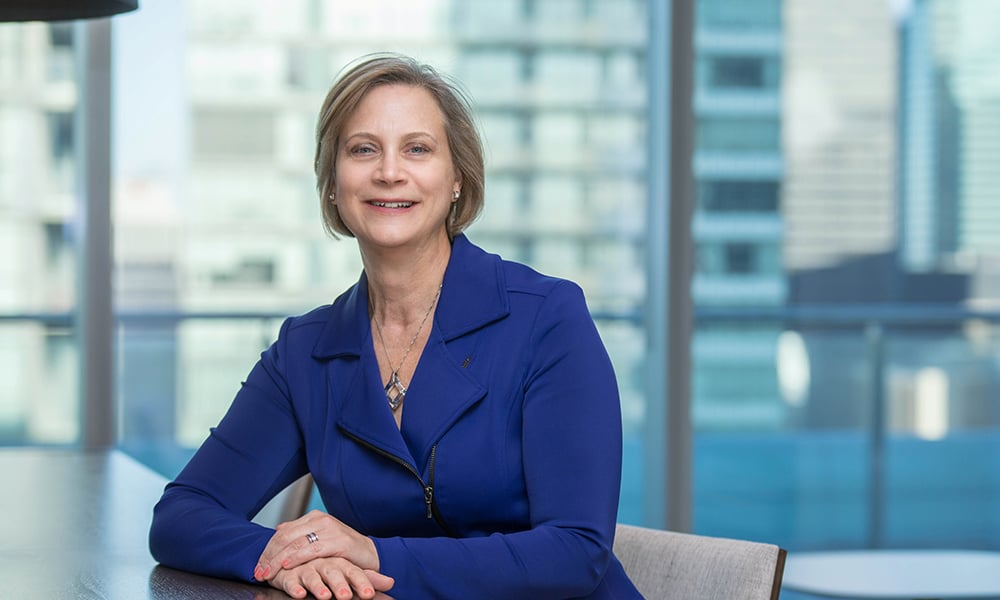 Like many legal teams, Sun Life Financial Canada's team of 90 lawyers pivoted to a remote working environment when the COVID-19 pandemic struck in March. The team was already accustomed to working partially from home in an agile work environment which had been introduced in 2017, so the transition happened seamlessly, according to senior vice-president and general counsel, Trish Callon.
Since the entire team vacated office spaces, Callon and her team have focused on developing a range of new initiatives to support the business. Accommodating clients and advisors at the financial services giant is one key priority for the legal team. In order to help clients who have been experiencing financial hardship, the team provided legal support to allow the organization to waive premiums or fees, and to expedite payments to beneficiaries on insurance policies. Supporting advisors to help them operate in a virtual world is also a focus.
"We've really accelerated our advisors' adoption of our digital tools, and ramped up their ability to conduct business remotely," says Callon. In May, for example, e-signatures were used in 54 per cent of transactions with Sun Life advisors — an increase of 34 per cent from February. More than 55,000 virtual client meetings have been conducted using Zoom.
Negotiating and signing contracts in a matter of days, instead of weeks or months, has been a priority for Callon and her team. In April, Sun Life rolled out free access to virtual healthcare services for clients — an extension of the digital platform Lumino Health which launched in 2018. A partnership with telemedicine provider Dialogue, the new virtual service connects users directly with a healthcare professional.
"To make this happen, my team had to negotiate and sign contracts in days which was unprecedented at the time and speaks to the agility of the legal team, and everyone that was involved," says Callon. "It required heroic efforts and people working very hard, but the outcome was outstanding." In order to speed up the signing of many contracts, the team has developed a template agreement which can be used as a starting point.
"We've learnt a lot about accepting risk and mitigating it appropriately and doing that in a clear and concise way in a contract, so hopefully we can continue to operate like this," says Callon.
Sun Life's litigation team also pivoted to provide virtual proceedings during the pandemic crisis. The team engaged with legal vendors, mediators and court reporters to develop strategies for pivoting smoothly to an online system, and even held a virtual court hearing.
"For many clients, resolving disputes is very important for their financial and mental health so it just wasn't going to be possible to postpone everything," says Callon. "We pivoted from mediations which were previously done almost entirely in person with our client, to using Zoom or other technology." The litigation team also engaged with opposing firms to agree on electronic methods of exchanging documents, which has enabled team members to continue resolving disputes in a timely manner.
In another key area of focus, the legal department has launched innovative new products within Sun Life's global asset management business. A new fund was launched which aims to attract investors who want to participate in the U.S. Federal Reserve's Term Asset-Backed Securities Loan Facility. The fund was conceived and launched in a just over a month and has already raised U.S.$500 million in subscriptions.
"We were the first asset manager into the market with this fund, and my team played a critical role in all of that," says Callon.
In other initiatives, Callon's team has been involved in creating and delivering webinars for group benefits plan sponsors to help them navigate issues such as requirements of statutory leave and the impact of layoffs on group plans. Webinars were also created for advisors — who operate as independent contractors — to help them support their employees.
Planning for the safe and gradual return to office for all Sun Life employees is one of Callon's current priorities so she and her team continue to monitor public health guidelines. She also wants to ensure that her team members take care of their mental and physical health during the pandemic.
"People have been extraordinarily busy juggling home-schooling and keeping kids active and engaged, so we do what we can to embrace flexibility," says Callon. "I tell my team to be really diligent and ruthless with their calendars to make sure they are only attending meetings when it's really necessary."