A long-time northerner has been elected president of the Federation of Law Societies of Canada.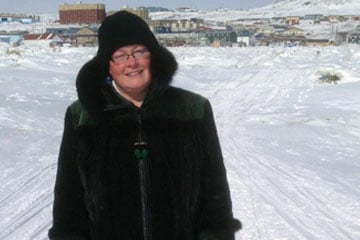 A long-time northerner has been elected president of the Federation of Law Societies of Canada.
Sheila MacPherson, a Yellowknife civil litigator, has lived almost her entire life in northern Canada. In the 1960s as an infant, she was taken to the North by her parents. She graduated from high school in what was then Frobisher Bay, now Iqaluit. She took her law degree at Dalhousie, but she returned to the Northwest Territories to article in Yellowknife and has remained there ever since, though she still calls Iqaluit her "heart home." She has worked across the North and in the late '90s played an important legal role in the creation of Nunavut.
MacPherson says it is important that the Federation have a leader with a northern perspective right now. She says Canada's legal community "is dealing with . . . calls to action from the Truth and Reconciliation Commission with respect to reconciliation with indigenous people. It's a huge issue facing law societies across Canada." Among her concerns is the under-representation of indigenous people in Canada's justice system.
She points out that one call to action proposed by the TRC "relates to promoting knowledge of indigenous issues in law school." MacPherson says she is encouraged to see the efforts of law faculties across the country opening doors for would-be indigenous lawyers. She says she is especially encouraged by the satellite law school program being offered by the University of Saskatchewan's College of Law in Iqaluit.
Besides indigenous issues, MacPherson as president will be looking at the Federation's National Accreditation Commission. That is the body responsible for assessing the credentials of foreign-trained lawyers seeking to practise law in Canada. "Another key priority," she says, "is implementing recommendations as the result of federation's review of the NCA."
The Federation of Law Societies co-ordinates Canada's 14 law societies.