Fast and gradual change are both driving the need for labour and employment expertise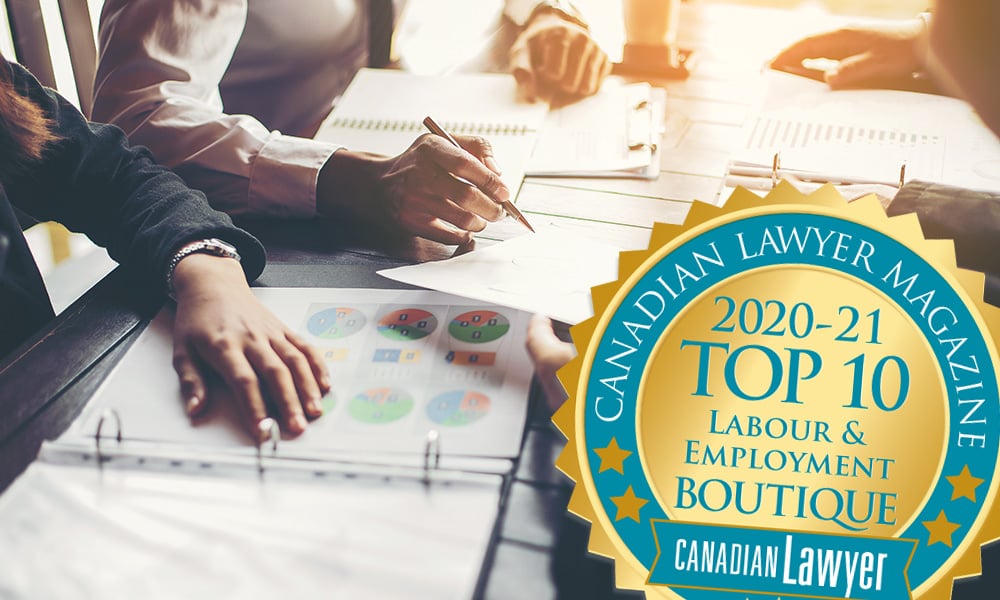 In 2019, lawyers from Canadian Lawyer's Top Labour and Employment boutiques saw rapidly changing government policy and more of the slow, decades-long evolution of the relationship between labour and management.
The 2020 Canadian Lawyer Top Labour and Employment Boutiques, listed alphabetically, are Barteaux Labour and Employment Lawyers, Filion Wakely Thorup Angeletti LLP, Hicks Morley Hamilton Stewart Storie LLP, Mathews Dinsdale & Clark LLP, Neuman Thompson, Rae Christen Jeffries LLP, Roper Greyell LLP, Sherrard Kuzz LLP, Turnpenney Milne LLP and Whitten & Lublin.
The top five Union-side Labour and Employment Boutiques are CaleyWray Labour and Employment Lawyers, Cavalluzzo LLP, Goldblatt Partners LLP, Pink Larkin and Ursel Phillips Fellows Hopkinson LLP.
Many of the changes in labour law can be traced to broader cultural changes, says Goldblatt Partners' Steven Barrett. There is a greater awareness of sexual harassment and racism, and cannabis and social media are both creating new issues in the workplace, he says.
"None of these issues were as prevalent a few decades ago," he says.
Another trend impacting labour and employment law has been moving steadily for decades: the decline of organized labour. Greg McGinnis, a partner at Top Boutique Mathews Dinsdale & Clark LLP, says he's seen labour unions continue to struggle to organize in the private sector.
With fewer unionized workplaces, they wield less political power and hold less cultural relevance, he says.
"Equality issues, environmental issues — those are bigger issues for people now than traditional union collective bargaining . . ." says McGinnis. "I'm old enough to remember when the postal workers union could basically shut the country down by going on strike. And there's no way that — like, that just doesn't happen anymore."
In 2019, the federal government overhauled the labour code, with some changes in force since Sept. 2019 and others later in 2020. The changes include increasing personal leave of absences, increasing vacation and equal pay for temporary, part-time, seasonal and casual employees. There are also amendments to the occupational health and safety section of the labour code aimed at curbing sexual harassment and violence.
Provincial governments also reformed labour and employment law in 2019. Canada's two westernmost provinces took starkly different paths, with B.C.'s NDP government leaning toward unions and employee benefits and Alberta's United Conservative Party — by scrapping reforms made by their NDP predecessors — leaning toward employers.
In Ontario, Doug Ford's Progressive Conservative government — like Alberta — enacted labour reforms to reverse recent changes made by the previous government.
David Whitten, a partner at Top Boutique Whitten & Lublin, says it appears that each level of government in Canada is pandering to the public with labour and employment reforms.
"Thankfully, Doug Ford made some recent changes that are going to make us a little more nimble," Whitten says.
But the changes coming so close to the Liberal former government's put some clients in a tailspin, says his co-founder Daniel Lublin.
"What, definitely, I can see with many of my clients is they're like, 'What is the law now? And why is it changing so much?' It's eroded confidence in the system," he says.
For Barrett, the Liberal reforms were "a fairly modest attempt to deal with the reality of how the workplace is changing."
"The fact is that both labour and employment law needs to be modernized in order to reflect all of the changes in terms of the structure of the labour market and the structure of the workplace and the client and the ability of employees to unionize without facing serious barriers," Barrett says.
With Ford's changes, Ontario is back where it started, says Barrett.
Another area in Ontario that requires urgent reform is the human rights process, the status quo of which negatively impacts both employees and employers, says Whitten. The issue, he says, is that the Ontario Human Rights Tribunal cannot award costs. While employers often find themselves settling baseless human rights complaints because it's less expensive than fighting, employees with a successful case end up paying most of their damages to their lawyer, he says.
"So, there is a substantive change that the government needs to be looking at," Whitten says.
The HRTO is also suffering from a lack of judges, leading to delayed and cancelled hearings, say Whitten and Lublin. Law Times reported in June a "historic" surge — a 30-per-cent increase — in complaints about decisions and delays in the province's 37 administrative tribunals. The most common complaints were regarding decisions and long delays.
"There's not enough vice chairs to deal with the volume of complaints. And, so, these things are languishing. And it's both employers and employees [that] are suffering," says Whitten.
Whitten & Lublin's work has a 50/50 split for employees and employers, a balance they say gives them a competitive advantage in the field and likely attributes to their success. The two formed the firm 11 years ago and it has grown to 12 lawyers.
"We understand the issues from both sides of the table. It gives us a strategic advantage when advising clients and, frankly, it gives us insight into how things needs to be done," says Lublin.
"Our sword is sharp on both sides of the table," says Whitten.
How we did it
Canadian Lawyer asked lawyers, in-house counsel and clients from across Canada to vote on the top intellectual property and labour and employment boutiques. They were asked to rank their top firms from a preliminary list, with a chance to nominate a firm that was not included on the list. To be considered in the vote, firms were required to have at least 80 per cent of their business come from intellectual property or labour and employment. The final rankings were determined through a points system, in which firms were rewarded on a sliding scale for the number of first to 10th-place votes received. The quantitative results are combined with feedback from respected senior members of the bar and in-house counsel when applicable. For additional information regarding the methodology & criteria, please find a full description of our methodology here.
---
Top 10 Labour & Employment Boutiques
(listed alphabetically)
Barteaux Labour and Employment Lawyers
Halifax
barteauxlawyers.com
Barteaux Labour and Employment Lawyers, renamed after the retirement of its former named partner, is a management-side, boutique firm based in Atlantic Canada. The legal team is led by founder and managing partner, Nancy F. Barteaux, and it is known for successful outcomes in negotiated settlements, arbitration, litigation and collective bargaining. Barteaux represents employers before administrative tribunals and courts throughout Atlantic Canada. In 2019, it acted as counsel in a case regarding good faith in employment law before the Supreme Court of Canada (decision forthcoming at time of publication). The firm provides private and public employers with solutions on dayto- day matters and conducts independent workplace investigations. Barteaux serves a diverse range of business sectors: education, fishing, construction, technology, hospitality, entertainment and non-profit organizations. As Atlantic Canada's only member of the Employment Law Alliance, Barteaux represents multinational operations both locally and abroad. The ELA is a global network of select employment and labour lawyers.
Filion Wakely Thorup Angeletti LLP
Toronto, Hamilton, London
filion.on.ca
Filion Wakely Thorup Angeletti LLP is one of Canada's largest and highest-ranked law firms practising exclusively management-side labour and employment law. With 46 lawyers in three offices — Toronto, Hamilton and London — FWTA acts for federally and provincially regulated employers in the private, public and broader public sectors. The firm's clients operate in diverse sectors of the economy, including retail, energy, manufacturing, health care, education, hospitality, transportation and government. Many have national or international operations. FWTA is a founding member of Advocates for Employers of Canada, a nationwide alliance forged among five of Canada's preeminent management-side labour and employment practices. The firm is also the sole Canadian member of L&E GLOBAL, a top-ranked alliance of more than 1,700 employers' counsel in more than 150 offices around the world.
Hicks Morley Hamilton Stewart Storie LLP
Toronto, Waterloo, London, Kingston, Ottawa
hicksmorley.com
Leading in labour and employment law. With in-depth public and private sector experience, it is the one of the largest Canadian firms advising employers and organizations on a wide range of workplace issues including strategic advice, risk assessment, consultation and training on all aspects of labour relations, employment law and pension, benefits and executive compensation law. Its 120-plus lawyers are here to partner with clients to strategically navigate complex legal issues and achieve positive outcomes.
Mathews Dinsdale & Clark LLP
Toronto, Vancouver, Calgary, Halifax, Sarnia. Sault Ste. Marie
mathewsdinsdale.com
Mathews Dinsdale is the only labour and employment boutique on this year's list that represents employers across Canada. With lawyers and consultants in six offices from coast to coast, the firm provides strategic advice, litigation and advocacy services and immediate crisis management locally, nationally and (through its membership in the Ius Laboris alliance of global HR law firms) internationally. Mathews Dinsdale offers employers a full range of support in employment law, labour relations, construction labour relations, occupational health and safety, human rights, workers' compensation, business immigration, Aboriginal labour and employment law, workplace investigations, pay equity and workplace privacy and information. The firm was established more than 60 years ago and it was the first in Canada to provide advice and representation exclusively to employers.
Neuman Thompson
Edmonton
neumanthompson.com
Neuman Thompson was established in 1977 by Ron Neuman and Brian Thompson as a labour and employment law boutique serving employers in Alberta. The firm has grown to 13 lawyers who provide all types of labour and employment law advice to local, national and international clients throughout western Canada. Through its membership in the Employment Law Alliance, Neuman Thompson offers clients ready access to high quality and specialized local expertise across the country and in more than 100 countries worldwide. The firm works with a broad range of employers in both the public and private sectors. It serves governments, public agencies, major health-care providers and post-secondary educational institutions. The firm's roster includes clients such as Alberta Health Services, Epcor, Suncor and Nutrien, as well as other private sector clients in the industrial, manufacturing, oilsands, forestry, agribusiness, transportation, continuing care, communications and retail industries.
Rae Christen Jeffries LLP
Toronto
rcjlaw.ca
Founded in July 2018, Rae Christen Jeffries LLP is one of the only female-led management- side labour and employment law firms in Canada. Although newly established, the firm's members have decades of experience providing advice and representation to employers in a wide variety of enterprises. Externally, firm members are known for their frank, precise and civil manner of advocacy. Internally, firm members are collaborative and consultative, emphasizing client service over client ownership. These approaches result in clients of Rae Christen Jeffries receiving timely, nuanced and practical advice and representation that is in keeping with our evolving society.
Roper Greyell LLP
Vancouver
ropergreyell.com
Roper Greyell LLP was founded in 2006 by lawyers from two leading employment and labour law practices in British Columbia. Today, it is one of the largest employment and labour law firms in western Canada, with 41 workplace lawyers serving clients in virtually every sector of the economy, including construction, forestry, marine transportation, mining, health care, post-secondary education, retail, public transportation, utilities and the municipal sector. With the recent addition of lawyers based on Vancouver Island and in the Kootenay region of B.C., Roper Greyell has further expanded its reach throughout the province. The firm practises in all areas of employment and labour law including human rights law, disability and accommodation, workplace investigations, employment litigation, privacy law, workplace bullying and harassment, collective bargaining, employment standards and workplace health and safety issues. Roper Greyell is the exclusive representative in B.C. of the Employment Law Alliance, one of the most comprehensive networks of labour and employment lawyers in the world.
Sherrard Kuzz LLP
Toronto
sherrardkuzz.com
Known for its consistent client service and practical, business-savvy advice, the Toronto-based law firm of 29 lawyers serves clients across Canada in a wide range of industries and sectors in both unionized and non-unionized workplaces. In operation for 18 years, the firm's clients are national and international, in both the public and private sectors. The firm's areas of practice include: advising the multinational and multi-jurisdictional employer; labour relations board proceedings; collective agreements and bargaining; compensation and benefits; construction labour relations; employee relations; executive employment agreements and compensation; grievance arbitration; human rights and accommodation; injunctive court proceedings and judicial review; interest arbitration; management training; mediation and alternative dispute resolution; occupational health and safety; pay equity; privacy; responding to union organizing and applications for certification sale or closure; strike or lock-out preparation and business continuity planning; workplace investigations; workplace safety and insurance; and wrongful and constructive dismissal litigation. Sherrard Kuzz LLP is a leading member of the world's largest alliance of employment and labour law practices — Employment Law Alliance — and also has a strategic alliance with Roper Greyell in B.C.
Turnpenney Milne LLP
Toronto, Vancouver
turnpenneymilne.ca
Turnpenney Milne LLP is a boutique employment firm with offices in Toronto and Vancouver. Turnpenney Milne's practice focuses exclusively on workplace law, which encompasses all aspects of the employment relationship from the pre-hiring stage to termination and retirement. The firm represents both employers and employees, and successfully mediates and negotiates legal disputes on behalf of its clients. As a significant part of the practice, Turnpenney Milne acts as a neutral, thirdparty investigator in a variety of workplaces and engages in training on related topics including harassment, discrimination, violence and respect in the workplace.
Whitten & Lublin, Employment & Labour Lawyers
Toronto
toronto-employmentlawyer.com
Whitten & Lublin's guiding principle is the results. David Whitten and Daniel Lublin formed the team more than 10 years ago and is now consistently recognized as "leading practitioners" in Lexpert's annual survey. The firm is regularly noted for excellence, including a previous designation by Canadian Lawyer as one of Canada's Top 10 Labour & Employment Boutiques and Canadian HR Reporter's Employment Law Boutique of the Year in each of the last four years. Not only is the firm's outstanding service confirmed by other lawyers and HR professionals but by its diverse client base, including executives, employees, and corporations. The firm say it has more positive and verified Google business reviews than any other similar practice in Canada.
Top 5 Labour & Employment Boutiques – Union Side
(Listed alphabetically)
CaleyWray Labour and Employment Lawyers
Toronto
caleywray.com
CaleyWray is a full-service labour firm that has been serving trade unions and working on behalf of trustees/trust funds for more than 40 years. The firm provides representation to its clients in all areas of law that impact trade unions and their members. CaleyWray acts for a variety of clients in construction, health care, industry, manufacturing, transportation and service. Clients are in the public and private sectors and the firm represents them in both federal and provincial jurisdictions. The firm's lawyers work in all labour-related forums including grievance arbitration, federal and provincial labour boards, human rights tribunals and workers compensation tribunals. CaleyWray lawyers also attend court on behalf of clients for matters including judicial review, injunctions and bankruptcy proceedings.
Cavalluzzo LLP
Toronto
cavalluzzo.com
Paul Cavalluzzo, Jim Hayes and Elizabeth Shilton founded the firm in 1983 with a focus on social justice and equality. The 30-lawyer firm now represents diverse public- and private-sector trade unions and professional associations such as the Ontario English Catholic Teachers' Association, the Elementary Teachers' Federation of Ontario, the Ontario Nurses Association, the Laborers' International Union of North America, the Canadian Union of Postal Workers and the Society of United Professionals, as well as individual employees in their disputes with employers. The firm recently won a string of precedent-setting awards in the areas of systemic gender discrimination and pay equity, and it is leading the way in the fight to unionize precarious workers in the gig economy, including on behalf of Foodora workers. The firm's mandates include a class action against the Ontario government with respect to the cancellation of the Basic Income Pilot, a sexual harassment complaint against the Toronto Police Service, constitutional challenges against federal back-to-work legislation and provincial restrictions on political speech during the lead-up to general elections, as well as representing Grassy Narrows First Nation in its dispute with Ontario and Canada over mercury poisoning. The firm recently appeared before the Supreme Court of Canada in a number of appeals relating to freedom of association and collective bargaining rights, workers' health and safety, pension entitlements, Aboriginal rights, s. 15 equality rights and pay equity.
Goldblatt Partners LLP
Toronto, Ottawa
goldblattpartners.com
Goldblatt Partners has represented trade unions and professional associations in all aspects of labour and employment law for more than 40 years. From a four-lawyer office in the mid-1970s, the firm has grown to almost 60 lawyers in Toronto and Ottawa. It serves a broad client base of trade unions, including labourers, education and hospital employees, university faculty and municipal employees, as well as lawyers, physicians and judges. The firm has represented the Canadian Labour Congress in numerous Supreme Court of Canada freedom of association and equality rights cases and has also worked with international organizations seeking to protect workers' rights. It has civil litigation and criminal law practices, which often intersect with the labour law practice. Other public interest cases include unpaid overtime class actions against Canadian banks and other employers, as well as minimum-wage class actions on behalf of junior hockey players.
Pink Larkin
Halifax, Fredericton
pinklarkin.com
Pink Larkin is a boutique law firm with a primary focus on labour and employment, litigation and administrative law. With offices in Halifax, Nova Scotia and Fredericton, New Brunswick, Pink Larkin lawyers practise throughout the Atlantic provinces and across Canada. Businesses, community groups, professional associations and organized labour trust Pink Larkin to help them manage and resolve issues related to high-stakes risk management planning and when necessary, take measured responses and appropriate action to manage disputes and protect interests. In addition to being litigators, mediators and advisors to individuals, organizations and businesses, in 2017, Pink Larkin launched a full-time pro bono practice focused on systemic litigation that presents law reform possibilities for the poor — a first-in-Canada approach to actively providing access to justice.
Ursel Phillips Fellows Hopkinson LLP
Toronto
upfhlaw.ca
Ursel Phillips Fellows Hopkinson LLP traces its history back to the original union-side labour relations firms in Ontario: Joliffe Lewis and Osler and Golden Levinson. The firm's 25 lawyers provide legal services to trade unions, employee associations, progressive organizations and employees with respect to all aspects of the work relationship, including labour relations litigation, human rights, pension and employment benefits, health and safety, workers' compensation, professional discipline, criminal defence, civil litigation including appellate work, Charter of Rights and public interest advocacy, bankruptcy and insolvency, and class actions. The firm has a demonstrated commitment to the interests of its clients and to progressive movements throughout Ontario, Canada and the world.