Immigration boutiques have evolved to serve their clients as legislative and political priorities shift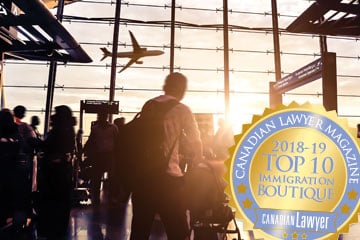 Canada's immigration boutiques have spent the last decade adapting to a toughening of the rules governing business immigration with stiffer penalties but they have benefited from new initiatives meant to make coming to Canada easier and faster. At the same time, anti-immigrant sentiment in the U.S. is attracting more immigrants to Canada and stimulating business.
Barbara Jo Caruso was a partner at Gowling WLG for 13 years before leaving to start Corporate Immigration Law Firm, an experience, she says, that provided her a "wonderful foundation." But the smaller setting allows more agility in addressing client needs.
"I don't let anybody cross the border without me speaking to them first. That's my policy," she says. "That service and outreach and availability after hours, because the borders are open 24/7, is I think what distinguishes my firm and the difference that you can provide when you are a boutique as opposed to being in a larger setting with more structure and you're not as nimble."
Caruso has also had more intimate access to the frontlines of Canada's immigration system than her downtown Toronto office can provide. While a student, she worked as a customs officer for the Canadian government.
A lot has changed in the 30 years since Caruso says the chief priority of a customs officer was to facilitate the quick and efficient flow of people across the border. That has been superseded, in the post-9/11 world, by enforcement and prevention and keeping unsavoury characters and products out.
It is not just the Donald Trump presidency, walls and politically partisan jousting over "irregular border crossings" that signify a more rigid immigration philosophy.
The Conservative government halted the federal investor program, where prospective immigrants would give the government a large loan and receive permanent residency, a practice critics cast as essentially purchasing citizenship.
In 2015, the Conservative government also made reforms to the temporary foreign worker program, after lawmakers were moved by scandals over the mistreatment of migrant workers and concerns about the Canadian unemployed, heightened by the toll on Alberta from the steep drop in oil prices.
Caruso says the investor program had "integrity issues" and understands the government's reservations, but she says it doesn't mean Canada should abandon entrepreneurs and business immigrants altogether. With the approaching exodus of baby boomers from the workforce, a great number of businesses will need new leaders.
"We have something like a trillion dollars worth of small businesses in Canada that will need to transfer to new ownership in the next decade," she says. "One way to deal with it to address it would be to have a federal business program that addressed and facilitated entrepreneurs and business immigrants, so I definitely see that there is a gap there."
Corporate Immigration Law Firm has clients ranging from mining and chemical companies to entertainers and models and from engineering, construction and automotive manufacturing to restaurants and management consulting firms.
Caruso just welcomed Joel Guberman and Lainie Appleby of Deloitte's Guberman Garson LLP. With 60 years of combined experience, Caruso is excited for the addition.
Immigration is one of the defining aspects of the Trump ascendency and now, as president, his policies, such as the renegotiation of NAFTA and strict border control, are creating space for Canada to grow, say Evan and Stephen Green, senior partners at Green and Spiegel.
"Canada, right now, [has] a very unique opportunity, given the fact that things are so negative south of the border," says Evan. "This is a unique time and a unique opportunity for Canada to expand its multi-national business base."
For the Toronto firm that's been practising immigration law since 1962, the Greens say the Trump administration's policies and the fear among corporations about their ability to get their people into the United States has created a boon for Canadian immigration lawyers.
Apart from the nasty side, where Green says the firm is seeing a lot of "really negative and erroneous things happening at the border," new, stringent U.S. policy is bouncing business up to Canada. Companies are "near-shoring," using Canada as a base to position their employees for their concerns south of the 49th.
"As a result of that, now, our firm has had exceptional growth," Green says. "I always joke if you see this middleaged white guy at a Donald Trump rally — me — yelling 'Four more years!' it's because business has never been better."
Avi Gomberg, partner at Gomberg Dalfen S.E.N.C., is seeing a lot of business from near-shoring at his Montreal boutique.
Gomberg Dalfen consists of five lawyers, five paralegals and one legal assistant. Like Caruso, Gomberg spent his early years at a large firm and says the boutique treatment involved more "personalized, one-on-one service."
"So, it's not a assembly-line, crazy-volume practice. There are some practices out there that are set up" that way, he says.
High-skilled professionals from India, China and Iran especially, many of whom have been educated in the United States, who either cannot get in or their work status is coming to an end are turning to Canada, Gomberg says.
"There's more work for us. I mean, I find it a little sad, because these are excellent people," he says.
"It's good for Canada."
As for policy-makers north of the border, the delay experienced by Green and Spiegel clients was alleviated, Green says, by the 2017 Global Skills Strategy, which was created to hasten employers bringing foreign workers into the country. While processing typically took 14 weeks, it now can take two or three, says Green.
The Global Skills Strategy and the reforms to the temporary foreign worker program are providing a good balance between facilitating the entry of foreign workers and placing responsibilities on employers to train and hire Canadians, says Green.
Another area the Greens say will be a growth area is the complications at the U.S. border that those working in the legal cannabis industry are likely to experience.
"Really, it's as if they are attaining their livelihood off the proceeds of crime because it's considered a crime in the United States," says Green. "So, people are going to have to be very careful."
Quebec has its own immigration system and the only place in Canada to have access to a program like the former federal investor program. Quebec recently announced that net-asset requirements will be raised to $2 million and the investment will be raised to $1.2 million.
A controversial aspect of this program is that the vast majority of immigrants who use it do not stay in Quebec, but since the federal government no longer has a similar option, many will apply through Quebec and immediately head to another province.
"Quebec knows that most of them are leaving," says Gomberg.
"But they're happy to be getting $1.2 million interest free for five years."
Other provinces have complained because while they don't receive the $1.2 million interest-free loan from the immigrant they then must pay for the health care of this particularly older class of new Canadian, says Gomberg.
How we did it
Canadian Lawyer asked lawyers, in-house counsel and clients from across Canada to vote on the top corporate and immigration law boutiques. They were asked to rank their top firms from a preliminary list, with a chance to nominate a firm that was not included. To be considered in the vote, firms were required to have at least 80 per cent of their business come from corporate and immigration law. The final rankings were determined through a points system, in which firms were rewarded on a sliding scale for the number of first to 10th-place votes received.
Top 10 immigration boutiques (listed alphabetically)
Bellissimo Law Group PC
Toronto
Bellissimo Law Group PC is a recognized name in Canadian immigration with a focus on Canadian inadmissibility law and litigation. The firm's work has resulted in success at every level of the immigration process including the Supreme Court of Canada. BLG PC is at the forefront of legal publications and is responsible for several national publications including Canadian Citizenship and Immigration Inadmissibility Law, Immigration Law Reporter and ImmQuest, all published by Thomson Reuters. BLG PC's founder and principal lawyer, Mario Bellissimo, is certified as a specialist in citizenship and immigration law and refugee protection by the Law Society of Ontario. Bellissimo has taught several immigration law courses, lectured across Canada and appears frequently in the media on breaking citizenship, immigration and refugee stories. He acts on a pro bono basis for Toronto's Hospital for Sick Children and Pro Bono Law Ontario and is national immigration law and policy advisor for COSTI Immigration Resettlement Services.
Corporate Immigration Law Firm
Toronto
Established by Barbara Jo Caruso in 2006, Corporate Immigration Law Firm is committed to providing personalized immigration services to companies and individuals. With 24 years of experience, Caruso is certified as a specialist in immigration and citizenship law by the Law Society of Ontario, co-author of Canada's leading immigration publication and chairwoman of the Canadian Bar Association's immigration law section. The team at CILF includes: Victoria Cowling, a former partner of a national law firm and senior member of the immigration bar; leading the Ottawa office, Jacqueline Bonisteel; Jean-Philippe Brunet, managing partner of the affiliated Montreal firm, Galileo Partners; and joining CILF this summer, Lainie Appleby and Joel Guberman, who bring 60 years of combined immigration law experience to the firm. All lawyers at the firm pride themselves on expert knowledge, staying abreast of immigration changes and providing unique solutions to difficult immigration situations that clients may encounter.
Embarkation Law Corporation
Vancouver
Founded by Laura Best and Fadi Yachoua in July 2015, Embarkation Law Corporation is a team of seven lawyers dedicated to excellence and compassion in the delivery of legal services to individuals, families and businesses. The firm's multi-lingual lawyers and staff leverage a technology-driven firm to serve clients in Canada and around the world. The firm's lawyers assist clients with securing visas, work or study permits and permanent residence in Canada. They regularly appear at the Federal Court, including Charter and human rights litigation. They also represent clients at the Immigration and Refugee Board, seeking their release from detention, appealing refusals and representing refugees fleeing persecution. The firm's lawyers actively shape the immigration system through their case selection, policy and public advocacy work.
Gomberg Dalfen S.E.N.C.
Montreal
Formed in 2000 by Avi Gomberg and Seth Dalfen, Gomberg Dalfen S.E.N.C. is a boutique immigration law firm based in Montreal. The firm assists foreign and Canadian businesses, individuals and community organizations with all aspects of the inbound Canadian and Quebec immigration processes. Gomberg Dalfen's team ensures that clients fully understand the legal procedures by providing personalized and reliable services. They are well-versed in handling corporate and individual immigration legal issues regarding permanent residence applications, temporary work permits, relocation of skilled professionals and family reunification. Gomberg Dalfen has a team of multi-lingual lawyers and paralegals, fluent in English, French and Spanish with capabilities in Russian, Mandarin and Hebrew. For more than 25 years, the lawyers of Gomberg Dalfen have been actively involved and have sat on the executive of the Canadian Bar Association's Quebec immigration section executive with the incoming president being Lisa Middlemiss, an associate of the firm.
Green and Spiegel LLP
Toronto
Green and Spiegel LLP is Canada's largest and oldest immigration law practice with more than 50 years of experience assisting a diverse global clientele. The firm is headquartered in Toronto with U.S. offices in Philadelphia, Pa., Providence, R.I. and Vail, Colo. Green and Spiegel offers a full range of Canadian and American immigration services for employers, temporary workers, individuals and their families. For employers who need an expert to manage their global mobility needs, Green and Spiegel has the depth and breadth of expertise to provide a business with immigration support to ensure a global mobility program that operates smoothly and efficiently.
Larlee Rosenberg Barristers & Solicitors
Vancouver
Larlee Rosenberg offers services in all areas of Canadian immigration law. Originally founded in 1993 and restructured as a partnership in 2009, Larlee Rosenberg has since grown into a team of eight dedicated lawyers. With decades of pooled experience, Larlee Rosenberg's lawyers take a collaborative approach to formulate creative and effective strategies for clients, which range from individuals to multi-national corporations. Its lawyers regularly appear before the Immigration and Refugee Board and the Federal Court of Canada, volunteer with local bar and professional associations, serve on consultative committees and are regularly published.
Mamann Sandaluk & Kingwell LLP
Toronto
One of the largest immigration law practices in Canada, Mamann Sandaluk & Kingwell LLP represents clients in all types of immigration, citizenship and refugee protection matters, including U.S. immigration. Due to the firm's reputation, its lawyers are regularly sought out as experts on immigration issues by the national and international media. Recently, Mamann Sandaluk & Kingwell expanded to provide civil litigation services with the goal of assisting clients by seeking civil remedies for their mistreatment by immigration authorities, such as in the wrongful detention case of Olajide Ogunye, a Canadian citizen who was detained for eight months by immigration authorities.
Sherritt Greene Immigration Law
Calgary
Sherritt Greene was formed in 1998 by veteran immigration lawyers Michael Greene and Michael Sherritt. It has become one of Alberta's premiere immigration law firms, serving individual clients and corporations from around the world, including major energy and utility firms. The firm's legal team has earned a solid reputation among clients, courts, government officials and the legal community for its integrity, professionalism and effectiveness. The boutique works on compliance policies, is frequently asked to bring senior executives and specialists to Canada on short notice and acts for individuals and families in all areas of immigration law. As well as six licensed lawyers, the firm has a golden retriever, Morgan, who faithfully attends work and acts as the firm's greeter. Partner Greene is a past national president and currently acts as senior advisor to the executive of the National Immigration Section of the Canadian Bar Association.
Waldman & Associates
Toronto
Waldman & Associates was founded in 1979 by Lorne Waldman, who was recently awarded the Order of Canada for his work as an immigration and refugee lawyer. The firm, now a team of 13 lawyers, acts in a wide range of immigration and refugee matters with an emphasis on complex litigation before the Immigration and Refugee Board of Canada and the Federal Court. Waldman & Associates has been involved in many cases defending human rights in immigration, including: Canadian Doctors for Refugee Care et al. v. Canada (challenging cuts to refugee health care); Ishaq v. Canada (challenging the niqab ban in citizenship ceremonies); Hassouna v. Canada (challenging the citizenship revocation procedures); and J.P. and G.J. v. Canada (which clarified the law on inadmissibility for people smuggling). The firm is frequently consulted by media outlets to provide opinions on immigration cases as well as issues relating to immigration and refugee law.
Zaifman Law
Winnipeg
Kenneth Zaifman was an associate at Kopstein Kimmelman & Co. when, in 1979, he assisted a client facing deportation, his first immigration case. He then founded Zaifman Law in 1986. The firm now has a staff of 12, with four lawyers including Zaifman. Zaifman runs the firm with his wife and managing partner Mira Thow. He is past chairman of the Canadian Bar Association, the American Immigration Lawyers Association and the Manitoba Bar Association. The firm's business includes litigating immigration refusals, temporary and permanent residency, U.S. immigration and waivers and business immigration.