From new challenges to old foes, the personal injury bar is nothing if not adaptable. The personal injury bar is facing a host of issues right now. A continuous reduction in accident benefits is a constant challenge, delays in access to the courts because of R. v. Jordan is a significant roadblock and, of course, especially in Ontario, there is the hot-button issue of misleading advertising.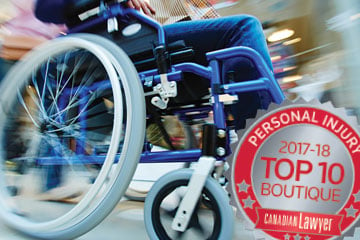 From new challenges to old foes, the personal injury bar is nothing if not adaptable.
The personal injury bar is facing a host of issues right now. A continuous reduction in accident benefits is a constant challenge, delays in access to the courts because of
R. v. Jordan
is a significant roadblock and, of course, especially in Ontario, there is the hot-button issue of misleading advertising.
Tim Boland, name partner at Boland Howe LLP in Aurora, Ont., says he's "looking at an issue that can be corrected, resolved or improved upon." He says advertising is "the big challenge in the next decade for PI lawyers."
His firm made written submissions to the Law Society of Upper Canada, urging it to make marketing rules more stringent, and Boland notes enforcement is key to successfully dealing with the problem and it has "certainly been lacking to date."
There have been rules governing advertising in place for a long time, but Boland thinks that, with the submissions the LSUC has received, the hearings it conducted and with the Toronto Star articles highlighting personal injury advertising issues, "now more than ever everybody recognizes this is an area that has to be more closely regulated and enforced."
Boland says many lawyers market themselves "to imply proficiency in trial advocacy because they recognize, as the LSUC does through its Certified Specialist Program, that trial decisions, not settlements, are the only objective measure of the skill and commitment of a lawyer."
He says his firm "strongly supports" the LSUC creating a certified specialist designation in personal injury litigation.
"A summary of case names, issues and verdicts would assist the injured to make informed decisions about which lawyers possess the skillset to handle their case," he says. "The insurance companies who control the purse strings know this information — shouldn't the prospective client?"
Leonard Kunka, partner at Thomson Rogers in Toronto, says the LSUC's recommendations on the issue so far are "steps in the right direction."
"I hope that it's going to be sufficient to get rid of some of the problems that we were suffering because it's not good for the profession as a whole or image of all personal injury lawyers in general," he notes.
For Russell Howe, also name partner at Boland Howe, it's good news the LSUC is getting invested in the advertising issue, though he echoes the enforcement concern. It's nice to have strong regulations on paper, but "somebody has to make it known there's a consequence for violating that rule."
Howe says his firm is "a pretty traditional, conservative firm" when it comes to advertising generally. "You won't catch us on the back of the bus," he says.
Jason Singer of Singer Kwinter in Toronto recognizes it's "a big challenge to enforce these rules or be proactive in many circumstances." But he thinks that, ultimately, the more people are aware of what they can or cannot do, the more likely lawyers are going to comply.
Though the spotlight is on Ontario at the moment, Raymond Wagner, founder of Wagners in Halifax, says, "Like a cancer, it seems to be moving away from Ontario and expanding into the rest of the country," noting that firms in other parts of the country are not immune.
"Likely we're going to see more of it, as advertising is a big part of the overhead budget for firms now," he says. "Some of the advertising we see when we travel is of concern, but it hasn't emerged as a hot item for our bar society at this time."
Howe says that, despite the "sexier issues" such as the rogue law firms with bad advertising, the constant battle with a long-time foe over accident benefits doesn't seem to be abating any time soon.
"The insurance companies and the government do their big changes quietly and on a regulatory basis and sneak stuff through," he says, pulling no punches on the subject. "The consumer is getting robbed by a regulatory scheme — by the governments and the insurance industries — and nobody's talking about it. So that's the real problem for personal injury lawyers," he says.
"One of the ongoing concerns — and it's been a concern for a number of years — is the insurance industry," says Kunka. "They are obviously working very hard to continually try to erode benefits and reduce the amount they have to pay out on claims and that continues to provide a real challenge for personal injury lawyers."
Kunka says all personal injury lawyers deal with catastrophic claims and clawbacks change how they're able to assist people, noting hard choices have to be made by counsel and clients if there's not enough money to cover both occupational and speech therapy, for example.
"It's a real challenge for personal injury lawyers to properly care for people who have been seriously or catastrophically injured," he says.
Wagner sees the same trend in Eastern Canada, saying his clients have their rights "nipped away on a year-by-year basis."
"The insurance bureau seems to be taking every opportunity to demonize the plaintiff side of the practice with the consequence of a political appetite for erosion of rights," he says.
Singer says that, over the last decade or so, things such as the reduction of what is available on the tort side with the increasing deductible and the pre-judgment interest rates having dropped under the Courts of Justice Act are examples of how the government, through the Insurance Bureau of Canada, has "put up more and more roadblocks for accident victims getting things like attendant care coverage and even income benefits, making it more challenging by requiring more and more information."
Another problem personal injury lawyers are facing is that the courts are way too slow, especially in light of
Jordan
. Now, their clients face an access to justice problem, Singer notes, because the insurance companies can afford to "weather the storm" whereas his clients are in need of funds and can't support themselves while they wait.
Wagner says clients get frustrated, which leads to premature settlements that are less than what they are rightfully entitled to. He sees it in the jurisdictions where he practises — Nova Scotia, Prince Edward Island and New Brunswick.
"Adjunct to long trials and the long delays to get to trial is the cost of financing the out-of-pocket disbursements, especially in large cases," Wagner says. "With these long delays, it puts an immense amount of financial pressure upon law firms who are financing clients' disbursements."
"I understand why it's important to get criminal trials done quickly, but what I don't understand is why we don't have enough judges in courtrooms to handle both issues," Howe says. "The shortage of judicial resources is a significant problem. The feds really have to hire some more judges and build some more courtrooms."
Despite both new and historical challenges, the diversity of personal injury litigation seems to be expanding, says Wagner. He notes that there is "more appetite" for medical malpractice cases, and class actions that deal with injury-style cases are becoming more prevalent as are cases related to abuse.
"Likely you'll see further emergence into human rights and something along those lines, I would predict, in the upcoming years," he adds.
Wagner also sees further progress with specialization and sub-specialization within the plaintiff's practice, saying it's a trend that's continuing to emerge where lawyers become even more specialized.
"We see the autonomous vehicle is coming; we don't know when, but obviously that will change the landscape of personal injury actions and insurance," Singer says. But he's not too concerned with how he and his fellow personal injury lawyers will cope.
"We're a resourceful bunch," he says. "I'm sure we'll be able to adapt."
Top Personal Injury Boutiques
listed alphabetically
Bergeron Clifford LLP
Kingston, Ottawa, Whitby, Perth, Carleton Place
bergeronclifford.com
Founding partners Ted Bergeron and Chris Clifford have worked together representing injured clients since 1999. Along with associates Gavin Cosgrove, Warren WhiteKnight and Joe Dart, the 26-person law firm works in 30 major towns and cities across Eastern Ontario, representing clients from Ottawa, Cornwall, Kingston, Belleville, Peterborough, Toronto and everywhere in between. The firm only practises injury law and never works for insurance companies. The firm works with a variety of injuries, many of which are catastrophic, including brain and spinal cord injuries. The lawyers work collaboratively with health professionals in each community to help clients access specialized treatment. The firm's philosophy is to do everything to ensure the client is able to focus on their recovery while the Bergeron Clifford team gets them the settlement and support they deserve and need.
"Bergeron Clifford provides outstanding client service. They are client-focused, compassionate and professional. Their knowledge of the law is evident, but it is in service to the clients — truly understanding the client needs — where Bergeron Clifford excels. I know because I (a practising lawyer) was also a client."
Bogoroch & Associates LLP
Toronto
bogoroch.com
Bogoroch & Associates LLP focuses on motor vehicle accident, medical malpractice, product liability and disability litigation throughout Ontario. The firm's founder, Richard Bogoroch, has more than 30 years of experience and is certified as a specialist in civil litigation. The firm is dedicated to providing access to justice for its diverse client base. Bogoroch takes great pride in its charitable-giving program, which funds scholarships for Osgoode Hall Law School students and donates to various hospitals and non-profit social service agencies in Ontario.
"Always had a great experience. Extremely knowledgeable and responsive."
Boland Howe LLP
Aurora, Toronto, Belleville
bolandhowe.com
The York Region law firm of Boland Howe LLP has established its reputation through numerous trial decisions, especially those where liability or causation are complex. It is the firm's philosophy that properly representing the injured is all about a lawyer's reputation for regularly and successfully taking serious and complicated cases to trial. Trial experience is also what settles cases fairly. The firm's trial decisions have been instrumental in redesigning dangerous hills, improving roadway maintenance regulations, enhancing safety standards in the mining industry, augmenting landlord accountability and compensating Good Samaritans. Following an appeal, the firm also obtained the highest accident benefit resolution in the province: $15.3 million.
"They go above and beyond and are not afraid of a challenge in liability causation or otherwise."
"Honest and personal. They are professionals in an industry that is becoming less professional."
Gluckstein Personal Injury Lawyers PC
Toronto, Thorold
gluckstein.com
Bernard Gluckstein founded this firm in 1962, and his son Charles Gluckstein joined as a partner in 1999 and is a past president of the Ontario Trial Lawyers Association. The firm of eight lawyers concentrates solely on personal injury and malpractice litigation. Its lawyers have tried cases at every level including the Supreme Court of Canada. Many lawyers trained at the firm have gone on to become leaders in personal injury litigation or appointed as judges of the Ontario Superior Court. The firm has also carried out much charitable work especially with brain and spinal cord injury organizations.
"Professionalism, integrity and commitment to their clients."
"Formidable opponents. Great lawyers."
Howie Sacks & Henry LLP
Toronto, Bobcaygeon, Brampton, Georgetown, Kitchener, Markham, Oakville
hshlawyers.com
Howie Sacks & Henry is one of the few firms that has been included in every ranking since the list's inception in 2011. Formed in 2000 by Jim Howie, Neil Sacks and Mike Henry, the firm is celebrating 17 years and has grown to 17 lawyers and 80 staff, including senior partner Adam Wagman, who recently completed a successful term as Ontario Trial Lawyers Association president. Headquartered in Toronto, and with satellite offices across Ontario, the firm represents people who have sustained serious injuries or disabilities and their families. HSH now also advances mass tort claims and class actions on behalf of people injured by dangerous products, pharmaceuticals and medical devices. These include victims who have suffered exposure to asbestos, cancer caused by the use of baby powder, the side effects of pharmaceutical drugs such as Taxotere and Abilify and those adversely impacted by defective medical devices.
"Attentive, responsive and reasonable."
"Excellent results. Good and friendly services."
Next week read Part 2: Top Personal Injury Boutiques
The week after read Part 3: Top 10 Arbitration Chambers