Top Personal Injury Boutiques Part 2: Here is the final half of the top 10 personal injury boutiques, listed alphabetically.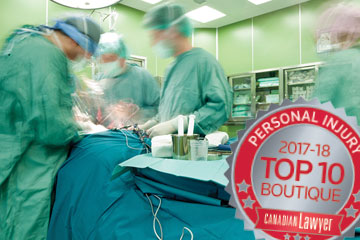 Top Personal Injury Boutiques Part 2
Below is the final half of the top 10 personal injury boutiques, listed alphabetically. The first half of the list was released last Monday. If you'd like to read the accompanying article and view the first half of the list, you can do so
here
.
Litwiniuk & Co.
Calgary
litwiniuk.com
Todd and Fred Litwiniuk lead this venerable Calgary-based firm, established in 1976 by their parents Larry and Marianne. From humble beginnings, the brothers have grown Litwiniuk & Co. to be Alberta's largest personal injury firm, with 13 lawyers and two locations serving clients across Alberta and Canada. Though the firm embraces leading-edge technology, it still sees itself as adhering to these simple, founding principles: client care, service, trust and hard work. Community initiatives, charity work, volunteerism and team culture are as integral to Litwiniuk & Co.'s values as providing excellent legal services.
"They value their entire team. They truly care about quality and excellence in their services. They are an innovative group and value work/life balance. If I lived in Alberta, I would absolutely work for this firm."
PIA Law
pialaw.ca
This year,
Canadian Lawyer
recognizes the Personal Injury Alliance (PIA Law), three separate law firms that often collaborate in marketing and educational endeavours. As in every year that this survey has been conducted by
Canadian Lawyer
, the three firms — McLeish Orlando, Oatley Vigmond and Thomson Rogers — were selected in 2017 as top PI firms, individually,
on their own merits. Here is the information on each of these three winners:
McLeish Orlando LLP
Toronto, with consultation offices in Barrie, Hamilton and Kitchener
mcleishorlando.com
McLeish Orlando LLP, a critical injury boutique firm, was established in 1999 by John McLeish and
Dale Orlando
. Soon after, they were joined by fellow principal partner
Patrick Brown
. All three are past presidents of the Ontario Trial Lawyers Association. Over the years, the partnership has expanded through the addition of six lawyers: Salvatore Shaw, Rikin Morzaria, Alison Burrison, Kate Mazzucco,
Joseph Cescon
and Josh Nisker. Lawyers at the firm have contributed to the publication of six books used by other lawyers across the province. The lawyers at McLeish Orlando work to ensure that their clients have access to the best rehabilitation and the highest level of legal expertise. In 2009, McLeish Orlando obtained the single highest personal injury judgment in Canada — more than $18 million for a teenage crash victim.
"They go out of their way in their work for clients; well organized and responsive."
"Great team of professionals, fast, expert advice, big settlements, great customer service."
Oatley Vigmond LLP
Barrie, Toronto, Hamilton, North Bay, North York, Sudbury
oatleyvigmond.com
Oatley Vigmond was founded by Roger Oatley and Jim Vigmond in 2002. Today, the firm features seven partners, six of whom are Certified Specialists in Civil Litigation and are recognized as leaders in the field of personal injury law. Oatley Vigmond's skilled accident benefits specialists (former insurance adjusters) exemplify the firm's commitment to client service by managing their statutory accident benefits and arranging a first-rate rehabilitation team, permitting clients to focus on recovery. The firm is known to advocate for clients at all levels of the judicial system and has a long-standing history of going to court with tough cases and winning.
"Their fierce advocacy on the part of injured plaintiffs plus their willingness to share their expertise with the rest of the plaintiff's bar."
"Their commitment to excellence and to their client's overall well-being. Their reputation in the community."
Thomson Rogers
Toronto
thomsonrogers.com
Thomson Rogers is the largest firm on the list and has been voted a top personal injury firm in every year the poll has been conducted. Last year, the firm celebrated its 80th anniversary as a leading force in personal injury law. It now primarily helps people who have been catastrophically injured, usually as a result of a brain or spinal cord injury. Around 125 people are based at the firm's Toronto office, carrying out work for clients throughout the province and across Canada. The partners of the firm are proud to continue their long tradition of exceptional advocacy.
"They were amazing when they represented me. They always updated me, prepped me for meetings and eased my stress of the situation. They were totally professional and, at the same time, down to earth. I always felt respected."
Singer Kwinter
Toronto, Brampton
singerkwinter.com
Singer Kwinter was co-founded in 1974 by Alf Kwinter and the late Morris Singer. The firm of nine lawyers has appeared as counsel at all court levels, including the Supreme Court of Canada, where it acted on behalf of the successful plaintiff in the landmark decision
Oldfield v. Transamerica
. Singer Kwinter is the only firm in Canada to obtain four punitive damage awards against insurers. The firm served as counsel in
Kamin v. Kawartha Dairy
, which changed the law relating to occupier's liability, and
Degennaro v. Oakville Trafalgar Memorial Hospital
, one of the largest awards in Canada for chronic pain.
"Supportive, professional, attention to detail, knowledgeable and able to present case for court."
"Integrity and kindness. Only law firm to listen and understand."
Slater Vecchio LLP

Vancouver
slatervecchio.com
For those who are in British Columbia and have suffered a complex or catastrophic injury, this is a firm many turn to for help. Slater Vecchio is a 110-member team of lawyers, paralegals, legal assistants and case managers. Led by Michael Slater, Anthony Vecchio, James Buckley and James Richards, they see the key to their success through their investment in the best interests of their clients' rehabilitation. Working with some of the top medical professionals in the business to mitigate the harm to their clients enables them to make a significant and positive difference in people's lives with a view to restore their clients to the best that they can be following a traumatic event.
"They take a professional, inventive and yet practical approach to cases. They will go to court and prepare as if they are going to court. But they pick a theory of the case and don't just throw it all in. Clients come first for them."
Wagners
Halifax
wagners.co
Wagners is an established leader in plaintiff personal injury litigation. They represent the plaintiff client exclusively in: medical malpractice; individual, institutional or government negligence; auto accidents; defective products; hospital errors; misdiagnosis; birth trauma and other incidents. Wagners handles complicated cases with referrals from many firms throughout the Maritime provinces and beyond due to their experience. Their lawyers have decades of experience in the area of personal injury law and are active in advocacy for the protection of access to justice, patient and civil rights. They are watchful of changes in legislation that may harm or restrict the rights of clients.
"I have partnered with this firm in the past and my firm has also been opposing counsel. No matter what side you are on, they always treat counsel with respect, they demonstrate a high degree of integrity and knowledge of the area of law."
Next week read Part 3: Top 10 Arbitration Chambers