As police methods continue to evolve, so, too, have the top criminal boutiques.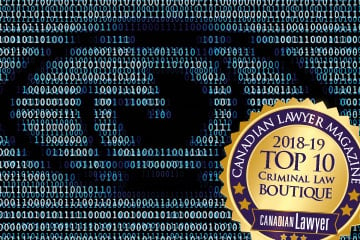 As police methods continue to evolve, so, too, have the top criminal boutiques. Protecting clients from the intrusion of an increasingly technologically equipped state has been a preoccupation of many of the firms in Canadian Lawyer's top criminal law boutiques.
But a lack of public investment in other areas such as white collar crime enforcement and legal aid, according to Marie Henein of Henein Hutchison LLP, is a challenge.
"No, I don't think [white collar crime enforcement is] a growing market for criminal lawyers at all. And that is because white collar crime requires resources to investigate and prosecute and, though there have been attempts to improve that, it's not done with remotely the same force that you have in the United States," she says. "So, our large white collar crime prosecutions are few and far between actually when you compare us to the United States."
This affects how much work is coming through the doors at criminal firms.
"We're trying, but it's certainly something that really sits with government," she says.
Canadian Lawyer asked our readers to rank firms whose primary focus is criminal law. The top vote-getting firms shared a culture where the younger associates are expected not to stand aside until they learn from their seniors but hit the courtroom and take on files independently right out of the gate.
"That's a very significant aspect of our firm. We spend a great deal of effort directly mentoring the lawyers that work here. Their development, in terms of their litigation skills, is very specifically addressed. So, you start out by junioring on files and then graduate to junioring on larger files and then depending on where your capacity is you begin to do components of pieces of litigation in court," Henein says.
Frank Addario of Addario Law Group says that when he began the firm, he did not want a bunch of junior lawyers who were good at preparing cases for him; he wanted them in court themselves. He says rookie lawyers at his firm typically work on a major appeal factum, a major charter motion and do three or four trials on their own, all in the first year.
"Beginning on day one, people here start doing trials. . . . So, they learn how to cross-examine and how to address judges from the beginning and I think it is unique for a firm of our size managing complex cases to have lawyers who can switch comfortably back and forth between preparing complex cases and litigating trials," he says.
Brad Greenshields of Greenspan Partners LLP will soon argue R. v. Reeves at the Supreme Court of Canada, which will put s. 8 of the Charter under the microscope to show how the court sees protection against unnecessary search and seizure.
"There's some infighting or something that's happening inside the Supreme Court of Canada, so this will be an important case to watch," Julianna Greenspan says of the case regarding seizure of property from a jointly owned home, where only half of a common-law couple consented.
Thomas Reeves was required by court order to stay away from the home he shared with Nicole Gravelle, short of her consent.
In a phone call made to withdraw her consent, Gravelle also reported the family computer had child porn on it.
Without a warrant, the Greater Sudbury Police were allowed by Gravelle into the house and off with the computer, which they held for more than four months, without a warrant and without searching it. After obtaining a warrant and searching the computer, they did not file a report to a justice as is required by s. 489.1(1) of the Criminal Code. They got another warrant to re-seize and search and found the child pornography.
Reeves was charged with possessing and accessing child pornography, but he made a successful pre-trial Charter application under s. 8, which the Crown then appealed.
The application judge said that in the original warrantless search and seizure, there were no exigent circumstances to justify it, that in holding the computer for four months without reporting to a justice, the police were in violation of ss. 489.1 and 490 of the Criminal Code and finally that the information to obtain used to, later, secure a warrant was insufficient.
Commentators say this case is an opportunity for the court to offer clarification on the impact of joint residence on the law of search and seizure and one's reasonable expectation of privacy.
Before his death, Edward Greenspan, who founded Greenspan Partners LLP, had been representing a group of alleged Mafia members from Quebec in a case that blew the lid off an RCMP investigative technique and had significant implications for the law of security and privacy. The case was taken over by Frank Addario of Addario Law Group LLP after Greenspan's death.
Megan Savard, a partner at Addario Law Group LLP, says "scrutinizing and challenging police investigative techniques" is a prominent area of the law for her firm.
In Operation Clemenza, the RCMP were using a device called a stingray to capture their correspondences. The stingray, or IMSI-catcher, pretends to be a cellphone tower and attracts the signals of cellphones in the area.
The RCMP's stingray snooping led to the arrests of nearly 50 alleged Mafia associates, some of whom were Addario's clients. Through the technology, the RCMP obtained the IMSI numbers of their BlackBerrys. The RCMP then took those numbers to BlackBerry and was given the data on correspondences between the IMSI numbers identified as those of the suspects.
"When I got involved, we had two questions: Were they fully disclosing all the details to the judge and were they fully disclosing the fails to the judge?" Addario says.
He says the suspects in question never kept their phones for more than a week before they would throw them away and get new phones. When they had the new ones, they'd use nicknames and switch the phones among them. He says the RCMP had to guess who had the phone and when. Addario asked for the data on the communications to be disclosed.
"That's when the fight happened because they were going to have to give us the information about the technology and it had never been before disclosed in Canada," he says. "The judge ordered them to make a disclosure because we demonstrated the existence of potential false positives that could mislead the jury."
When the RCMP balked, stays of proceedings were dealt to Addario's clients and dozens of other defendants whose cases came from Clemenza and the stingray surveillance.
"It turned out there were 40 or 50 other cases for individuals also in Quebec [that] were riding on the same disclosure order and, rather than make the disclosure, the Crown chose to fold its tents so that the police could keep the technology alive," says Addario.
Addario, who is also a vice president of the Canadian Civil Liberties Association, says that the use of new snooping technology needs to withstand scrutiny from the trial process. It could be the technology is sound and reliable, but it could have flaws.
"As with all new technologies, they need to be tested in the crucible of inter partes trial. And you can't do that if one party is claiming national security or investigative privilege over the advice or the information," he says.
Addario's challenge led to the first disclosure by the RCMP that they were using these stingray/IMSI-catchers. They later released documents that showed their use could eliminate calls made by other cellphones, including calls made to 911, and their use has subsequently been reformed.
While Addario jousts with the police over surveillance techniques, Alain Hepner's Calgary firm, Alain Hepner Law, was retained by the Calgary Police Service to defend its members. Hepner has also been retained by former Alberta judge Robin Camp as he attempts to get back as a practising member of the law society.
Hepner represented Gladys Heavenfire, who on the heels of the Supreme Court's Lavallee decision, successfully used the "battered woman" defence to get his client an acquittal for shooting her abusive partner and killing him.
"I was one of the first ones in Alberta to have a jury acquit her of second degree murder for shooting her husband after she was being abused," Hepner says.
With the effects of the Jordan decision on trial delays and new Liberal government justice reforms with the stated intention of expediting the judicial process, the criminal bar will likely continue to see major changes to how they operate. Stay tuned.
How we did it
Canadian Lawyer asked lawyers, in-house counsel and clients from across Canada to vote on the top civil litigation and criminal law boutiques. They were asked to rank their top firms from a preliminary list, with a chance to nominate a firm that was not included on the list. To be considered in the vote, firms were required to have at least 80 per cent of their business come from civil litigation or criminal law. The final rankings were determined through a points system, in which firms were rewarded on a sliding scale for the number of first to 10th-place votes received. For additional information regarding the methodology & criteria, please find a full description of our methodology here.
Top 10 Criminal Boutiques
Listed alphabetically
Addario Law Group
Toronto
addario.ca
Founded in 2012 by Frank Addario, Addario Law Group LLP is a team of six lawyers. The firm acts in a wide range of criminal and regulatory matters, with an emphasis on complex cases. It conducts internal investigations and gives strategic advice to businesses about complying with criminal and quasi-criminal law. It specializes in resolving crises that threaten to disrupt life, business or reputation without charges or public accusations. ALG lawyers fight for their diverse portfolios of clients and are all experienced trial counsel. Some of their recent cases include R. v. Jordan and R. v. Cody (leading trial delay cases from the Supreme Court of Canada), R. v. The Honourable Justice Robin Camp (removal of a judge from office), World Bank Group v. Wallace (international production orders), R. v. Mirarchi (disclosure of police investigative techniques; e.g. IMSI-catchers) and R. v. Cole (a leading electronic search and seizure case).
Alain Hepner Law
Calgary
alainhepner.ca
Alain Hepner and Kim Ross operate the Calgary-based law firm. It is a boutique law firm, and it only accepts criminal defence matters, including all offences pursuant to the Criminal Code, Controlled Drugs and Substances Act, the income tax legislation, Customs Act, environmental issues and related Traffic Act violations involving bodily injury or death. Hepner is a fellow of the American College of Trial Lawyers and has appeared before administrative tribunals, such as the Alberta Review Board, in dealing with individuals found to be Not Criminally Responsible or unfit to stand trial, as well as representing clients at all levels of court, including the Supreme Court of Canada. Hepner is a Calgary lawyer retained by the Calgary Police Association to defend police officers being investigated or charged with criminal allegations. Hepner employs a business philosophy of extending the same effort, focus and commitment to each client, regardless of ethnicity, history or financial circumstance.
Battista Turcot Israel Corbo s.e.n.c.
Montreal
bticavocats.com
Battista Turcot Israel Corbo s.e.n.c. is a boutique law firm with a team of nine lawyers. Its bilingual lawyers have decades of experience in the fields of criminal, penal and disciplinary matters and practice at the trial and appellate levels (including the Supreme Court of Canada). The firm's practice includes counselling individuals, organizations, businesses and institutions. The firm has experience participating in and being counsel to provincial and federal commissions of inquiry. Beyond the courtroom, the firm's lawyers are involved in legal education as well as acting on behalf of the wrongly convicted.
Cooper Sandler Shime & Bergman LLP
Toronto
criminal-lawyers.ca
The firm's founder was the late Austin Cooper, recipient of the G. Arthur Martin Medal, awarded by the Criminal Lawyers' Association for his contributions to criminal justice. Mark Sandler, the firm's senior partner, is also a recipient of the G. Arthur Martin Medal, a three-time elected bencher of the Law Society of Ontario and one of Canada's leading appellate and trial criminal litigators for 37 years. Most recently, he and associate Wayne Cunningham were successful before the Supreme Court of Canada in a landmark privacy decision (R. v. Marakah). Jonathan Shime, a lawyer for 18 years, has appeared before the Supreme Court of Canada pro bono for social justice organizations and specializes in HIV/AIDS-related criminal law issues. He recently represented the Canadian Civil Liberties Association on what is now the leading case in Canada on bail, R. v. Antic. Scott Bergman, the firm's third partner, has been with the firm for 14 years and represents clients charged in connection with complex financial offences. The firm also includes associates Megan Schwartzentruber, Wayne Cunningham, Amanda Ross and Ben Elzinga Cheng.
Daniel Brown Law
Toronto
danielbrownlaw.ca
Going on a decade in business, Daniel Brown Law LLP has a team of four lawyers who defend clients in complex and high-profile criminal cases across Southern Ontario at both the trial and appellate levels. Its founder, Daniel Brown, is among an elite group of lawyers certified by the Law Society of Ontario as a criminal law specialist and acts as one of the Toronto directors of the Criminal Lawyers' Association. The firm is frequently consulted by top media outlets to provide opinions on criminal cases that make headlines and regularly acts for professionals who find themselves in trouble with the law.
Greenspan Humphrey Weinstein
Toronto
15bedford.com
Greenspan Humphrey Weinstein specializes in criminal and related regulatory and administrative litigation. Led by partners Brian Greenspan, David Humphrey and Seth Weinstein, the firm provides advice and experience in every aspect of domestic criminal proceedings, international and trans-border criminal investigations and litigation, including extradition. Additionally, the firm's advocacy practice extends to related regulatory and administrative litigation including professional discipline, public inquiries and inquests. The firm's counsel works collaboratively with colleagues across North America as well as with firms in Europe and Asia. For more than four decades, GHW has represented both individual and corporate clients in complex cases at all levels of court including the Supreme Court of Canada, the Court of Appeal for Ontario, the Ontario Superior Court of Justice and trial and appellate courts throughout Canada and in conjunction with counsel in the United States. The firm acts in white collar offences, extradition and mutual legal assistance, regulatory litigation, professional discipline matters, inquests, Securities Act matters, jury trials, appellate advocacy, cross-border litigation, administrative litigation, public inquiries, Competition Act matters, Occupational Health and Safety Act matters, civil asset forfeiture, proceeds of crime and money laundering.
Greenspan Partners LLP
Toronto
greenspanpartners.com
Greenspan Partners LLP specializes in criminal, regulatory and administrative defence matters. Founded by the late Edward Greenspan, widely recognized as one of the great criminal defence lawyers, Greenspan Partners carries on the values and principles of a complete defence. The firm is led by Julianna Greenspan, a trial and appellate advocate with more than two decades of practice exclusively in criminal defence in both Canada and the United States. Brad Greenshields, who has practised criminal law for more than a decade and has appeared in all levels of the Ontario courts and at the Supreme Court of Canada, and bilingual counsel Danielle Burke join Greenspan to represent their clients using the complete defence philosophy. The firm's criminal defence practice includes extradition matters and trans-border criminal investigations and litigation, tax and securities matters and professional disciplinary matters before many administrative tribunals.
Henein Hutchison LLP
Toronto
hhllp.ca
The 14-lawyer firm offers a range of services built around its experience and expertise in regulatory, criminal and civil litigation. Associates are a mix of former Supreme Court of Canada and Court of Appeal law clerks. The senior partners, Marie Henein and Scott Hutchison, are both members of the American College of Trial Lawyers and the Supreme Court Advocacy Institute. Among the firm's past and present clients are TELUS Communications Co., former Ontario attorney general Michael Bryant and Jian Ghomeshi. The firm is plaintiffs' counsel in class actions related to bail delays and the Doe v. Harvey Weinstein case. The firm is frequently consulted by in-house counsel to provide advice on internal corporate matters including conducting internal investigations and works with other firms on complex cases. The firm also advises large corporations, government entities and professional firms on domestic and foreign corruption issues, FINTRAC compliance, OSC matters and a range of other regulatory compliance questions and strategic issues.
Peck and Company
Vancouver
peckandcompany.ca
Peck and Company was founded in 1992. Lawyers at the firm focus on defending individuals who are under investigation or who have been charged with criminal offences. The firm has grown to be one of the largest criminal litigation firms in Canada and has developed the resources and expertise to address any criminal law issue, including commercial crime, driving charges, workplace fatalities, assault, sexual assault, murder, manslaughter, extraditions, appeals and constitutional litigation. Founding partner Richard Peck has acted as counsel in many significant Canadian criminal cases and has appeared at all levels of court, including the Supreme Court of Canada. Partner Jeff Campbell is a two-time bencher with the Law Society of B.C. and one of the founding members of the Criminal Defence Advocacy Society in B.C. Partner Eric Gottardi was recently named one of Canadian Lawyer's Top 25 Most Influential Lawyers in Canada in the fields of human rights, advocacy and criminal law.
Ruby Shiller & Enenajor
Toronto
rubyshiller.com
Ruby Shiller & Enenajor Barristers was founded in 2009 by veteran criminal defence and civil rights lawyer Clayton Ruby and civil litigator Brian Shiller. In 2017, former New York litigator and criminal defence lawyer Annamaria Enenajor joined the partnership. The firm focuses on helping disadvantaged groups from being discriminated against in the justice system. The firm mainly practises criminal defence and regulatory law, representing individuals charged with homicide, sexual assault, drug offences and offences covered by the Provincial Offences Act. Recently, the firm served gay rights activist Rev. Dr. Brent Hawkes and Toronto activist and journalist Desmond Cole. They also represent clients in civil cases, including defamation and state liability. Ruby has argued some of the country's leading criminal law and Charter cases and was honoured for his contribution to law and justice by the Law Society of Ontario with an honorary LL.D. in 2006 and made a member of the Order of Canada. Brian Shiller is a civil litigator with experience in defamation, police liability and animal welfare. Enenajor is a former clerk to Chief Justice Richard Wagner of the Supreme Court of Canada and is a leading voice for state accountability and justice reform in Canada.
Related stories