Canadian Lawyer's top-rated insurance defence boutiques are working hard to provide value. Carolena Gordon, senior equity partner at Clyde & Co. in Montreal, says all her conversations these days have a common focus, and that is modernization.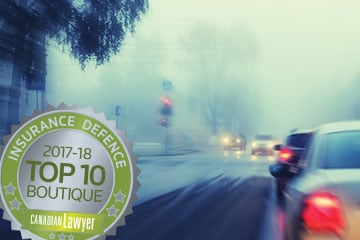 Insurance Defence Boutiques

Carolena Gordon, senior equity partner at Clyde & Co. in Montreal, says all her conversations these days have a common focus, and that is modernization.

"What are we doing as firms to modernize our practice and better respond to client needs? Particularly, clients are saying to us what can you do that's innovative, that's different, that's interesting in terms of servicing us?"

Gordon says they are focusing on innovative practices in all facets of their business — rethinking how services are delivered to the client, how technology fits into that, even examining how artificial intelligence could play a role. Using technology to give clients access to their files and the ability to follow along with documents as their case progresses is one example of this.

It's about starting a dialogue with clients about options to get the services delivered better, faster, Gordon says.

One of the ways the industry is attempting to modernize is through alternative fee arrangements. Bill Chalmers, managing partner at Hughes Amys LLP in Toronto, says he would like to expand his firm's use of AFAs — in particular fixed fees — but finds it can be a challenge at times to get people to engage in that conversation.

"It seems like people want to talk about AFAs, but we always go back to the hourly rate fee basis — whether that's just easier, whether it's something we're familiar with, I don't know, but it's hard to really change the way we bill for our services," Chalmers says.

Gordon says in her experience, clients are often requesting a flat fee, and "we look at changing some of the ways in which we deliver the service.

"Can we do certain things for a flat fee? Can we do the services differently? Is there a blend of technology and professional services that are going to be delivered in lieu of what was the traditional pure lawyer service?" Gordon asks.

Chalmers puts it down to trust. When you have an excellent relationship, you can work together to come up with an AFA that works for both sides.

"I think we could really improve the way we do business if we could do a better job of developing these AFAs," Chalmers says.

For the past few years there's been an increase in in-house departments at insurance companies and a growing willingness of companies to keep a lot of their legal work in-house, Chalmers notes. What follows is therefore less work being referred to external counsel.

For Chalmers, it's simply a different form of competition for Hughes Amys LLP — in-house counsel instead of other firms.

"There are just more players in the business," he says.

Gordon has noticed the trend, too, but she says she doesn't think it's stopping a lot of the carriers from still referring out work "of a certain level of complexity or that is a jurisdictional challenge."

Ontario insurance defence firms are facing uncertainty with the new accident benefit regime. Along with other changes over the past few years, there were major reductions made by the provincial government to statutory accident benefits, beginning in June.

Another of the big changes is procedural. Disputes under the Statutory Accident Benefits Schedule will now fall under the jurisdiction of the Licence Appeal Tribunal instead of the Financial Services Commission of Ontario.

Chalmers says nobody really knows how it's going to work or what the implications might be for insurance defence firms in Ontario. He notes it could mean fewer files for outside counsel, which leads to managing partners trying to predict the future of accident benefits in the province so they can position their accident benefits departments accordingly.

"I think we had in the past few years a real bulge in which there was a number of AB files going through the system, and now we're looking at this new regime and thinking, How many AB lawyers do we really need?" he says. "How many files are there going to be going forward? And because of the uncertainty of the LAT, we really don't know. It's kind of a wait-and-see approach."

Top 10 Insurance defence boutiques
listed alphabetically

Benson Percival Brown LLP
Toronto
bensonpercival.com

Benson Percival Brown LLP is in its 60th year. Since its founding by Philip Benson and Roy McMurtry, it has provided representation for numerous national and international insurance companies. Its alumni includes two Ontario attorney generals, a chief justice of Ontario, three Ontario Superior Court justices, two Ontario Court justices and three masters.

"They have the lowest rates, the best results, timely reports and expertise like no other firm I have dealt with in 35 years," noted one voter.

Chomicki Baril Mah LLP
Edmonton
cbmllp.com

CBM lawyers have been in the insurance defence market in Alberta since 1954. Today, the firm has grown to 27 full-time lawyers who handle insurance claim disputes across personal, commercial and specialty lines. Clients include domestic and international insurers and self-insureds who turn to the firm for claims, coverage, subrogation and risk management matters. The firm has acted for one leading insurer for more than 50 years and others for more than 40 years.

"Chomicki Baril Mah LLP has an exemplary reputation. They do all aspects of insurance defence. They have a large team of lawyers with a broad range of experience and knowledge," enthused one voter.

Clyde & Co. Canada LLP
Montreal, Toronto
clydeco.ca

Clyde & Co.'s Canadian offices located in Montreal and Toronto advise on all aspects of insurance defence and coverage, construction litigation, class action defence, arbitration and mediation. The firm's lawyers have a deep understanding of the insurance industry and its unique ways of doing business. Working closely with the firm's 45 international offices, they assist major insurers, licensed intermediaries and businesses with multi-jurisdictional dispute resolution, worldwide and domestic compliance and regulatory initiatives that cover a full range of issues, claims monitoring, claims auditing and risk management consulting.

"Efficiency and business thinking" were noted as key qualities by one voter.

Dutton Brock LLP
Toronto
duttonbrock.com

This firm emerged from a line of shops that began in the early 1950s as Ferguson & Montgomery and then Cassels Mitchell Somers Dutton & Winkler. The modern firm was established in the early 1980s and currently has 48 lawyers. At least four judges including the former chief justice of Ontario, Warren Winkler, hail from the firm. Dutton Brock LLP has been involved in most major insurance matters — defence and coverage — over the last 30 years. The firm focuses on complex insurance litigation issues and represents defendants in many major class actions.

"Knowledge of the law, sensible lawyers, driven to achieve the right result, not just bill extra hours," one voter said about the firm.

Flaherty McCarthy LLP
Toronto, Whitby, Ottawa
fmlaw.ca

Steeped in rich history, this firm was started by the late James Flaherty, federal finance minister, Justice Grant Dow of the Ontario Superior Court of Justice (at Toronto) and Christine Elliott, Ontario's first patient ombudsman. The 20-lawyer firm across three offices is led by senior partner Todd McCarthy and managing partner Frank Benedetto. It achieved gender parity long ago. The firm represents insurers and insureds across Canada and the United States in insurance claims, including tort, accident benefits, priority and loss transfer disputes and occupiers' liability claims. The firm advocates for access to justice and education through its class action group led by Sean Brown and Catherine Zingg's work as author of accident benefits in Ontario.

"Always a pleasure to deal with. They are professional, prepared and know the issues in dispute," says one voter.

Hughes Amys LLP
Toronto, Hamilton
hughesamys.com

Frank Hughes and Thomas Agar established the firm in 1918 and were later joined by Jack Amys. In 1930, Hughes became the first lawyer to be appointed directly to the Supreme Court of Canada. This 44-lawyer firm works in a variety of practice areas including automobile insurance, libel and slander, property claims, personal injury, products and professional liability and fire and property insurance.

"Expertise, collegiality, depth and breadth of knowledge and experience, skill and ability" were cited by one voter as key qualities of the firm.

Lindsay LLP
Vancouver
lindsayllp.ca

Lindsay LLP opened its doors as a boutique insurance defence firm on Jan. 1, 2013 as a consequence of the changing need for counsel within the insurance industry. Until then, the insurance practice, which began in 1980, had been part of a full-service regional law firm. The firm works within the judicial system to achieve resolution of most cases through settlement, alternative dispute resolution and trial if necessary. Lindsay LLP is a group of 25 lawyers with experience in casualty and property insurance, with particular expertise in most specialty areas.

One voter referenced "collegiality, multicultural, excellent lawyers, egalitarian" while another mentioned a "long track record of excellent work on difficult cases."

McCague Borlack LLP
Toronto, Ottawa, Kitchener, Barrie
mccagueborlack.com

Paul McCague and Howard Borlack established this boutique firm in 1994 with nine other lawyers. More than two decades later, the firm has grown to more than 60 lawyers and four offices, the newest in Barrie, Ont., with expertise in more than 40 practice groups.

"Exceptional client service, pool of talent, creativity and cutting-edge technology," says one voter.

Whitelaw Twining Law Corp.
Vancouver
whitelawtwining.com

For more than 35 years, Whitelaw Twining has been providing a wide range of insurance litigation services. The firm represents more than 60 insurance companies across Canada, the United States and the United Kingdom. Whitelaw Twining has 15 specialty groups within the firm's broader insurance defence practice, including areas such as professional liability, transportation, construction, subrogation, coverage, cyber-liability, sports liability and personal injury. Whitelaw Twining will be opening a new office in Calgary and now has more than 50 lawyers practising in both British Columbia and Alberta.

"Dedicated focus to their insurance defence practice," says one voter.

Zarek Taylor Grossman Hanrahan LLP
Toronto
ztgh.com

Zarek Taylor Grossman Hanrahan celebrates its 20th anniversary in 2017. Founded by four colleagues who were committed to enjoying their work and liking the people they worked with, the firm has grown steadily to meet the needs of its clients. The firm acts for many of Ontario's major insurers and has acted for clients at all levels of court, including multiple appearances before the Supreme Court of Canada.

"The firm as a whole has a team of lawyers that are fair yet firm without being degrading or condescending," says one voter.