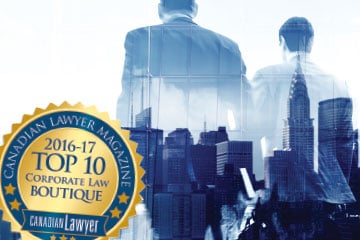 For the first time this year,
Canadian Lawyer
conducted a survey of Canada's top 10 corporate law boutiques. The top vote-getters in this category were equally confident of their ability to match Big Law's strength in corporate finance, mergers and acquisitions, and securities work.
"If you take our firm and put it inside any of the Seven Sister law firms, you'd have a corporate finance department that's equal to theirs — maybe not in size but certainly in calibre, in execution, and in expertise," says Perry Dellelce, managing partner of Wildeboer Dellelce LLP. "When we left the large firms — and most of the partners here were at large, Seven Sister firms — we didn't leave our brains behind," says Dellelce. "But we knew we wouldn't take the large multi-national Canadian and foreign corporations as clients [to our new firm]."
His firm knew, from the get-go, that it had to cater to the small- to mid-cap client base and "grow our business with theirs. And frankly, it's more interesting; it's more fun."
Debbie Weinstein, of LaBarge Weinstein LLP, expresses a similar intention to grow alongside her clients.
"As a boutique, we don't tend to get the big, multi-national companies coming to us seeking representation and that's OK because the very nature of our firm has been to represent the underdog," she says. "When we started out, we were the underdog; we were this little firm that people said wouldn't last."
Now, Weinstein says, large firms are competing with hers to score companies for work in corporate finance, licensing, M&A, and public offering work. "As the economy changes, we see different national firms coming into the knowledge-based business area. Depending on the economy, firms come in and out. We've seen many firms trying to establish their own spinoffs. They just waver because they can't help themselves; they're so large [and] they need the large, multi-billion-dollar clients."
Although her firm isn't the biggest business law firm in Canada "by any stretch of the imagination," Weinstein says the work she and her team does every day is unmatched by any other law firm, large or small.
A firm like LaBarge Weinstein was a response to "a great need" for pragmatic dialogue between lawyers and clients, she says. While her clients are intelligent professionals such as engineers and entrepreneurs, they are not business experts and need simple, plain-language advice, she says. "In other words, clients want advice that they can understand, and they want alternatives presented to them that are solutions rather than roadblocks," says Weinstein.
---
How we did it:
Canadian Lawyer
selected Canada's top litigation and corporate law boutiques by asking readers to rank a long list of notable firms in each area, which was whittled down to a short list through votes drawing on input from our editorial team. The results on the following pages are an alphabetical list of the 10 boutique firms in each area that are rated most highly by other lawyers.
Top 10 Corporate law boutiques



Allen McDonald Swartz LLP

Toronto
amsbizlaw.com
Bay Street veterans Fraser McDonald and Jennifer Allen founded the firm in February 2015. In August 2015, fellow Blake Cassels & Graydon LLP alumnus Jillian Swartz joined the firm. The trio advises domestic and international clients, including law firms, in public and private mergers and acquisitions, debt financing, securities compliance and regulatory work, capital markets transactions, and governance advice. The firm, which also does pro bono work, acted for 2Keys Corp. in connection with its contract with the Province of Nova Scotia to deliver an identity and access service solution that provides individuals and businesses with electronic credentials and validated identity for securely interacting with the province's online services. It acted for BÜHLMANN Laboratories AG, a Swiss medical diagnostic device and kit manufacturer, and its New Hampshire-based U.S. subsidiary, in negotiating exclusive Canadian supply and services agreements with key Canadian customers. It was also counsel to Fundata Canada Inc. in obtaining discretionary relief from the Canadian Securities Administrators on behalf of Fundata's mutual fund clients in order to allow them to refer to Fundata's proprietary ratings and awards in their sales communications.

BAX Securities Law

Toronto
baxsecuritieslaw.com
Barbara Hendrickson formed BAX Securities Law in 2012. Hendrickson is a senior securities lawyer with more than 20 years experience amassed from working with the Ontario Securities Commission, a leading Canadian national firm, and one of the world's largest international law firms. BAX has a national and cross-border focus and offers securities law services to its clients operating in the real estate and commodities (carbon, energy, and minerals) sectors. It specializes in online offering platforms including crowdfunding and peer-to-peer lending, and acts for real estate syndicators, and carbon and energy brokerage firms. Hendrickson acted for Canada's first online equity crowdfunding firm as well as Canada's only peer-to-peer lending platform. Her firm also acts for aboriginal communities, providing advice in the economic development area. BAX offers fixed fees to clients, and is able to meet its fee obligations by "staffing" files with senior lawyers who have their own independent practices in the securities and related business law areas, and who tend to work in lower-overhead contexts.
Boyle & Co. LLP
Toronto
boyleco.com
Punching above its weight since 2003, Boyle & Co. LLP practises securities law exclusively. Now slimmed down to three lawyers, many Bay Street securities departments contain Boyle & Co. LLP-trained alumni. Founding and designing the market and regulatory models of the Canadian Securities Exchange, pioneering Canada's first Internet offering, name partner Jim Boyle is the go-to guy for innovative and creative entrepreneurs and capital market veterans alike. The firm says it's big in the medical marijuana space both for issuers like TSX Venture-listed PharmaCan Capital Corp. (MJN-X) and for dealers including top-tier investment boutique M Partners Inc. Boyle & Co. also acts for hedge funds, investment counsel, and portfolio managers such as top-performing StableView Asset Management Inc., biotech issuers, mineral explorers, gold producers, oil and gas exploration and production companies, and new technology companies such as world-leading gesture control technology developer GestureTek Systems.
Hansell LLP
Toronto
hanselladvisory.com
Hansell LLP was founded in 2013 in response to a growing demand for expert, independent legal and governance counsel. Carol Hansell, the firm's senior partner, is an internationally recognized expert in governance and an experienced corporate director. Hansell LLP's five partners together with a team of consultants and other professionals advise organizations and their boards in public and private companies as well as Crown corporations and other government-owned enterprises. Hansell's practice includes investigations, special committee mandates, governance design, and board evaluations. The firm's clients include AIG Insurance Co. of Canada, The Bank of Nova Scotia, Maple Leaf Sports and Entertainment Ltd., Ontario Power Generation Inc., Ontario Teachers' Pension Plan, Sears Canada Inc., and Shaw Communications Inc.
LaBarge Weinstein LLP
Ottawa, Vancouver
lwlaw.com
Founded in 1997 by Paul LaBarge, Debbie Weinstein, Lawrence Weinstein, and Randy Taylor, LaBarge Weinstein is a client-centric business law firm. Delivering prompt, creative, and effective solutions throughout companies' life cycles, LaBarge invests in people and processes while always staying focused on providing innovative and pragmatic business solutions. The 22-lawyer firm focuses its corporate law practice on knowledge-based companies and technology startups in all sectors, including clean tech, semiconductors, medical devices, software as a service, and e-commerce. It has a particular focus on M&A, public and private company financing, tax structuring and litigation, and commercial exploitation of technology. Its notable mandates include its representation of Rockstar Consortium and its partners, including Apple and Microsoft, in the US$900-million sale of its patents to RPX Corp.; Mogo Finance Technology Inc. in its $50-million IPO; Kik Interactive in its $50-million Series D Financing; Mabel's Labels in its acquisition by CCL Industries through its subsidiary Avery North America; and Canopy Growth Corp. on two bought deals worth a combined $32.5 million.
McCullough O'Connor Irwin LLP
Vancouver
moisolicitors.com
Jon McCullough, Victor J. O'Connor, and Doug Irwin founded McCullough O'Connor Irwin LLP in 1994 to fill a gap in the Vancouver market for a specialized corporate and securities firm that could marry big-firm quality with nimble, cost-effective service. The corporate and securities boutique offers services in financings, M&A, stock exchange listings, public company representation, private equity and pooled fund formation, venture capital, corporate, commercial, and mineral exploration. Its clients are publicly listed companies as well as private equity sponsors, institutional investors, management teams, debt providers, and portfolio companies. It acted as lead counsel to First Majestic Silver Corp. in its acquisition of SilverCrest Mines Inc. MOI represented Alberta Teachers' Retirement Fund Board, two other Canadian pension funds in connection with the investment in, and reorganization and recapitalization of, Axium Infrastructure Canada II L.P. It also acted for Lion Capital and IVEST Consumer Partners in connection with the acquisition of the business and assets of Spence Diamonds Ltd. in an all-equity transaction.
Michael Evrensel & Pawar LLP (MEP Business Counsel)
Vancouver
meplaw.ca
Ryan Michael Patryluk, Arthur Evrensel, and Marshall Pawar founded MEP Business Counsel in March 2014. Seasoned corporate and entertainment lawyers who have practised across Canada and around the globe, the trio brought significant private M&A, corporate, and entertainment law expertise to the firm. The firm advises some of North America's most progressive companies in both established and leading-edge industries. The firm represented the National Hockey League with various corporate matters relating to the presentation of the 2014 Heritage Classic game at BC Place. It's also advising Shoes.com and Hardy Capital Corp. on multiple acquisitions of e-commerce companies as well as multiple capital-raising transactions in excess of $120 million. MEP represents Thunderbird Films Inc. on multiple strategic acquisitions including Great Pacific Media, Atomic Cartoons, and Soda Pictures Ltd., and it is counsel to numerous producers and lenders in connection with debt and equity financings, including Oscar-nominated picture
Room
and the feature
Goon: Last of the Enforcers
.
Miller Titerle + Co. LLP
Vancouver
millertiterle.com
In 2010, Rob Miller and Jim Titerle left a national law firm to pursue their vision of establishing a firm based on innovating the delivery of legal services and close client relationships. MT+Co. has grown from three business lawyers to a 13-lawyer firm offering a full range of business legal services, including M&A, financing, resources, major projects, First Nations economic development, and business advisory. The firm's clients include Tahltan Central Government, Ritchie Bros. Auctioneers Inc., iQmetrix Software Development Corp., TimberWest Forest Corp., and Royal Gold Inc. MT+Co. is counsel to Tahltan Central Government in the negotiation of a co-management and benefits agreement with the owner of the Red Chris Mine located within Tahltan territory. It also represented Paper Excellence Canada Holdings Corp. in the acquisition of pulp mills located in B.C., Saskatchewan, and Nova Scotia, and acted for Vancouver-based Pulse Energy in its acquisition by EnerNOC, Inc.
SkyLaw PC
Toronto
skylaw.ca
Kevin West founded SkyLaw in 2010 after having worked at Sullivan & Cromwell LLP and Davies Ward Phillips & Vineberg LLP. West wanted to use technology to create an innovative platform where he could continue to work on sophisticated transactions. The firm now has six people working in a new, custom-built office space in Toronto. Its notable transactions include: its third Canadian acquisition for NYSE-listed United Rentals, Inc., the world's largest equipment rental company, in September 2015; the acquisition by plan of arrangement of Candax Energy Inc., a TSX-listed oil and gas company for SkyLaw client Geofinance N.V. in November 2015; and the spinoff of the health-care business of TSX-listed NexJ Systems Inc. in January 2016. It's also advising the target board of directors of a TSX-V-listed company on a negotiated acquisition by a larger public company. Its clients include United Rentals, Geofinance N.V., NexJ Systems Inc., a variety of local and international law firms, and startups and early-stage clients.
Wildeboer Dellelce LLP
Toronto
wildlaw.ca
Wildeboer Dellelce LLP was founded in 1993 by five lawyers looking to build a different kind of Bay Street business law firm — one that focused on the needs of entrepreneurs in Canada. The 31-lawyer firm delivers transactional legal services to private and public clients in all industries. It does work in corporate finance, M&A, tax, debt products, structured finance, corporate governance, corporate commercial, and commercial real estate. Its clients include public and private company issuers, investment dealers, lenders (both traditional and alternative) and sponsors of investment funds, venture capital funds, and private equity funds. Wildeboer Dellelce has worked with the majority of independent and bank-owned investment dealers as well as companies such as Aecon, Aequitas Innovations, Agility Health, Arrow Capital, Axiom, BIOX Corp., BlackBerry, Brick Brewing, Canadian First Financial, CI Financial, Infor Financial, Lendified, Market Square Limited Partners, Martinrea, Purpose Investments, Slate Asset Management, and SunOpta Inc. The firm has also acted for all of the Canadian chartered banks and is the legal adviser for CBC's
Dragon's Den
.
Click here to read Part 2: Top 10 Litigation Boutiques