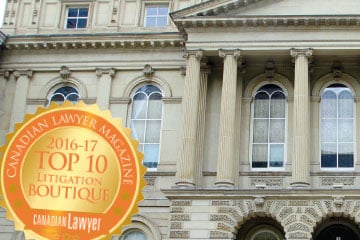 This article is a continuation of ''Strong, confident, competitive'' from the May 2016 issue of Canadian Lawyer magazine.
Litigation boutiques once thrived on the work big law firms couldn't keep for conflict of interest reasons, but today, specialized litigation firms say they're going head to head with those same big shops on some of the most complex and high-stakes files. "It seems that the market has recognized that it's not the number of lawyers that matters, it's the quality and the knowledge of a very specialized area," says Richard Vachon, managing partner at Quebec-based Woods LLP, one of the top 10 vote-getters in this year's Canadian Lawyer survey of litigation boutiques.
While they maintain good relationships with large firms that still refer work to them, some of the top 10 boutiques tell us they compete on much the same level as national firms for the rest of their mandates. "One of our goals when we started in 2001 was to quickly scale up to the point where we'd never feel that our clients were at a disadvantage when we were going toe to toe with the [large], full-service firms and their litigation departments," says Rob Centa, managing partner at Paliare Roland Rosenberg Rothstein LLP. "We're absolutely at that place now."
He notes his 34-lawyer firm is now "larger than the litigation departments of several of the big firms. We have all the technological resources necessary, we have the relationships with the forensic firms, [and] we are fully capable of engaging in any mandate."

Unlike the big firms, Centa says his firm's largest mandates are one-off files. It doesn't do large commodity work for banks or insurance companies; instead, it's brought in on specific litigation mandates often when the stakes are very high and the pressure to achieve good results is enormous. "Our size allows us to be nimble, to staff our files appropriately, to keep our overhead reasonable, and to provide very attentive and responsive client service," he says.
As companies recognize boutiques' expertise to take on major files, Vachon says his firm has seen more class action defence work in the last few years. On the other hand, things have been slower in areas like insolvency, which is cyclical work and will, he points out, "come back eventually."

At Vancouver's Nathanson Schachter & Thompson LLP, partner Irwin Nathanson says his firm is seeing a trend toward more arbitration as complex commercial contracts increasingly contain arbitration clauses and clients look for the best out-of-court resolution of matters. There's more pressure to find such resolutions in tougher economic conditions, says Nathanson.

Clients nowadays are demanding more communication from lawyers, according to Vachon. "They're obviously looking for very high-quality service, no compromise on what you're going to do. They're asking lawyers to talk with them to be able to provide better service, to understand their needs, to avoid surprises," he says.

Boutiques are especially well positioned to meet that demand, says Nathanson, who adds lawyers in a small firm know the status of all their files and are readily aware of the steps necessary to progress those files to a timely resolution. "The clients of our firm are kept current on the status of their matter and can be confident that their particular files are being dealt with in a timely manner," says Nathason.
---
How we did it:
Canadian Lawyer
selected Canada's top litigation and corporate law boutiques by asking readers to rank a long list of notable firms in each area, which was whittled down to a short list through votes drawing on input from our editorial team. The results on the following pages are an alphabetical list of the 10 boutique firms in each area that are rated most highly by other lawyers.
Top 10 Litigation boutiques
Babin Bessner Spry LLP
Toronto
babinbessnerspry.com
Ed Babin, formerly a senior partner and litigator with Torys LLP and Davies Ward Phillips & Vineberg LLP, founded the firm in 2009. In 2010, Cynthia Spry, formerly of Osler Hoskin & Harcourt LLP and Davies, joined the partnership to form Babin Barristers LLP. Later, Ellen Bessner, who practised for more than 20 years at Gowling Lafleur Henderson LLP and Cassels Brock & Blackwell LLP, also joined the firm to form Babin Bessner Spry LLP. The firm's clients include Rogers Communications Inc., Wal-Mart Canada, Sleep Country Canada, the Competition Bureau, and SunEdison. Among its notable mandates, it has successfully represented a group of 62 investors of modest means, many of whom were retired or approaching retirement, in a mass tort case for breach of fiduciary duty and negligence by their investment, legal, and tax advisers. The firm also acted for Rogers Communications Inc. in connection with a number of advertising disputes under the Competition Act, and represented a major Canadian retailer in connection with international anti-trust class action proceedings dealing with credit card interchange fees charged by Visa, Mastercard, and others.
Henein Hutchison LLP
Toronto
hhllp.ca
The firm traces its roots back to 2002. The senior partners, Marie Henein and Scott Hutchison, are both members of the American College of Trial Lawyers and the Supreme Court of Canada Advocacy Institute.
The 10-lawyer firm offers a range of services built around its experience and expertise in regulatory, criminal, and complex litigation. Associates are a mix of former Supreme Court of Canada and Court of Appeal law clerks, while clients include Telus Communications Co., the City of Windsor, Town of Tecumseh, former Ontario attorney general Michael Bryant, and other high-profile clients such as former CBC broadcaster Jian Ghomeshi. It is frequently consulted by in-house counsel to provide advice on internal corporate matters including internal investigations and work with other firms on complex and cross-border litigation. Henein Hutchison recently acted for Rogers and Telus to successfully challenge overreaching "tower dump" warrants. It is counsel to a Big Four global accounting firm and an international pharmaceutical firm. It also advises a range of large corporations, government entities, and professional firms on internal investigations, anti-money-laundering compliance, and foreign corruption matters.
Hunter Litigation Chambers
Vancouver
litigationchambers.com
The firm was founded in 2006 to provide litigation and arbitration services primarily in commercial disputes, class actions, employment and labour issues, public law litigation, forestry law, and criminal and regulatory matters. The firm consists of 20 litigation counsel and two associate counsel, including most recently retired Supreme Court of Canada justice Marshall Rothstein. Some of the matters handled by counsel from the firm over the past year include the successful representation of John Furlong, former CEO of the 2010 Vancouver Olympic Committee, in a defamation case; the defence of a wrongful conviction lawsuit on behalf of the B.C. government; representation of Capital One Financial Corp. in a major class action; and representation of the Shaughnessy Golf Club in a dispute with the Musqueam Indian Band, scheduled to be heard by the Supreme Court of Canada later this year.
Lax O'Sullivan Lisus Gottlieb LLP
Toronto
counsel-toronto.com
With founders who hailed from three top Canadian firms, Lax O'Sullivan Lisus Gottlieb LLP launched almost 20 years ago as an independent counsel firm. Now with 22 lawyers, it focuses on complex commercial litigation and is consistently involved in high-profile disputes. The firm says public companies and major enterprises trust it for advice on their most serious matters. It is counsel to Nortel Networks (UK) and 23 Nortel entities in the EMEA region in a cross-border trial regarding the allocation of $7 billion. Its clients also include the Hudson's Bay Co., which it successfully represented in February before the Ontario Court of Appeal. As counsel to Sunwing Airlines Inc., it obtained a dismissal of an application for judicial review challenging an exemption granted by the Minister of Transport regarding the number of flight attendants required by regulation. The firm also acted for an individual in a precedent-setting decision setting aside orders obtained by a court-appointed receiver due to improper steps taken by the receiver. In that case, the Ontario Court of Appeal awarded substantial indemnity costs against a court-appointed receiver for conduct it characterized as "egregious" in its carriage of an investigation.
Lenczner Slaght Royce Smith Griffin LLP
Toronto
litigate.com
Founded in 1992, Lenczner Slaght Royce Smith Griffin LLP is recognized as one of Canada's leading litigation practices. The firm represents clients' interests in complex, high-profile cases across the country. Known for its wealth of talent and depth of courtroom experience, the firm leads a recruitment and mentoring program that attracts gifted litigators who are committed to upholding the highest professional standards. Its lawyers practise in areas such as commercial litigation, class actions, intellectual property, securities, and professional liability. Some of the firm's top clients are Google Inc., EY, General Electric, Bank of Montreal, and Canadian National Railway Co. Its notable mandates include its work on important and precedent-setting cases such as Google Inc. v. Equustek Solutions Inc., Bhasin v. Hrynew, Moore v. Getahun, and Chevron Corp. v. Yaiguaje.
Nathanson Schachter & Thompson LLP
Vancouver
nst.bc.ca
Irwin Nathanson, Stephen Schachter, and Ardella Thompson founded the firm in 1987 to focus on trying difficult corporate commercial cases and arguing complicated appeals. The 11-lawyer firm's practice is limited to civil litigation, with a focus on business disputes and arbitration. Its recent notable mandates include acting for Google in having a defamation claim against it struck out on the basis that Google was not a publisher of the allegedly defamatory content contained in its "snippets." In McCormick v. Fasken Martineau DuMoulin LLP, the firm succeeded in representing a leading national law firm before the B.C. appeal court and the Supreme Court of Canada in relation to a former partner's human rights age discrimination complaint. In Ileman v. Rogers Communications Inc., the firm successfully represented Rogers in opposing certification of a class action against various cellphone companies alleging the companies had made misrepresentations concerning system access fees that committed deceptive acts or practices within the meaning of the Business Practice and Consumer Protection Act.
Paliare Roland Rosenberg Rothstein LLP
Toronto
paliareroland.com
Founded in 2001, Paliare Roland Rosenberg Rothstein LLP has grown to a litigation powerhouse of 34 lawyers from the original 18. It handles a broad range of cases from complex commercial litigation and class actions to professional discipline and labour relations. It also often represents other law firms and acts as appellate counsel. Recent cases of note include a Barrick Gold mining dispute, Club Resorts Ltd. v. Van Breda, the Cannon v. ParkLane class action, Aldo Group Inc. v. Moneris, and Daniels v. Canada. The firm serves clients like the Power Workers' Union, United Steelworkers, University of Toronto, Morgan Stanley, and Honeywell Ltd. Paliare Roland was counsel to the Independent Reviewer of the Hospital for Sick Children's Motherisk drug and alcohol hair-testing program. It also acted for the Financial Services Commission of Ontario on the insolvency of Nortel Inc. and represented the plaintiffs on the Sino-Forest class action. The firm is also noted for its commitment to pro bono advocacy and its lawyers often appear for interveners at the Court of Appeal and Supreme Court of Canada.
Stockwoods LLP
Toronto
stockwoods.ca
Stockwoods says it's unique among Canadian litigation boutiques in its ability to represent clients across the spectrum of civil, criminal, and regulatory litigation. The diverse practice of the firm's 20 lawyers includes representing financial institutions, investment dealers and professionals, a number of professional regulatory bodies, and the Canadian Broadcasting Corporation, as well as accused in white-collar criminal prosecutions. Recent mandates include advising an independent committee of the board of Intertain Group Ltd. investigating allegations of a short seller, acting as court counsel assisting the judges administering the Indian Residential Schools Settlement Agreement, and defending Uber driver-partners in regulatory prosecutions. The firm has deep experience in representing clients in inquisitorial proceedings such as commissions of inquiry and coroners' inquests, and it maintains a thriving tribunal advisory practice. In a single week in November 2015, members of the firm appeared as counsel in three Supreme Court of Canada cases, including an important case concerning prosecutions under the Corruption of Foreign Public Officials Act.
Thornton Grout Finnigan LLP
Toronto
tgf.ca
Founded by Robert Thornton, James Grout, and John Finnigan in 1998, the 17-lawyer boutique firm takes on some of the most complex commercial litigation and restructuring cases in Canada. These include top-level M&A litigation, international securities fraud cases, and complex insolvency litigation. The firm represents the largest single creditor in the worldwide Nortel Networks proceedings — the U.K. Pension Plan for 33,000 remaining pensioners within a US$3.2-billion deficit in their pension plan. In the restructuring of the Coopers & Lybrand partnership, TGF was retained after what had been described by the presiding judge as "the longest-running judicial saga" in Canadian history after 20 years of litigation. TGF represented Coopers & Lybrand in developing a multi-party settlement of the litigation. The firm later successfully defended creditor claims brought against Coopers & Lybrand with a face value of $400 million. The team led by Finnigan is the court-appointed litigation counsel to the litigation trustee to advance complex commercial claims against Cash Store Inc.'s former advisers for professional negligence and breach of contract.
Woods LLP
Montreal
litigationboutique.com
The firm was founded by James A. Woods in 1995 and counted seven lawyers at its inception. Its core focus is complex commercial litigation and insolvency matters as well as international commercial arbitration. Notably, it is counsel to Richter Advisory Group Inc., the court-appointed monitor to the proceedings undertaken under the CCAA by Montreal Maine & Atlantic Canada Co. to settle its liabilities following the train derailment in Lac-Mégantic, Que. It also recently represented Videotron in a landmark case against Bell in which Videotron was awarded $142 million in damages. The firm now counts 27 lawyers, many of whom are admitted to the bars and law societies of other jurisdictions. Clients include Quebecor Media Inc., Manulife Securities Inc., FCA Canada Inc., Rothmans, Benson & Hedges Inc., and Domtar Corp.
Click here to read Part 1: Top 10 Corporate Law boutiques