Trademark Act amendments are just one of the many changes driving the need for intellectual property boutiques. Since Canadian Lawyer last listed the top intellectual property boutiques, there's been a lot of change in the area.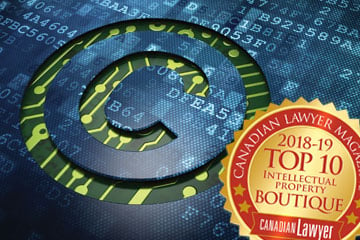 Trademark Act amendments are just one of the many changes driving the need for intellectual property boutiques.
Since Canadian Lawyer last listed the top intellectual property boutiques, there's been a lot of change in the area.
Take the Madrid Protocol, an internationally recognized trademark convention that will mean trademark owners in member countries will be able to register their rights in multiple jurisdictions by filing a single application in their home countries.
The pending protocol has been on Quebec firm Robic LLP partner Bob Sotiriadis' radar for some time now and he predicts it's going to be a challenge for traditional IP boutiques who file trademarks on behalf of foreign applicants because those applicants will be able to file in Canada without using Canadian law firms.
"There's an onus on firms to prepare for this in terms of maintaining their contacts with their clients so that when there are examiners' reports and prosecution to do, we're top of mind and they stay with us for that work," Sotiriadis says.
"There's also the purely economic aspect of having to optimise to make sure you're as nimble as possible to take the diminishing filing income that you're going to be not getting and addressing your energies to representing local clients, Canadian clients, who might be tempted to use the treaty so they don't have to go through firms in other countries."
James Kosa, partner at Deeth Williams Wall, says the changes to Canada's Trademarks Act to comply with the international Madrid Protocol are driving changes in how people register and police their marks, adding that for boutique practitioners this has been "very interesting."
The changes include removing the "use" requirement, which has led to changes in the practice of trademark law.
"We're seeing more registrations and more disputes or potential for disputes in trademarks," Kosa says.
"The changes are going to be in effect soon, but we're already seeing it happen now because people are anticipating it."
Also in the trademark space, John Simpson at Shift Law — which landed on the top 10 for the first time this survey — is seeing "very local types of businesses that haven't been traditionally as concerned about getting national protection for their brands have been increasingly concerned with protecting their brands."
He chalks this up to the fact that someone across the country with another localized business could go register their brand and tell the other business they have to change their name because they've got a trademark registration for it — and they found out because of their internet presence.
It becomes more of an issue with more businesses setting up websites, he says.
Simpson also notes he's finding "an increasing rush by businesses in the micro-brewery and cannabis industries to jump on great brands."
"We're seeing a real increase in trademark applications from those industries and a corresponding increase in disputes between players in those industries — trademark oppositions and even some infringement action. That's a reflection of where there is new economic activity."
Sotiriadis says his firm has "made a huge effort to become the go-to firm for cannabis-related issues."
One of his colleagues has made it a priority to be everywhere the cannabis industry is meeting and has handled a couple of patent matters for cannabis clients, Sotiriadis says.
"We're getting consulted by general practice firms from other provinces, American lawyers, we have some smaller transactional files we've opened, we have some regulatory files, some patent files — things like extraction and processes and things like that — right across the spectrum of intellectual property. It's very promising for us — we're off on the right foot."
For Kosa, his business is interesting because the firm not only does intellectual property but also technology law and he says the technology law section "is, for us, booming."
Because of the complexity and breadth of emergent technologies, now more than ever before people need more specialized advice in addressing particular technologies, he notes.
"We're getting asked to opine on things like how should we incorporate new block chain technologies into our contracts? How should we use artificial intelligence in our law practice or our clients' practice? All these really interesting questions that revolve around brand new technologies," he says.
Kosa says technologies are driving a lot of legal work and he thinks "there's a lot of room in that space for agile practitioners — smaller practitioners and boutique firms."
Change is always good for lawyers, including intellectual property lawyers, Simpson says.
"I think increasingly clients are becoming aware that some of the smaller firms, in my case very small firms, provide the same quality of service as some of the more traditional larger firms," he says.
"It's a good time for boutiques."
Top 10 Intellectual Property Boutiques
Listed alphabetically
Aitken Klee LLP
Toronto, Ottawa
aitkenklee.com
Aitken Klee LLP was established in 2013 when David Aitken and Marcus Klee left a large law firm in Ottawa to set up their own IP litigation boutique, following their victory in the 2012 Supreme Court of Canada decision holding the patent for Viagra invalid. The firm expanded to Toronto in 2014 with the addition of IP litigators Jonathan Stainsby, Bill Mayo and Lesley Caswell. Since its inception, Aitken Klee LLP has received a number of awards and nominations. Aitken Klee LLP have experienced IP litigation counsel with many precedent setting decisions at all levels of court.
"They have consistently succeeded in registering patents and trademarks and are excellent in maintaining close follow up, especially on renewals."
"Excellent work at a reasonable price. Aitken Klee has delivered a remarkable success rate for its clients."
"Great lawyers, depth of knowledge, client oriented."
Bereskin & Parr LLP
Toronto, Mississauga, Waterloo Region, Montreal
bereskinparr.com
One of Canada's largest IP boutiques, Bereskin & Parr employs 65 lawyers plus patent and trademark agents. Founded in 1965 by David Rogers and Daniel Bereskin, the firm represents Canada Goose Inc., Kobo Inc., IMAX Corp., NHL Enterprises, Microsoft Corp., and General Electric Co. The firm recently worked on a prominent case, Nova Chemicals Corp. v. Dow Chemical Corp. Bereskin & Parr's direct clients range from small start-up operations and individual inventors to large Canadian and multinational corporations, including Fortune 500 companies and some of the biggest intellectual property rights owners in the world.
"Depth of field, strong technical team."
"Excellent lawyers, large and longstanding clients, provides practical business advice."
"Overall expertise in originating patent work in all areas of technology with depth in litigation and trademarks."
"It has been able to position itself as a full service IP firm that is seen as very proactive with clients."
Chumak & Co. LLP
Toronto
chumakcompany.com
Chumak & Co. LLP is an intellectual property law firm based in Toronto founded by IP lawyers Yuri Chumak and Peter Elyjiw. Between them, Yuri and Peter have over 25 years of experience including with major law firms and boutique IP firms in Toronto. Key clients include computer software and devices, social media and e-commerce, online news media; scientific equipment; medical research and pharmaceuticals; agriculture; food, beverage and restaurants; financial technology and services; industrial manufacturing and services; and apparel and consumer goods. In August 2017, Chumak & Co., through a company owned by Yuri, completed an agreement of purchase and sale for new office space in the vibrant Leslieville neighborhood of Toronto.
"Personalized service, and top notch work product."
"Excellent customer focus and enjoyable to work with."
"Top notch expertise at a reasonable price and excellent client service."

"Exceptional technical talent coupled with unbridled pragmatism."
Deeth Williams Wall LLP
Toronto
dww.com
Founded more than 20 years ago, the firm has grown from seven lawyers to 24, covering all aspects of IP prosecution, commercialization and enforcement; IT law; litigation; and regulatory law. The firm acts for a number of large businesses, including an international oilfield services company, a national telecommunications company, a provincial government, a major inter-bank data network, an international soft drink company and an international retailer. It acted for Actavis Specialty Pharmaceuticals Co. in numerous patent litigation and PM(NOC) matters. It also provides day-to-day patent and trademark advice for major food, chemical, automotive and retail companies.
"Dedication to client service, quality of written work, knowledge of relevant subject areas."
"Wide range of knowledge, great service, personable lawyers."
Fleck Innovation Law
Toronto
fleckip.com
Founded October 2016, Fleck Innovation Law assists Canadian and international clients with contentious and non-contentious intellectual property matters, as well as privacy and anti-spam (CASL), social media, advertising and marketing matters. Clients cover a wide range of industries, including: agricultural and medical research institutions; computer software and mobile payments; social media; online news media; pharmaceuticals; trade associations in various industries; food, alcoholic beverages, and restaurants; manufacturers in various fields; exercise, physical fitness and sports; and apparel and consumer goods.
"Fleck Innovation Law for professionalism and delivery of services."
"Rapid response and thorough analysis."
"Dedication, diligence, and excellent customer service."
"They have deep knowledge in IP law, are very strategic, and are always accessible."
Gilbert's LLP
Toronto
Tim Gilbert launched Gilbert's LLP in 2001 armed with only a briefcase and cellphone aiming to break out of the conventional approach to legal services. He now finds himself surrounded by 18 lawyers, agents and students, who work to provide solutions to innovative clients. The firm's specializes in IP and advocacy. Gilbert's focuses in navigating industries — including pharmaceutical, software, technology, energy, clean-tech, gaming, media and entertainment — and provides clients with IP solutions that make business sense. From creating and monetizing IP assets to protecting and enforcing IP rights, Gilbert's works in both the courtroom and the boardroom. While the firm has represented large pharmaceutical and tech companies in "bet the company" litigation, Gilbert's also has a contingency fee option when the cost of legal services is a barrier.
"Top notch IP lawyers."
"Top-tier lawyers."
Ridout & Maybee LLP
Toronto, Ottawa, Burlington, Ont.
ridoutmaybee.com
Ridout & Maybee LLP consistently ranks as one of Canada's top IP law firms in both Canadian and international surveys. The majority of its professionals have advanced degrees in science, engineering and IT as well as law. As a protector of intellectual property in Canada since 1893, the firm files an average of 3,000 patent and 1,000 trademark applications per year and is one of the country's longest operating IP firms, with over 30 professionals across three offices. Co-founder John Ridout was the author of one of the first Canadian textbooks on patents, Ridout on Patents, published in 1894. J. Edward Maybee was the first president of what is today the Intellectual Property Institute of Canada. Six Ridout & Maybee partners have held this title, including current partner Janet Fuhrer, who was also former president of the Canadian Bar Association.
"Responsiveness, capability, global thinking, and personal relationship."
"Depth or variety of IP areas covered by their lawyers and the quality of their advice."
"Scope of expertise and geographical coverage."
ROBIC LLP
Montreal, Quebec City
robic.ca
Founded in 1892, ROBIC LLP is one of Canada's oldest full-service IP boutiques. With a team of 180, including over 50 intellectual property professionals located in two offices, the firm covers all aspects of IP prosecution, IP enforcement, technology transfer and commercialization. It acts for some of the most well-known global and local brands in a wide variety of technological fields. The firm says its success and reputation is in large part the result of its ongoing focus of tailoring its specialised services to its clients' specific needs.
"Online portal with efficient updates on IP portfolio."
"Better price/service."
Shift Law
Toronto
shiftlaw.ca
Since launching six years ago, Shift Law has had a number of litigation successes including in trademark infringement, copyright infringement and breach of confidence cases. The firm has serviced hundreds of clients, including individual artists, microbreweries, technology start-ups, an iconic Canadian clothing company and institutional clients with large trademark portfolios. Its mandates include acting for the Heart and Stroke Foundation of Canada and other charitable organizations in day-to-day intellectual property matters. Shift Law's founder, John Simpson, credits the firm's success to its personalized approach to client service.
"Exemplary service and professionalism."
"Very service oriented and great attention to detail."
"Big Law dedication to excellence in technical matters and client service, with boutique-level humanness and rate structures and flexibility."
Smart & Biggar/Fetherstonhaugh
Calgary, Ottawa, Toronto, Montreal, Vancouver
smart-biggar.ca
Smart & Biggar is Canada's largest IP boutique and is well-known internationally. It provides a full range of IP services including strategy, trademark and patent portfolio management, licensing and transactions and litigation. Victories for the firm's clients in 2017 include: obtaining patent damages of $645 million (Dow); abolishing the "Promise Doctrine" for patents in the Supreme Court of Canada (AstraZeneca); preventing the use of confusing "trade dress" to block competitors (Diageo); obtaining a precedent setting copyright decision, and damages of $12 million (Nintendo); and, enforcing copyright as an "architectural work" for a building structure (Lainco).
"Depth of experience, high-quality personnel and internal training/procedures."
"Depth and strategic counselling."