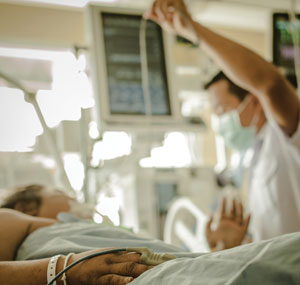 The Top 10 Personal injury boutiques

This year's top personal injury boutiques boasts two new firms — BolandHowe and Litwiniuk & Co. — since the last survey in 2013. Firms from Ontario, British Columbia, and Alberta are represented in the top 10.

As it was two years ago though, the biggest issue in personal injury, in the country's largest province, is the explosion in direct-to-consumer advertising. For the firms with a long track record in personal injury litigation and extensive courtroom experience, the advertisements on radio stations, billboards, and television promising virtually risk-free results, can be a source of frustration.

"I believe you need to be willing to be in the trenches, fighting for your client in court," says Tim Boland, of BolandHowe in Aurora, just north of Toronto. While he believes "the vast majority" of personal injury lawyers do their best for their clients, it is "very difficult for the public to cut through the advertising noise," says Boland, a past recipient of an Ontario Trial Lawyers Association award for accomplishments in trial advocacy.

His views are echoed by James Vigmond, of Oatley Vigmond LLP. His firm entered into a marketing alliance called the Personal Injury Alliance in 2012 with McLeish Orlando LLP and Thomson Rogers, as a result of the advertising blitz by some firms with significantly less litigation experience. "The whole issue of advertising is vexing and frustrating," says Vigmond. The increased marketing emphasis is something that he would like the Law Society of Upper Canada to take a more active oversight role in, to ensure that personal injury law firms advertisements are not misleading.

The following are the Canadian Lawyer's top 10 personal injury boutiques in alphabetical order.

Bogoroch & Associates LLP
Toronto
bogoroch.com

Bogoroch & Associates has distinguished itself as a firm specializing in motor vehicle accident, medical malpractice, disability, and product liability claims. The firm's founder, Richard Bogoroch, has more than 30 years of experience in the profession and is among eight lawyers and 30 law clerks and support staff dedicated to serving their diverse client base throughout Ontario. Bogoroch takes great pride in its charitable-giving program, which includes providing scholarships to Osgoode Hall Law School to enable students to obtain a legal education, donating to various hospitals to advance medical research, and giving to several non-profit social service agencies in Ontario.

"Exceptional client service, their focus is always on their client. We have never worked with a firm that takes their clients care more into consideration than Bogoroch."

BolandHowe LLP
Aurora, Ont.
www.bolandhowe.com

Led by Tim Boland since 1986, the six lawyers of the York Region law firm BolandHowe established their reputation through numerous trial decisions for the injured, especially those where liability or causation are complex. The firm's mission is to improve the lives and laws of Ontarians through court decisions. It has, to date, been instrumental in redesigning dangerous hills, improving roadway maintenance regulations, enhancing safety standards in the mining industry, augmenting landlord accountability, and compensating Good Samaritans.
Following an appeal, it also obtained the highest accident benefit resolution in the province, $15.3 million.

"Highly trained associates, legal assistants, and support staff. BolandHowe have competent, hard-working, focused lawyers. Always involved in charity and community."

Gluckstein Personal Injury Lawyers PC
Toronto
gluckstein.com

Bernard Gluckstein founded this firm in 1962, and his son Charles Gluckstein joined as a partner in 1999 and is a past president of the Ontario Trial Lawyers Association. The firm of 11 lawyers concentrates solely on personal injury and malpractice litigation. Its lawyers have tried cases at every level including the Supreme Court of Canada. Many lawyers trained at the firm have gone on to be leaders in personal injury litigation or appointed as judges of the Ontario Superior Court. The firm has also carried out much charitable work especially with brain and spinal cord injury organizations.

"Customer service and experience. Never did I feel like I was talking to a lawyer but someone who wanted to help."

Howie Sacks & Henry LLP
Toronto
hshlawyers.com

This is the third straight time Howie Sacks & Henry has appeared on our top ranking list. Formed in 2000 by Jim Howie, Neil Sacks, and Michael Henry, the firm is celebrating 15 years and grown to 15 lawyers and 75 staff.
Headquartered in Toronto with satellite offices across Ontario, the firm is dedicated to assisting people, and their families, who have sustained serious injuries or disabilities. Jim Howie achieved an $11.5-million settlement with a structure, which will generate more than $31 million for a teen who suffered a severe head injury and was rendered a quadriplegic in a crash.

"The care and service provided to clients, along with the relentless advocacy to advance clients' interests."

Litwiniuk & Co.
Calgary
www.litwiniuk.com

Founded in 1976 by Larry Litwiniuk, this Calgary-based firm adheres to a simple set of principles: client care, service, trust, and hard work. From humble beginnings, Larry and his wife and office manager Marianne turned a one-room office into Calgary's largest boutique personal injury firm, serving clients across Alberta. It's now a second-generation family business: daughter Holly does the firm's social media, and sons Todd and Fred are among the firm's nine lawyers, with Todd serving as managing partner. The firm is known for putting the personal in personal injury lawyers; community initiatives, charity work, volunteerism, and team culture are as important as excellent legal work.

"I refer PPI clients to them because they treat the clients well and know how to work up a file properly to get a result."

McLeish Orlando LLP
Toronto, Barrie, Hamilton, Kitchener
mcleishorlando.com

The firm was established in 1999 by John McLeish and Dale Orlando, who left another firm to set up their own personal injury boutique. Soon after, they were joined by fellow principal partner, Patrick Brown. All three are past presidents of the Ontario Trial Lawyers Association. Over the past 16 years, the partnership has expanded to include, Salvatore Shaw, Rikin Morzaria, Alison Burrison, and Kate Mazzucco. In 2009, the firm made history by obtaining the single highest personal injury judgment in Canada — more than $18 million for a teenage crash victim.

"Great results; great legal team at all levels; lawyers are very approachable; and make things relatively easy to understand."

Oatley Vigmond Personal Injury Lawyers LLP
Barrie, Toronto, Hamilton, North Bay, Sudbury
oatleyvigmond.com

Under the leadership of Roger Oatley and Jim Vigmond, the firm has a specialized plaintiffs' practice that focuses on neurotrauma and multi-trauma cases. With about 100 lawyers and staff, and its head office in Barrie, Ont., the firm has consultation offices dotted throughout the province. Oatley pioneered "the science of what makes a jury or judge tick, and has taken it further than anyone else," said a voter in previous years. Oatley Vigmond's compliment of former insurance adjusters exemplify the firm's commitment to client service by dealing full time with the clients' accident benefits, claims, and rehabilitation.

"Excellent client service; excellent results; generous sharing of knowledge with other lawyers."


Singer Kwinter
Toronto
singerkwinter.com

Singer Kwinter was co-founded in 1974 by Alf Kwinter and the late Morris Singer. The firm has appeared as counsel at all court levels including The Supreme Court of Canada, where Kwinter acted on behalf of the successful plaintiff in the landmark decision Oldfield v. Transamerica. Singer Kwinter is the only firm in Canada to obtain three punitive damage awards against insurers. The firm served as counsel in Kamin v. Kawartha Dairy, which changed the law relating to occupier's liability, and Degennaro v. Oakville Trafalgar Memorial Hospital — the largest award in Canada for chronic pain. Kwinter is the recipient of the 2015 OBA award for excellence in insurance law.

"I have known Singer Kwinter since its inception. I personally have worked with them and against them during my litigation practice. I am recommending them as the top firm in their field, without hesitation."


Slater Vecchio LLP
Vancouver
www.slatervecchio.com

Anthony Vecchio, Michael Slater, James Buckley, and James Richards operate this Vancouver-based firm specializing in complex and catastrophic personal injury claims. The firm is a leader in the field and is proud to have achieved some of the largest trial awards and verdicts in the province. Slater Vecchio continues to grow and take on new challenges for their clients. The firm now has a team of 100, with lawyers, paralegals, legal assistants, and case managers all committed to helping clients who have suffered injuries in accidents by providing first class client service. The firm blends excellent client service with vigorous advocacy.

"Combines smart lawyering with effective advocacy. It's where I would take my own personal injury matter were I in that position."

Thomson Rogers
Toronto
www.thomsonrogers.com

Thomson Rogers is the largest firm on our list. Since its inception in 1936 the firm has been a leading force in personal injury law. It now primarily helps people who have been catastrophically injured, usually as a result of a brain or spinal cord injury. Around 120 people are based at the firm's Toronto office, carrying out work for clients throughout the province and across Canada. The firm's founding partner, Edson Haines, became a judge and many of its partners have followed including: James Farley, Lloyd Brennan, Keith Gibson, Tamarin Dunnet, and, most recently, Patrick Moore.

"So knowledgeable and responsive. Great client advocates. Really collaborative with med rehab team. In it for the client not themselves."

To read Part 2: Canadian Lawyer's Top 10 Arbitration chambers and Top 5 Aboriginal law boutiques.