These firms were voted by their peers as Canada's best in civil litigation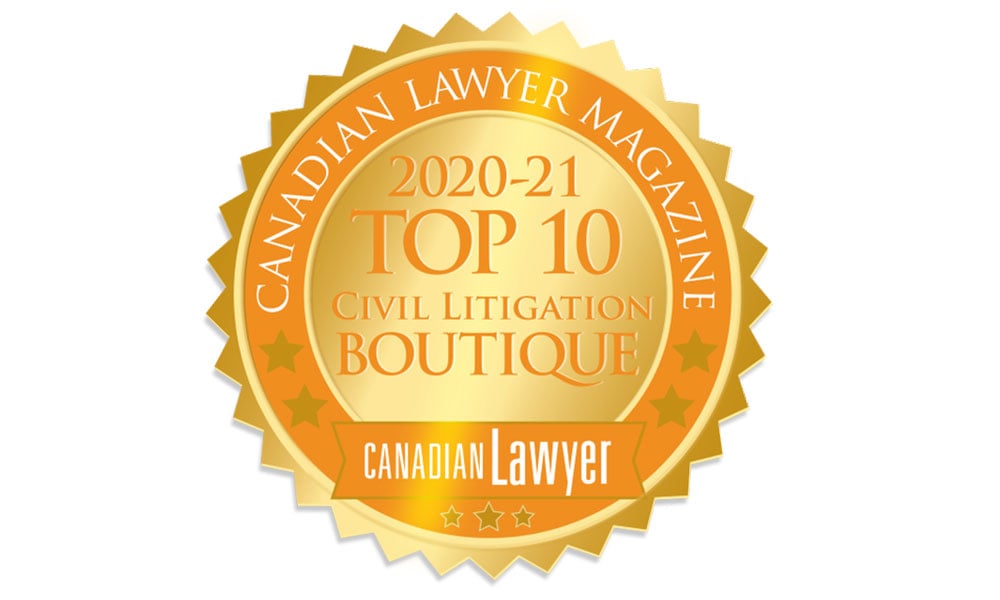 In Canadian Lawyer's June issue, we released the results to our Top Civil Litigation and Criminal Law Boutiques survey. Below are the Top Ten Civil Litigation firms, as determined by voters across Canada.
To read the introduction and more about the Top Criminal firms, click here.
HOW WE DID IT
Canadian Lawyer asked lawyers, in-house counsel and clients from across Canada to vote on the top civil litigation and criminal boutiques. They were asked to rank their top firms from a preliminary list, with a chance to nominate a firm that was not included on the list. To be considered in the vote, firms were required to have at least 80 per cent of their business come from civil litigation and criminal law. The final rankings were determined through a points system, in which firms were rewarded on a sliding scale for the number of first to 10th-place votes received. The quantitative results are combined with feedback from respected senior members of the bar and in-house counsel when applicable.
Please find a full description of our methodology at canadianlawyermag.com/survey/method.
Top Civil Litigation Boutiques
*Listed Alphabetically
Adair Goldblatt Bieber LLP
agbllp.com
Toronto
Adair Goldblatt Bieber was founded in 2018 and has quickly earned the reputation among its peers as a top boutique. The firm acts for public corporations, private companies, professionals, public officials, regulatory bodies, public interest organizations and individuals involved in complex litigation. The firm recently acted in a case that confirmed the limited scope in reviews of arbitral awards. In Alectra Utilities v. Solar Power Networks, the firm's clients were successful in arbitration, being awarded more than $14 million in damages. The opposing party then challenged the arbitrators' jurisdiction, winning at the court in first instance. But the Ontario Court of Appeal then reversed that decision and restored the award.
"The decision is important insofar as it clarifies the limited nature of a jurisdictional challenge as opposed to an attack on the merits of the decision couched in terms of jurisdiction," says partner Simon Bieber.
Camp Fiorante Matthews Mogerman LLP
cfmlawyers.ca
Vancouver
Formed in 2001 by J.J. Camp, Joe Fiorante and Sharon Matthews, the firm is known for its expertise in aviation accident litigation, class action lawsuits and product liability matters, and it is also active in public interest litigation. The firm's litigators regularly handle cross-border legal issues and have expertise in international law and procedure. The Camp Fiorante Matthews Mogerman class action practice has been active since the Class Proceedings Act came into effect in B.C. in 1995. The firm acts for plaintiffs, often in competition law and price-fixing matters. For one notable example, the firm acted as lead counsel in the historic Hepatitis C litigation, which reached a $1.6-billion settlement for victims infected with the disease through tainted blood transfusions between 1986 and 1990. More recently, as a distinguished aviation law firm, the firm is fielding many inquiries into compensation avenues for those affected by the downing of Ukrainian Airlines Flight 752. The airplane, which carried 55 Canadian citizens and 30 permanent residents, was shot down by an Iranian surface-to-air missile on Jan. 8.
Hunter Litigation Chambers
litigationchambers.com
Vancouver
About eight years ago, the last time Randy Kaardal was interviewed for Canadian Lawyer's Top Boutiques feature, he says top of mind for boutiques like his was succession. Sure, he says, it was one thing for Hunter Litigation Chambers' founders to "go across the street" and start its own shop with the profiles it had built at larger firms. But once it moved on, how would the next generation compete with the big firm litigation departments? Since that time, three of the firm's founders — John Hunter, David Harris and Peter Voith — have gone to the bench and William Berardino has retired.
"And I think one of the things that we're very proud of at our firm is there's been significant succession. And the firm, if anything, has gone on to great success during that succession, as a result of the next tier of lawyers maturing into excellent counsel," he says.
Recently, the firm was involved with a challenge to the power of the B.C. Securities Commission's authority to freeze assets, arguing it is a violation of the protection against unreasonable search and seizure under s. 8 of the Charter.
"It's a significant case in the province and that's obviously a very important power that securities commissions all across the country utilize to prevent securities fraud," Kaardal says.
Jensen Shawa Solomon Duguid Hawkes LLP
jssbarristers.ca
Calgary
Jensen Shawa Solomon Duguid Hawkes LLP is a litigation firm known for high-quality trial representation across multiple industries and practice areas. The firm acts in general corporate and commercial litigation matters, construction claims, oil and gas disputes, data and privacy protection, arbitration and mediations and class action suits — both for plaintiffs and defendants.
In the last year, Bryan Duguid says the firm has continued to develop itsclass action defence practice.
"In the past, we've been known more on the plaintiffs class action side. But now we've got a number of cases where we're on the defence side," Duguid says.
An example of the trend, says Duguid, is Flesch et. al. v Apache Corporation, et al., a $70-million Canada/U.S. cross-border claim, in which Duguid and Andrew Wilson are acting for Apache. They are defending the Houston-based company against the claim it breached the terms of a compensation plan in the sale of its Canadian subsidiary. The firm also continues to act for the government of Alberta in its multi-billion-dollar lawsuit against the tobacco industry to recover smoking-related health-care costs. That case is led by Carsten Jensen, Sabri Shawa and Stacy Petriuk.
Lax O'Sullivan Lisus Gottlieb LLP
lolg.ca
Toronto
Lax O'Sullivan Lisus Gottlieb partner Jonathan Lisus says a central feature of his Toronto-based litigation firm — and one that is unique among its peers — is its lack of embedded client relationships.
"We don't act for banks. We don't act for insurance companies. We don't act for telcos. We don't act for utilities. We don't act for financial institutions. And that's by design. We maintain a completely independent practice," he says. "It preserves independence and enables us to have a greater degree of control over the work."
A portion of the firm's work is conflict referral, but the majority is "first-call and one-off mandates," he says. "We jealously guard our independence and that's the way we structure our firm. And, as a result, we act on both sides of class actions for plaintiffs and for defendants. We act for and against government, and what we have found is that clients actually accept it. And many of them appreciate the independence of the model."
The firm focuses on complex commercial litigation and is engaged in high-profile disputes in a range of industries.
Lenczner Slaght Royce Smith Griffin LLP
litigate.com
Toronto
Since the last time Canadian Lawyer published the Top Civil Litigation Boutiques list, Lenczner Slaght has been "extraordinarily busy," says managing partner Tom Curry. Active, as always, on the Toronto commercial list, the firm has also expanded its work outside its home province of Ontario — with class proceedings and other commercial litigation in Atlantic Canada, the Prairies and B.C.
In June 2019, the firm launched ReferToHer, initiated by partners Sana Halwani and Shara Roy. The initiative provides a rolodex of stand-out female lawyers for other lawyers looking to refer a file. In January, in partnership with McCarthy Tétrault, it launched ReferToHer Corporate, to expand the service to the areas of public and private M&A, private equity and securities and capital markets.
"The data shows that people, when they refer cases to lawyers, they tend to think of the men before the women," says Curry. "This is a way of keeping our female colleagues at the bar in the minds of people who are referring conflict work. And that's been a tremendous success."
This year also began with the news of the retirement of civil litigation icon and firm founder Alan Lenczner.
Nathanson Schachter & Thompson LLP
nst.bc.ca
Vancouver
Founded in 1987, the firm focuses on complex commercial disputes. In addition to five Queen's Counsel, the firm includes many former law clerks from the Court of Appeal and Supreme Court of Canada. NST has recently acted in several highly complex cases, including in Concord Pacific Acquisitions Inc. v. Oei, where the firm successfully defended a claim in excess of $350 million. In Wastech Ltd. v. GVS&DD, the firm appeared before the Supreme Court of Canada, which is expected to further clarify the Bhasin test. In Great Canadian Gaming Corporation v. British Columbia Lottery Corporation, NST represented Great Canadian in a $35-million commercial dispute, achieving settlement on the eve of a nine-week trial.
The firm's lawyers regularly contribute to legal scholarship, including: serving as adjunct professors at UBC Law School; writing chapters in texts on business torts, government liability and the Annual Review of Law and Practice; frequently speaking at continuing legal education events on civil litigation law and practice; and authoring two of the province's main litigation handbooks, the annual British Columbia Supreme Court Rules Annotated and The Civil Appeal Handbook.
Paliare Roland Rosenberg Rothstein LLP
paliareroland.com
Toronto
Founded in 2001, Paliare Roland Rosenberg Rothstein LLP has more than doubled in size to 40 current lawyers from 18 original litigators. It handles a broad range of cases from complex commercial litigation and class actions to professional discipline and labour relations. It also represents other law firms and acts as appellate counsel.
On Feb. 28, a decision was rendered in a 14-year class action litigation in which the firm acted for around 200,000 Bank of Montreal subsidiary account holders. The claim alleged three BMO subsidiaries charged approximately $102.9 million worth of undisclosed fees in connection with currency conversions. At summary judgment, the motion judge found the BMO subsidiaries breached fiduciary duty and engaged in breach of trust. The case is currently under appeal.
"It was a big win for the firm," says Tina Lie, a partner at the firm. "It shows that patience and perseverance really do pay off. You just carry on and you continue to push the ball forward, and ultimately you get there."
"It was a big win for not just this class of 200,000 account holders but also class actions more generally. It shows that class actions can be an important and effective way to hold institutions and other entities to account when there are these kinds of systemic breaches."
Stockwoods LLP Barristers
stockwoods.ca
Toronto
Stockwoods LLP represents clients in commercial, civil, criminal and regulatory litigation. The firm's 22 lawyers represent a broad spectrum of clients including business entities and executives, financial institutions, government organizations, Indigenous groups, police services, judges, regulated professionals and professional regulators, as well as corporate and individual defendants in white collar and other serious criminal prosecutions. Stockwoods' commercial litigation practice includes both commercial and corporate disputes, fraud actions and securities and competition law class proceedings. Recent work includes Nader Hasan's acting for the Criminal Lawyers' Association, an intervenor in the Supreme Court of Canada case R v S.H, which dealt with Canada's Evidence Act provisions on the authentication of digital evidence. Stockwoods' Nader Hasan, Justin Safayeni and Spencer Bass — in partnership with environmental law charity Ecojustice — also recently launched a constitutional challenge against Ontario for failure to take action on climate change.
Woods LLP
litigationboutique.com
Montréal
Woods LLP is a boutique firm specializing in litigation, arbitration and insolvency. Its lawyers are bilingual, trained in civil and common law and called to the bar in various jurisdictions in Canada, the U.S., France and England. In April, the firm announced former Supreme Court of Canada Justice Clément Gascon — whose pre-bench career consisted of civil and commercial litigation and labour law — had joined as senior counsel.
Lawyer Caroline Biron says that, in recent years, the firm has steadily grown its international arbitration practice. Ten years ago, when Stephen Drymer joined the firm, he was the sole lawyer working in that area, she says. The firm now has seven lawyers working in international arbitration. Bolstering the group is another significant addition to the firm. Last September, Woods welcomed Haig Oghigian from Squire Patton Boggs in Tokyo, Japan. Oghigian spent 20 years developing a practice in Asia, but his legal career was preceded by a stint as a diplomat with the Canadian Embassy in Tokyo. Biron says Oghigian is "very highly regarded" and adds valuable exposure in the Asian market.
"It's really good to have him with us, to add this expertise to our international arbitration practice," Biron says.