Alberta's capital is more diversified than Calgary and lawyers are optimistic things are looking up.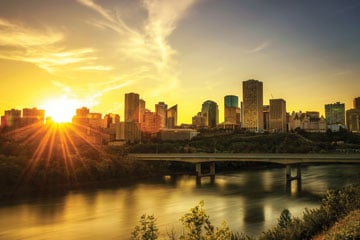 Alberta's capital is more diversified than Calgary and lawyers are optimistic things are looking up.
You might have heard that Daryl Katz, the reclusive billionaire owner of the Edmonton Oilers, recently built a new hockey arena in downtown Edmonton. The rink was always pitched by Katz and his team as the spark that would light an explosion of downtown redevelopment, and with some $313 million of public money thrown into the project, there was a lot of interest to see if that would in fact happen.
Now, barely a year after Rogers Place opened, it's safe to say the prediction of a renaissance is coming true. The city of Edmonton estimates that the arena has spurred $2.5 billion in development so far, and the area around it remains abuzz with construction. The city has started to move into its own new building near the arena, and Stantec, the Edmonton-based engineering giant, is building a 66-storey tower that will be the tallest in the country outside of Toronto. Beyond those buildings, there's a host of condo towers, hotels and cultural institutions that are taking shape downtown. It's safe to say the building boom has led to a sense of economic optimism in Edmonton, even with oil still struggling to hit $50 a barrel.
Adam Merrick, a partner with MLT Aikins who specializes in commercial lending and real estate development, says this explosion of construction helped buoy Edmonton through the 2015-2016 recession. He says Edmonton's story is different from that of Calgary and that of the province as a whole.
"Edmonton has certainly weathered the storm," he says. "It's because we are less tied into oil producers than Calgary. We have more government, more owner-operator entrepreneurs and a lot of the construction has had a trickle-down effect."
Merrick says the dearth of merger and acquisition activity in the oil and gas sector, which took such a toll on Calgary, has been less pronounced in the provincial capital. Aside from government and the recent construction boom, Edmonton's economy is also helped by a large health-care sector and prominent contributions from higher education, with the University of Alberta, Grant MacEwan University and the Northern Alberta Institute of Technology being just the three most prominent post-secondary institutions in the city.
James Casey, a former managing partner of Field Law who recently returned to full-time practice, says Edmonton is served by a healthy mix of law firms, from global giants such as Dentons to the national and regional firms and on down through the smaller, locally focused firms and boutique practices. He says independent regional law firms such as Field, which has 65 lawyers in Edmonton, 55 in Calgary and five in Yellowknife, can thrive even when faced with competition from global firms. "There are few economies of scale that accrue in legal practice," he says. "Whether you have 3,000 lawyers or 300 lawyers or 30 lawyers, the cost for you to produce a certain product is not necessarily different." Some services can be commoditized and the price driven down, but that's not the work he's chasing. "For a firm like Field, the value proposition has to be that we will not compete against the global firms in all areas, but where we identify areas to compete, we will provide a product of similar or better quality, we will do it at a significantly lower price and we will work collaboratively with our clients."
One business practice that has transferred from the oil and gas sector into the legal practice in the last couple of years — as a direct result of the oil-price collapse — is the drive for cost certainty. When oil prices dropped as low as $27 in early 2016, producers went back to all their service suppliers and demanded not only lower pricing but certain pricing. "Companies have put a lot of pressure downward on billable rates," says Corinne Petersen, a boutique insurance litigator and bencher with the Law Society of Alberta. "In the profession as a whole, there's a lot of pressure to figure out a more economical way of delivering service."
These include more alternative fee arrangements, more frequent and detailed requests for proposal, increased focus on process improvement and the use of legal pricing consultants to negotiate fees with law firms. "Some clients want price reductions, but more important is price certainty," says Casey. "Then they can order their affairs."
He says Field Law has increased its rigour when it comes to defining the scope of a project and to collecting and analyzing historical data on costs. This gives the firm the ability to prepare a fixed-price proposal. "We're not going back to the old days, nor should we," he says. "Lawyers have long thought we didn't need to use some of these standard business processes, but clients should demand them of us. If it's a boom year next year, that desire for certainty is not going to change, and it shouldn't."
Enzo Barichello, managing partner of Bennett Jones's Edmonton office and co-leader of its government affairs and public policy practice, says another growing demand from clients centres on the need for cyber-security. The complexity of attacks on corporations is increasing, as is their frequency.
"Sophisticated clients will not deal with a service provider that cannot guarantee the security of their data," he says. "They may have a very robust system, but if the bad guys are going to back-door them through somebody else, there's a problem."
Barichello says Bennett Jones has spent a lot of time and money to achieve compliance with the ISO 27000 series of information security management standards.
The Edmonton economy is projected to continue with steady growth in the near term, with The Conference Board of Canada predicting growth of 2.4 per cent in 2017 and 2.2 per cent in 2018. Capital that has been sitting on the sidelines is beginning to be deployed, merger and acquisition activity is picking up and oil and gas producers have learned that they can make money at much lower prices than they expected. But Barichello says structural change is coming and that practitioners in the city had best prepare for it. He says the low-carbon economy is here to stay, and Alberta had better get ready for it.
"There was a time we thought it was climate change messaging [that] was strident and marginal," he says. "The reality is that this is an actual reset at a global level of our relationship with carbon and carbon-based fuel."
Alberta itself has been leading the way in setting a price on carbon, with an economy-wide carbon tax, a cap on carbon production from the oilsands and plans to wean the provincial electric grid off of coal in the next couple of decades. But that still leaves the economy tied to fossil fuels.
"We've been talking about the need for diversification going back to the days of the National Energy Program, but nobody really believed it," Barichello says. "Much like the weather, it was just a matter of stopping and waiting for a little bit and the next upturn is going to come. But carbon pricing is different. It's structural. For the first time ever, capital wants to be deployed in the oil and gas business, but a lot of it is looking to lower carbon alternatives."
Barichello would like to see the private sector, government and tertiary education institutions come together to address the issue. "We have strong post-secondary with massive amounts of creativity and research," he says. "We need to commercialize that activity."
But that doesn't change the fact that Barichello no longer worries, as he did just five years ago, of a brain drain of Edmonton's youth, when young people would head down the road to Calgary, Toronto or beyond. "The reality is there is more and more reason to be here, for business, for community, for sport," he says. "This is a community that is a lovely place to earn a living and to raise a family."
And it's a great place to practise law. Merrick says the legal community is close, respectful and fair. "There is a collegiality and trust between lawyers that I don't think you see in other cities of similar size," he says.
Now, if only the Oilers can use their new arena as a springboard to win the Stanley Cup again.
Edmonton by the Numbers
13,344 – Number of lawyers holding membership in the Law Society of Alberta
9,165 – Number of active lawyers in the province
3,015 – Number of active lawyers in Edmonton
40 – Percentage of active lawyers in Edmonton who are female
256 – Number of inactive/retired lawyers in Edmonton
18 – Percentage of inactive/retired lawyers in Edmonton who are female
31 – Percentage of active lawyers in Edmonton who work in-house for business or government
2,060 – Number of lawyers in Edmonton who work in private firms
18 – Percentage who are sole practitioners
32 – Percentage who work in firms of 2-10 lawyers
15 – Percentage who work in firms of 11-25 lawyers
35 – Percentage who work in firms of more than 25 lawyers
1.3 million – Population of Edmonton census metropolitan area, making it the sixth largest CMA in Canada
2.4% – Projected growth rate, 2017
2.2% – Projected growth rate, 2018
8 years – Term of Edmonton Oilers captain Connor McDavid's contract
8 years – Term of Edmonton Oilers forward Leon Draisaitl's contract