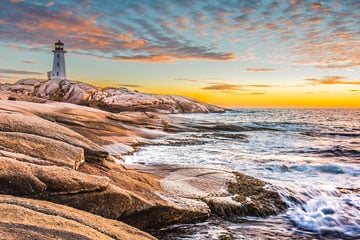 Collegiality is evident throughout the profession, but competition for work is still fierce.
Size defines and defies the practice of law in Halifax. Because the bar is not large, faces, personalities and practices quickly become familiar. But familiarity does not breed contempt. In fact, the opposite is true.
"There is a focus on collegiality," says Melanie Comstock, a partner with McInnes Cooper LLP, which has roughly 200 lawyers throughout the four Atlantic provinces. "No matter what area you're practising in," she notes, "you're seeing the same group of lawyers. You really develop a rapport."
That rapport often stems back to law school. Gilles Deveau, a sole practitioner in Halifax, notes that many of the city's lawyers earned their LLB at Dalhousie University. "We have this common ground. We share a city and a law school. It is a comfort zone."
Such comfort makes for better lawyering, many believe. Lawyers looking for a second opinion or a sounding board have a community they can call on. "The bar in Halifax is very supportive," says Deveau, adding, "It has always been my experience that I can pick up the phone. It's incredibly important when you're not part of a big firm."
Support for colleagues is part of the fabric of life as a lawyer in Halifax. The reality is that an opponent today can be an ally tomorrow. At the very least, you can be arguing against a lawyer in court in the afternoon and having drinks together at a bar function that night. "Most counsel deal with each other with respect and courtesy. Battles are left in the courtroom and not brought to the streets," says Ray Wagner, founder of Wagners – a Serious Injury Law Firm.
Professional courtesy is both a way of being and smart business. Burning bridges is dangerous at the best of times but particularly in a community where colleagues will continue to work with you long after the fire is out. "Reputation is important," says Rebecca Saturley, Stewart McKelvey LLP's managing partner of the Halifax office. "You have to be extremely cautious when you're dealing with the same people all the time. You need to be respectful."
That respect extends in particular to newer members of the profession. Saturley remembers that after her first arbitration she got a call from the opposing (and more senior) counsel to tell her what a great job she had done. "I will never forget that."
Being nice, however, is not synonymous with being less proficient or less effective. "I've seen the pleasant attitude, which is not to be mistaken for being a pushover," says Mohammad Raza, an associate with Cox & Palmer LPP, a full-service regional firm with 200 lawyers in four provinces.
Raza discovered the resolution behind the smiles, and more, when he moved to Halifax in 2014 after having worked as a lawyer in several countries including Pakistan, Belgium and Italy.
He had no intention of staying in Nova Scotia, having heard that lawyers here were conservative by nature and slow to make decisions. "I found the complete opposite," he says. "Lawyers are very quick decision-makers here. They are driven by the desire to service clients. They are competitive, but they do not lose sight of what's important."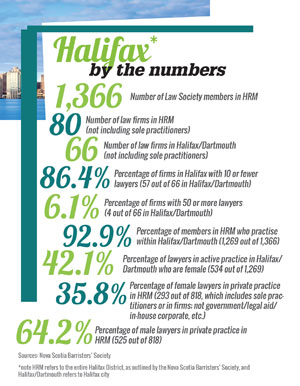 Lawyers in Halifax, which has a population of approximately 400,000, are also not immune to changes happening to the profession elsewhere in the country. Matt Napier, a partner with BoyneClarke LLP's personal injury team, notes that there is growing pressure to litigate. "In days gone by, it was recognized by defence counsel that we we're all in the Maritimes and we are talking about our neighbours. There is a heavy onus [now] on defence counsel to defend, defend, defend to the bitter end. I'm not sure there's a need for that."
Growing business, as for lawyers everywhere, is critical. In Halifax, that growth is attained for large firms at least by looking beyond city, provincial and even regional boundaries. McInnes Cooper, for example, bills itself today as "one of the 20 largest business law firms in Canada."
"The client base has changed over 20 years," says Comstock. "The focus used to be local. We were a regional firm and that is as broad as it got. Our attention now is worldwide. We think more broadly and have clients internationally."
Much of that growth has been in tandem with the growth of local and regional clients, notes Saturley. "You develop a rapport and a relationship. You get to know the personal side. Even the junior lawyers here get a fair amount of direct client contact."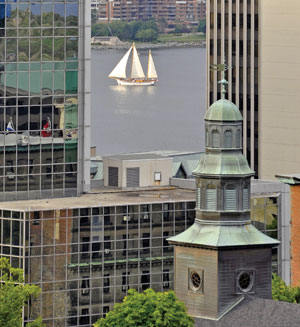 Lawyers in Halifax also get challenging work, she adds. "The outside impression may be that you are not going to get the same degree of files here. We've been involved in some of the biggest deals in Canada. You get to be in charge earlier. You get responsibility for files earlier."
It is likely that Halifax's "Big Three" will remain a triumvirate for some time. At present, boutiques are more popular than full-service firms, says Wagner.
Indeed, as 2016 came to a close, Mathews Dinsdale & Clark LLP, a labour and employment law firm with offices in Vancouver, Calgary, Toronto, Sault Ste. Marie and Sarnia, Ont., announced it would become the first national boutique law firm to have locations from coast to coast. "Lawyers in Nova Scotia have the benefit of comparatively lower overhead and hourly rates than large centres across Canada. With the advent of technology and fewer mobility restrictions imposed by law societies, we can be at home and do great work for clients wherever they are," says Tara Erskine, who is leading operations for Mathews' Halifax office.
While business may be solid, even increasing, for larger and mid-sized firms in Nova Scotia's capital city, sole practitioners and small firms often struggle. "We have a smaller client base and anecdotally lawyers tell me it is pretty rough and competitive," says Deveau.
"I have no frame of reference for charging a client $600 an hour," he notes. "No client in my existing client pool can afford that."
The employment news for young lawyers is also not rosy. As elsewhere in Canada, many law graduates are struggling to find positions and an even higher number are left without associate positions afterward, notes Ryan Blood, an associate with BoyneClarke LLP. "There isn't going to be a simple answer to dealing with that issue. While many positions will open up as senior members of the bar retire, it is likely that at least some law grads are going to bypass traditional practice entirely."
Wagner points out that bringing on a new grad is difficult for smaller firms. "The combination of the cost of having an articled clerk and the desire for law graduates to seek the big-firm jobs has hurt the profession and the opportunities for articled clerks to find jobs after their admission to the bar."
Boutiques are required to place their clerks with other firms, he notes, and arrangements are difficult to make unless you are willing to pay their salaries while on loan.
Major changes are also afoot for the profession as a whole. The Nova Scotia Barristers' Society is creating a new model that will focus on regulating entities. Entire law firms as well as other legal groups or parts of organizations such as a department of justice or a workers' compensation appeals tribunal will be licensed.
As part of the shift envisioned by the NSBS, this new form of regulation will promote mitigating risk instead of slapping wrists. The emphasis will be on compliance in the broadest sense, not in detailed reporting and documentation. Guided by 10 principles, which emanate from the society's code of conduct, large firms, departments, boutiques and other legal entities will be required to demonstrate adherence to the spirit rather than the specifics of society rules.
In addition to breaking new ground with respect to legal regulation, Halifax is also a national leader in diversity. "That's really important," says Saturley. "We're never going to change and evolve if everybody has the same background."
Stewart McKelvey, she notes, "is almost all run by women and one-third of the partnership board is female. We've made huge strides." One of those huge strides was historic. Two years ago, Lydia Bugden became the firm's chief executive officer, one of the first female leaders of a major law firm in Canada.
What has remained unchanged for lawyers in Halifax is the East Coast way of life. It is more relaxed, less stressful and often more flexible. Compton, for example, lives in Lunenburg, her home town about 100 kilometres from Halifax. She works out of her South Shore home two days a week and commutes to Halifax for the remainder. "We have a more laid-back approach to life."
It is an attractive aspect for many lawyers, including Raza. "The emphasis in the legal community here is on a balanced lifestyle," he says. "Privacy is respected. People are very sensitive here to other people's personal lives."
Even working in Halifax may look different from working elsewhere as a lawyer. As Saturley spoke with
Canadian Lawyer
, she noted that outside her office window in the city's downtown, a navy ship was making its way slowly up the mouth of the harbour. It is a common sight.
The daily grind also takes on a whole new meaning in a smaller city. Raza lives in Bedford, part of the Halifax Regional Municipality, and about a 25-minute drive from his downtown office. In rush hour. "I used to live 1,000 metres away from the office in Karachi and it still took me 25 minutes to drive to work," he says. "I couldn't walk there. I would be mugged three times."
In Halifax, it's the seagulls you have to watch out for.