BMO's initiative protects the vulnerable from financial abuse by family members, caregivers and fraudsters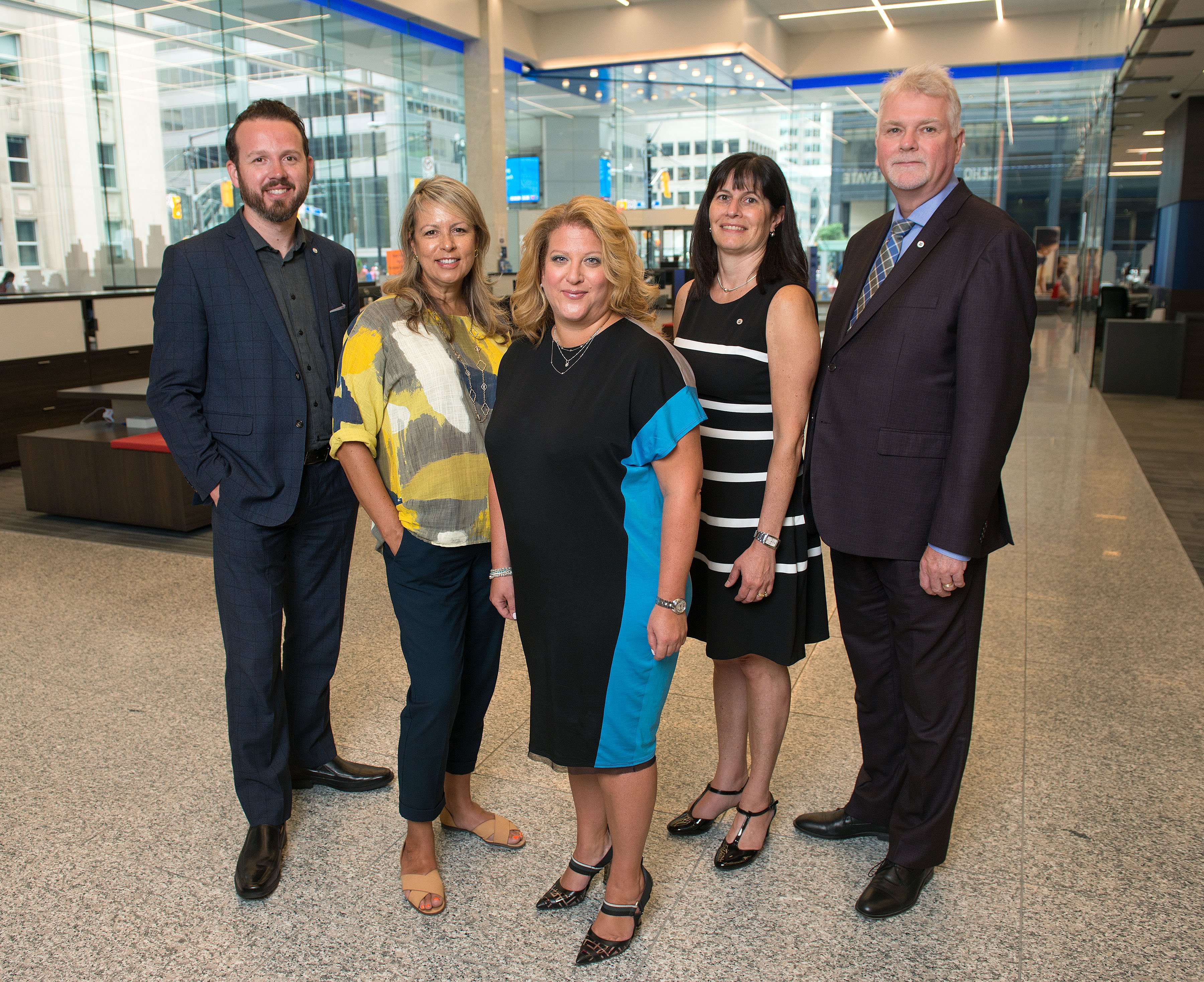 (Left to right) Alan Dobbie, team lead, executive resolution office, Gigi Gonyea, senior manager, voice of the customer, Dina Raphaël, associate general counsel, Marilyn Abate, director of forensic investigations, and Sean Scanlan, director.
In an era when fewer people interact with their bankers on a personal level and more and more transactions are carried out electronically, it's the human touch that has become vitally important to a program created by BMO Financial Group's litigation department.
The initiative is designed to protect vulnerable customers, including seniors, those who have a reduced ability to make financial decisions or those who rely on others for their physical care, so they don't become victims of financial abuse by their family members or caregivers or become targets of fraudsters posing as Canada Revenue Agency representatives, family members claiming to be in trouble overseas, lottery agents promising big rewards after certain fees are paid or lonely singles looking for romance as well as financial support.
While banks aren't in the business of controlling what their customers do with their own money, associate general counsel Dina Raphaël says that, as bankers and as litigators, she and her colleagues feel a responsibility to the bank's customers.
"There is a real sense of accomplishment and of making a difference when you can prevent litigation and disputes and find resolutions. Because of the role we have in the organization, I always feel that we are uniquely placed to identify opportunities, trends and risks, and I feel that we have the responsibility when we do [find problems] to try to find a solution, whether it's to help our customers or help our business or do both at the same time. We have to tackle those issues when we are aware of them."
According to Raphaël, front-line bank employees and those working in the voice of the customer group (an executive resolutions team that helps answer customer inquiries and solve disputes) were becoming more aware of potential financial abuse happening to their clients and were bringing those situations to the attention of the litigation department. Since the litigation department deals with confidential and privacy issues in addition to resolving other legal issues, it was a natural destination for employees seeking advice on financial abuse matters.
It was also appropriate since the litigation department had dealt with cases of financial abuse in the past and had experience with working to mitigate the harm they caused.
Wanting to capture that experience and share it with front-line staff, Raphaël, Isabella Massimi and Jean-Pierre Michaud mapped out the steps they took while dealing with previous financial fraud situations and developed protocols for specific scenarios bank employees might encounter when dealing with potential victims. They also worked with members of other departments, such as global investigations, who offered input into how these frauds worked, and with compliance specialists, who could ensure the bank wasn't overstepping its authority. Fortuitously, amendments in the law meant that the bank had more flexibility in how it could deal with cases of potential fraud and how it could involve law enforcement. Prior to the changes, for example, the bank couldn't contact the police to notify them about the scam without breaching a client's privacy.
The next step was to launch a pilot project in the Toronto area to provide coaching for front-line workers and voice of the customer representatives on how to respond in situations where they suspected customers were at risk.
Raphaël says that navigating financial fraud situations is tricky because customers can react in a variety of ways. Some don't believe they are being scammed. Some get angry with the bank, thinking it is trying to interfere in personal financial matters. Despite those kinds of reactions, however, it is important for the bankers to keep the lines of communication open with the customers, even if that means bringing in investigators, senior branch personnel or executives to speak with the customers.
"The goal [is] that, in the future, we would not have to be part of every conversation. And they would only reach out to us when there was a legal issue or something they really felt the need to discuss with us," says Raphaël.
The training, which was planned for six months, stretched into eight or nine months, in part to ensure people were comfortable dealing with financial fraud situations when they arose but also to allow the litigation department to gather data on how well the pilot was working and how happy front-line employees were with the training and support they received.
In February, the project was rolled out across the country, and Raphaël says the results have been more than positive.
Looking purely at the numbers, there has been a reduction of workload for the litigation department.
"When we started, everything came to us — every situation of vulnerable customer abuse was escalated to us. Now, I would say that there is a decrease of approximately 35 to 40 per cent. So, the [customer service] groups can handle a lot more without coming to us. And I'm confident that, in the next months, they will feel even more confident," she says, adding that it is also becoming more common for front-line bankers to just seek out the litigation department for reassurance that they are on the right track, rather than handing the whole situation over to the department.
Beyond making the litigation department more efficient, however, Raphaël says, the program has done a good job in preventing fraud against the bank's customers, stopping ongoing fraud at earlier stages and educating customers about scams.
Raphaël is quick to point out that while the bank put a lot of time and effort into creating this program and training its staff to deal with vulnerable customers, there are outside factors that contributed to the success of the program.
"When we started thinking about this project, we were in a very difficult position, because when we realize someone was the victim of financial abuse, we could not report this to the police. It was a privacy breach. It was difficult. Even reaching out to a family member was difficult. Now, there have been amendments to the law and we have this option if we want to engage a family member or a partner," she says.
It also helped that this was a passion project.
"Everyone who was involved in this project are very busy people. They all have, as we say, their day jobs, and no one is looking for work. But I remember when we had our first kickoff meeting, I knew this would be a success story, because it didn't take any convincing. Everyone knew that this was the right thing to do."