Using knowledge management software helps staff search for answers to pertinent legal questions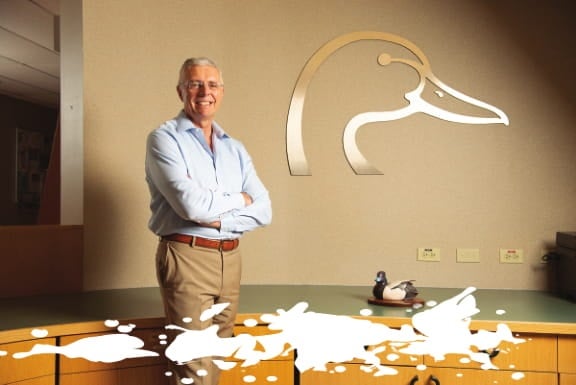 Gary Goodwin, executive corporate secretary and counsel
Even though they're clichés, the aphorisms that change is both inevitable and a constant are realities that every organization has to face, especially if it wants to have the ability to maintain institutional knowledge.
Gary Goodwin, executive corporate secretary and counsel at Ducks Unlimited Canada, has seen what can happen when people leave employers and projects and take their experience and expertise with them. It's not a situation he wants the not-for-profit habitat conservation organization to undergo ever again, and he is taking steps to ensure knowledge is not just shared but organized.
Goodwin, who describes his position as "a sole practitioner in a large, diverse organization," has introduced the use of knowledge management software to Ducks Unlimited. Specifically, he has taken advantage of two features that are part of the Microsoft Office 365 suite — Teams and MindMeister — to create and manage projects and to give staff a way to search for and find answers to pertinent legal questions complete with contextual information.
Teams is a chat-based workspace that allows members to communicate, collaborate and share documents. The MindMeister add-on is a mind-mapping data visualization tool that graphically links a central concept with related ideas and supporting documentation in a way that illustrates hierarchies and connections.
"I find mind mapping very helpful to conceptualizing my ideas. Putting them into a visual format really helps disseminate those ideas to people that are unfamiliar with what's happening with respect to a particular project," says Goodwin.
In particular, he began using the tools when it came time to renew a 25-year-old project with an outside partner. Over the course of time, everybody familiar with the project had left their respective organizations.
"I needed a method to bring forward all the history of this project in order to provide the necessary context. Context is very important for any kind of factual information, because without context, you don't have any kind of knowledge as to what things mean," he says.
He also began using Teams and MindMeister to build a legal self-help portal for Ducks Unlimited that focuses on national issues. For example, to address common CASL questions, team members are directed to a link where they can find an algorithm (created by Goodwin) to walk them through the steps of deciding how and where to apply CASL legislation.
Beyond empowering colleagues without legal expertise to confidently answer some of their own legal questions, putting information into a legal portal should also help Goodwin transfer his own legal experience with the organization to his eventual successor.
September will mark Goodwin's 30th anniversary with Ducks Unlimited, and while he's not ready to retire yet, he knows it will happen at some point.
"The CEO has requested about a year's notice before I actually retire. I've agreed to that and now I'm telling people, 'I'm going to give her a year's notice' but I haven't done that yet," he says.
"I must have 20,000 records in Microsoft right now, and the number of folders is 2,500 or something like that—so there's a pile of knowledge. It would take a year for somebody to figure out where everything is. So, I have all this tacit knowledge, and to have a methodology to make it more explicit [is important]. I have everything written down, but there is no context to what anything means."
While Goodwin has an affinity for trying new technology and looking for ways to help him become more efficient and effective in his job, he understands that convincing people to adopt new ways of working can be challenging. The move to MindMeister, for example, garnered different reactions. The engineers working on the project, for example, "grabbed on to it quite well," he says, but he acknowledges that sometimes people need to be forced to go along with innovation.
"If you kind of send out an email saying, 'Here's the link to the site, all discussions will take place in there,' then you sort of mandate the behaviour modification as necessary, and you drag people into the site. Because if they want to know what's going on, that's where they have to go. That's where everything is."
Once people began using the technology, however, he said the reactions were positive and usually stressed the fact that the data visualization was an aid in increasing their understanding of what was going on.
One key to obtaining that type of success with a technology implementation is to make sure that people can see the benefit the change will bring.
"You can have the best innovative product, but you have to bring the rest of the organization along with you. They have to see value in it, and sometimes that value has to be apparent immediately, so you go after the low-hanging fruit. You bring people in; you get leaders in there that can see the value of what they're doing. And once they see the value, then it … can grow organically," says Goodwin.
"There's always a danger of just kind of throwing something over the top of the organization and compelling people to use it. Then you get pushback, and there's other problems people face, but if they can see the value, that really helps."
He describes this approach as marketing: demonstrating and explaining the value proposition benefits over the costs and the inconveniences, and he says that any new technology introduction should have a marketing aspect to it.
Having the skills to think about change management and marketing and technology adoption is part of what makes a strong in-house counsel, according to Goodwin. Learning to be flexible and adaptable is key. He says studying for his MBA taught him that "spreading himself simply beyond legal" and using skills he has to the advantage of the organization to help it achieve its objectives is the best way to succeed.
"I call it chipping in. If somebody asks you to do something that is pretty near to what you are doing, throw yourself into it and assist, because we have the necessary skills. Become part of the organization. That's especially important with respect to in-house."