Kikelomo Lawal has led numerous workstreams to establish the organization as a fully integrated share capital corporation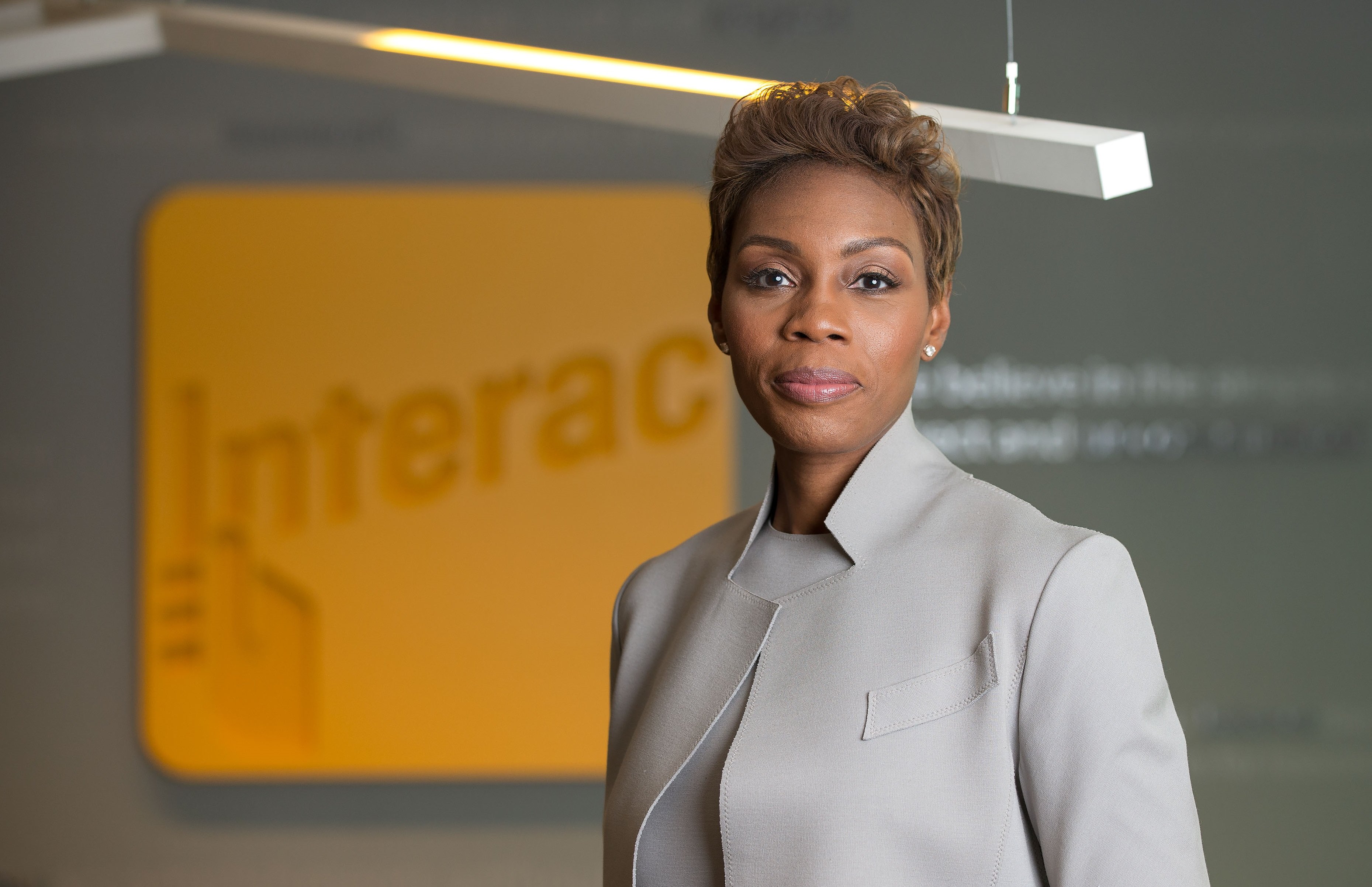 Kikelomo Lawal, chief legal officer and corporate secretary
It was a watershed event for Kikelomo Lawal, chief legal officer and corporate secretary at Interac Corp., when a restructuring took place that had been years in the making. In January 2018, an amalgamation of Interac Association and Acxsys Corporation took place, establishing a unified company, Interac Corp.
"Our department had a huge undertaking when the organization underwent a restructuring and that put tremendous demands on the legal department, not just for the day-to-work work but for the added work that was associated with the restructuring," says Lawal, who joined the company in 2008, after working at Blake Cassels & Graydon LLP.
Lawal became chief legal officer and corporate secretary in February 2017. As part of her role, Lawal manages all board and shareholder interactions. The nomination for Lawal for law department leadership commended her for her leadership role in the restructuring. "[She] was part of the team at the forefront for the restructuring of Interac Corp., and in the months that followed, she has led numerous workstreams to establish the organization as a fully integrated share capital corporation with a solid legal and regulatory framework and a foundation for good governance," said the nomination.
Lawal says preparations for the restructuring were extensive.
"It required approvals from . . . many parties, from government and multiple levels within government, to industry, to shareholders and all of these people had to agree at the same time that Interac was ready to take this step and so, it was 10 years in coming, but it was wonderful for us and wonderful, I think, for Canada," she says.
Lawal's team is known as the accountability, governance and oversight department, and it includes lawyers, law clerks, compliance personnel and regulations writers. There are eight lawyers and two law clerks who are part of that team.
As part of her role, Lawal has spear-headed initiatives such as creating an in-house CPD program.
"It occurred to me that we actually have lots of good intelligence and lots of good information internally, let's leverage that, and so I've done a few CPDs for the team. We also have really strong relationships with our outside counsel. In particular, Deeth Williams Wall [LLP] has done a number of programs for us," says Lawal.
She says having an internal CPD program makes sure that lawyers can fulfil their requirements in a way that relates to the business.
It also gives law firms a chance to have some of their newer or more junior lawyers prepare materials to be used in the presentations, she says.
Lawal has also re-branded the legal department and held an open house "to communicate to people a little bit better why we do some of the things that we do [and] change the perception so it's not just that we are risk-averse but that we are risk-informed.
"Fortunately not here, but in some organizations, legal might be known as being in the business prevention business, and it's not because lawyers are not wanting the business to move forward; it's just that they're often wanting to do that prudently and smartly and carefully," she says.
"We at Interac did not have that problem, but I did want the business units to understand a little bit better why we ask the questions that we do up front [and] why we try to put some safeguards in place that might not look like they are in furtherance of the immediate goal; they're in furtherance of the larger goal, which is protecting the corporate interests."
Lawal also created what was called an NDA wizard — a reference to non-disclosure agreements — which Lawal describes as a "commonly needed document in the business setting." The tool allowed business units to generate the document for themselves, by adding information about the parties involved and the purpose of the discussion.
Lawal was born in Nigeria and moved to New York City with her family, where she grew up.
She did an undergraduate degree at New York University before attending law school at Harvard Law School, graduating in 1995, before practising as a lawyer at Carter Ledyard & Milburn LLP. She moved to Canada in 2001 to join her husband, who is a reverend. She serves on the board of Pro Bono Ontario and is a member of the Association of Canadian General Counsel, the Black Female Lawyers Network and Women General Counsel Canada. Lawal describes her leadership style as "no-nonsense."
"I'm very focused, I'm demanding. I try to balance it out with some kindness and some grace, and I think everybody knows I have high standards and I don't make apologies for them," she says. "I want to do always what's in the best interests of the organization. I want to always put my best foot forward, whether it's a small thing or a big thing, and I think that comes across."
Lawal says her advice to in-house lawyers is that it's important to understand the business.
"That includes understanding what the tolerance levels are in terms of appetite for risk. It entails understanding what the drivers are, who the drivers are," she says. "I think it is important to develop relationships . . . not just with the legal team but with folks in the business units so that they feel free to come and ask questions of the legal department, whether something is fully baked or not."
She says it's also important for in-house lawyers not to have an "overly cautious" approach to the practice of law.
"I think one of the big differences when you practise in a corporate law department versus in a corporate law firm is you've got different people, different motivations, different levels of interest in legal exposure and, so, it's really important to know your audience, to ask questions and to provide advice that is informed by what the law is and what the risk areas are but is not constrained by that," she says.