Lawyers report a continued rise in legal fees and sophisticated client expectations that demand communication and transparency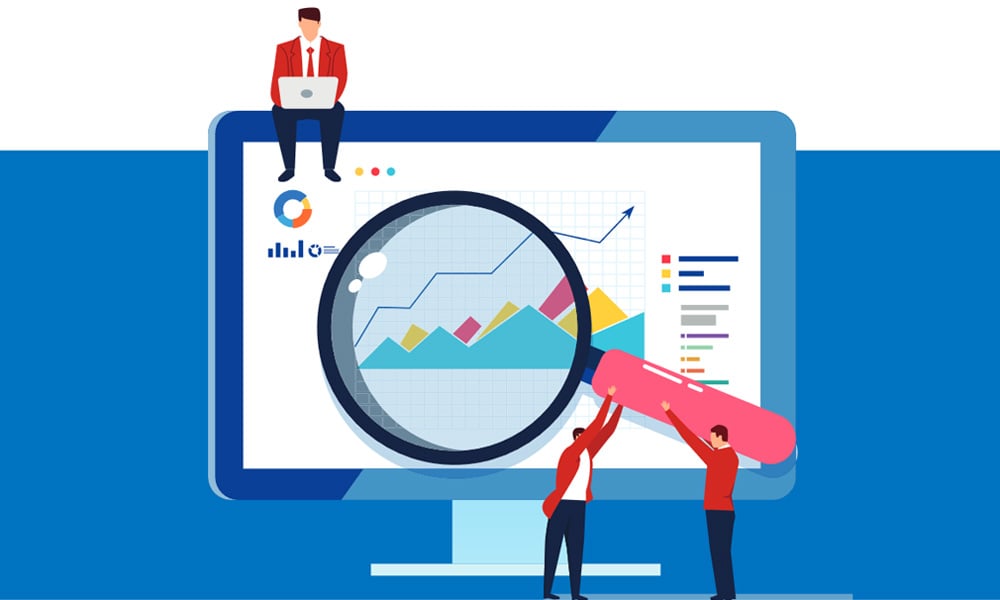 Canadian Lawyer's 2020 Legal Fees survey, in the market before the COVID-19 pandemic hit, shows a continuation of the trend in recent years of slight fee increases, year over year. Lawyers told Canadian Lawyer that clients also continue to grow in sophistication, a double-edged sword that has resulted in demand for alternative fee arrangements and some unreasonable expectations fuelled by the online "do-it-yourself" market.
On the West Coast, clients are not resisting "modest and reasonable" fee increases, says Bruce Hallsor, managing partner of Victoria, B.C.'s Crease Harman LLP.
"There's a lot of demand out there for legal services," says Hallsor, whose practice includes corporate and commercial law, real estate, secured transactions, estates, tax and trusts. "Generally speaking, in all areas that we practice, demand has gone up."
Significantly more survey respondents reported they'd be raising their fees this year than last — 53 per cent, which is nearly 10-per-cent higher than said the same in 2019. For 45 per cent, fees will remain the same as 2019. Only 1.2 per cent indicated they were lowering fees in 2020, but that is an increase from 2019, when zero respondents reported dropping their fees.
Whether the slowdown in the economy caused by the pandemic will cause a shift in legal spending remains to be seen.
Higher overhead was the most common reason respondents gave for a decision to raise fees, followed by inflation and then increased complexity. For the small number who lowered fees, it was competition and the economy that motivated the decision.
Most fee arrangements are based on the time spent and the complexity of the matter, says Eric Gossin, who recently joined Devry Smith Frank LLP and practises corporate and commercial law, estates and real estate. Over the years, clients have become more sophisticated and this has impacted their willingness to pay, Gossin says, adding that, now more than before, expectations need to be set at the outset and clients need to know the criteria applied to their bill.
"When realistic expectations are set at the beginning, there's less resistance from the clients to paying. That's almost a cliché, but that's exactly been the experience," he says.
With the rise in client sophistication comes the rise of value billing. Hussein Hamdani, a partner at Simpson Wigle LAW LLP in Hamilton, Ont., says that, along with hourly rates, his firm always considers and incorporates the value that work is worth to the client.
"We rarely look at just docketed time as our billings," says Hamdani, who practises corporate commercial law, focusing on commercial and residential real estate. "Sometimes, it's lower; most of the time, it's higher than the actual docketed time."
Crease Harman uses the billable hour, including in litigation, where Hallsor says the firm prefers it over contingency fees and other methods. In some solicitors' areas, the firm offers flat-rate billing as well.
Hourly rate billing has its critics. In 2019, Raymond Wagner, a personal injury lawyer who practises in Halifax, told Canadian Lawyer that the billable hour can prolong trials via unnecessary motions and requests for disclosure and discovery.
One of this year's survey respondents agrees, leaving the comment: "I firmly believe that the traditional legal fee structure does not encourage lawyers to be as efficient as possible as their fee is tied to time. There needs to be some incentive to encourage more efficiency."
For Hallsor, the key to efficiency with the billable-hour model is communication with the client and transparency when the bill comes.
"I think clients like the billable hour. I know there's lots of people out there who think it's old-fashioned, but I think it gives the client a lot of accountability," he says.
Hallsor says the bills his firm produces are detailed, the client can see what's been done and there's an opportunity for a discussion if they think something took longer than it should have. As managing partner, the billable hour also facilitates efficiently running the shop, a "measuring tool" for the productivity of lawyers and practice areas, he says.
"As long as your billable-hour bills are open and the client can see your hours, that is the answer," he says. Billing by the hour internally and only disclosing the dollar amount to the client — as Hallsor sees a lot of firms doing — "that's a problem."
Hourly rates also discipline the client, he says. If clients know it's going to cost them extra, they'll be motivated to communicate efficiently. Instead of calling their lawyer 10 times a day, they will distill all the information into one email.
"There's two parties that can drive up the hours and it's not always the lawyer," he says.
Although contingency fees are common in litigation and make sense for a high-volume practice where clients can't fund the litigation, Hallsor says, in Crease Harman's litigation practice, clients get more value in the long run from an hourly rate.
"I know that a lot of clients may feel that there's an incentive for the lawyer to work harder if their pay is on the line. But as professionals, of course, we want to win every case and we always work hard," he says. "At a practical level, I don't think we work harder on contingency files than we do on other files. We work hard on every file and we try to get the best results for our client every time."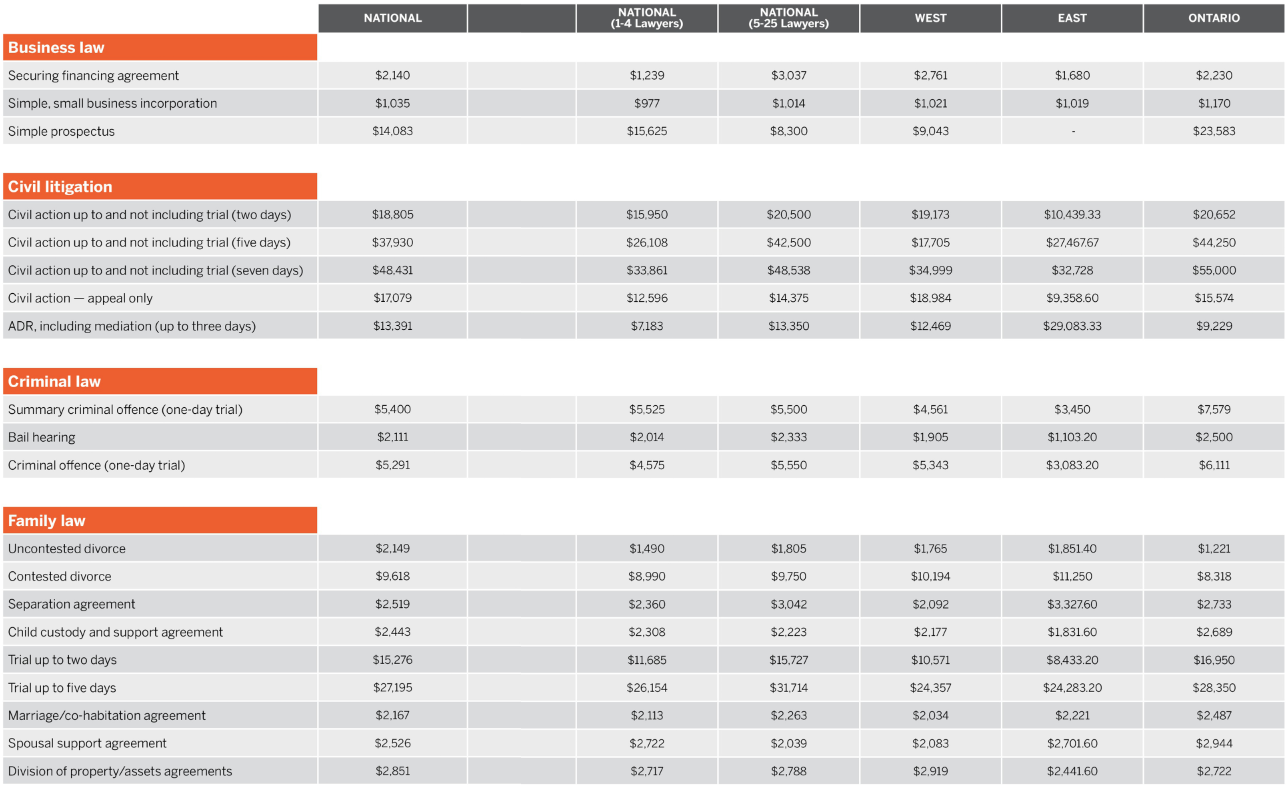 In the survey, when it came to blended fee structures, 16.22 per cent of survey respondents said they didn't offer them. Almost 10 per cent said they offered flat fees and 17.3 per cent said they offered contingency fees.
For commercial matters, retainers with large clients are common and, although clients inquire about retainers, Hallsor says his firm doesn't use them. Retainers are not always manageable for the clients' budget as they typically have numerous exceptions, with a monthly fee for a certain amount of work that's non-variable, he says. Crease Harman does flat fee arrangements for commercial lending, more straightforward wills and estates and real estate conveyancing. Less complex wills and estates work can generally lend itself to flat fee arrangements, but there are always exceptions, Hallsor says.
"There will be some estate planning files where a flat rate is just not appropriate. And there will be some probate files where flat rate isn't appropriate because it's hard to predict how much time you're going to put into it. Some estates are much more complicated than others. So, we still tend to go to the hourly rate," he says.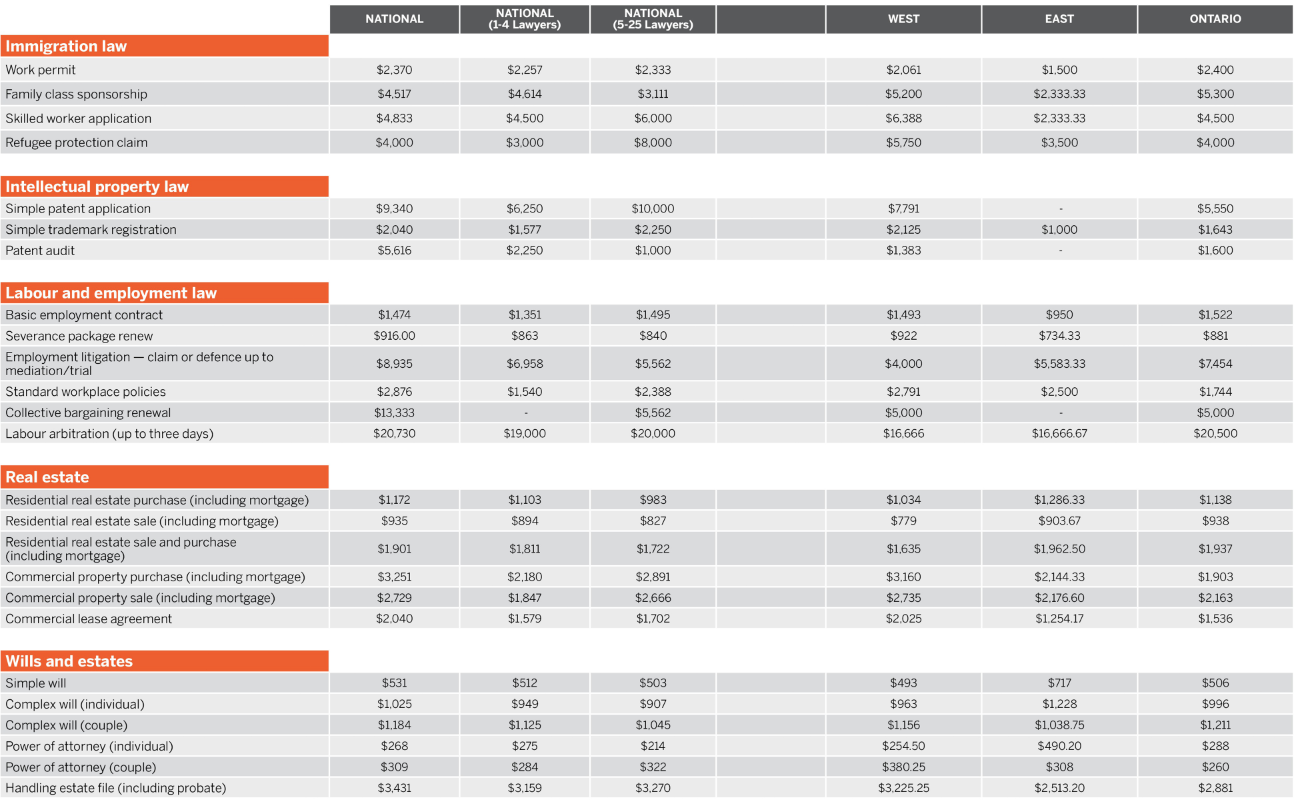 Lawyer billing involves managing expectations and, while clients are more sophisticated, their proactivity can sometimes border on hubris, according to Gossin. The internet and the do-it-yourself market are having an impact on client fee expectations, especially in the corporate world and in wills and estates, he says. Coming to their lawyer from a Google search, clients are less motivated to pay lawyer fees for drafting a will or incorporating their company, he says.
"Clients call me up and say, 'I incorporated myself online' and I say to them, 'Oh, OK, why are you phoning me?' 'I don't know. I don't know what to do next.' I say, 'OK, well did you happen to just use common shares or did you have any other kinds of shares in there?' 'I don't know.' 'Did you create a minute book?' 'What's a minute book?'"
Another client approached him saying he wanted to enter into an unusual commercial arrangement, had printed out an agreement from the internet and wanted Gossin to look at it. It turned out it was for a U.S. legal environment and didn't consider relevant Canadian legislation.
"The market out there for do-it-yourself is rudimentary at best," Gossin says. "It will not do what a lawyer can do."