Globalization is no longer a theoretical trend for Ontario's regional firms, but they are uniquely placed to provide value for clients.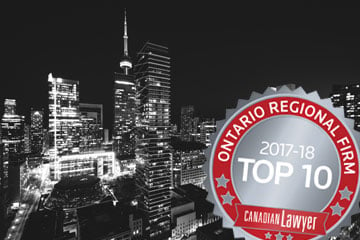 Globalization is no longer a theoretical trend for Ontario's regional firms, but they are uniquely placed to provide value for clients.
Though the landscape in the province looks much the same for Ontario regional firms as it did last time Canadian Lawyer ranked the top 10 in 2015, there are some emerging areas having an impact.
Issues for regional firms include globalization of business, increased competition, the use of technology and where that fits into providing services and the shift in how legal services are offered and purchased.
"These are trends people have been observing over the past couple of years, all of which, of course, affect our business," says Lisa Borsook, executive partner at WeirFoulds LLP.
"We start to train our lawyers from the minute they come in the door about nurturing their relationships with their clients, understanding their clients' business, being more entrepreneurial, understanding they may have to do heavy lifting on files in circumstances in which other firms may have an extraordinary number of people working on the same file," she says. "You can call it project management, you can call it streamlining services and cost, you can call it whatever you want, but these are things we have been doing for a long time to remain competitive."
Maria Scarfo, managing partner at Blaney McMurtry LLP, says that, in 2015, regional firms could say proudly here we are, we understand our clients because we are up close and personal with them and are able to effectively interpret client needs — but now, firms need to "put the proof in the pudding."
"You have to actually show them how you can meet their needs and bring along your firm to change as a profession — to leave that denial that things are changing — and become more modern and effective," Scarfo says. "The firms that are getting it are starting to invest in that infrastructure to meet those client needs and to meet the professional's needs, because you have to evolve as a lawyer."
Scarfo says her firm has taken steps to show Blaneys isn't just talking the talk, including establishing an international affiliation of mid-sized firms called TAGLaw.
The firm's insurance group also recently helped form the Global Insurance Law Network with a firm from the United States, Blaneys, a firm from the United Kingdom and a firm from Spain pooling resources "so if my client needs a firm internationally, I can now introduce them," says Scarfo.
"We're one office, but we can move across Canada and we can move internationally."
Bobby Sachdeva, managing partner at Pallett Valo LLP, says regional firms can no longer ignore the reality that they need to be able to assist clients in other areas, even if the firm doesn't have offices there. His firm is also part of an international group and, therefore, has the ability to put clients in touch with trusted advisors in different jurisdictions.
"Fifteen years ago, we didn't look beyond Mississauga, 10 years [ago] we didn't look beyond the GTA; now, we're looking for inbound work from the U.S., we're looking to help our clients facilitate their relationships in Europe and Asia because a lot of manufacturing is no longer here," Sachdeva says. "It's a big difference from 10 or 15 years ago when that wouldn't have occurred to us."
For Jeffrey Cohen, managing partner at Torkin Manes LLP, globalization was a challenge when it was relatively new and the impact on the landscape was still uncertain. But now that they know what it looks like, says Cohen, what impacts his firm is the growing — and strengthening — number of specialty firms. He cites firms such as Wildeboer Dellelce LLP, a mid-sized corporate-only law firm, and litigation boutiques such as Lenczner Slaght Royce Smith Griffin LLP and Paliare Roland Rosenberg Rothstein LLP.
"I think that is partially a trend from the globalization of the firms because those specialty firms are often breakaways from the larger firms and as those firms become even larger from globalization, more people leave and for some reason they drift toward those types of firms," he says.
"The diversification of our service and practice areas has always been fundamental to the growth and development of the firm — we're very strategic about it. We respond [to the rise of specialty firms] by saying we just want to have the best lawyers we can have in these diverse practice areas that we've chosen to be strategic on."
The ongoing impact of technology is also demanding a response from the firms.
A lot of the work traditionally done by throwing people at it can now be done more effectively and efficiently by throwing technology at it, says Sachdeva. For him, the challenge is getting lawyers to stay up to speed on modern technology and make the most use of it, but he notes it's difficult to get lawyers — especially older lawyers — to change the way they've always done things, but that task is "going to be front and centre for a lot of us.
"Clients are saying we're going to pay you X for this project, we don't care how you do it, how you manage it, that's what you're getting paid," he says. "So, we have to figure out how to do it for X while still maintaining a profit margin."
Says Cohen, "People who are being prudent understand what the technology offerings are today and what you need to do to as a firm to try and be current." But, he says, the challenge lies in how fast things can change operationally.
He says you just don't know what the next six months might bring — you're "trying to keep up with what you don't even know yet you're going to have to keep up with. That's become a bit more of a topical business issue."
Another area where Torkin Manes makes it a priority to stay current is technology security.
"I think it's become more of an issue for our clients," he says. "They want to make sure we've taken the necessary precautions and implemented the appropriate security measures to protect our systems, which contain their information."
Peter Cronyn, partner at a newcomer to the list, Ottawa's Nelligan O'Brien Payne LLP, says the judicial system and to some degree the legal world has not kept pace with the rest of the world in terms of its utilization of information technology.
"Our clients are going to look for other ways to solve their problems, so we as a profession and in general in the legal industry need to move much more in the direction of solving that problem," he says.
Nelligan O'Brien Payne sees technology as "a way for us to remain nimble in terms of responding to clients' needs" using traditional knowledge sources but paired with the ability to share that information and provide solutions much more readily and cost effectively through IT, Cronyn says.
Then there are the perennial issues facing regional firms.
"I think the challenges never really change to a degree," says Cronyn.
"The reality of it is clients would like to receive efficient, cost-effective legal services. If you look at just trying to, as much as possible, provide some value to your clients, you're going to have lots of them."
Scarfo agrees, saying the challenge remains delivering services with as little waste as possible, but she notes it can be difficult because "it's the change of the mindset between a lawyer thinking, 'This is what I must do because I've always done it this way' to 'No, this is what I have to effectively do in order to provide excellent service for the client.'
"It's that ability to think about how to provide legal services in a way that someone actually wants them, will pay for them and is looking to you to actually deliver them because they feel [that] 'these lawyers get us' — that's effective lawyering," she says.
Succession planning is also a continuous issue for mid-size firms.
Cohen says his firm is very strategic in terms of recruitment and growth and focus on the transition from current management to the next group of managers.
"When we look at recruitment opportunities, we will always take into account the demographic component," he says. "We see future leaders in our firm in their 30s, we see them in their 40s, we see them in their 50s."
Sachdeva says the heart of the issue is that firms that have been around for 30 or 40 years now have the name partners retiring. While not a problem to the same extent for the bigger firms, if you're a firm of 30 to 50 lawyers, it's likely a critical time in the next few years, he says.
The focus is on recruiting and retention at Pallett Valo.
"It's a generation of lawyers who move around a lot and it's important for a firm our size to get the right people and hang on to them," Sachdeva says. "It's constantly making sure you get the right people, keep the right people and have them come up the ladder."
Cronyn says that from generation to generation, there are always changes between how lawyers see the world, but "when you look at the world that younger lawyers have grown up in, which has completely been dominated by full and robust internet, with iPhones, with texting — the way they communicate is so vastly different from the generation before.
"All of us have to find ways to make that succession work and certainly we are trying to do that in our firm," he says.
Despite the challenges, there is still a seat at the table for regional firms.
"Over the course of the past decade, the larger firms have vacated the field when it comes to small and medium enterprises and so for regional firms that's where the opportunities lie," Cronyn says. "I think that's where most of the regional firms are going. There's plenty of room for great opportunities and lots of room for innovation on the legal side. Our task is to evolve and work in a way to provide solutions for that kind of market."
"We live in challenging times — anybody who pretends that they aren't struggling with challenges every day aren't being candid," says Borsook. "But I think as a regional firm we have something to offer to our clients that they seem to be interested in which is sophistication with respect to what it is we have to offer at a price point that's reasonable compared to our competitors."
Sachdeva agrees, saying he thinks there's still a strong market for regional firms.
"There's plenty of work to be had within Ontario," he notes. "Privacy has become a big area in the last two to three years that wasn't there before. So it's looking for new areas where you can provide services to your clients and add value as opposed to just doing the traditional real estate, litigation, corporate-commercial."
Cohen says his firm is happy with where it is in the market, but that doesn't mean it can't "continue to improve or do things better."
Scarfo says it remains a really exciting time for the regional firms and the main reason is "they can provide their services locally, globally, nationally."
There are ways to do it in a variety of practice groups, she says, even if it means having different kinds of arrangements.
"With a little creative thought, you can run a very profitable business and you can run a business where you have the added value that everyone knows each other well and can enjoy practising together because having that small community is a wonderful thing."
How we did it
Canadian Lawyer asked lawyers, in-house counsel and clients from across Canada to vote on the top full-service, regional firms in Ontario. They were asked to rank their top 10 firms from a preliminary list, with a chance to nominate a firm that was not included on the list. Respondents' rankings were based on firms' regional service coverage, client base, notable mandates, service excellence and legal expertise. To be considered in the vote, firms were required to have offices only in Ontario and offer a wide range of legal services. The final rankings were determined through a points system, in which firms were rewarded on a sliding scale for the number of first- to 10th-place votes received.
1) WeirFoulds LLP
Total lawyers: 101
Office: Toronto
Core practice areas: litigation; corporate; property; government law; international
Key clients: public and private corporations; governments, public authorities and agencies; entrepreneurs; national firms seeking regional representation; non-profit and public interest organizations and individuals
Notable mandates: acted for Honeywell International Inc. in the acquisition by plan of arrangement of COM DEV International Ltd., a leading satellite and space components provider of switches and multiplexers; acted as co-counsel for Trillium Motor World Ltd., the class representative for 181 former General Motors dealers, in the highly publicized Trillium Motor World Ltd. v. General Motors of Canada Ltd. and Trillium Motor World Ltd. v. Cassels Brock & Blackwell LLP; acted for the LCBO in the acquisition of its head office lands from a joint venture among Menkes Developments and Greystone Managed Investments, with Triovest Realty Advisors acting as advisor to Greystone, for $260 million following a procurement process managed by Infrastructure Ontario; acted for the Regional Municipality of York in the planning, development, land acquisitions and construction of the Vaughan Metropolitan Centre; represented approximately 15 companies and partnerships (the "CCAA Filing Entities") within the Urbancorp group of companies in respect of the filing entities' proceedings under the Companies' Creditors Arrangement Act; acting for Toronto-based e-book retailer Rakuten Kobo Inc. in its successful application to rescind a consent agreement between Canada's Competition Bureau and four major publishers, the first time a third party has succeeded in having a Competition Bureau consent agreement rescinded; acting for PCL Constructors Inc. during the course of a $2-billion hospital redevelopment P3 project in the GTA, including strategic advice relating to disputes arising from the project
Star alumni: four treasurers of the Law Society of Upper Canada; Supreme Court of Canada Justice Thomas Cromwell; former Ontario chief justice George Gale; former Supreme Court of Canada justice Roy Kellock; former Ontario Court of Appeal justices James Carthy, Allan McNiece Austin and John Arnup; Ontario Superior Court justices Joan Lax and Paul Perell
Affiliations: SCG Legal
Firm history: WeirFoulds LLP has established itself as one of Canada's premier regional law firms, and it has provided strategic, cost-effective and innovative legal advice to clients since 1860. WeirFoulds has thrived by becoming a true partner to clients, ensuring that legal advice addresses their priorities. The firm is repeatedly ranked as one of the Canadian Lawyer Top Ontario Regional Firms, and it is regularly listed in Novae Res Urbis Top 10 Development Law Firms in the GTA. With roots firmly planted in the Greater Toronto Area and a client base that is large and diverse, the firm offers responsive and effective client service.
"It has a range of lawyers with excellent litigation experience and skills. It practises a broad range of litigation and also has a strong complement of corporate and real estate lawyers."
"Top lawyers at affordable prices."
"Expert dealmakers and problem solvers."
2) Torkin Manes LLP
Total lawyers: 90
Office: Toronto
Core practice areas: corporate, including tax, technology, banking and insolvency; litigation, including construction, health, estate and insurance defence; commercial real estate; employment and labour relations; family law
Key clients: Canada Goose Inc.; Fulcrum Capital Partners; Harbour Mortgage Corp.; SmartREIT; Spin Master Corp.; Stewart Title Guaranty Company
Notable mandates: advised Apotex Holdings Inc. in its sale of all of the shares of Accucaps Industries Limited to Catalent Pharma Solutions; acted for Canada Goose in negotiating the terms of the company's lease for its first standalone retail store in Yorkdale Shopping Centre and for certain of its shareholders in connection with its IPO; represented Spin Master in connection with its $510-million credit facility and various acquisitions; advised the management of LABORIE in the company's sale to Patricia Industries (a division of Investor AB) by Audax Private Equity; acted for NAFTA Foods and Create-a-Treat and their management in the sale of NAFTA CAT to Give and Go Prepared Foods Corp.
Star alumni: David Butt, first Canadian prosecutor to specialize in internet child abuse cases, counsel to KINSA; Anne Giardini, chancellor of Simon Fraser University; Kimberley McVittie, vice president, Risk Shared Services, CIBC; Deborah Rogers, senior vice president, Legal Counsel, Brookfield Office Properties; Daina Selvig, assistant general counsel, Sunovion Pharmaceuticals; Michael Silver, mediator and arbitrator; Ian Tod, former chairman, Deloitte Legal; Kathleen Waters, president and CEO, LawPRO
Affiliations: Ally Law (International Alliance of Law Firms)
Firm history: Torkin Manes was founded in 1974 by Larry Torkin (corporate and tax lawyer) and Ron Manes (litigator), who declined offers from large Toronto law firms to form their own partnership. The firm grew to six lawyers in 1979 and gradually developed practices in real estate, employment and labour and family law. Over the years, litigation expanded to include insurance defence, health, construction, personal injury and medical malpractice, while the corporate department grew and became known for providing comprehensive services to mid-market owner-operated companies. From the start, the firm valued integrity, high-quality legal knowledge, personal client service and effective, efficient results. This culture and vision continues to be the guiding force for the present and future direction of the firm. The firm's broad client base and its reluctance to become overly dependent on a small number of large clients helped it withstand economic recessions, as many other medium-size firms struggled. Torkin Manes' clients now include some of Canada's largest financial institutions, insurance companies, major corporations, private businesses, entrepreneurs and land development companies.
"Excellent service and attention to detail."
"Exceptional service, intelligent lawyers."
3) Pallett Valo LLP
Total lawyers: 37 lawyers
Office: Mississauga
Core practice areas: litigation including commercial, construction and estates; commercial real estate and leasing; business law; insolvency and corporate restructuring; wills, estates and trusts; employment and labour
Key clients: HOOPP Realty Inc.; Peel District School Board; Stewart Title Guaranty Co.; Parmalat Canada; Canam Group Inc.; Bayshore HealthCare Ltd.; Yamaha Motor Finance Canada Ltd.
Notable mandates: significant mandate in claims arising out of the construction projects for Pan Am Games venues; lead law firm providing legal advice and information to business and homeowners affected by the anticipated Hurontario LRT project in Mississauga; acted for a large pension fund in the divestiture of a multiple property industrial portfolio
Star alumni: John Pallett, MP from 1954-62; Sidney Valo, founding director and the first CEO of the Greater Toronto Airports Authority; Thomas Santram, vice president (legal) at Cineplex Inc.; Robert Wasserman, director of legal services for Canada and Latin America, Starbucks Coffee Co.; Suzanne Michaud, senior advisory counsel at RBC law group; Maria Tassou, vice chairwoman of the Criminal Injuries Compensation Board; Liana Turrin, general counsel and secretary of Altus Group Inc.
Affiliations: Integrated Advisory Group International
Firm history: It began with the establishment of Pallett & Pallett in 1948. The firm merged with Millman Valo in 1980 to become Pallett Valo LLP. After 1997, Pallett Valo changed its historical focus as a real estate firm to become a business law firm with specialized groups focusing on its core practice areas. Pallett Valo has grown into the largest law firm in Peel Region and has expanded its reach outside of the GTA to become a truly regional firm.
"Hardworking, driven team."
"Service excellence; accessibility."
"Fierce advocacy."
4) Fogler Rubinoff LLP
Total lawyers: 110
Lawyers by office: Toronto, 108; Ottawa, 2
Core practice areas: business law including corporate, securities, IP/IT; energy and environmental law; commercial real estate including condominium law and leasing; financial services; health law; indigenous law, with a particular emphasis on business matters; litigation; labour and employment; tax and wills and estates
Key clients: Canadian Solar Solutions Inc.; RioCan REIT; FirstService Corp.; Coco Paving; Suncor; Computershare; Six Nations of the Grand River Development Corp.; Toronto Parking Authority; TD, HSBC, RBC and other major banks
Notable mandates: R. v. Coco Paving Inc. brought successful due diligence defence and obtained dismissal of the Ministry of the Environment and Climate Change prosecution of Coco Paving Inc. related to a 2013 natural gas line strike in Windsor, Ont.; acquisition, development, financing and sale of multiple utility scale solar projects for Canadian Solar; representation of both investment dealers and licensed producers for significant financings in the burgeoning medical cannabis industry, including CannTrust and WeedMD; RBC v. Willowbrook Nurseries Inc., a successful defence of bad faith allegation of bank by reason of its refusal to lend more than the authorized credit; representation of developers on significant condo and mixed-use projects including Art Shoppe Condos; representation of many indigenous communities on large-scale energy and infrastructure partnerships
Star alumni: Ed Sonshine, founder and CEO of RioCan REIT; Jay Hennick, founder and chairman of FirstService Corp.; Michael Kline, senior vice president of legal and business affairs at LoyaltyOne Co.; Eugene McBurney, co-founder, director and chairman of Griffiths McBurney Canada Corp.; Ontario Superior Court Justice Arthur Gans
Affiliations: International Lawyers Network
Firm history: The firm of Fogler Rubinoff, with 25 lawyers, was created in 1982 through a merger of the firms of Siegal Fogler and Rubinoff & Rubinoff. In the 35 years since the merger, the firm has more than quadrupled in size and has diversified its areas of practice, creating a full-service business law firm.
"Great lawyers."
"Great client service."
5) Blaney McMurtry LLP
Total lawyers: 122
Office: Toronto
Core practice areas: litigation and advocacy; real estate; business law
Key clients: Toronto-Dominion Bank; SmartREIT (formerly SmartCentres); First National Financial LP; Laurentian Bank of Canada; G4S Secure Solutions (Canada) Ltd.
Notable mandates: principal negotiator and senior legal counsel to the Algonquins of Ontario in ongoing treaty negotiations in a land claim that covers most of eastern Ontario, including the nation's capital, and in which more than 1.2 million people reside; representing USW Local 2251, the largest local union at Essar Steel Algoma Inc., in the Algoma CCAA restructuring; two significant insurance coverage appellate victories, Urbanmine Inc. et al v. St Paul Fire and Marine Insurance Company et al and Royal & Sun Alliance Insurance Company of Canada v. Intact Insurance Company; acting for North American Fur Auctions, successor to the original Hudson's Bay fur trading business, in connection with the amendment, restatement and re-syndication of a credit facility to include Export Development Canada; acted for La Caisse Centrale Desjardins du Québec with respect to credit facilities to finance the construction of a highrise condominium complex containing an affordable housing component
Star alumni: former Ontario chief justice Roy McMurtry; Ontario Court Justice Feroza Bhabha; Ontario Superior Court Justice Janet Wilson; former Tax Court of Canada justice J.A. Brulé; Superior Court Master Robert Muir; Larry Grossman, former Ontario government cabinet minister and Ontario Conservative party leader
Affiliations: TAGLaw; Risk Management Counsel of Canada; Insurance Law Global
Firm history: The original firm, Blaney Pasternak, was founded by James Blaney and Irwin Pasternak in 1954. The late Bill McMurtry joined the firm in the early '60s, building a litigation department that is now a core strength of the firm. In subsequent years, the firm underwent several smaller mergers, lateral hires and ensuing name changes. In 2000, the firm was established as Blaney McMurtry LLP.
"Expertise in a range of practice areas."
"Great depth."
"Quality of lawyers and customer service."
6) Lerners LLP
Total lawyers: 126
Lawyers by office: London, 75; Toronto, 51
Core practice areas: plaintiff personal injury; medical negligence defence; insurance defence; commercial litigation; appellate advocacy; business law; family law; real estate; professional regulation
Key clients: CMPA; CCLA; CPA Professional Liability Plan; Frank Cowan Insurance; Deloitte; LawPro; McKay-Cocker Construction; Verspeeten Cartage Ltd.; Trudell Medical Group; Chubb Insurance; Volkswagen; General Motors
Notable mandates: lead defence counsel on national class proceedings in Volkswagen TDI class actions; lead defence counsel on national class proceedings in General Motors Class Actions regarding ignition switch, EPS, antifreeze and Takata air bags; represented the appellant, the Thunder Bay Police Services Board, in 495793 Ontario Ltd. (Central Auto Parts) v. Barclay at the Ontario Court of Appeal in an action brought by a civilian alleging negligent investigation and successfully had the $1.6-million judgment set aside; acted for a physician in a malpractice claim in precedent-setting case Moore v. Getahun about restrictions on communication between counsel and experts in preparation of expert reports; acted for Ontario Premier Kathleen Wynne in Wynne v. Hudak et al., a defamation action against Ontario Progressive Conservative party leader Tim Hudak
and Energy critic Lisa MacLeod; represented the individual
physicians involved in providing care to Ashley Smith during her time in federal custody at the coroner's inquest into her death
Star alumni: Nathalie Des Rosiers, dean of common law at the University of Ottawa's Faculty of Law; former Superior Court justices John Kennedy and Thomas Granger; Ontario Superior Court justices Jasmine Akbarali, Ian Leach, Margaret McSorley, Mary Anne Sanderson and Michael Varpio; Ontario Court of Appeal Justice Bradley Miller; David Shore, television writer for House, NYPD Blue, Family Law and Due South; Bryce Rudyk, senior legal adviser to Alliance of Small Island States in United Nations negotiations relating to climate change treaties and adjunct law professor at the New York University School of Law; Amy Archer, senior adviser to the government house leader at the Ontario government
Affiliations: n/a
Firm history: Lerner & Lerner was established by the firm's founders, Mayer Lerner and Samuel Lerner, in 1929. Since that time, the firm has progressively grown to more than 120 lawyers and 400 support staff. Now known as Lerners LLP, the firm provides strong legal expertise in many areas of practice, with a particular strength in all areas of litigation and dispute resolution.
"Exceptional lawyers and staff."
"Dedication to community, top lawyers and incredible
dedication to clients."
7) Minden Gross LLP
Total lawyers: 62
Office: Toronto
Core practice areas: bankruptcy and insolvency; business law; commercial leasing and real estate; property assessment and taxation law; employment law; litigation; securities and capital markets; tax and succession planning; wills and estates
Key clients: Lanterra Developments; Fieldgate Development Construction Ltd.; First Gulf Corp.; The Global Group; H&R REIT; Royal Bank of Canada
Notable mandates: acted for a European petrochemical company in its acquisition and recapitalization of an Ontario-based company; acted for a Florida-based agricultural company in connection with its acquisition of a company with activities across Canada and South America; advised the underwriters in an $11.7-million bought deal financing where AcuityAds Holdings Inc. acquired Boston-based Visible Measures Corp.; advised Assure Holdings Corp. in completing its reverse takeover of Montreux Capital Corp. and commencing its listing on the Toronto Stock Exchange Venture Exchange
Star alumni: Robyn Kestenberg, executive vice president, corporate development, H&R REIT; David Feldberg, president and CEO, Teknion; Mark Mandelbaum, co-founder, Lanterra Developments; Mark Weisleder, author, columnist and speaker; Tamara Vanmeggelen, European head of wealth management compliance, RBC Wealth Management; Neil Sigler, vice president, Gold Seal Management; David Glass, senior vice president, The Global Group; retired senator Jerry Grafstein; Mordecai Bobrowsky, vice president, legal, Primaris Management Inc.
Affiliations: Meritas Law Firms Worldwide
Firm history: Arthur Minden, Edwin Pivnick and Morris Gross founded the firm in 1950. Early on, the firm gained a reputation for its skills in commercial real estate transactions. The firm added Jerry Grafstein and Herbert Greenstein in the 1960s and established corporate and civil litigation services to meet the growing needs of its clients. It expanded further into commercial leasing, bankruptcy and insolvency, tax and succession planning, employment and labour and wills and estates law. In 1992, Minden Gross became an affiliate of Meritas Law Firms Worldwide, a global alliance of independent law firms. It has recently grown further, branching out into securities and capital markets as well as property assessment and taxation law over the last two years.
"Great client service."
"While all of the firms on this list have a depth of legal experience, the focus on responsiveness and client satisfaction is particularly pronounced at Minden Gross LLP."
8) Gardiner Roberts LLP
Total lawyers: 68
Office: Toronto
Core practice areas: corporate-commercial law; securities; commercial litigation; real estate; tax; health; IP, labour and employment
Key clients: Conundrum Capital; LawPro; Pharmascience Inc.; Castlepoint Investments Inc.; Toronto Real Estate Board; E.I. du Pont Canada Co.; Open Text Corp; Metro Toronto Regional Conservation Authority; TD Canada Trust; Scotiabank; First National Financial LP
Notable mandates: successfully represented former Toronto mayor Rob Ford in a libel and defamation action; representing former Liberal MP Borys Wrzesnewskyj in litigation proceeding contesting election in Etobicoke Centre; acting on the establishment of a large residential real estate private equity fund; acted on a complex reorganization of an existing real estate private equity fund into private REIT in a matter involving investors such as Canada's largest pension plans and mutual funds; acted for the purchaser in excess of 230 quick-service restaurants in Ontario, B.C. and Quebec.
Star alumni: former Metropolitan Toronto chairman "Big Daddy" Frederick Gardiner; former Superior Court justices J.J.J. Fitzpatrick and William J. Anderson; former Ontario Court of Appeal justice Lloyd Holden; Ronald J. Farano, who worked on policies preceding a significant overhaul to Canada's federal taxation
Affiliations: MSI Global Alliance
Firm history: Founded in the 1920s, the firm has become a mid-size business law firm with a diverse client base that includes several of Canada's largest banks, numerous medium- to large-size municipalities, agencies, boards and commissions, government entities, high-tech and software companies, real estate developers, lenders and investors.
"A broad range of services and solid, deep experience. A very reputable business law firm, which handles files with the biggest and best law firms in the country as well as with sole practitioners, Gardiner Roberts LLP can scale its services to fit a very wide range of client needs."
"Gardiner Roberts has provided us with exceptional, cost-effective legal support."
9) Siskinds LLP
Total lawyers: 78
Lawyers by office: London, 70; Toronto, 8
Core practice areas: business law; class actions; litigation; labour and employment; personal injury
Key clients: covers diverse sectors including business; finance; environmental; governmental; academia; real estate; franchisees and franchisors as well as individuals for personal injury, class actions and administrative legal services
Notable mandates: lead counsel in $2-billion diesel settlement with Volkswagen and the $69-million settlement in Dugal v. Manulife Financial; lead counsel in SNC-Lavalin investor class action; currently lead counsel in transvaginal mesh settlement cases and the only firm to get this type of case certified in a contested motion; recovered more than $100 million for clients in market currency in FX price-fixing case; obtained a $3.5-million judgment from a jury following a five-week personal injury trial; acted as counsel in numerous cross-border transactions including the acquisition of the largest golf course in Canada; successfully defended clients in numerous high-profile environmental cases
Star alumni: Superior Court justices David Broad, Denise Korpan and Laddie Haines; Ontario Court Justice Katie McKerlie
Affiliations: Siskinds Desmeules, Quebec
Firm history: Siskinds was founded in 1932 when Abe Siskind started practising law in London, Ont. The firm has continuously expanded its areas of practice through mergers with other firms as well as the recruitment of specialty lawyers. The class action team has expanded significantly to include an office in Toronto and affiliate offices in Montreal and Quebec City. The firm says it's currently focused on becoming more aligned with the contemporary lifestyle of its clients.
"Excellent, responsive, timely."
"Understand the needs of the client."
10) Nelligan O'Brien Payne LLP
Total lawyers: 48
Office: Ottawa
Core practice areas: litigation (including personal injury, commercial litigation, insurance law and mediation); labour and employment law; family law; real estate and development; indigenous law; estate law; fertility law; family arbitration; business law; intellectual property law; not-for-profit and charity law
Key clients: Over the years, the firm has represented a large number of individuals. Its institutional clients include chartered banks, trust companies and financial institutions, major insurance companies and their insureds, many unions and labour organizations, real estate developers (commercial, institutional and residential), non-profit and public interest corporations and small- and medium-size enterprises. In addition, the IP Group represents some of the largest companies in the Asia/Pacific region, including trade organizations, as well as local startups and mid-size corporations.
Notable mandates: current and ongoing class actions have included representing employee groups in several insolvency proceedings, including Nortel, Canwest and Plasco; representing former patients of Norman Barwin, who is alleged to have negligently inseminated his patients with the wrong sperm; representing air pilots employed by Air Canada over a breach of contract; representing former students of the residential school system, and their entitlements, under the 2007 Residential Schools Settlement Agreement; representing employees of BlackBerry Canada after a transfer of employees. Other cases include successful judgments in leading personal injury decisions, such as Monks v. ING and Gardiner v. MacDonald, successful defence of liability waiver in Isildar v. Kanata Dive Supply, as well as a number of claims (including constitutional challenges) against the federal government. The firm has also been involved with a number of major redevelopment projects in Ottawa, including LeBreton Flats, Zibi and Greystone Village.
Star alumni: John Nelligan, one of Canada's leading advocates; Ontario Superior Court Justice Denis Power; Ontario Superior Court Justice Catherine Aitken; Ontario Superior Court Justice Giovanna Toscano-Roccamo
Affiliations: Lexwork
Firm history: John P. Nelligan was called to the Ontario bar in 1949, and in 1963, he opened his own firm. With Denis Power, he established the Nelligan Power partnership in 1969. In October 2000, Power was appointed as a judge of the Ontario Superior Court of Justice, and the firm's name changed to Nelligan O'Brien Payne LLP, in recognition of long-time firm partners Allan O'Brien and Janice Payne. Since then, the firm has grown to 45 lawyers and more than 60 staff.
"A very, very long record of excellent service and top-flight counsel."
"Nelligan O'Brien Payne LLP is an innovative and progressive firm that prides itself on being open and informal."