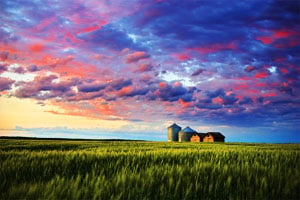 Canadian Lawyer returns to the Prairies for our latest regional firm ranking, and it seems we aren't the only ones eyeing the area. "We're continuing to see a flood of resumes from younger lawyers who either trained here, or have past history in the province," says Glen Peters, managing partner of Winnipeg-based Fillmore Riley LLP. "They're people who are well trained, and have worked in big shops in the east or west, but who have made a decision that they want to return. It's a unique opportunity for firms here, and we've certainly taken advantage of it in the last few years."

The chief driver of the Prairie homecoming is a booming economy, according to Gary Young, a senior partner at Saskatoon's Robertson Stromberg LLP, which moved up our list this year. Historically, he says young lawyers viewed Saskatchewan firms as a stepping-stone to higher-profile work in Toronto, Vancouver, Calgary, or Edmonton. Now that trend is reversing: one of his most recent hires was a returnee from Alberta. "That was primarily a function of what's available here at the moment. Things are so hot in Saskatchewan that this is where some of the best deals are right now. It's a good time to be here," says Young. "As long as that kind of transactional work is available, we're going to have no trouble recruiting."

At McKercher LLP, another repeat honoree on our list, executive partner Alan McIntyre says the region is particularly popular among young lawyers seeking a challenge. He says the abundance of work has created a lawyer shortage that will soon be exacerbated as an older generation nears retirement. That means the new wave of talent will be getting their hands dirty. "The levels of responsibility that more junior lawyers are being afforded represents a wonderful opportunity," says McIntyre. "It's a very good economy, and there's lots of good work to be done."

Aikins MacAulay & Thorvaldson LLP executive board chairman Jim Ferguson says regional hubs like Winnipeg, Regina, and Saskatoon also offer a lifestyle that can't be matched in some of the country's larger cities. "There's no question you're going to get greater deal volume and larger transaction sizes in somewhere like Toronto," he says. "But Winnipeg is one of the most affordable Canadian cities. Everything from its size, to the cost of living, to the ease of commuting, makes it attractive, I think."

And according to Pitblado Law managing partner Bruce King, it's not just the talent migrating to the Prairies — the work has followed. One of the firm's U.S.-based multinational clients recently asked it to take charge of a nationwide Canadian legal project, bypassing a national firm in the process. "For a moment, I thought they might have been confused, and forgotten the difference between their Winnipeg and Toronto firms," says King. "They're doing it in Winnipeg because we've developed the relationship, and they realize we can do it with much more economical results."

Read on to see the firms leading the way as the region continues to develop.

Manitoba

1. Aikins MacAulay & Thorvaldson LLP (1)
aikins.com

Total lawyers: 97

Offices: Winnipeg

Core practice areas: Securities, tax, litigation, mergers and acquisitions, labour and employment

Key clients: Canadian Medical Protective Association, True North Sports & Entertainment Ltd., Exchange Income Corp., Artis REIT, Parrish and Heimbecker, Ltd., Manitoba Hydro

Notable mandates: Lead counsel to Artis REIT as it purchased more than $1-billion worth of property in Canada and the U.S. in 2012; continues to act for Arctic Glacier Income Fund in CCAA claims process following a $400-million sale of assets; advised Coalspur Mines Ltd. (Alberta) in its seven-year commercial contract with CN Rail; represented Parrish and Heimbecker in its successful takeover of Thirdcoast Ltd.; involved in purchase by True North Sports & Entertainment of Atlanta Thrashers NHL franchise, now the Winnipeg Jets.

Star alumni: James Aikins, the first president of the Canadian Bar Association; former Supreme Court of Canada chief justice Brian Dickson; Supreme Court of Canada Justice Marshall Rothstein; Federal Court of Appeal Justice Eleanor Dawson; Manitoba Court of Appeal justices Martin Freedman, Barbara Hamilton, Marc Monnin, and Richard Chartier; former Manitoba PC party leader Hugh McFadyen.

Affiliations: World Services Group

The firm: Founded by James Aikins in 1879, this firm is one of Canada's oldest. First clients included the Canadian Pacific Railway and Great-West Life. In 1914, the firm's Hugh Robson helped found the University of Manitoba's law school, now Robson Hall. In 1969, Aikins merged with Thorvaldson and Co., led by senator G.S. Thorvaldson. The merger made Aikins the largest law firm between Toronto and Vancouver at that time. Today Aikins is one of Manitoba's largest and most diversified firms and is consistently involved in files that shape the province.

One in-house counsel who ranked the firm highest said "thorough work and attention to detail on corporate matters" earned his vote, adding that Aikins "rivals a lot of shops around the country, let alone in Manitoba."

Executive board chair Jim Ferguson says he's proud of his firm for getting a "piece of every significant deal that has transpired in this part of the country." Keeping top spot, he says, depends on moving with Manitoba's economy. "We're always trying to understand where the success factors of the province are, because that will drive legal work."

2. Thompson Dorfman Sweatman LLP (3)
tdslaw.com

Total lawyers: 75

Offices: Winnipeg, 75; Steinbach, part-time satellite office

Core practice areas: Litigation and dispute resolution, labour and employment law, government and regulatory, corporate-commercial, property and development

Key clients: Toronto-Dominion Bank, Manitoba Hydro, HudBay Minerals Inc., Agrium, The Winnipeg Regional Health Authority, Boyd Group Income Fund

Notable mandates: Acts for Manitoba Housing and Renewal Corp. on its Bridgwater Forest development, scheduled to house 40,000 residents by completion in 2022; counsel for the court-appointed monitor in a number of CCAA proceedings; external counsel to Manitoba Hydro in negotiations with numerous First Nations, including a $5.6-billion partnership and development agreement for the 695-megawatt Keeyask project; external counsel to HudBay Minerals Inc. as it sought environmental regulatory approvals for its $700-million Lalor zinc-copper-gold project near Snow Lake, Man.; represented Boyd Group Income Fund in $20-million purchase of three Florida businesses.

Star alumni: Manitoba Chief Justice Richard Scott; Manitoba Court of Queen's Bench Associate Chief Justice William Burnett; Manitoba Minister of Family Services and Consumer Affairs Gord Mackintosh; Attorney General Andrew Swan; former Manitoba Progressive Conservative Party leader Hugh McFadyen.

Affiliations: Lex Mundi

The firm: TDS is the continuum of firms dating back to 1887, but it adopted its current moniker in 1973. In 2009, the firm announced the launch of its affiliate, Acumen Corporate Development Inc., which co-ordinates companies' corporate development matters. Last month, TDS announced plans to merge with Portage la Prairie-based Christianson Law and bring its two lawyers on board later this year. The firm's services have also expanded in recent years with the addition of tax litigation and business immigration.

"Prompt and efficient" service, as well as the ability to "find creative alternatives" make TDS the go-to firm of one in-house counsel. "Great local contacts, top professionals," added another corporate counsel based in Toronto.

Slow and steady wins the race, according to CEO and managing partner Don Douglas. He says the firm is growing modestly, but his real focus is on servicing existing clients as well as possible. "It's a stable mature market," he says. "We try and be client centric in our view of the world, which means good service delivered quickly and at a reasonable cost."

3. Pitblado LLP (4)
pitblado.com

Total lawyers: 61

Office: Winnipeg

Core practice areas: Business law, litigation, tax and estate planning, privacy law, Aboriginal law

Key clients: Investors Group Inc., CentreVenture Development Corp., the Winnipeg Football Club

Notable mandates: Successfully represented Nor-Man Regional Health Authority at the Supreme Court of Canada in a case dealing with the principle of estoppel by a labour arbitrator; represented an intervenor in another case at the country's top court: Moore v. British Columbia (Education); acted for the private-sector partner in a $35-million P3 deal for claims processing; launched an online privacy compliance forum for privacy officers.

Star alumni: Manitoba Court of Queen's Bench acting Associate Chief Justice Marianne Rivoalen; Israel Asper, late chairman of the board of the former Global Media Network and visionary of the new Canadian Museum for Human Rights; Gerald Schwartz, chairman of the board and president and CEO of Onex Corp.; Richard Leipsic, former general counsel and senior vice president of Canwest Global Communications Corp.; Beth Beaupre, assistant deputy minister, Manitoba Health.

Affiliations: Meritas

The firm: Pitblado Law is the modern-day result of the amalgamation of several firms throughout the years, and dates back as far as the 1880s. It started to pick up steam in the 1950s, when it became Manitoba counsel for the International Nickel Co. in its multimillion-dollar investment at Thompson. Alfred Erskine Hoskin led the operation for the firm. In 1971, the partners of Pitblado Hoskin & Co. amalgamated with Johnston Jessiman Gardner & Twaddle to form Pitblado & Hoskin, and moved to the corner of Portage and Main. The firm assumed its current name, Pitblado Law, in 2011, and has expanded its immigration, technology and privacy practices in recent years.

The firm was consistently praised for its depth of experience. "We appreciate their expertise and practical approach to dealing with problems," said one local in-house lawyer.

Managing partner Bruce King says the firm has a strong focus on the small and medium-sized enterprises that form its client core. "We build really strong relationships with them. We want them to recognize us as trusted advisers," he says. Demand from those businesses has driven large growth in the firm's tax and estate planning practices, according to King.

4. Fillmore Riley LLP (2)
fillmoreriley.com

Total lawyers: 60

Office: Winnipeg

Core practice areas: Banking and finance, business law, insurance, litigation, real estate and commercial development, tax and wealth management

Key clients: Royal Bank of Canada, Public Utilities Board of Manitoba, Richardson International Ltd., MacDon Industries Ltd., The Great-West Life Assurance Co., lead Manitoba counsel for multiple major insurance companies

Notable mandates: Lead counsel to Smith Carter Architects and Engineers Inc. in its sale to GENIVAR Inc.; acts for Fairweather Properties Inc. in its 200-acre Seasons of Tuxedo development; lead counsel for B.C.-based Sunrise Poultry Processors in its acquisition of Manitoba's Dunn-Rite Food Products; represented the Dufresne Group as it acquired a material ownership interest in a furniture and appliance retailer with a presence in the southern U.S.; acted successfully for the Great-West Life Assurance Co. in its appeal of a $32-million class action judgment concerning pension adjustments.

Star alumni: Retired Manitoba Court of Appeal justice Alan Philp; Justice Shelley Fitzpatrick of the Supreme Court of British Columbia; Steven Kroft, CEO of Conviron; Jean-Marc Ruest, vice president, corporate affairs, and general counsel at Richardson International.

Affiliations: TAGLaw, Risk Management Counsel of Canada

The firm: Established in 1883 as Richards & Coutlee, the firm is now named after two long-time members of the Manitoba bar, W.P. Fillmore and H.J. Riley. Originally founded on the core practice areas of banking, financial, and insurance law, the firm has grown to full-service status, with expertise in areas of law relevant to its local and international client base. It boasts being the first law firm in North America to become ISO 9001 certified.

One Bay Streeter lauded the firm for its "phenomenal service," adding that they "no longer use any other firm in Manitoba."

Managing partner Glen Peters says the firm is ready to capitalize on a shake-up in the province's agricultural industry. "A lot of activity has followed the wheat board's loss of monopoly, so we will be helping as businesses reposition themselves to take advantage of the opportunities that affords them," he says.

5. Taylor McCaffrey LLP (5)
tmlawyers.com

Total lawyers: 61

Office: Winnipeg

Core practice areas: Corporate-commercial, labour and employment, litigation, tax, wills and estates, family law

Key clients: The City of Winnipeg, Apotex group, MTS Allstream Inc., Canadian Imperial Bank of Commerce, The Royal Canadian Mint, the University of Manitoba

Notable mandates: Successfully overturned a $100-million pension obligations judgment against MTS Allstream on appeal; represented the City of Winnipeg in interest arbitration with paramedics; lead negotiator for the University of Brandon in talks with its faculty association; acted for the Puratone Corp. in its CCAA proceedings and purchase by Maple Leaf Foods; negotiated first labour agreement for the Canadian Human Rights Museum; Manitoba counsel on a number of P3 deals, including the Pan/Parapan American Games Athletes' Village Project.

Star alumni: Tax Court of Canada Justice Joe Hershfield; British Columbia Court of Appeal Justice Nicole Garson; former president/CEO/chairman of Investors Group Ltd. Sanford Riley; Ag Growth International Inc. counsel Eric Lister; National Leasing Group Inc. vice president and general counsel Jacqueline Lowe; chief legal officer and executive vice president of Ceridian Inc., Scott Kitching.

Affiliations: State Capital Group

The firm: Taylor McCaffrey formed originally in 1979 as a result of the merger of Richardson & Co. — a firm dating back several decades and whose senior partner was J.F. Reeh Taylor — and McCaffrey Akman Carr Starr and Prober, whose senior partner was D'Arcy McCaffrey. In 1980, it merged with Brazzell & Co., and in 1991 linked up with Newman MacLean to form Taylor McCaffrey LLP. Since the early 1990s, the firm has expanded through internal growth and the addition of individual practitioners.

Taylor McCaffrey is a "forward thinking" firm, according to one respondent, who also singled it out for its "very prompt and thorough work."

Young associates are key to managing partner Tim Kurbis' recruitment pitch: "We spend a fairly significant amount of time on making sure there are opportunities not just to come in and put your nose to your screen and work all day, but also to connect during the day and after hours on a personal level," he says.

Saskatchewan

1. MacPherson Leslie & Tyerman LLP (2)
mlt.com

Total lawyers: 121

Offices: Regina, 40; Saskatoon, 40; Calgary, 23;

Edmonton, 18

Core practice areas: Corporate-commercial, commercial litigation and class actions, labour and employment, tax, mining and natural resources

Key clients: Harvard Developments Inc., Greystone Managed Investments Inc., Cameco Corp., AREVA Resources Canada Inc., The Mosaic Co., Saskatchewan Power Corp.

Notable mandates: Successfully fended off a class action certification motion against Canadian National Railway over alleged overcharging for grain carriage; acted for Federated Co-operatives Ltd. in its $138-million acquisition of oil company Triwest Exploration Inc.; Saskatchewan counsel to Wal-Mart Canada Realty Inc. and SmartCentres Realty Inc. on the $200-million sale of shopping centres to Great-West Life Assurance Co. and London Life Insurance Co.; represented Northern Property REIT in $70-million purchase of Nunavut properties; advised Saskatchewan Power Corp. on its $1.24-billion Boundary Dam Integrated Carbon Capture and Storage Demonstration Project.

Star alumni: Chief Justice of Saskatchewan John Klebuc; former chief justice of Saskatchewan Donald MacPherson; Saskatchewan Court of Appeal justices Marjorie Gerwing, Georgina Jackson, and Robert Richards; former Saskatchewan attorney general Murdoch MacPherson; former Saskatchewan minister of health and minister of environment, John Nilson.

Affiliations: Lex Mundi

The firm: Founded in Regina by Murdoch Alexander MacPherson. Everett Leslie joined him in 1925 and David Tyerman in 1929, with the firm name becoming fixed in its present form in 1951. MLT expanded to Saskatoon in 1980, Calgary in 2002, and Edmonton in 2006 to meet client demand for legal support in Alberta. The firm has maintained a focus on practice areas that support business operations. Growth has been largely internal, through a strong student recruitment and mentorship program, supplemented by some key lateral hires.

"Great talent in every column," said one in-house lawyer who gave the firm full marks. "Exceptional talent in issues affecting Prairie businesses."

2. McKercher LLP (1)
mckercher.ca

Total lawyers: 56

Offices: Saskatoon, 39; Regina, 17

Core practice areas: Civil litigation, labour and employment, corporate-commercial, mining and natural resources, First Nations and aboriginal law

Key clients: University of Saskatchewan, Wal-Mart Canada Corp., Saskatchewan Indian Gaming Authority, Input Capital Corp., 49 North Resources Inc., Redhead Equipment Group

Notable mandates: One of two negotiators for 50 Catholic entities parties to the Indian Residential School Settlement Class Action; lead counsel for Athabasca Potash Inc. during its IPO, and local counsel during its subsequent acquisition by BHP Billiton Canada Inc.; acted for Input Capital in a one-of-a-kind private placement of shares offering used to fund canola streaming contracts for farmers seeking capital; assisted Blake Cassels & Graydon LLP in the acquisition by the Great-West Life Insurance Co. of several shopping centres across Canada; involved in development of, and represents, Canadian Light Source Inc., the country's only national synchrotron research facility.

Star alumni: Saskatchewan Attorney General Gordon Wyant; former Court of Queen's Bench chief justice R.D. Laing; Federal Court of Appeal Justice Denis Pelletier; former Supreme Court of Canada justice Emmett Hall; former Saskatchewan Court of Appeal justice Percy Maguire; Casey Davis, president and CEO of Morris Industries Ltd.

Affiliations: Lawyers Associated Worldwide, Risk Management Counsel of Canada

The firm: McKercher dates back to 1926, when Emmett Hall relocated his practice to Saskatoon. With the appointment of Hall to the bench in 1957, the firm was renamed Maguire Wedge McKercher & McKercher, reflecting the addition of Donald and Robert McKercher, who continue to practise with the firm. In 1989, it merged with Regina's Whitmore & Co., solidifying its presence in the province's two major cities. The firm assumed its current name in 2008.

"I have also used McKercher for my personal legal needs, based on the highly positive experience I have had in dealing with their counsel in matters related to my professional duties," said one voter impressed by the firm during a six-year professional relationship. "Their level of service continues to be outstanding."

"Deep Saskatchewan roots" and "commitment to clients" are the secrets to the firm's success, according to executive partner Alan McIntyre. "Our lawyers are very conscious of the bottom line. There's a really clear understanding with clients about where things are going," he says.

3. Robertson Stromberg LLP (4)
rslaw.com

Total lawyers: 27

Office: Saskatoon

Core practice areas: Mining and energy, insolvency and restructuring, commercial litigation, urban development and construction, professional regulation, corporate finance

Key clients: Potash Corp. of Saskatchewan Inc., Canpotex Ltd., Scotiabank, Northland Power Inc., Saputo Dairy Products Canada GP, Chartis Insurance Co. of Canada, Saskatchewan College of Physicians and Surgeons

Notable mandates: Counsel for the successful appellant at the Supreme Court of Canada in Housen v. Nikolaisen; counsel for Potash Corp. in matters relating to the expansion of its Rocanville mine; ongoing work in the restructuring of the pork industry, including CCAA proceedings and receiverships; acted for Northland Power in the development and construction of two gas-powered generating plants; represented Great Western Diamonds in its recent acquisition of the Brazilian operations of Santa Elina Mines; appointed as counsel by the Saskatchewan Court of Appeal to argue on a reference against the constitutionality of proposed legislation permitting marriage commissioners to refuse to perform same sex marriages.

Star alumni: Four attorneys general for Saskatchewan, including former Supreme Court Justice J. W. Estey; University of Saskatchewan College of Law founding dean Arthur Moxon.

Affiliations: Meritas, The ARC Group Canada

The firm: Tracing its roots back to the firm of Estey Schmitt & Moxon, Robertson Stromberg took its present form in the 1980s under the guidance of Robert Stromberg. He helped position the firm for its involvement in the privatizations of the potash and uranium industries, which the firm has used as a springboard to foster solid relationships with international and national clients.

"They are attentive to client needs and never cause any problems," said one Ontario lawyer who refers work to the firm, while a corporate counsel scored them top marks for delivering service "second to none."

"We think we punch above our weight," says senior partner Gary Young, who claims the firm's "flat structure" positions it perfectly to capitalize on Saskatchewan's booming economy. "There's no hierarchy here, so you get genuine leadership from lawyers with as little as three years at the bar. It helps us to maintain a constant stream of new ideas."

4. McDougall Gauley LLP (3)
mcdougallgauley.com

Total lawyers: 82

Offices: Saskatoon, 40; Regina, 37; Estevan, 3; Moose Jaw, 2

Core practice areas: Litigation, including complex commercial, class actions, and insurance defence, corporate-commercial, insolvency and restructuring, banking and financial services, labour and employment

Key clients: Potash Corp. of Saskatchewan Inc., North Ridge Development Corp., Saskatchewan Teachers' Federation, University of Regina, Exxon Mobil Corp.

Notable mandates: Represents the court appointed receiver of the Big Sky Farms group of companies in a case involving $70-million of secured and unsecured debt; currently defending Telus in a class action over system access fees; represents the plaintiffs in a class action against the government of Saskatchewan concerning the level of benefits payable to former employees; recently acted for Potash Corp. in a mining dispute with Mosaic.

Star alumni: Saskatchewan lieutenant governors George Brown and Frank Bastedo; Saskatchewan Court of Appeal justices Thomas Wakeling, Hector MacDonald, and Neal Caldwell; William Ready, chancellor of the University of Regina.

Affiliations: Canadian Litigation Counsel

The firm: Founded when Norman MacKenzie settled in Regina, N.W.T., in 1891. The firm has a history of developing partners from within, but major growth came in 2001 with the merger of McDougall Ready and Gauley & Co. Many of its present and former partners have held leadership roles in legal industry organizations, such as the Law Society of Saskatchewan, the CBA Saskatchewan branch, and Federation of Law Societies of Canada.

"There are a variety of lawyers I can call upon at the firm . . . and each provides exceptional service," said one in-house lawyer in the insurance industry.
"For some time, we've been enjoying a buoyant economy, and fortunately, lawyers are participants in that, and not just observers," says senior partner Gord Kuski, who expects the ride to continue on the back of the firm's long history and well earned reputation.

5. Kanuka Thuringer LLP (5)
kanukathuringer.com

Total lawyers: 25

Offices: Regina, 22; Swift Current, 3

Core practice areas: Business law, energy and natural resources, financial services, construction, transportation

Key clients: withheld

Notable mandates: withheld

Star alumni: Former Tax Court of Canada justice John Goetz; former Saskatchewan justice minister Bob Mitchell; Saskatchewan Court of Queen's Bench justices Duane Koch and Noel Sandomirsky; late chief justice of Saskatchewan Edward Bayda.

Affiliations: State Capital Group

The firm: In 1955, Murdoch Alexander MacPherson Jr. left his father's firm. He was soon joined by Melville Neuman and Robert Lorne Pierce. The group of men, all born and raised in Saskatchewan, founded the firm that would become Kanuka Thuringer LLP. It has since expanded to two offices, in Regina and Swift Current, serving clients throughout the province and beyond.

"Their service is excellent, yet they retain a strong personality more common in a smaller firm," said one voter who gave the firm top marks.

Clarification Feb. 8: The entry for Pitblado was updated with clarifications provided by the firm.
Correction Feb. 12: Number of lawyers at McDougall Gauley's Regina office corrected.