Business is booming for Quebec's top law firms, with a robust economy, government spending and exciting technologies bubbling up.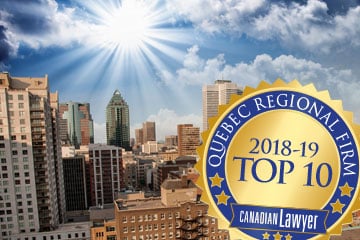 "Besides the Montreal Canadiens, everything is fine in Quebec and Montreal," jokes Mario Charpentier, managing partner and founder of BCF Business Law.
A robust economy, a lot of jobs and billions of dollars in planned government spending are good news for law firms in Quebec. Those at the helm of the firms rated as Quebec's best, according to Canadian Lawyer's Top Quebec Regional Firms survey, said they were swimming in work as 2018 got underway.
The economy grew by 2.8 per cent in 2017. Unemployment is the lowest it's been in 40 years, at 5.4 per cent. This year will see upward pressure on wages, with only labour supply holding the economy back from even greater expansion. All of this is according to RBC's December report.
Economic forecasts are so sunny in la belle province that Standard and Poor's upgraded Quebec's credit rating to AA- last year, which is a higher rating than Ontario's.
"The economy is really, I would say, booming," says Anik Trudel, CEO of Lavery de Billy LLP, which was voted Quebec's No. 1 law firm in Canadian Lawyer's survey.
"I think we can say with a straight face that things are going well in Quebec," she says.
The province's technology sector is growing, with Montreal becoming a mecca for artificial intelligence. As the AI scene ascends, Quebec's top law firms are trying to establish themselves as partners.
Lavery opened the Lavery Legal Lab on artificial intelligence. BCF has established BCF Imagine, a resource-sharing partnership the firm offers to startups, many of which are involved in AI.
"We really feel that the legal profession cannot evolve without doing a deep dive into artificial intelligence," Trudel says.
Gerry Apostolatos is partner and chairman of the board of directors of Langlois lawyers LLP. Apostolatos is a litigator and says this area will be revolutionized by AI technology. In other areas, this transition is already taking place.
"AI is going to literally transform the practice of litigation," he says. "On the transaction front, it's already being transformed as we speak, with e-discovery and other technology."
Eric Lalanne, president of De Grandpré Chait LLP, says AI in Montreal feels like a "gold rush." But the technology has not been implemented to the extent where it is itself significantly altering the delivery of legal services just yet, he says.
"It isn't there yet. I think all the law firms are waiting to see how this will play out with our day-to-day practices and how we run our firms, but I would say we haven't felt at this level yet the direct impact of this technology," Lalanne says. "I think it's probably a good five years before we see a direct impact."
AI is not the only sector booming. Lalanne says that after a decade-long lull in the mergers and acquisitions market, his firm is seeing it pick up. He also sees a lot of future growth in the area of tax litigation over the next few years.
"The aggressive methods of our governments in the last few years in their collection efforts have led to a very strong field of work in the tax litigation [area] and I think that that's a field where opportunities are going to grow over the next few years," he says.
As technology and the economy changes, so does the legal system. Delegatus was the survey's ninth-rated firm and, for its 13-year history, it has branded itself as alternative in structure and methods.
While traditional firms have a partnership model, Delegatus is a corporation led not by partners but president and sole shareholder Pascale Pageau. They call their lawyers entrepreneurs who have their own independent practices and are not employees or partners in the firm. Pageau says this arrangement gives the lawyers more freedom at and away from work. There is a "no-billable target policy," says Virginie Arbour-Maynard, director of development at Delegatus, in an email.
Pageau says Delegatus' model gives more autonomy to the lawyers, allowing for a more desirable work-life balance.
"For some, they have kids and they want to have also part of life. But now, more and more people are looking to have a perfect balanced life," she says.
Pageau says her firm's placement on the list means its business model works.
"When we entered into the market in 2005, we were completely different. We were pioneers regarding a new business model." says Pageau. "So, for us, it is a great recognition for what we did."
Pageau's firm places in-house counsel in companies on an as-needed basis. She says companies are beefing up their legal departments and it is a buyer's market for legal services. To attract clients, she says, lawyers need to expand their expertise.
"Lawyers, they need to go beyond law. They need to have an understanding of the business that they are involved with," Pageau says. "I think the role of a lawyer is changing. We need to be much, much more than a lawyer."
While AI and the future are surging in Quebec, an old industry is resurging. After the Charbonneau Commission sought to root out corruption, heaps of public contracts will be doled out in coming years.
The Quebec government has pledged $91 billion in infrastructure spending over the next decade.
Trudel says the market has been re-energized since the Charbonneau Commission, which was an investigation into the corruption surrounding public construction contracts in Quebec.
"All of the players in the construction industry cleaned up their act in the last three years. So we're running an industry that's a lot more clean, that's a lot more transparent, that plays by the rules," says Lalanne.
Apostolatos says the government should implement the Charbonneau recommendations.
"I think that government should move much more forcefully in implementing the recommendations of the Charbonneau Commission," he says. "But, obviously, our legislative process, sometimes, is a bit slower. But I don't question the good faith of our government representatives in wanting to do what has to be done."
The province will be building an automated electrical train system in Montreal over the next three years, which will be a multi-billion-dollar project and create a lot of business for firms. The planned Réseau électrique métropolitain will be built by the Caisse de dépôt et placement du Québec, the province's pension fund manager.
"There is going to be a rainfall of expropriation claims in this project over the next 12 months, I would say," says Lalanne.
How we did it
Canadian Lawyer asked lawyers, in-house counsel and clients from across Canada to vote on the top full-service, regional firms in Quebec. They were asked to rank their top firms from a preliminary list, with a chance to nominate a firm that was not included on the list. Respondents' rankings were based on firms' regional service coverage, client base, notable mandates, service excellence and legal expertise. To be considered in the vote, firms were required to have offices only in Quebec and offer a wide range of legal services. The final rankings were determined through a points system, in which firms were rewarded on a sliding scale for the number of first- to 10th-place votes received.
1) Lavery de Billy LLP
Total lawyers: 183
Lawyers by office: Montreal, 127; Quebec City, 22; Sherbrooke, 23; Trois-Rivières, 11
Core practice areas and notable mandates: business transactions/mergers and acquisitions; taxation; litigation and dispute resolution (class actions, commercial/restructuring, insolvency and banking/civil); labour and employment; financing and financial services; insurance
Key clients: La Caisse de dépôt et placement du Québec, Canada Mortgage and Housing Corporation, SigmaSanté, Bank of Montreal, Hydro-Québec
Lavery advised Eolectric on its project management of the Biomont 4.8 MW biogas-powered co-generation power plant through all stages of the project. The firm represented the company in the acquisition, by Eolectric, Valeco Énergie Québec Inc. and Fondaction CSN, of the biogas-fuelled cogeneration facility project. Since then, the firm has been with the development, the equity debt and the closing of the financing of this project.
The firm advised Osisko Gold Royalties Ltd in the acquisition of a high-quality precious metals portfolio of assets consisting of 74 royalties, streams and precious metal offtakes from Orion Mine Finance Group in exchange for total consideration of $1.125 billion, consisting of $675 million cash and the issuance of 30,906,594 shares of Osisko.
Lavery represented Logistec Corporation, a marine and environmental services provider, in the acquisition of 51 per cent of all of the issued and outstanding voting shares of FER-PAL Construction Ltd. The purchase price comprised a cash payment of $41.5 million and the issuance of 230,747 Class B subordinate voting shares in the share capital of Logistec.
Lavery represented Broccolini Construction Inc. as part of a $140-million syndicated construction and long-term financing related to the Radio Canada New House project located in Montreal.
Star alumni: Chief Justice of the Supreme Court of Canada Richard Wagner
The firm: Lavery celebrated its 100th anniversary in 2013. It was founded in Quebec City by Onésime Gagnon and Maurice Dupré in 1913. The firm began practising primarily in insurance law before branching out into other areas. Jacques de Billy, a litigator and scholar, joined the firm in 1938 and Claude Lavery, who was a labour law specialist, was added in 1966.
"Thoughtful legal advice strategically crafted to facilitate clients' decision-making. Through its network of connections with key decision-makers and regulators, the firm makes a difference in fostering success for its clients."
"Wealth of market intelligence in all sectors of the Quebec economy."
"Depth of experience and expertise in a wide-ranging set of fields, which may be easily tapped to help manage legal risk efficiently in an operational environment that is governed by very specific rules within Canada."
2) Langlois lawyers LLP
Total lawyers: 125
Lawyers by office: Montreal, 73; Quebec City and Lévis, 52
Key clients: Bombardier Aerospace, Fédération des caisses Desjardins du Québec, Intact Insurance, Maritime Employers Association, Bell Canada, Professional Liability Insurance Fund of the Ordre des architectes du Québec, Metso Minerals Canada Inc.
Core practice areas and notable mandates: business law (M&A transactions, construction, real estate, leasing, insolvency, including mining, energy, environment and cannabis); litigation, arbitration, class action and dispute resolution; employment and labour law (including cannabis and artificial intelligence); insurance; aboriginal law; intellectual property, computer and IT law; corporate governance
Langlois represented one of the concrete suppliers involved in a major manufacturer's liability case. The case involved defects in concrete foundations in residential and commercial buildings due to the presence of pyrrhotite. The 77-day trial covered approximately 815 buildings and has been appealed. In another case, the firm acted for Iron Ore Co. of Canada and its affiliates in defence of their interests in the CCAA insolvency filing of Cliffs Quebec with respect to the Bloom Lake and Wabush iron ore mines. It also represented Jien Canada Mining Ltd., a Chinese mining company with assets in Quebec, in connection with the negotiation and securing of a $100-million credit facility granted by Ressources Québec Inc. Last May, the Quebec Court of Appeal agreed with Langlois' client Yellow Pages Digital & Media Solutions Ltd. that certain changes it had made to its pension and benefits plan did not contravene Quebec's Charter of Human Rights and Freedoms or s. 87.1 of the Labour Standards Act regarding differences in treatment.
The firm was also lead counsel for the Fédération des caisses Desjardins du Québec in a series of class actions in British Columbia, Alberta, Saskatchewan, Ontario and Quebec regarding credit card acceptance fees and alleged infringements to the Competition Act brought against credit card networks and financial institutions.
Star alumni: former Quebec chief justice Michel Robert; former Quebec Court of Appeal justice René Dussault; Quebec Superior Court justices Chantal Chatelain and Michel Beaupré; Yan Paquette, secretary general of the Ministry of Justice of Quebec and director at the Office of the Deputy Minister of Justice of Quebec; Nathalie Clark, VP and GC (Canada) at Capital One; Fabrice Vil, co-founder and CEO of Pour 3 Points
The firm: On Jan. 1, 2016, 100 years after its foundation, Langlois Kronström Desjardins LLP became Langlois lawyers LLP. "Rooted in a distinguished past and geared for the future, our new brand identity is a faithful reflection of who we are," the firm says.
"This firm is very dynamic and its professionals are highly qualified."
"They are very impressive, how they are growing fast with grace and intelligence. They [are] also hiring all the top talent in Québec."
"Langlois has literally smashed the market this year with their boosted litigation team and their brand new business law department."
3) BCF LLP
Total lawyers: 151
Lawyers by office: Montreal, 90; Quebec City, 60; Sept-Îles, 1
Key clients: Yandex, SNC-Lavalin, Bombardier, Bombardier Recreational Products, Royal Bank of Canada, Sobeys, Ericsson Canada, Telecon Group, Raymond Chabot Grant Thornton and Librairie Renaud-Bray.
Core practice areas and notable mandates: mergers and acquisitions; domestic and international taxation; wealth management, commercial litigation; intellectual property
BCF acted for Groupe Luminaire Inc., a Canadian firm with major activities in the U.S., in connection with the sale of its operations to Sentinel Capital Partners, a private, New York-based capital investment firm.
BCF acted for eStruxture Data Centers Inc. in connection with its acquisition of all of the assets of Netelligent Hosting Services Inc.
BCF represented Distech Controls Inc. in the sale of all of its issued and outstanding shares to Acuity Brands Lighting Inc. It also represented a subsidiary of Groupe Renaud-Bray Inc. with respect to its acquisition of the 14 Archambault stores and Paragraphe Books from Groupe Archambault Inc. The firm also acted for PremiumBeat.com in connection with its sale to Shutterstock.
Star alumni: Bernard Tremblay, judge of the Superior Court of Quebec, and Simon Ruel, judge of the Quebec Court of Appeal.
Affiliations: Meritas
The firm: BCF was established in 1995. It has more than 250 professionals (lawyers, notaries, paralegals and patent and trademark agents) who advise Quebec clients seeking to expand their activities in Canada or abroad as well as Canadian and international firms seeking to grow their activities in Quebec. BCF Business Law is the only Quebec law firm to have been recognized by Deloitte in its Canada's Best Managed Companies program.
"Great service. Entrepreneurial spirit. Not just lawyers but business advisors building close trusted relationships with clients."
"It has imposed itself as THE law firm for entrepreneurs as it reflects their value of decisiveness, efficiency, innovation and a very broad [range] of contacts throughout the province."
4) De Grandpré Chait
Total lawyers: 75
Lawyers by office: Montreal, 75
Key clients: BTB Real Estate Investment Trust; Intact Insurance; Weston/Loblaw/Provigo; TD Bank; AGF Group; Walmart Canada Corp; Otera Capital Inc.; First National Financial
Core practice areas and notable mandates: real estate; litigation; taxation; construction; business law
Recently, De Grandpré Chait has represented the Manufacturers Life Insurance Company in a mortgage financing of $148 million in favour of Place Dupuis Commercial Trust and 888 De Maisonneuve Commercial Trust for a mixed office and retail complex. The firm also assisted SilverBirch/Leadon in the acquisition and financing of a portfolio of hotels throughout Canada, including two properties in Quebec, for a total of $1 billion. In the past, De Grandpré Chait represented a group comprised of Canderel, the Montreal Canadiens and the real estate investment arm of the FTQ in connection with its participation in the 438-unit, 37-storey Tour des Canadiens 2 residential condominium project in downtown Montreal.
The firm is involved in an appeal proceeding before the Supreme Court of Canada on the fundamental issue regarding the possibility for a Quebec court to order the expropriation of a land being taken by public authority in virtue of its urban planning and environmental statutory powers. De Grandpré Chait protects owners of commercial, industrial and office properties affected by expropriation proceedings as part of the new Rail Network System, a $7-billion project.
De Grandpré Chait has represented a client involved in the biggest tax fraud case in Quebec and successfully obtained a Jordan ruling in the file of Revenu Québec against Métaux Kitco.
De Grandpré Chait is currently representing the KPH-Turcot consortium, the design builder of the new Turcot Interchange, an infrastructure project worth $1.5 billion.
Star alumni: ten former De Grandpré lawyers have gone on to become judges, including Québec Superior Court justices Christiane Alary, Martin Castonguay, Carol Cohen, Pierre Labelle and Yves Poirier, and Court of Québec justices Normand Amyot, Daniel Bourgeois, Gilles Lareau, Vincent Piazza and Christian Tremblay. Others have left to pursue notable roles within major organizations, such as Steve McInnes, director of the legal department of the Université de Montréal
Affiliations: Interlaw and Lexwork International
The firm: De Grandpré Chait is the result of the 1999 merger between De Grandpré Godin and Chait Amyot. In 1928, Samuel Chait started practising real estate law. Following the consolidation of five Montreal-based firms, Pierre De Grandpré founded De Grandpré Godin in 1966. Today, after 90 years of existence, De Grandpré Chait is a full-service firm offering legal services, which include real estate law, taxation, construction law, commercial litigation, business law, bankruptcy, insolvency and restructuring, municipal law, environmental law, banking law, insurance law, intellectual property law, labour and employment law and debt recovery.
"The firm constantly strives for the excellence of its services and the satisfaction of its clients and never stopped to try to upgrade its services and efficiency."
"DGP has excellent attorneys, who act quickly and in their clients' best interest!"
"The firm has substantial representation of both francophone and anglophone lawyers."
Total lawyers: 191
Lawyers by office: Montreal, 37; Quebec City, 37; Saguenay, 36; Alma, 4; Roberval, 3; Saint-Félicien, 2; Sherbrooke, 9; Drummondville, 11; Plessisville, 1; Rimouski, 10; Rivière-du Loup, 7; Sept-Îles, 7; Val-d'Or, 15; Rouyn-Noranda, 5; Amos, 1; Saint-Georges, 3; St-Raymond de Portneuf, 1; Lac-Mégantic, 1; St-Jean-Sur-Richelieu, 1
Core practice areas and notable mandates: Commercial and corporate affairs; banking and finance; labour and employment law; transportation; municipal affairs; environment law; aboriginal law; public administration
The firm's aboriginal law team worked on a number of pre-development agreements between First Nations and mining companies with regard to the exploration and mining in northern Quebec. The firm was also involved in negotiating various social and economic partnership agreements for First Nations groups. Cain Lamarre also obtained several favourable rulings in high-profile defamation, labour law, education law, procedural law, contractual law and constitutional lawsuits. In addition, the firm won a Superior Court ruling in the highly publicized case Investissements Novacap et TELUS Québec inc. c. VIDÉOTRON.
Key clients: financial institutions, public administration (health-care institutions, municipalities, public institutions), First Nations, telecommunications carriers, transportation companies and companies operating in the energy and natural resources sector.
Star alumni: Canadian ambassador to France and former Quebec premier Lucien Bouchard; several judges of the Quebec Superior Court, including Isabelle Breton, France Bergeron, Nicole Tremblay, Pierre Simard, Carl Lachance, Robert Dufresne, Jacques Babin, Martin Dallaire, Michaël Cain and Charles Ouellet
Affiliations: TAGLaw
The firm: Cain Lamarre is the result of the merger in 1999 of three well-established firms. Cain Lamarre Wells, founded in 1928 in Chicoutimi, was the oldest law firm in Saguenay/Lac-Saint-Jean. Gauthier Nepveu Leblanc Brouillette, which opened its doors in Sept-Îles in 1951, was a player in the development of the North Shore and Casgrain Desrosiers Lévesque Bujold Villeneuve, a trusted name in Rimouski since 1877, was one of Canada's oldest law firms. The new firm that emerged set up shop in Montreal and Quebec City before opening offices across Quebec, positioning itself to serve all clients working in various sectors in the province.
"Outstanding client service and expertise, combined with excellent coverage of the regions of Quebec."
"Good client base, best geographical position, full-service firm."
6) Stein Monast
Total lawyers: 60
Lawyers by office: Quebec City, 60 (plus four notaries)
Core practice areas and notable mandates: corporate law and financing; commercial law; securities; civil and professional liability; insurance; labour and employment law; real estate; class actions in defence including professional liability, intellectual property and public health; disciplinary law; bankruptcy, insolvency and restructuring; commercial litigation
Key clients: AIG, Bridgestone Canada Inc., BDC Capital, Chartis, Desjardins Venture Capital, Fonds des architectes, Groupe Le Massif, Manac, National Bank of Canada, Prelco, Roynat Inc., Université Laval, WSP Canada
Star alumni: Quebec Superior Court Justices Marie-Paule Gagnon, Lise Bergeron, Jean-Francois Émond, Jacques Blanchard and Alicia Soldevila; Quebec Court Justices Jean Asselin and Geneviève Cotnam; former CBA president Paule Gauthier; former Quebec premier Jean Lesage; former Prime Minister Louis St. Laurent.
Affiliations: Risk Management Counsel of Canada and Geneva Group International
The firm: Stein Monast LLP is the successor of Stein Monast Pratte & Marseille, a Quebec City firm that was founded in 1957. It partnered with Montreal's Desjardins Ducharme from 1992 to 2007 and is now operating from its Quebec City offices throughout the province of Quebec.
"Reputation and excellence in service standards plus reasonable fees."
"They have excellent attorneys working for them, a very good reputation and enviable clients."
"Responsiveness."
7) Robinson Sheppard Shapiro LLP
Total lawyers: 90
Lawyers by office: Montreal, 87; Saguenay, 3
Core practice areas and notable mandates: business law; litigation; insurance law; transportation law; family law
The firm represented the Uniprix drugstore network and its shareholders for the sale of the second largest pharmacy chain in Quebec (approx. 375 stores, 4000 employees, revenues in excess of $1.6B) to McKesson Canada.
Key clients: AJW Technique Inc., Taylor Swift
The firm assisted AJW Technique Inc., the Montreal-based maintenance hub for the AJW Group's aviation component repair and overhaul service, in the renewal of its unsecured revolving loan from the Fonds de solidarité des travailleurs du Québec.
The firm is involved in the provision of ongoing monitoring of the Canadian portfolio of entertainer Taylor Swift as well as the representation of an international high-tech corporation involved in a joint venture structured fund relating to a multi-million-dollar financing deal. The firm represented Uniprix Inc. before the Supreme Court of Canada in a matter dealing with the interpretation of a renewal clause in an affiliation agreement.
The firm successfully opposed an application for interim injunction seeking to bar the payment by a Canadian bank of sums under a performance guarantee for an engineering contract carried out in Poland.
The firm successfully challenged the validity of an Anton Piller order based on the alleged illegal use of the plaintiff's intellectual property in the satellite communications industry.
The firm defended class actions against a national retailer having allegedly failed to abide by the low prices stated in its ads and against a manufacturer alleged to have sold defective home appliances.
The firm defended the mayors of several cities against libel claims.
The firm was involved in a recent retention in a product liability matter involving overall litigation in excess of $750 million with respect to the construction of conveyers and related equipment in a mine located in Northern Quebec.
Star alumni: Philippe-André Tessier, vice president of the Quebec Human Rights and Youth Commission
Affiliations: International Lawyers Network and Canadian Litigation Counsel
The firm: Benjamin Robinson and Joseph Shapiro founded RSS in 1921. Their sons Jonathan Robinson and Barry Shapiro still practise at RSS. Until the arrival of Claude-Armand Sheppard in 1959, the firm served a primarily Anglophone clientele, which included such important corporations as Steinberg and Hunter Douglas. Since the early 1960s, the firm has diversified to become a full-service law firm with an ever-increasing number of important francophone and Quebec-based business clients. Growth, while constant and continuing, has come mostly through recruitment of the province's best law students, the firm says.
"It has the greatest range of excellence in many fields such as insurance, family law and commercial transactions and litigation."
"Full service provided by exceptional lawyers in many areas of practice."
8) Delegatus Legal Services inc.
Total lawyers: 27
Lawyers by office: Montreal, 26; Toronto, 1
Core practice areas and notable mandates: commercial (contract review, operations, procurement, etc.), business transactions/M&A, financing, real estate and leasing, commercial and civil litigation, labour and employment, intellectual property (licensing), litigation management
The firm recently represented Hydro-Quebec and were successfully granted injunctions in the context of the $1-billion project Chamouchouane-Bout-de-l'Ïle, a new strategic power line. They also acted as counsel to Relevium Technologies Inc. as part of the asset acquisition of BioGanix Ltd.
In addition, over the years, the firm's lawyers have served more than 50 corporations as embedded in-house counsel, taking part in strategic transactions and supporting their legal departments.
Key clients: Énergis, Hydro-Québec, Desjardins Group, Resolute Forest Products, Kiewit Corporation, Yellow Pages Group, BIXI Montreal, Attitude and Groupe Germain Hôtels
Star alumni: Jean-Francois Legault, chief legal and risk officer, corporate secretary at VIA Rail Canada Inc.; Marie-Christine Frenette, vice president and general counsel, Africa chez Kinross Gold Corporation; Patricia Brissette, vice president, legal affairs at Club de hockey Canadien, Bell Centre and evenko; Nathalie Rolland, director, legal affairs and corporate secretary at DAVIDsTEA
The firm: Delegatus has a different approach to the provision of legal services. The firm was founded to serve clients by aligning its cost structure to their business and financial imperatives and to attract and mobilize experienced lawyers with an entrepreneurial mindset who are no longer fulfilled at traditional law firms.
After more than 12 years in existence, the firm serves a portfolio of clients evolving in a variety of industries.
"Teamwork, values and dedication to clients."
"Good lawyers, great management team, good values, different business model."
"Client service is exceptional. Human-centred environment."
9) Lapointe Rosenstein Marchand Melançon LLP
Total lawyers and notaries: 62
Lawyers and notaries by office: Montreal, 62
Key clients Canadian and international entrepreneurs and institutions in retail, insurance, construction, health care, professional services, hydroelectric energy, shipping, banks and other lenders
Core practice areas and notable mandates: corporate and commercial; civil and commercial litigation; labour and employment law; taxation, taxation litigation and estate planning; insurance; financing; intellectual property, IT, franchising, licensing and distribution; and real estate
The firm represented Groupe Auto Québec in connection with the consolidation and refinancing of a dozen dealerships within the group, as well as the acquisition of two new dealerships, Ford Appalaches and Lévis Mazda. The firm also acted for the buyer in the acquisition of Bow Plumbing Group Inc., a manufacturer of plastic pipes and fittings operating across Canada and in the U.S., as well as assisting with the implementation of financing and credit facilities for the purposes of the transaction and continuing operations. Following its handling of the defence of the Sino-Forest Corp. class action in Quebec and its co-ordination of the defence of related class actions in Ontario and the U.S. on behalf of entities in the Pöyry group of companies, the firm is co-ordinating the defence of other proceedings by the Sino-Forest Litigation Trust against the Pöyry Group of companies in Singapore, China and Australia. The firm represented MAB-Mackay Rehabilitation Centre in its merger, by means of integration under the Quebec Health and Social Services Act, into Constance Lethbridge Rehabilitation Centre, which is part of the Integrated University Health and Social Services Network for West-Central Montreal. The firm was also responsible for obtaining the adoption of a private bill by the Quebec National Assembly to facilitate the transfer of real property from MAB-Mackay Rehabilitation Centre to Constance Lethbridge Rehabilitation Centre, which was necessary to complete the transaction. In the matter of Ostiguy vs. Allie, the firm acted on behalf of Ms. Allie before the Supreme Court of Canada and successfully argued that the roles of acquisitive prescription and publication of rights should be distinguished and that rights validly acquired by prescription apply regardless of the rights registered in the land register, thereby clarifying a long-standing debate.
Star alumni: former Barreau du Québec president Yvon Jasmin and Superior Court of Quebec Justice Pierre Jasmin
Affiliations: Terralex
The firm: One of the largest independent full-service business law firms in Quebec, Lapointe Rosenstein Marchand Melançon LLP and its predecessor firms have been serving clients for more than 50 years. The firm has developed an international presence and practice in order to better serve its clients. The firm offers legal services in more than 12 languages.
"Good planning ahead. Reasonable rates. Expertise in class actions."
"Seventy lawyers, broad-based practice; all levels of civil, commercial, law, litigation, IP, technology."
10) Bélanger Sauvé
Total lawyers: 56
Lawyers by office: Montreal, 43; Trois-Rivières, 10; Joliette, 3
Core practice areas and notable mandates: municipal law; labour law; insurance; civil litigation; professional liability
Key clients: several cities on the island of Montreal; cities and municipalities in the Montreal region and the regions of Trois-Rivières and Joliette; various municipal regional councils; insurance companies, including Aviva, Northbridge, R.S.A. Canada, La Mutuelle des municipalités du Québec and Lloyd's Underwriters; universities and various professional orders; a major airline
The firm hasintervened on behalf of a number of cities before the Federal Court of Canada with regards to Canada Post; defending the city of Montreal with regards to the so-called "manifestation bylaw"
Star alumni: Quebec Superior Court justices Richard Nadeau, Luc Lefebvre, Pierre Journet, Sylvie DeVito, Michel Delorme and Michèle Monast; Quebec Minister of Natural Resources Pierre Moreau
The firm: Bélanger Sauvé was formed in 1967 after the merger of two Montreal firms. They opened an office in Joliette in 2000 and merged with Beaumier Richard in Trois-Rivières in the same year. Its clientele includes a large number of corporations and public institutions.
"Bélanger Sauvé is oriented to serving its clients, not only in a commercial sense but really helping to solve their problems in a public service way."
"The firm has a strong practice in municipal law and its lawyers see themselves as public officers working privately."